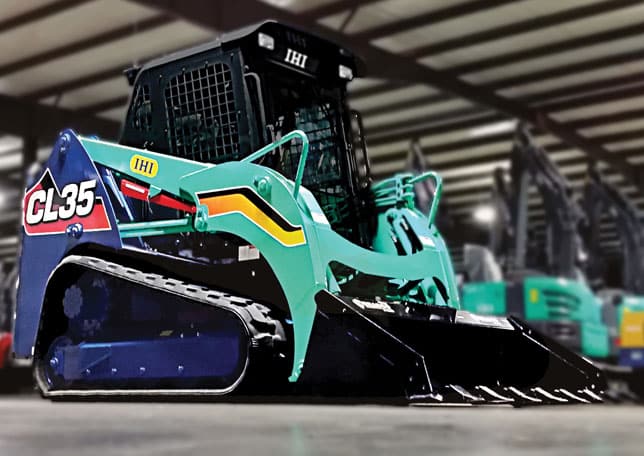 The CL-35 and CL-45 Bring Power and Versatility to Loaders on Tracks
In 2008, IHI entered the track loader market with the first of now two models, the 7,800-lb CL-35. The decision to introduce a 7,800-lb unit first was based on the most popular units with rental stores and construction equipment dealers at that time. A few short years later in 2011, IHI introduced the 10,000-lb unit, the CL-45. The CL-35 and CL-45 have become a very viable part of rental store customers' daily rentals, making it a reliable piece of revenue.
IHI continues to this day manufacturing and supporting durable compact construction equipment, including track loaders, excavators, crawler carriers and now a new line of rubber-tired skid steer loaders. The IHI line of track loaders consist of two models at this time.
Both the CL-35 and CL-45 were modeled around the same design so the features and functions are the same. The only differences between the two units are the operating weight, horsepower and the CL-45 comes standard with high-flow auxiliary hydraulics. The IHI CL-35/CL-45 boast superior ground clearance, angle of departure, two-speed travel, true pilot joystick controls and digging forces for greater productivity, says IHI.
IHI CL-35 and CL-45 track loaders provide a very spacious cab, more than 20 percent larger than its competitors (says the company) combined with true pilot joystick controls, which allow the operator to spend countless hours in the field with little fatigue. The only piece molded is the high back operator's seat that has side and height adjustable suspension so the operator will feel more comfortable. The monitor and switches have been positioned in an operator-friendly layout based on a commitment to safety. To regulate engine output, certain models feature the eco-mode button. A simple push of the button will adjust the engine speed to 1,500 rpm from any current engine revolution. Reduced fuel consumption, coupled with the large capacity 24-gal fuel tank, means longer hours of operation and less downtime for refueling. Simplified maintenance with less downtime is the key to all IHI designed equipment.
A cast undercarriage with segmented sprockets has been used to allow quick and easy replacement of the rubber tracks and sprockets. The unique IHI designed undercarriage also accepts narrow tracks that measure 12.6 in. or a wide track at 15.8 in. There is also an array of attachments that can be used with track loaders. Larger buckets and hydraulic hammers are the two main attachments IHI keeps in stock. Hydraulic hammers are usually used for demolition applications and most customers may choose to re-rent them for certain customers.
Advice to Buyers
"When looking for a track loader, it is important to look for versatility, comfort, power and product support," says Kendall Aldridge, IHI vice president of sales and operations. "Smooth operation is also very important, and with pilot joystick controls, a contractor can feather the track loader in the smallest areas possible."
IHI/Compact Excavator Sales LLC
400 Production Ct., Elizabethtown, KY 42701
800-538-1447 | ihices.com
Click on table to enlarge