Case TV370B
At 74 hp and with a 3,700-lb rated operating capacity at 50 percent tipping load and vertical-lift design, the TV370B compact track loader is one of Case Construction Equipment's top machines in the rental market. All-new electro-hydraulic controls, managed through an intuitive 8-in. LCD display, make it easier than ever for operators to dial Case CTLs into specific application demands. The TV370B also features a maintenance-free DOC-only (diesel oxidation catalyst) Tier 4 Final emissions solution, so there are no costly filters to replace, no regeneration required and no extra fluids to add. "As part of Case's B Series of CTLs, the TV370B features a completely redesigned operator interface, including new left- and right-hand posts with simple ignition, push-button operation, easy throttle control and intuitive switches for all core machine functions," says George MacIntyre, product manager at Case Construction Equipment.
Cat 259D3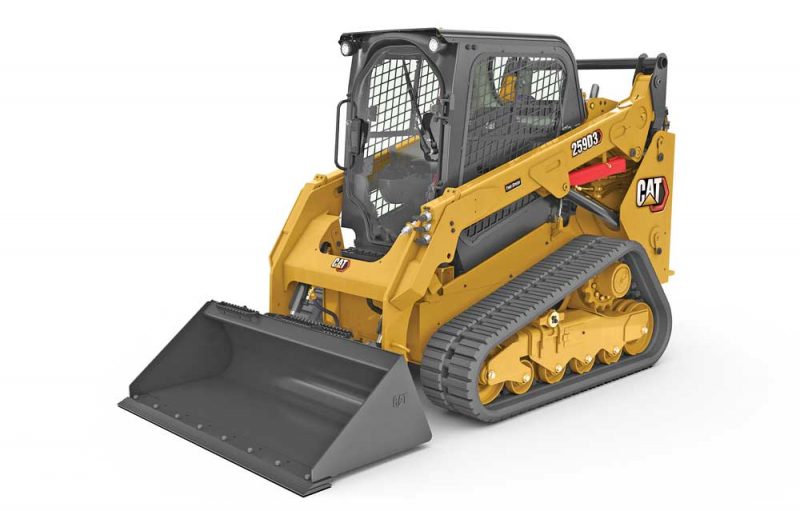 This mid-sized loader from Caterpillar is popular with rental customers due to the high performance that is delivered in a relatively compact chassis size. The 259D3 is also easy to transport and can nimbly maneuver on tight jobsites. With two-speed travel and torsion suspension undercarriage both standard, the machine is not only quick but also comfortable to operate on uneven terrain. The standard Creep functionality allows an operator to select the machine travel speed, delivering a match between machine hydraulics, the ground/operating conditions and the connected hydro-mechanical attachment. "Take time to familiarize yourself with the in-cab Advanced Display monitor," says Kevin Coleman, product application specialist at Caterpillar. "It has settings that allow customization of the machine's performance to match the task, attachment or operator skill level."
John Deere 317G
The 317G compact track loader is an ideal model for many rental applications and needs. The controls on the 317G are simple, intuitive, smooth and predictable, making this machine ideal for operators of all skill levels. Additionally, the 317G provides outstanding visibility to the bucket, sides and rear, helping renters see more and concentrate on the job. Finally, its vertical-lift boom design is great for truck loading and offers the dump height and reach of a much larger machine. Popular in rental applications, the basic ROPs package is a no-frills, economical configuration in the competitive rental business. Growing in popularity, the basic cab AC configuration adds operator comfort as well as key performance options. "We encourage renters to sit in a machine and check the sight lines before renting," says Derek Betcher, rental marketing manager with John Deere Construction and Forestry.
Have questions about protecting your crew during the current pandemic? Check out our COVID-19 microsite for more resources from cleaning equipment to wearing the proper PPE.
Takeuchi TL8R2 and the TL10V2
Two of Takeuchi's largest rental market machines are the TL8R2 and the TL10V2. In the 74-hp class, Takeuchi offers both radial and vertical options, allowing the customer to choose the right loader configuration for their specific application. Both of these machines are offered in canopy and cab enclosures with standard- and high-flow auxiliary hydraulic configurations. A well-equipped cabin features a 5.7-in. color monitor for viewing the rearview camera and machine vitals, and it allows the operator to set auxiliary hydraulic flows with up to three presets without leaving the seat. "The quiet ride undercarriage design reduces noise and vibration for improved ride quality while the combination of double and triple flange track rollers makes the tracks less susceptible to de-tracking," says Lee Padgett, Takeuchi product manager. "These two machines offer an attractive package to rental houses."
ASV RT-50
ASV Holdings Inc.'s RT-50 is ideal for rental use, featuring one of the industry's lowest ground pressures, the option to be towed behind a 1/2-ton pickup truck and the ability to fit into tight areas and on narrow trailers. The Posi-Track loader also includes best-in-class ground clearance, serviceability and performance. The 50-hp RT-50 boasts a 1,400-lb rated operating capacity while weighing just 5,350 lbs. Some competitive machines with a similar ROC weigh over 1,000 lbs more. The machine's 109.6-in. pin height gives it the ability to load landscape trucks and small dump trucks. "Both new and experienced operators will appreciate the ease of use that comes from the RT-50's pilot operated hand controls rather than foot controls," says Buck Storlie, ASV product line manager. "In addition, the machine's ROPS/FOPS cab provides more safety and comfort than stand-on and walk-behind loaders."
Kubota SVL65-2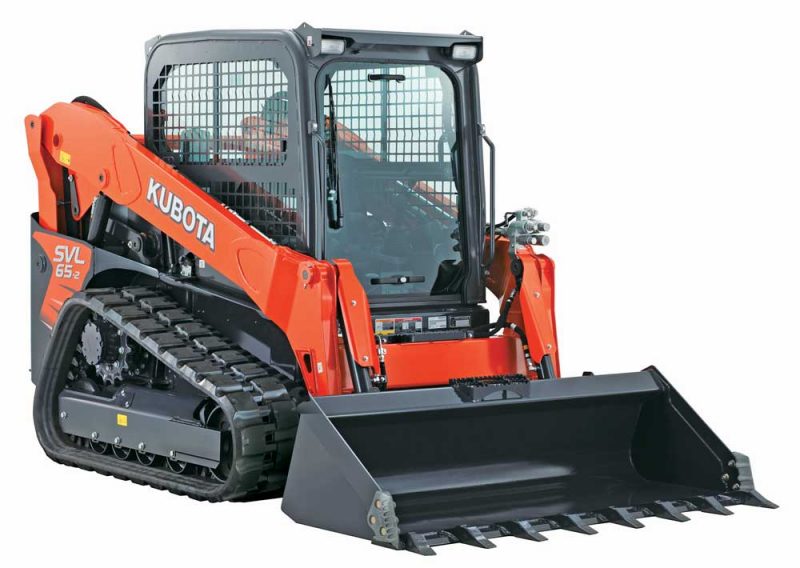 Since launching in 2019, the SVL65-2 compact track loader has been the ideal rental machine for owners and operators across the United States. The SVL65-2 has a powerful 68-hp T4F engine that does not require DEF fluid, making service and maintenance easier on the rental house. The SVL65-2 would be configured with 16-in. rubber tracks, open ROPS/FOPS cab and a mechanical coupler. The SVL65-2 has standard auxiliary hydraulics with a flow rating of 17.4 gpm ready to run buckets, pallet forks and a number of other attachments. "The SVL65-2 is a powerful and productive compact track loader ready to take on those big jobs in small places," says Patrick Baker, Kubota Construction Equipment product manager. "The SVL65-2 is easy to operate with vertical lift, self-leveling and strong bucket and arm breakout. The SVL65-2 has a high gear speed of 7.1 mph, allowing operators to get the job done faster."
Bobcat R-Series T66
With an operating weight of 8,927 lbs, the nimble T66 R-Series compact track loader offers high performance in a compact machine profile. The T66 is suitable for a variety of applications and features a turbocharged 74-hp, non-DPF inline engine and durable direct drive system — paired with an improved cooling system — for maximum uptime. Offering increased lift capacity and increased lift height due to stronger, slimmer cast-steel lift arm segments, the T66 boasts a rated operating capacity of 2,450 lbs. The T66 is also equipped with low-effort selectable joystick controls and 2-Speed. "By renting an R-Series compact track loader, operators can temporarily increase their services," says Sarah Peckskamp, marketing manager at Bobcat. "Operators can maximize their rental investment with an R-Series loader and benefit from advanced performance, productivity-enhancing features and the versatility of attachments."
Tags:
ASV
,
Bobcat
,
Case
,
Case Construction Equipment
,
Cat
,
Caterpillar
,
home
,
John Deere
,
Kubota
,
Takeuchi