Compact track loaders are an increasingly vital part of contractors' businesses. The sheer versatility of these machines allows them to thrive in a variety of working conditions, and — thanks in part to growing attachment diversity — CTLs can be used for more applications than ever. A strategic purchase of a compact track loader can transform a contractor's productivity, providing the opportunity to take on more jobs, often in new applications.
The profitability of a compact track loader for a contractor's business, however, can vary greatly from machine to machine. Not all CTLs are created equal when it comes to total cost of ownership. Factors like repair costs, maintenance intervals, fuel efficiency and resale value affect what the loader will cost its owner in its lifetime. Contractors who want to maximize profitability must take care to invest in equipment that is not (necessarily) inexpensive to buy — but inexpensive to own. Thankfully, there are indicators contractors can look for to help determine which will be the most profitable machine in which to invest and ultimately offer the lowest total cost of ownership for their business.
Purchase Price
The most obvious and easily factored-in component of total cost of ownership is purchase price. While it can be tempting to favor the cheapest possible option, contractors should consider a few things to ensure that minimizing their initial investment doesn't end up costing them more in the long run. First, contractors should be sure to invest in a CTL that will handle the jobs for which they plan to use it. This means considering things like horsepower, lift capacity, ground speed and attachment capabilities. A contractor that hopes to take on forestry jobs that require demanding mulching attachments will regret purchasing a low-horsepower unit that struggles to handle these types of tasks.
Have questions about protecting your crew during the current pandemic? Check out our COVID-19 microsite for more resources from cleaning equipment to wearing the proper PPE.
In addition, contractors must consider the seasonal weather conditions — snow, rain, heat, cold — that could challenge their CTL beyond its capabilities. Putting stress on a compact track loader that was not designed to manage it will inevitably increase maintenance and repair costs over time, as well as reduce efficiency due to more frequent breakdowns. Second, contractors should account for the other factors that play into total cost of ownership to ensure their CTL will be cost efficient to own, such as anticipated maintenance expenses and other operating costs. Often, investing in a higher-quality machine up front will save the owner money over time. Consider that the difference in price between a high-quality loader and a cheaply manufactured machine is only a fraction of the total cost of ownership over the machine's lifetime.
Maintenance Costs
Careful study of wear items and service intervals will show that a high-quality, low-maintenance machine can save its owner in excess of $10,000 in service costs in the first two years alone. Longer service intervals for wear items is a key component of reaching that level of cost savings. Contractors can look at the designs of major CTL components, including tracks, sprockets and undercarriages, to help anticipate regular maintenance costs.

Longer Maintenance Intervals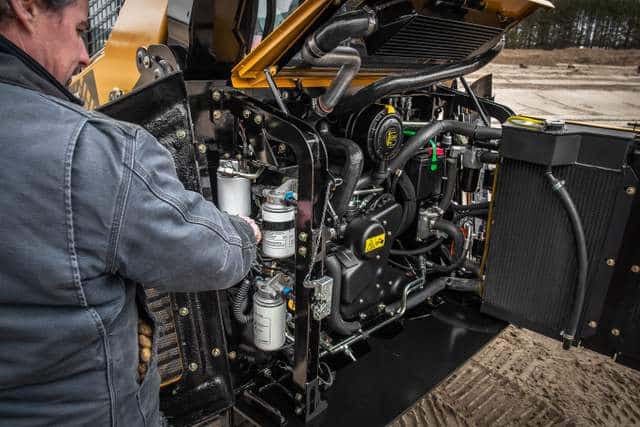 Considering that a set of tracks for a mid-size compact track loader can cost upward of $3,500, track life is a major factor in the lifetime cost of a machine. An internal drive sprocket design can greatly reduce cost of ownership by extending track life. External drive sprockets accelerate tooth wear, creating steel "hooks" over time because the sprocket teeth face resistance as they release from the track. Sprockets in an external drive system can see cracking and internal tooth wear and require replacement in as little as 500 hours.
An internal positive drive does away with this extra friction with a roller sprocket design, which reduces wear and increases the length of track service intervals. Track warranties are a good indicator of expected life, and therefore the costs associated with maintaining the CTL's track system. The longer the warranty, the stronger the manufacturer's confidence in the life of their tracks. Contractors researching the best warranties available will find that makers of internal drive machines tend to offer longer warranties. Some manufacturers of internal drive loaders offer a two-year, 2,000-hour track warranty, which is a clear display of confidence in their track design.
The sprockets themselves can rack up costs for compact track loader owners as well. An advantage of an internal drive system is that it has replaceable rollers that allow inexpensive maintenance as the system sees wear. External drive systems use cast sprockets that require replacement as a unit and cost around $500 per set, making internal drive systems a much more palatable design, especially long term. CTL owners can expect to replace sprockets on external drive systems annually, depending on conditions and hours used. That means sprocket replacement costs can total as much as $1,000 in the first two years of ownership — before tacking on the cost of labor.
Undercarriage design is another major player in CTL total cost of ownership. There are two main design types: open and closed. Conventional wisdom used to say that closed tub designs prevented dirt and material from getting in, reducing wear and maintenance costs. In fact, studies have shown the reverse is true. Open undercarriages tend to see less wear and cost less to maintain than closed tub designs. Open designs are in a sense self-cleaning. Dirt and debris are able to fall out of the undercarriage, preventing the material from getting stuck in the tub and causing wear in undercarriage components. Closed designs tend to see more wear on seals and wheels due to material falling into the tub but unable to find its way out.
Undercarriage component maintenance may seem like an insignificant factor on the surface, but over time the costs add up. Field tests have shown that open designs can extend undercarriage component life as much as 50 percent.
Takeuchi's New TL8R2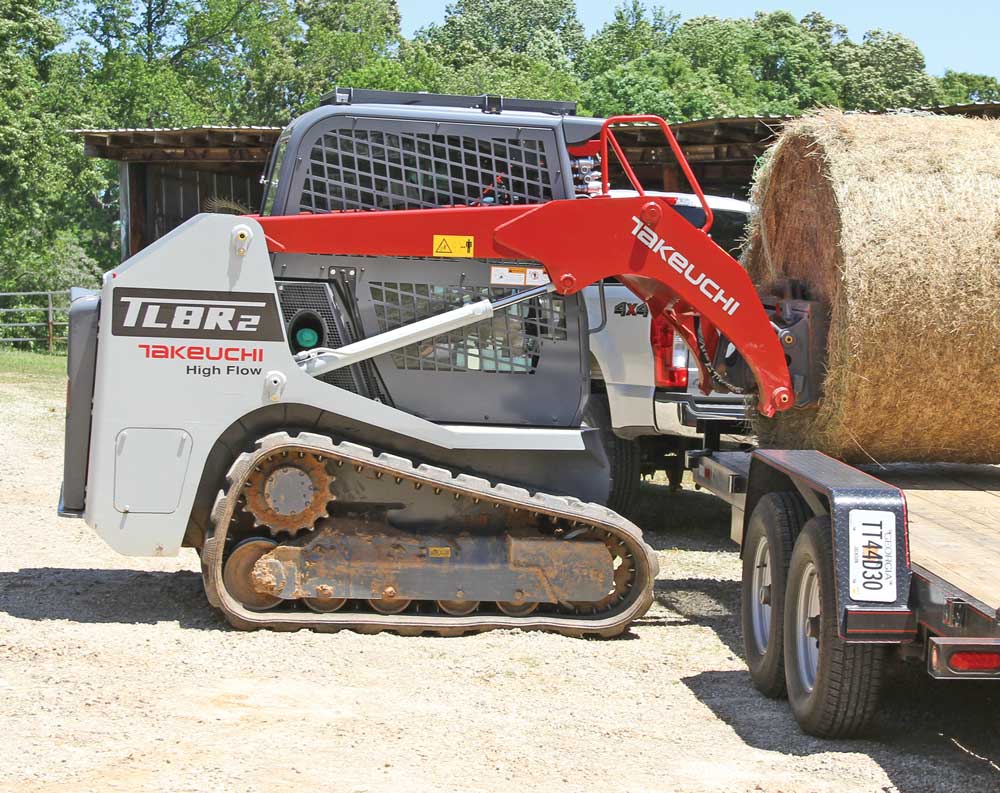 Takeuchi-US recently launched the completely redesigned TL8R2 compact track loader. The radial-lift design offers a tipping load of 6,041 lbs with an operating weight of 9,182 lbs. The TL8R2 is equipped with a 74.3-hp turbocharged engine that is EPA Final Tier 4 emissions compliant. The diesel oxidation catalyst (DOC) and diesel particulate filter (DPF) featured on this machine minimize emissions for clean and efficient operation. Creep Mode is a standard feature on the TL8R2 models equipped with high-flow auxiliary hydraulics. The automotive-style operator's station features a 5.7-in. multi-informational color display with a rearview camera and a sealed rocker switch bank that helps improve performance and functionality by providing the operator with a wider range of operational information. For more info, visit takeuchi-us.com.
Ease and Cost of Regular Maintenance
Regular maintenance activities, such as oil changes, daily and weekly greasing and changing fuel and hydraulic filters, are an often underestimated factor in total cost of ownership. Even planned maintenance takes time, and in a contractor's world, time is money — especially during busy season. Designs incorporating easy access to drain and fill plugs provide a key difference in reducing maintenance time. Some designs require track removal for motor oil changes, an inconvenience that can cost contractors hundreds every year in labor costs, not to mention lost work time.
Fuel and hydraulic filter mounting and access can also make a huge difference in the amount of time a compact track loader is down for regular maintenance. Machines designed for simple maintenance will have rigid-mounted, spin-on fuel filters for easy access and faster changes. Some manufacturers use insert filters that are often hidden deep in the engine bay. While this can save them headaches on the engineering side, it costs the end-user time and money. A compact track loader that features hydraulic filters in easy-to-access places can save an operator precious minutes on every filter change and allow them to get back to work faster.
A well-designed machine will also feature vertically mounted filters. Some manufacturers include horizontally mounted filters that create an inevitable mess of spilled oil when they are removed, causing even more wasted time and dragging out the process. Finally, a well-designed CTL will have easily accessible grease points. Some CTLS feature zerk fittings on the end of pins rather than the side, a simple change that ensures quick and easy greasing. If an operator can save 10 minutes per day with more efficient greasing and works 200 days a year, he or she could save around 66 hours in just two years. That's around $3,000 in labor, not to mention the billable hours the machine was not working.
Less Unplanned Maintenance
Beyond regular maintenance and wear parts, periodic track derailment is an expensive and all-too-common issue for compact track loader operators. The main culprit is traditional steel tracks that are rigid and derail relatively easily in rough terrain or side slopes. All-rubber tracks reinforced with flexible high-strength internal polycord allow the tracks to flex around objects that find their way into the undercarriage and maximize ground contact. These machines also feature extra track guiding, virtually eliminating track derailment, as well as reducing the number of tension adjustments required as hours are put on the tracks. Track derailment can waste the better part of an entire workday. CTL owners can expect four to five hours of labor every time a track derails. Factor in some labor and travel, and derailment can cost around $600 per event, plus a lost day of work.
Resale Value
The final piece to a comprehensive total cost of ownership calculation is expected resale value. A good place to start is researching equipment trading websites or other used equipment listings online to estimate what different machines tend to sell for used.
Assuming the average CTL trade-in happens at the three- to four-year mark and track loaders are used on average 750 hours per year, the average machine will be at somewhere between 2,250 and 3,000 hours at trade-in. With these conditions in mind, it will help contractors to know that the average midsize compact track loader will sell for 50 to 60 percent of its retail price at three years old, and between 40 and 50 percent at four years old. This figure is certainly not going to hold true in every situation, but it can be a good starting point for the equipment manager searching for a CTL investment that will hold its value.
Buck Storlie is a product line manager for ASV Holdings Inc.
Track Loader Best Operating Practices
Provided by Case Construction Equipment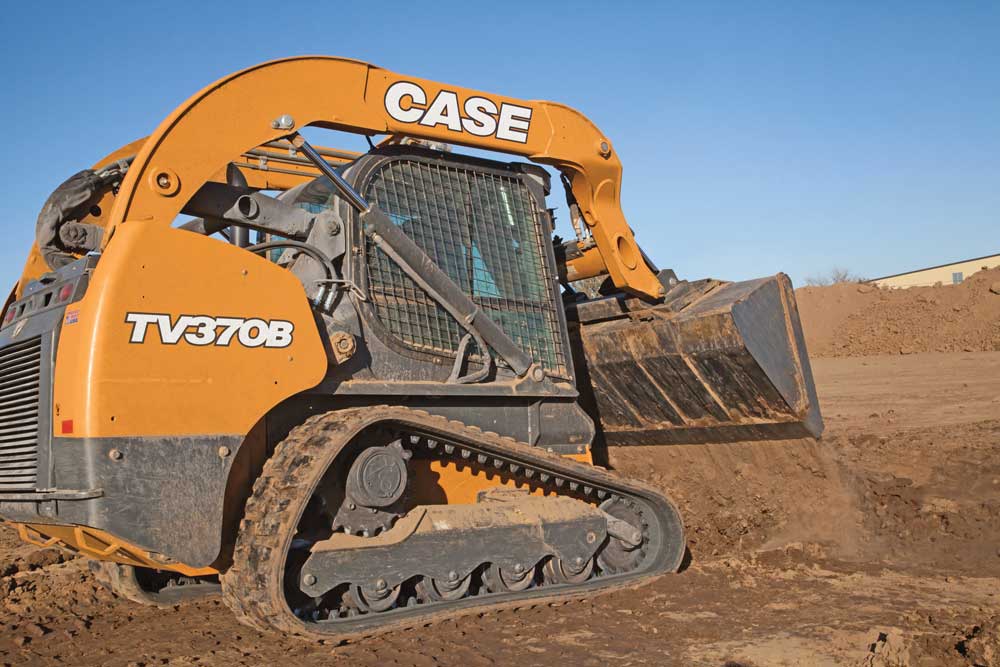 Remember that proper operating procedures start before the machine gets to the jobsite. Check the ground conditions and the terrain to make a number of informed decisions (if you have numerous machines/track styles to choose from) such as: the need to minimize travel; the use of steel tracks versus rubber tracks depending on the need to control ground pressure or navigate debris; choosing the narrowest shoe width possible to meet the required flotation; and discussions with operators about the proper operating techniques that match the terrain.
Counter-rotation, or pivot turns, cause accelerated wear and increase the potential for de-tracking of rubber-tracked machines. Operators should take wider, more gradual turns whenever possible.
Constant operation on a slope or hill in one direction can accelerate wear to idlers, rollers and guide lugs by placing greater forces on one side. Travel straight up or down the slope when possible.
Turns are best performed on level ground. We understand some jobs require hillside work. For these situations, keep in mind that minimizing time on the slope will always payoff in reduced wear and load to the undercarriage.
Continuous turning on the same side can cause accelerated asymmetrical wear on the tracks. Operators should do their best to try and balance the direction of turns throughout the day. If it's not possible, the tracks should be checked for wear more often.
One of the best parts of small equipment is the variety of attachments. From buckets and breakers to mowers and plows, click here to see what's out there.
Tags:
ASV
,
home
,
October 2020 Print Issue