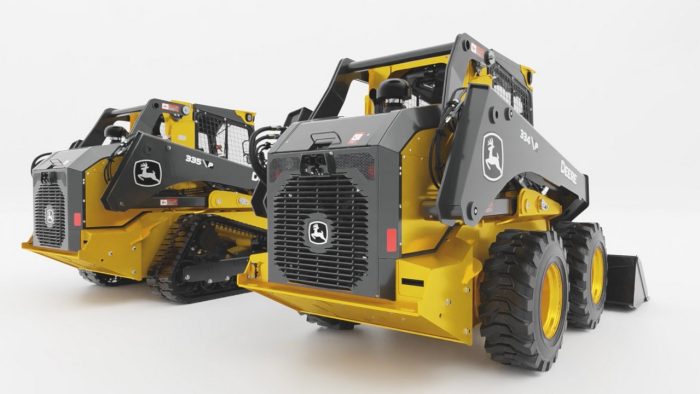 CONEXPO cometh. We're talking about the biggest tradeshow in America by physical size. It only happens every three years, and it's all centered around construction equipment. CONEXPO-CON/AGG will happen again March 14-18, 2023, in Las Vegas. We'll be there. So will everyone else. Follow our coverage right here. Here comes more important CONEXPO news…
John Deere is launching a metric ton of cool machines at its booth at CONEXPO. The brand is outdoors in the Silver Lot (S5020) and inside the West Hall (W40844). John Deere is also putting a big focus on its performance tiering strategy at the show. Yesterday, John Deere unveiled awesome new models of excavators, small dozers, large scrapers, electric backhoes and wheel loaders (still concept vehicles), but the big news for this website was the announcement of its giant new compact track loaders and skid steers, which are also a big part of Deere's Tiering model.
At the show, three of the five machines in this new big generation are on display, including the 333 P-Tier and the all-new 334 P-Tier skid steer loader and 335 P-Tier compact track loader models. These machines boast features like redesigned cabs with creature comforts including heated/vented seats, touchscreen displays, hands-free Bluetooth technology, JDLink telematics, and can be equipped with optional surround view capabilities. The brand new 334 P-Tier and 335 P-Tier are optimized for customers who require more horsepower and hydraulic flow from a compact machine. Boasting 118 gross horsepower in addition to pressure compensated load sensing hydraulics, these machines are smooth, powerful, and ready to take on the most demanding applications. Complementary to these machines, John Deere will also launch two new mulching head attachments, the MK76 and the MH72D.
"At this year's CONEXPO/CON-AGG show, we are thrilled to debut equipment in a variety of product categories, helping expand offerings for customers seeking a smarter, more efficient jobsite," said Ryan Campbell, President, Construction & Forestry Division and Power Systems, John Deere. "What better place to launch these new machines than first-hand with the customers and operators they were intended for."
John Deere Also Announces Gnarly Cold Planer Attachments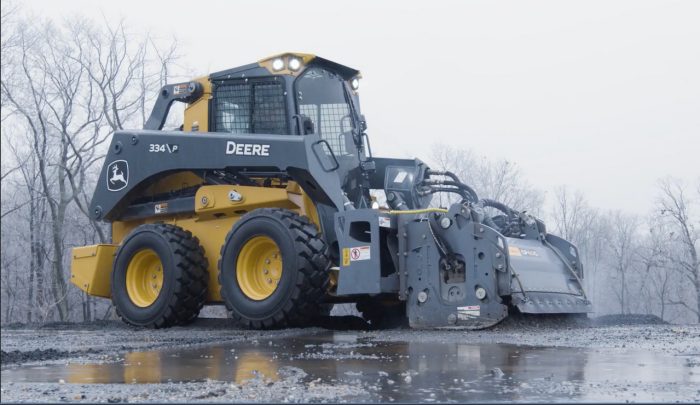 Also making their debut at the show are the John Deere cold planer attachments powered by Wirtgen cutting technology. Compatible with some current G-series skid steer models, as well as the freshly announced P-Tier skid steer loaders, four widths, including 18, 24, 30 and 40-inch sizes, will be available to match customer's milling needs. Utilizing the expertise from decades of milling technology experience by the Wirtgen Group, these cold planers provide intuitive in-cab controls, including tilt float activation for seamless pass matching across rolling terrain. Visible indicators for side plate depth, tilt angle and milling drum cut boundary ensure jobsite accuracy, while an optional pressure gauge aids in monitoring milling performance. Also, an optional water tank mounts within the cold planer frame for convenient filling and the nozzle kit effectively suppresses dust. Helping increase precision, the incorporated indicators help monitor drum width and cut boundary during operation.
Of Course, the Booth Has Tons More Going On
Designed for customers looking to level up on the job site, the new P-Tier small dozer models offer precise hydraulics and smooth stability during operation. Featuring the entry level solution EZ Grade in base models with EH controls, as well as optional slope control and 2D laser capabilities, the 450, 550, and 650 P-Tier machines are technology-packed, offering smarter, more intuitive operations. All models are compatible with laser receivers, helping to control elevation and slope while utilizing a rotating laser. The P-Tier small dozers with EH controls arrive from the factory with EZ Grade features, however, the owner can upgrade to Slope Control or SmartGrade technology in the future, if desired. As an additional tech-forward feature, the new eight-inch touchscreen cab display offers intuitive navigation of slope control and machine settings on EH machines.
Enhancing operator performance and safety, the new P-Tier small dozers feature a variety of strategic design choices aimed to increase visibility and comfort. Boasting a 14% larger cab than previous models, the P-Tier machines offer increased storage space and easier ingress/egress capabilities. In addition, customers can now proportionally control the blade's angle and change travel direction through the use of the integrated FNR switch. Impacting operator visibility, the new hood design, straightened and lowered five-inches on 650 P-Tier and seven-inches on the 450 and 550 P-Tier models, helps improve overall forward visibility and straight sightlines to the front of the machine. Also, with the removal of the DEF system, the 450 P-Tier model offers simplified maintenance and reduced system complexity while meeting emissions regulations. Lastly, the optional LED light package and rear-view camera options take visibility to the next level, enhancing visibility for a more efficient job site.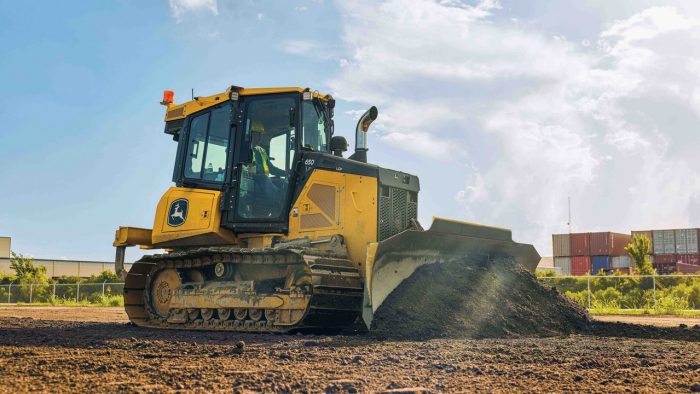 Designed as an additional method of earthmoving, the John Deere 3812 large scraper, paired with the latest 460 P-Tier articulated dump truck, offers a 38-yard capacity and can be used in push load or top load applications. The 3812 is the first Articulated Dump Truck drawn scraper to enter the John Deere lineup and features scraper controls that fully integrate with the 460 P-Tier ADT to increase productivity and ease of operation. Once the ADT is in scraper mode, the operator simply goes to work as the ADT and Scraper pan are integrated as one seamless machine. Meanwhile, the ADT automatically optimizes engine torque curves and differential locks, and selects a maximum cut gear to maintain momentum and boost productivity. Further integration includes scraper brakes, Deere encoded cylinders and a scraper pro package that enables push-button sequencing, additional cameras, scraper position and productivity feedback to the operator all through the new high-resolution display. Lastly, the hitch and platform design allow conversion between an ADT with a dump bin or pulling a scraper, giving customers the ultimate fleet flexibility and utilization of their equipment.
Those attending the 2023 CONEXPO/CON-AGG Show in Las Vegas can learn more about the new machines and latest technology features by visiting the John Deere outdoor booth in Silver Lot (S5020), inside the West Hall (W40844) or www.JohnDeere.com/Vegas2023.
Take a break from reading and check out our Machine Heads video series!