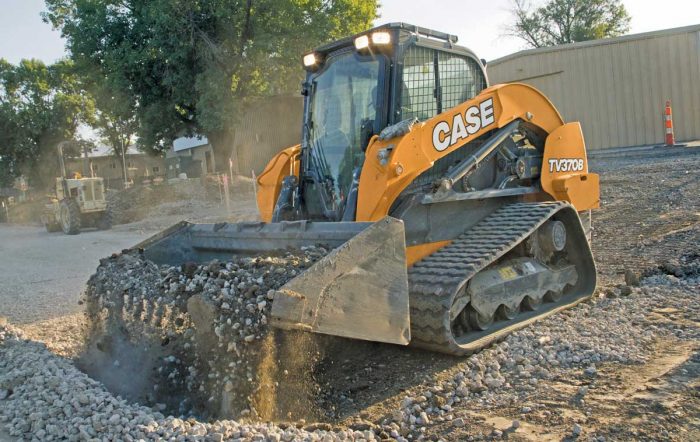 It's not a mystery why compact track loaders are some of the most popular machines on the jobsite. These tool carriers are the ultimate utility players, wielding a zillion different attachments (from brooms to breakers) to tackle applications on almost any jobsite. Dedicated track undercarriages offer high traction, low ground pressure and great pushing power. A variety of sizes (units have grown both bigger and smaller) matched with a slew of ever-techier options (backup cameras to grade control systems) have skyrocketed compact track loader sales to somewhere in the 80,000+ units a year sold, surpassing their wheeled skid steer cousins. In conclusion: Compact track loaders are super popular right now, but what units are actually the most popular? Let's find out.
Top Models
When it comes to compact track loaders, balance of size and power is important. These are meant to be nimble machines. Knowing up front what kind of power and performance you'll need to get the job done is critical to choosing the machine. For an industry perspective, a lot of the market still gravitates toward a mid-range unit.
"For customers that don't require heavy-duty attachment use, generally the customer base has gone to the 74-hp units," explains George MacIntyre, Case Construction Equipment product manager of compact track loaders and skid steer loaders. "So, it's probably a mix of 74-hp units and higher horsepower units for customers that know they are going to have to use more heavy-duty attachments."
Compact track loaders that stay below 75 hp also bypass certain diesel engine aftertreatment technology, including the additional use of diesel exhaust fluid or DEF. American track loader pioneer ASV sees a similar trend. Its mid-range machine, the 75-hp RT-75, is the most popular for the company, with the smaller RT-40 close behind on its (um) tracks. Buck Storlie, product line manager at ASV, says he sees mid-size machines doing well in general, due to their versatility and for applications such as new housing construction. As part of the company's new MAX-Series, the RT-75 can be outfitted with a wide range of creature comforts — touchscreen digital display, Bluetooth radio, heat/air, backup camera and beyond — which is also a movement in the industry.
Increasing demand for ASV's smaller RT-40 is driven by the machine's size and particularly width, considering track loaders have traditionally being bigger, heavier units compared to skid steers. "It's a 48-in. wide machine and performs extremely well in tight developments without a lot of space," he says. "We're seeing a trend in replacing stand-on or walk-behind machines with a small sit-in model."
Radial vs. Vertical
In one corner, you have strength and durability, combined with an attractive price. In the other corner, you have excellent capacity, and outstanding lift height and reach. In the end, which one wins? The answer, to put it not-so-simply, is both. A radial-lift machine has its advantage, and so does a vertical-lift machine. Both types of machine are popular, says Kevin Coleman, product specialist, Caterpillar.
"Customers who prefer vertical lift do so for the height and reach that linkage provides," he says. "When you're lifting to a certain height you also want to have that reach to load trucks or use forks to handle material. Radial-lift machines give you good reach and good performance in applications such as digging, dozing or working at ground level."
Like so many other considerations when purchasing equipment, it comes down to the job. "Operators who do primarily grading and dirt work will most often choose a radial-lift machine due to its greater bucket breakout and lift-arm forces and mid-height reach," says Lee Padgett, product manager, Takeuchi. "Operators who do a lot of load-and-carry applications will typically choose vertical-lift machines for their higher rated operating capacity, higher hinge-pin heights and dump reach for loading trucks."
Overall, units of all sizes are succeeding. Skid steers and track loaders come in all types of sizes and configurations. Serving this expansive market, at least 13 major brands of loaders are being sold in North America in 2021: ASV, Bobcat, Case, Cat, Gehl, JCB, John Deere, Kubota, LiuGong, Mustang by Manitou, New Holland, Takeuchi and Wacker Neuson. Caterpillar alone offers seven units from the small 67.1-hp, 7,434-lb operating weight 239D3 up to the gnarly, 110-hp brush eating 299D3 XE Land Management unit. Kevin Coleman, Cat product specialist, sees them all doing well.
"The level of choice we provide allows us to meet the customer's need for pricing size of the machine, transportation limitations and different levels of need for performance of the attachments themselves," he says. "It's the most versatile piece of equipment that Caterpillar makes, and I would challenge people to argue with me on that topic. There are so many different segments and applications because of the range of attachments with which you can pair the machine."
Deere is also seeing activity across its entire lineup of small, medium and large frame compact track loaders, says Luke Gribble, solutions marketing manager at John Deere Construction and Forestry, noting that some customers are buying larger machines. "Customers who historically needed machines in our small frame size class — the 317G — may now be looking to go up to our 325G mid-frame model," Gribble says. "The same is true for historic mid-frame model customers now looking to move up into the large frame CTL category with our 331G or 333G machines."
Buyers should consider size and weight for both trailing and jobsite dimensions. Will it need to work in backyards, perform truck loading or navigate busy, snow-covered parking lots? What will it lift? Light-ish mulch or obscenely heavy pallets of retaining wall bricks? What attachments will be employed? Buckets? Brooms? Brush cutters? Heavy-duty attachment operations (like land clearing for further grooming with a rotary cutter) may require a bigger machine with bigger options like high-flow hydraulics. Speaking of which…
Go with the Flow
Depending upon the size of compact track loader purchased, there may be hundreds of attachments available that will ensure your CTL is a money-making machine. Spec out your track loader's hydraulic flow to the auxiliary circuit and the attachment, which will be determined in gallons per minute (gpm) and pressure (psi) and as standard- and high-flow configurations.
"Traditionally, track loaders are used most often for tasks like grading, dirt work and materials handling," explains Lee Padgett, product manager at Takeuchi. "Those applications require buckets and forks, so those are the attachments customers tend to choose most often. However, with the addition of auxiliary hydraulics and advanced machine controls, we're now seeing track loaders used more and more frequently with other types of attachments, such as grapples, tree spades, mulchers, brush cutters and brooms, just to name a few. We just introduced our new Takeuchi Attachment Program in February, so when we start analyzing sales data from that program, we'll be able to see how attachment purchases are trending over time."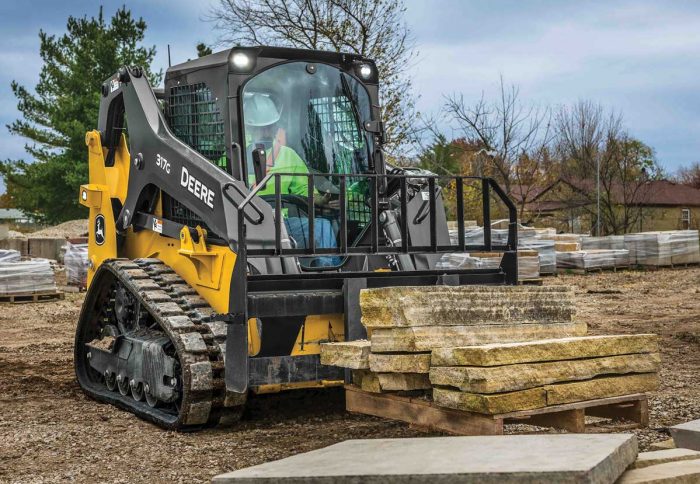 At 6 ft, 5.8 in. high and just over 5 ft wide, Takeuchi's TL6R model is currently popular due to its smaller size, which makes it possible to work in confined areas while still having great pushing power and ROC. It features a radial-lift design to deliver excellent mid-height reach and performs well in tough applications.
Regardless of brand, almost every compact track loader made ends up with a bucket at one point or another, says Storlie, who says in his opinion, the 4-in-1 bucket improves versatility. "It's the most underutilized attachment in North America," he says. "With its ability to open and act as a grader, back drag on the closed edge and clamp onto another things, whether it be a rock or another tool or a rake, the 4-in-1 bucket is a big one."
After buckets and forks, trenchers, tillers, powered rakes, seeders, snow blowers, brush cutters and smart grader blades are popular implements for tracked machines. Each attachment is its own research project. Jordan Didier, product specialist with attachments for Bobcat, which has more than 40 attachments, points to the pairing between power and efficiency attachments can deliver.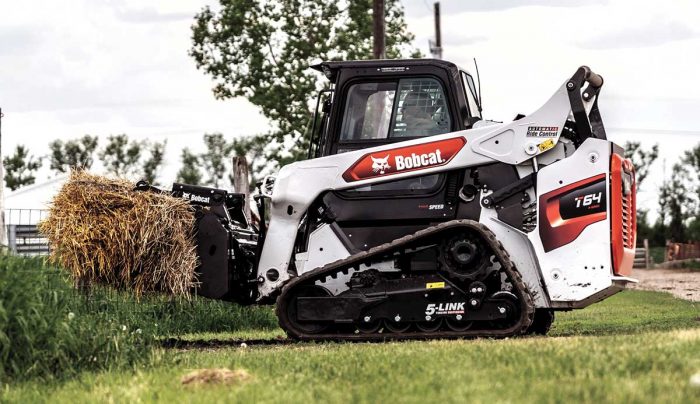 "Whether it's handling dirt and snow, digging holes, doing brushwork or moving pallets of materials, with the right attachment, you can adapt to a new task in minutes," Didier says. "We see blower and vacuum attachments as definite market up-and-comers, an area for contractors to keep an eye on. As compact equipment and tool carrier machines become more powerful and efficient, make sure to keep an eye on grounds maintenance as these attachments continue to have less ground disturbance."
Bobcat's most popular unit might be its nimble T66 R-Series compact track loader. With an operating weight of 8,927 lbs, the T66 R-Series is suitable for a variety of applications and features a turbocharged 74-hp, non-DPF inline engine and durable direct drive system. Offering increased lift capacity and increased lift height due to stronger, slimmer cast-steel lift arm segments, the T66 boasts a rated operating capacity of 2,450 lbs. It also has a high-flow option.
High-flow overall is popular with customers, as it increases attachment versatility. Coleman recommends choosing the high-flow option if you're going to use the machine for a task that requires high performance tools that need the additional flow. "Our high-flow system not only provides additional hydraulic flow but additional pressure," he says. "The types of attachments where you would see this advantage is cold planers, asphalt grinder, mulching attachments, heavier duty brush cutters — heavy rotating tools meant to destroy."
Choose Wisely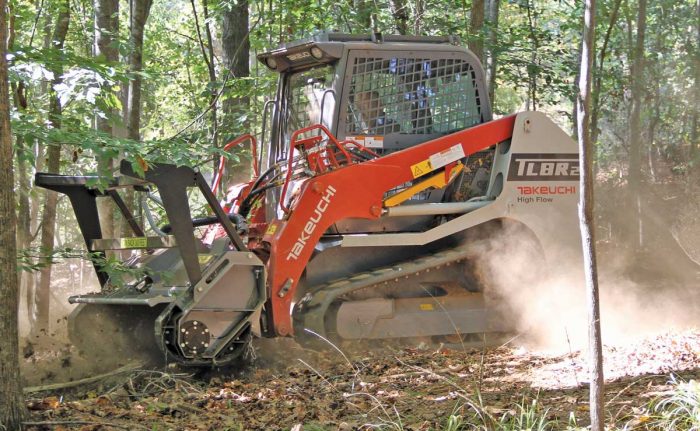 There will be lots of other important choices when choosing a compact track loader — like radial- vs. vertical-lift configurations (see the sidebar). There will be options in controls, ranging from classic dual steering levers and dual foot pedals to high-tech, low-effort selectable joystick controls where ISO or H patterns can be easily activated with a switch inside the cab. Other choices might include tracks. Perhaps your job calls for all-weather variants to spearhead winter work or maybe a wide, smooth, low-ground pressure track for operating on expensive landscapes. Consider your seat. Decide between an open-air ROPS cab or enclosed cab with heat, air and less noise.
ASV offers a Base Package and a Premium Package, and Storlie says there's no contest — more than 90 percent of customers choose models loaded up with features that include an all clear-sided cab that delivers 55 percent more visibility than the previous model, Bluetooth stereos, color touchscreen displays and more. "We're seeing folks becoming more and more demanding of the comfort level they want to be in — not only from an owner-operator standpoint but also to retain operators by having nice equipment that they sit in every day," he says.
Have questions about protecting your crew during the current pandemic? Check out our COVID-19 microsite for more resources from cleaning equipment to wearing the proper PPE.
Both skid steers and track loaders have loads more tech options — those aforementioned sophisticated digital control panels that allow for attachment and machine automation where routine tasks such as boom settings, attachment speeds, hydraulic flows, wheel speeds, ride control and return-to-dig functions can be automated into your joysticks. There are visibility enhancements like backup cameras and deluxe LED lighting outputs. Telematics systems can be installed to track and log all machine functions, spearhead maintenance schedules and perform security measures like geofencing.
"Pairing your machine's additional tooling with a proper method of tracking and management is a 21st century solution for leveraging gains," says Blane Burroughs, CE product specialist for Kubota. For example, he says, Kubota's popular SVL97-2 is perfect for telemetry. "Operators and business owners are using the power of telematics more and more in order to track and manage their machine's overall health."
However, as popular as these features are, it's still critical to choose a machine based on the ability to complete the job. "While operator comfort features are of significant importance, the leading features and benefits of a track loader still remain within the spec guide," says Burroughs.
Reasons to Rent
With so much versatility, flexibility, power and performance, the compact track loader seems like a no-brainer to have in your fleet. However, there are times when rental is a great option. At around $2,300 for a small model and up to $10,000 per month for a large model with attachments, looking at the economics of renting versus owning is important.
"Renting can be beneficial if you are trying to determine which size and configuration of machine you need before making the ultimate buying decision," Gribble says. "Rental houses carry a wide array of sizes and configurations, so this makes it easy to test out which machine is the correct fit for you."
If you know you're going to continue to use a machine, or plan to expand into jobs that will require a compact track loader, you can not only justify the expense of the machine and maintenance costs, but you can also ensure the machine you want is available.
"When you choose to rent a machine instead of owning it, it's always possible that the machine won't be available when you need it," says Padgett. "It could be in the shop, or it may already be out on rent, possibly for an extended period of time. Then, you'll have to look elsewhere or settle for second best."
When you do buy, make sure you don't underbuy, says Storlie. "Make the investment upfront, and it's there in the resale value," he says. "People underbuy and regret, whereas if you overbuy slightly, you can get that back at the sale of the machine."
Amy Materson is a freelance writer for Compact Equipment.
Tags:
ASV
,
Case
,
Case Construction Equipment
,
Cat
,
Caterpillar
,
John Deere
,
John Deere Construction and Forestry
,
May 2021 Print Issue
,
Takeuchi
,
Takeuchi-US