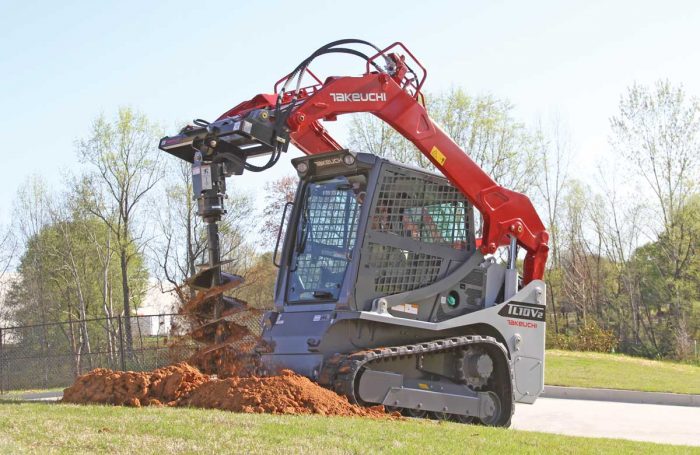 Besides your kids and pets, almost anyone is allowed to jump into a compact track loader and start operating. There's no certification or license required, but that does not mean training should be optional or an afterthought. While compact track loaders are not overly complicated to operate, there are definitely dos and don'ts. Keep the bucket low during travel. Don't travel sideways on steep hills. Do a daily maintenance checklist before operation. Buckle your seat belt. To ensure our readers are up to date on the best operational techniques, we reached out to six top manufacturers in the industry to ask for pro tips for improved compact track loader operation. Here's what they came up with.
Start Slow, Understand Slopes
Luke Gribble, Solutions Marketing Manager, John Deere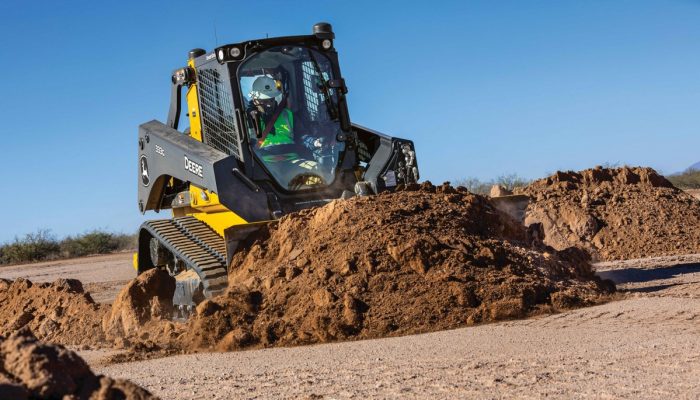 Training new operators is very important on compact track loaders. To start with, even reviewing basics that enable a safer operation are important. Always have a seat belt on and ensure the latch bar is down when operating. Once the machine is started, get familiar with the machine and controls. Even running at a slower pace until you are up to speed is a great way to learn your surroundings. This also allows you to understand what features come with the machine that could impact your overall productivity when utilizing the machine to complete work.
For best stability, keep the heavy end of the CTL uphill since when there is no load, the rear of the machine is heavier making the machine more stable. Also, anytime that there is a significant amount of track off the ground, go slowly to minimize the impact after the breakover point is reached. When operating, cross over obstructions at an angle, ease up to the breakover point, balance slowly on the obstruction and ease down to minimize the impact. On gradual slopes, work parallel to the slope, on steep slopes, work diagonally starting from the base, working upwards.
John Deere Training
At John Deere, we offer top-of-the-line training through dedicated compact construction equipment instructors, directly to our dealers both in person and virtually on a regular basis. Once dealers go through training, they are well equipped to pass on the information they learn directly to customers. Everything from machine specifications, features and operation best practices can be delivered to customers by John Deere dealers to fit their needs.
Safety, Maintenance and Attachments
Kevin Coleman, Sr. Product Application Specialist at Caterpillar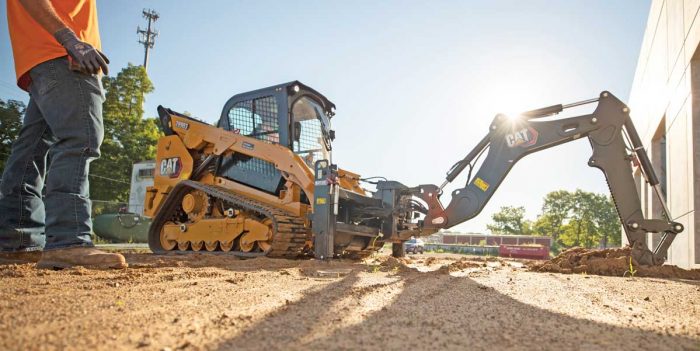 First, safety. Operating a piece of equipment in tight areas, potentially where there are other obstacles, equipment and perhaps personnel on site should be done only when the operator is fully aware of the operational controls and capabilities of the machine. A good place to start to learn about your compact track loader is by reading the operator's manual that is included with every machine. An untrained operator can make decisions that cost you money without them even realizing what they are doing and how it affects your bottom line. A trained operator should know what daily checks to make on the machine before starting work. Failure to check the engine oil, hydraulic oil, filters, track tension and inspect the machine for any potential issues can result in increased operating costs or potential down time.
An untrained operator can also cost you money with operating technique such as turning abruptly on surfaces that have been graded and/or existing lawns. This could result in extra time to repair, which equals a financial cost. Also, this type of constant turning practice can cause the machine to experience accelerated wear to the undercarriage components, like the tracks, which also drives up operating costs. Take time to understand the attachments being used. Attachments are great to help complete jobs more quickly and easily. However, not understanding how to appropriately use an attachment, especially hydro-mechanical attachments, can result in accelerated wear to an attachment's wear parts — teeth, bits, bristles, cutting edges, etc. — and/or costly damage to the attachment itself.
Cat Training
The Cat dealer network has support personnel that can be utilized to help customers with machine operation. If a customer needs support in this area, they should contact their local dealer for additional information. In addition, Caterpillar offers multiple levels of both instructor led and virtual operator training courses. Go to Cat.com and search "Operator Training" for more information. There is also the Cat Landscaping and Construction YouTube channel with an extensive playlist of videos with information on features and operation of the equipment as well as the attachments.
Compact track loaders are the most popular category of compact equipment in America. Learn why with loads of track loader features right here.
Get to Know Your Unit
Steve Marsh, Construction Equipment Business Development Manager for Kubota Tractor Corp.'s Northern Division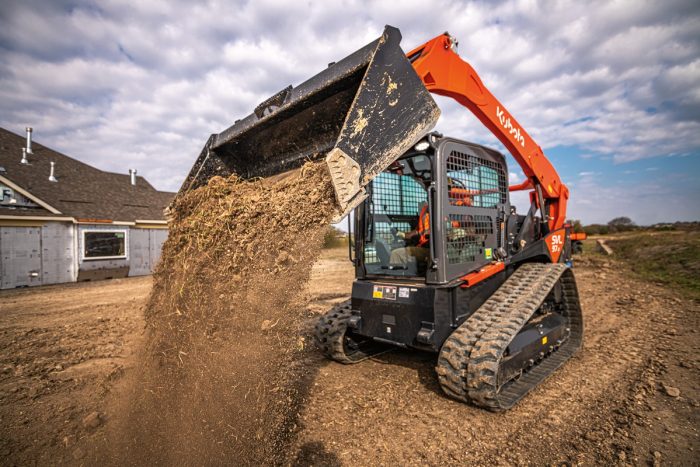 The most important operation advice I would offer to any customer is to know the machine inside and out. It is important to know as much as possible before running these machines on a jobsite. There are multiple features, making it imperative that the operator knows what the buttons do, specifics about the jobsite and what it will take to accomplish their goals. This might include details, such as knowing the correct entrances and exits, land conditions, attachments needed to complete the task and the limits of the machine. Often, operators can find themselves in unfortunate situations by pushing the machine too far. Operators must stay within the limits of their machines. Users should always travel with the load lowered as close to the ground as possible and to think ahead about machine positions on side hills.
Kubota Training
When a customer purchases a new unit, the selling dealer will spend time with the customer explaining all the features and operational controls. During this time, the customer learns basic through advanced levels of controls. Our website provides some specific features for the SVL, which can be found on KubotaUSA.com. These are done by video and are currently being updated at this time. Kubota also offers an app called My Kubota which is a great resource for all material any customer would need to find. The great part about this app is that it pairs along with our telematics on our machines. Telematics is a vital technology and is going to continue to grow with logic such as GPS Tracking, GPS geofencing and Machine Inhibit Restarts.
Don't Operate like It's a Skid Steer
Lee Padgett, Product Manager, Takeuchi-US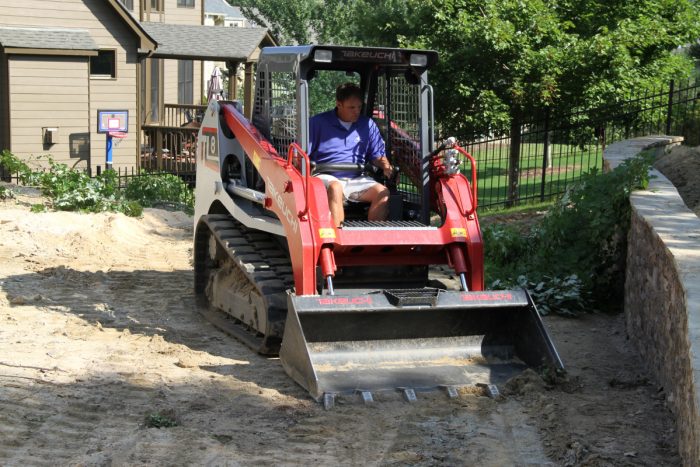 If you're not the only person operating the machine, it's important to ensure your crew members know how to use the track loader correctly. Crews operate equipment daily, so they're in an ideal position to recognize problems. Proper operator training goes a long way toward ensuring a track loader's undercarriage stays in good condition. Sometimes, crew members are more familiar with other types of equipment, and they may adapt the way they operate those machines to a track loader. However, track loaders require a different approach in some ways. For example, when you're operating a skid steer, it's possible to apply enough pressure downward on the bucket to raise the front tires off the ground. On track loaders, this technique tends to spin the track, which can cause premature wear of the track and rear rollers.
Taking wide turns instead of operating the machine like a skid steer and turning around right on the spot will help minimize undercarriage wear and disturbance to the surface under the machine. In sloped conditions, it's important to drive up and down the slope, not across it, to avoid unnecessary wear to undercarriage components. Going across a slope puts side loads on the machine's tracks, rollers and idlers.
Takeuchi Training
Our dealers learn about proper CTL operation and maintenance by attending training we provide at the Takeuchi Training Center next door to our facility in Pendergrass, Ga. Because they are more on the front lines with end-users, it's important that they get the proper training to help their customers understand how to use their machines safely and effectively, as well as keep them in top condition. And we're always here for any questions they may have. We, as the manufacturer, include as much training information as possible in our operator's manual and leave the hands-on training to our dealer sales teams. We also have several instructional videos that demonstrate the proper use of our auxiliary hydraulics, monitor function, attachments, general serviceability, track adjustment or how to clean out the machine. Those are available online so that they're easily accessible.
The Operation Manual, Good Controls
Buck Storlie, ASV Product Manager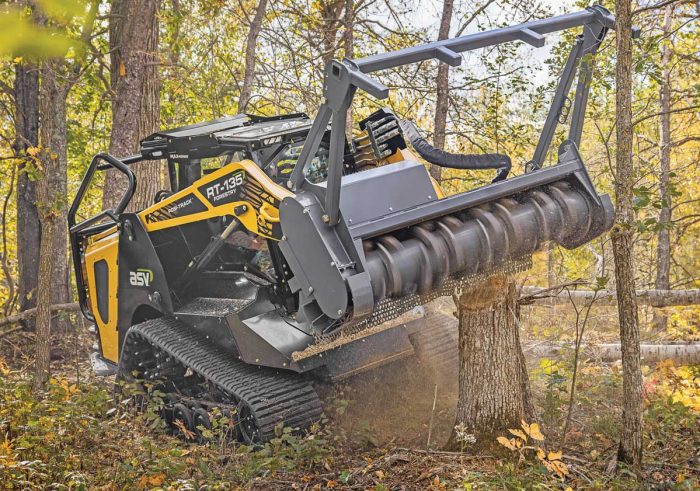 The best way to start is by reading and understanding the machine's operation manual. Many operators might not think to take it out unless their machine is showing signs of trouble, but what is often forgotten is the manual also includes safety tips, guides for proper operation and maintenance schedules. Taking time to look over these guidelines at the beginning is a proactive way to prevent downtime in the future. Investing in machines with intuitive controls is also a good way to speed up the learning curve. Instead of traditional hand and foot controls, look for a track loader with hands-only controls, offered standard by some manufacturers — like ASV.
Of course, safety best practices should not be disregarded. These include ensuring the operator is always aware of their surroundings, especially when people are around the machine. Other ways to increase safety include following procedures as outlined in the owner's manual. This includes practices like wearing the seatbelt, never bypassing safety systems, keeping body parts in the cab while operating and never leaving the cab while the engine is running.
ASV Training
ASV dealers can serve as a great resource for contractors on everything from training to troubleshooting. ASV's website also has a variety of helpful resources to educate customers during the buying process such as Build & Price tools and videos of demo challenges to see ASV equipment in action.
Simulator Training
Christa Fairchild, Product Marketing Manager, Construction, CM Labs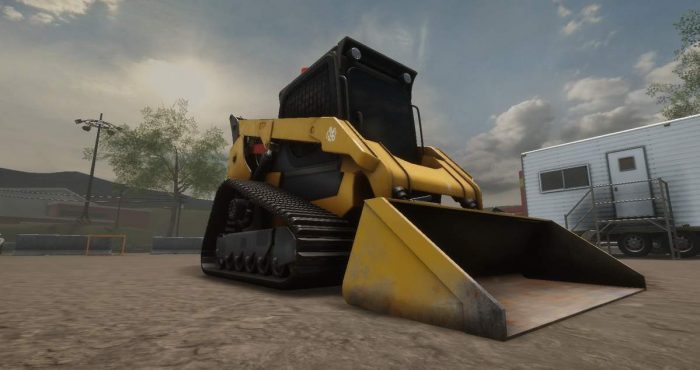 Compact track loaders and skid steers have a high rate of accidents. Because of its versatility and price, the CTL is often rented by inexperienced operators resulting in a high rate of accidents, usually involving machine tipping. Many are used by untrained operators. With no official certification required to run a CTL, operators likely have not had proper training, resulting in underperforming machinery, poor cycle times and higher fossil fuel consumption. The best tip I can offer is to do some simulation training prior — get used to the controllers, feel how the machine behaves on uneven ground, and learn to lift, carry and dig efficiently and safely. If you make a mistake in the real world, you can't hit reset. Our simulators are the only ones on the market that duplicate in high fidelity, actual equipment.
CM Labs Training
CM Labs' Compact Track Loader (CTL) Simulator Training Pack runs on three hardware platforms: the motion-enabled Vortex Edge Max; the fully immersive Vortex Advantage; and the desktop Vortex Edge Plus. Our CTL simulation training is the only simulator on the market that accurately replicates machine stability, providing real-world training opportunities to help reduce the risk of accidents. The simulated machine behavior helps operators gain a better feel for the impact of gear shifting and throttle use, improving lifting capacity and cycle times, ultimately reducing production costs.
The Compact Track Loader Simulator Training Pack features progressive learning exercises designed to gradually build skill and confidence:
Controls familiarization
Trailer loading and unloading
Load handling
Stockpiling
Live attachment change (bucket and fork attachments)
Excavating and grading
Truck loading
Skills challenge
Sandbox
The learning program is broken down into five separate exercises. For the CTL most can be completed in 15 to 30 minutes each — a lot of our customers appreciate the longer versions as they also work on focus and attention (very relevant in construction). The open world, also known as the sandbox, has no time limits. You can use this program to test out all the skills you have learned in the prior exercises, without time constraints. Instructors can access real-time key performance metrics like safety violations (such as tipping, or collisions with people (avatars) or equipment) and cycle time efficiency.
Keith Gribbins is publisher of Compact Equipment.
For reprint and licensing requests for this article, please click here.