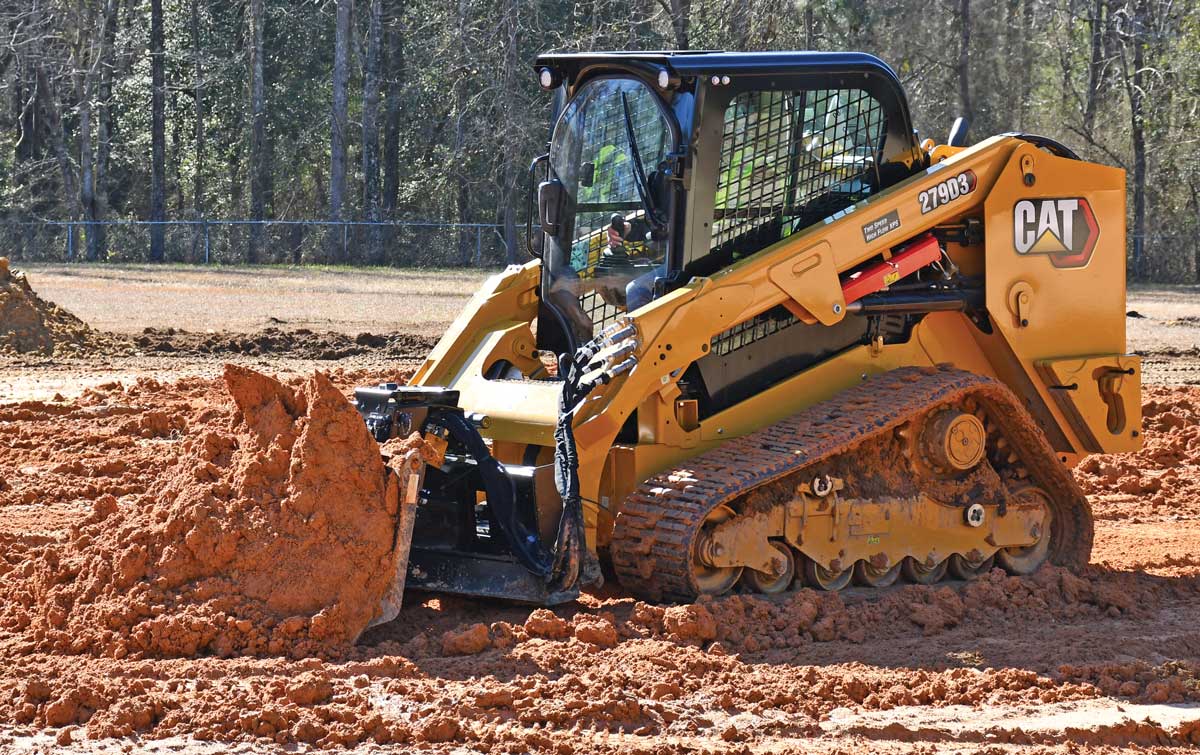 Standard Torsion Suspension Undercarriage Delivers Maximum Comfort and Productivity
This post is a part of Compact Equipment's annual Spec Guide. View other brands' product and spec info by clicking this link. View the magazine version of these summaries by clicking right here. Sign up for the print edition right here. Now enjoy!
More than 20 years ago, Caterpillar launched its first rubber track loaders into the compact equipment market, touting a standard torsion suspension undercarriage. Today Caterpillar continues to set the standard for undercarriage design across its lineup of seven compact track loader models, which include both radial-lift linkage path and vertical-lift linkage path models.
The Cat D3 Series compact track loader family is comprised of machines ranging from 67 to 110 gross hp, that deliver low ground pressure and ground disturbance, so they can work in environments where skid steer loaders can't. All Cat compact track loader models feature a fully independent torsion suspension undercarriage along with two-speed travel as standard equipment. The torsion suspension undercarriage system delivers improved traction and flotation by allowing the undercarriage to move and react to the underfoot conditions to keep the maximum amount of track on the ground. The undercarriage suspension system also distributes the machine load to greatly reduce shock and vibration throughout the machine to provide greater load retention and a more comfortable ride.
Cat also offers an optional High Flow XPS hydraulic system providing increased flow (up to 32 gpm) as well as higher pressure (up to 4,061 psi), which delivers more speed and more torque to the attachment. The largest Cat rubber track model, the 110-gross-hp 299D3 XE, provides even higher flow (up to 40 gpm) with higher pressure up to 4,061 psi. In addition, Cat offers the 299D3 XE Land Management configuration that delivers a purpose-built machine solution for customers involved in demanding vegetation-management applications.
The Cat D3 Series compact track loader models offer the operator excellent sight lines to the attachment, sides of the machine and tracks via loader arm and cab designs focused on visibility. Visibility to the sides and rear of the machine is further enhanced with a standard rearview mirror. The integrated rearview camera, standard on most models, provides a wide-angle image of the hard-to-see areas behind track loaders as they operate. The optional enclosed cab is a one-piece, modular design with excellent sealing and pressurization that provides a clean and quiet operator environment. The D3 Series models are even more comfortable, delivering 3 additional in. of knee room for the operator. Additional control features are incorporated into the heads-up, full-color LCD monitor that provides the operator the capability to customize up to 23 different parameters. Each of these parameters, which include language choice, display preferences and machine performance adjustments, are retained for each individual operator code.

Advice to Buyers
"Look for a machine that provides you with the features and technology to be successful," says Kevin Coleman, senior product specialist for Caterpillar. "Consider items that increase an operator's efficiency for frequent tasks that the machine may be performing. Items such as dual direction self-leveling for material loading and handling, return-to-dig for truck loading cycles or creep speed control for a high-quality finish and maximum productivity with hydro-mechanical attachments."
Tags:
Caterpillar
,
July August 2022 Print Issue
,
Spec Guide
,
Spec Guide 2022