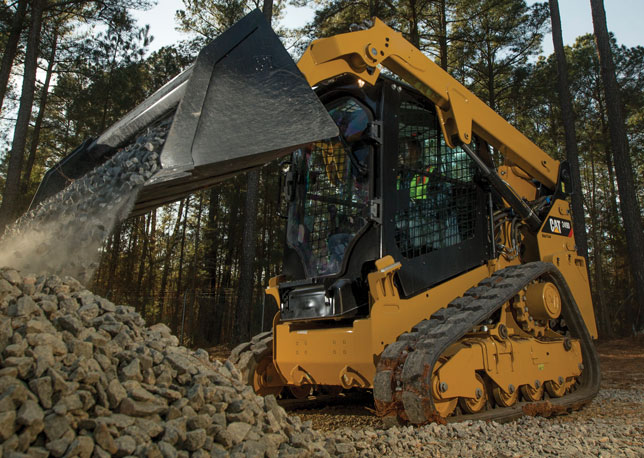 Twelve Rubber-Track Models from the Equipment Titan
Just two years after Caterpillar entered the compact equipment market with its skid steer loader in 1999, its first rubber track loaders were released. The loaders entered the market touting standard, independent, fully-suspended rubber track undercarriages. In 2008, Caterpillar introduced its steel-embedded, rubber track compact track loader models, which also incorporate that independent suspension system, to complement its multiterrain loader lineup.
There are 12 rubber track loader models in the Cat lineup, including both radial- and vertical-lift machines. The rubber-on-rubber multiterrain loader line is comprised of five models ranging from 74 to 110 gross hp. Cat multiterrain loaders have low ground pressures and ground disturbance, so they can work in environments where other track loaders can't, says Cat. The steel-embedded, rubber track compact track loader line is comprised of seven models ranging from 67 to 110 gross hp. The Cat compact track loaders feature steel-embedded track and steel undercarriage components for maximum durability in more challenging applications and/or underfoot conditions.
Both the multiterrain loader and the compact track loader rubber track models feature a fully independent suspension system that provides improved traction and flotation by keeping the maximum amount of track on the ground at all times because it attaches to the machine chassis via torsion axles. The undercarriage suspension system distributes the machine load to greatly reduce shock and vibration throughout the machine to provide a more comfortable ride with greater load retention.
The Cat D Series features outstanding sight lines to the work tool, the sides of the machine and tracks thanks to loader arm and cab designs focused on visibility. Visibility, especially to the rear of the machine, is further enhanced by an integrated, rear-view camera that is available on all models.
An ergonomic operator's station layout is enhanced by the high back, heated air-ride seat with seat-mounted joystick controls. A standard security system provides additional protection from unwanted operation and theft. Additional control features have been incorporated into the optional, 5-in. LCD in-cabin monitor that provides the operator the capability to customize up to 15 different parameters.
Advice to Buyers
"Look for a machine that provides you with the tools to be successful," explains Kevin Coleman, senior product specialist with Cat. "A machine should deliver sight lines to all areas around the machine for maximum efficiency and safe operation on the jobsite. Also consider features that increase efficiency for frequent tasks that the machine may be doing such as dual direction self-leveling for material loading/handling, return-to-dig for truck loading cycles or creep speed control for a high-quality finish and maximum productivity with work tool attachments."
Caterpillar Inc.
100 N.E. Adams St., Peoria, IL 61629
309-675-4494 | cat.com
Click on table to enlarge