The Pioneer of America's Original Compact Track Loader Offers Nine Models
The ASV brand dates back to 1983 when the company unveiled the Track Truck — one of the first rubber-tracked work vehicles. The company's first rubber-tracked loader, the MD-70 Posi-Track, debuted in 1990. Over the years, the Posi-Track line continued to grow to meet the needs of landscaping, construction, agriculture and forestry contractors. Today, the ASV product line consists of nine compact track loader models. The lower weight class includes the industry's smallest sit-in loaders, the new RT-25 (radial) and the RT-40 (radial). The company's newest release is the VT-70 High Output (vertical), falling into the mid-range size class and offering best-in-class power and serviceability, according to ASV. The RT-65 (radial) and RT-75 (radial) fall into that same class. ASV also notes it offers the industry's largest, most powerful compact track loader, the RT-120 (radial).
The new VT-70 High Output's vertical-lift loader linkage suits applications requiring extended reach and level loads, as well as heavy digging. Powered by a turbocharged 74.3-hp Deutz 2.2-liter diesel engine, the VT-70 High Output offers optimal serviceability features. These include a swing-out radiator, top hood and side doors that allow access to all sides of the engine compartment, including filters and other daily checkpoints. The unit's cooler swings out with the door, giving operators total access for easy cleaning and improved machine performance due to the cleaner cooler. To speed the draining process, ASV includes convenient drain plugs on all service items, including drive motors, the hydraulic tank, the radiator and the engine oil pan. Zerk fittings on the end of all pins make greasing easy. In addition, the machine features a direct-drive pump, eliminating the labor-intensive belt servicing that comes with belt-driven pumps. The 22.2-gpm standard flow and 27.4-gpm high flow allow the VT-70 High Output to run heavier attachments longer. The machine has a 10.5-ft lift height and a 2,328-lb rated operating capacity.
The RT-75, which is powered by a Cummins 75-hp, 2.8-liter diesel engine, is a fast-moving mid-sized track loader. It comes standard with 18-in.-wide tracks but can also be outfitted with 20-in.-wide tracks. The RT-75 has a 3.6-psi ground pressure and 14.4 in. of ground clearance. It is 70 in. wide and has a 126-in. lift height. The machine features a rated operating capacity of 2,650 lbs and a tipping load of 7,571 lbs.
Advice to Buyers
"Track derailment can be a huge headache and waste of valuable time, so you should look for features that help prevent it," says Buck Storlie, ASV product line manager. "Key things to keep an eye out for include outside guide lugs and more wheel contact points, both of which help keep the track secure. Also check track pliability. A flexible track improves surface contact, further reducing the likelihood of derailment. These features will save time that may otherwise be spent dealing with derailment and will also allow operation in areas that may otherwise cause tracks to come off, such as side slopes."
[prettyPhoto title="ASV Specs" link="https://compactequip.com/wp-content/uploads/2019/07/asv-track-loader-specs.jpg" type="link" ]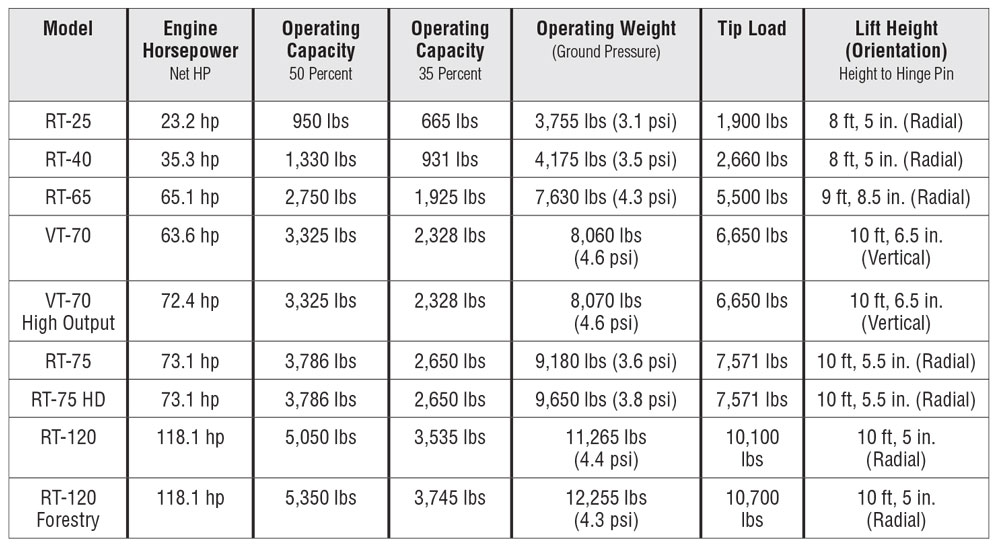 [/prettyPhoto]
Tags:
2019 Spec Guide- Track Loaders
,
ASV
,
July/August 2019 Print Issue
,
Spec Guide 2019