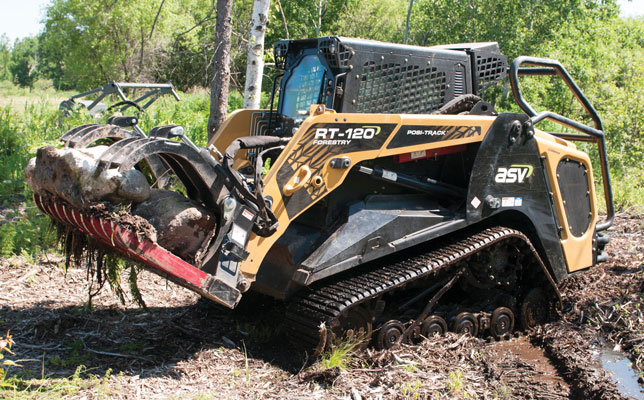 The American Originator of Track Loaders Offers Six Distinct Models
The ASV brand dates to 1983, when the company unveiled the Track Truck — one of the first rubber-tracked work vehicles. The company's first rubber-tracked loader, the MD-70 Posi-Track, debuted in 1990. The Posi-Track line continued to grow to meet the needs of those in construction and agriculture until 2007, when Terex purchased the company. Terex offered ASV-designed compact track loaders under the Terex name until 2014 when the ASV brand was reintroduced with four new Posi-Track machines.
The 2017 ASV product line consists of six distinct models of compact track loaders. The smallest ASV track loader is the RT-30, which is the most compact sit-in track loader available. ASV says the unit has the industry's lowest ground pressure of 3 psi with a width of 48 in. The mid-sized ASV RT-50 compact track loader economically adapts to a variety of jobs and ground conditions. The 50-hp unit features a rated operating capacity of 1,600 lbs, a tipping load of 4,570 lbs and a ground pressure of only 3.7 psi. The 6,520-lb machine reaches speeds as fast as 8 mph.
The larger RT-60 track loader features a turbocharged 60-hp engine. The unit's optimal tipping load of 5,430 lbs and low-effort operation make it suitable for a number of different types of applications, including utility work and construction. The model weighs 6,930 lbs, has a ground pressure of 3.9 psi and features a rated operating capacity of 1,900 lbs.
The VT-70 is ASV's newest machine and the company's first mid-frame, vertical-lift compact track loader. The unit's vertical-lift loader linkage suits applications requiring extended reach and level loads, such as loading pallets and handling hay bales, as well as heavy digging. Powered by a 65-hp Kubota engine, the VT-70 offers optimal serviceability with a swing-out rear cooling package. The 23-gpm standard flow and 28.4-gpm high flow allow the VT-70 to run heavier attachments longer. The machine has a 10.5-ft lift height and a rated operating capacity of 2,328 lbs.
The RT-75, which is powered by a Cummins 2.8-liter engine with 75 hp, is a fast-moving, mid-sized track loader. It comes standard with 18-in.-wide tracks but can also be outfitted with 20-in.-wide tracks. The RT-75 has a ground pressure of 3.6 psi and ground clearance of 14.4 in. Its state-of-the-art, 3,300-psi hydraulic system is designed to operate constantly, even when operating at 100 percent capacity in high ambient temperatures, with industry-leading 35.7 gpm of high flow. ASV's largest model, the RT-120, boasts a 120-hp Cummins engine and runs on 18-in.-wide rubber tracks or optional 20-in.-wide tracks. A special RT-120 Forestry configuration comes outfitted with the wider tracks, heavy-duty guarding and an upgraded engine and hydraulic cooling package that's ideal for the most demanding applications.
Advice to Buyers
"When choosing a rubber track loader, look at key undercarriage features such as openness of the design. The more open the design, the better material can escape instead of it packing into the frame," says Buck Storlie, ASV testing and reliability leader.
ASV Holdings Inc.
840 Lily Lane, Grand Rapids, MN 55744
800-205-9913 | sales@asvi.com | asvi.com
Click on table to enlarge