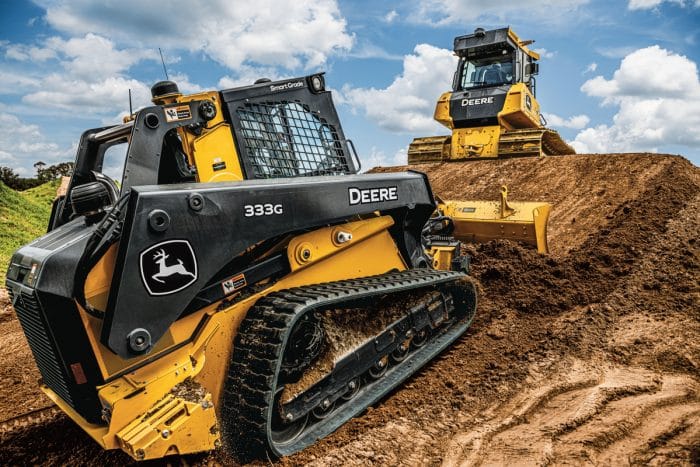 Two decades ago, the introduction of machine control technology created a huge opportunity for contractors engaged in large scale infrastructure construction. Now that same technology is being retooled for compact equipment and especially compact track loaders. Armed with this new positioning technology, a contractor can turn any CTL into a light-duty finish dozer. Small companies and owner-operators are getting the productivity benefits previously enjoyed by large fleets, but large fleets benefit as well.
"With a CTL you're able to get into tighter spaces, around sidewalks and next to buildings, curbs, landscaping and lighting," says Luke Gribble, solutions marketing manager, John Deere Construction Equipment. "And, when you're using rubber tracks as opposed to steel, it allows you to crawl over finished concrete or asphalt without damage."
Dozers are more efficient on large jobs and put more power to the ground for deep cuts, says Gribble, but tech-enabled CTLs are coming on strong. "They both have their place, but CTLs are definitely growing in popularity, and more customers are moving in that direction for their finished grading," he says.
Step Up in Productivity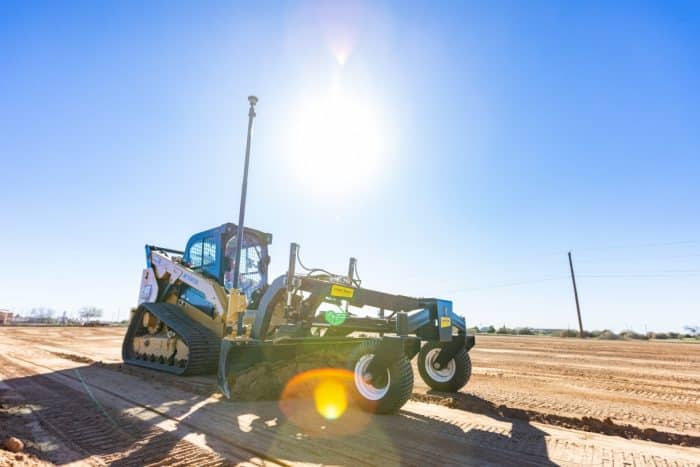 Grade control or machine control systems (same thing) mean an earthmoving machine is being partially controlled by technology and not the operator. On a compact track loader, it means technology is automating attachments like grading blades and box blades to do precision dirt work. Grade control is divided into two groupings: 2D (two-dimensional) and 3D (three-dimensional). Read about the exact differences and technologies used for 2D and 3D right here.
While 2D machine control systems offer advantages, the biggest step up in productivity happens with 3D systems, both total stations and GPS and GNSS guided. With 3D solutions, the biggest gain that you get is the flexibility to do larger and more complex jobs. A golf course is a good example, says Jack Young, Trimble's product manager for machine control solutions.
"There are so many grade breaks and different slopes over a really large area. Setting up a laser transmitter repeatedly to catch those grade breaks would be difficult. Integrating 3D into that workflow really increases productivity," he says.
"With 3D they can move across the job and take things from different angles," says Mark Jones, business development manager for compact solutions at Topcon. They can grab something out of the stockpile and start spreading it. Being empowered to run that machine without having to get out of the cab is the big production gain. When people can get two or three or even one extra hour of productivity a day, that brings a big return."
Can Grade Control Work with a Skid Steer?
It can be done, but it's not the preferred method. With pneumatic tires, you get less stability and tractive effort. The shorter wheelbase on a skid steer makes it more difficult to hold a flat plane with a dozer blade, but a grading attachment with a wheel out front will make a skid steer more stable. When it comes to pushing quantities of material or making cuts with a dozer blade, a compact track loader undercarriage delivers more power to the ground.
Another benefit of using 3D guidance or control is that on a large jobsite, the same design files can be loaded into several machines allowing multiple operators and machines to simultaneously be working towards the same goal, says Bob Shoop, senior product demonstrator/instructor at Caterpillar. That's why even on big highway and infrastructure jobs, you see contractors bringing in CTLs with machine control for the final phase of grading. The possibility exists that a 3D system could pay for itself on a single large job, he says.
Whether it's 2D or 3D, these systems offer immediate benefits. "When you're thinking about the payback, you complete jobs quicker, because it's taking less time and rework when you're trying to hit these grades," says Gribble. "We've also seen that this can turn a beginner into a medium/good operator and a medium operator into a very good operator."
ROI and Repeatability
Previous versions of 3D GPS/GNSS systems for large equipment could cost quite a lot, $40,000 and up in many cases. This made it harder for small contractors and compact track loader users to achieve ROI in a reasonable time. But the newer systems for CTLs cost much less and thus payback is quicker, says Jones.
Depending on manufacturer and what level of machine control you choose, aftermarket systems for CTLs can run half or less than the cost of a system for bigger machines. 2D laser systems are the simplest and least expensive. GPS/GNSS systems are the most expensive as they require base station hardware. In some cases, if you already have masts, receivers or other hardware that you used on bigger machines, these can transfer directly to your compact track loader, thus saving money that way.
Another cost difference between machine control systems for big equipment vs. compact machines is that the big machines are often used in projects where each design is unique such as road and bridge construction. But many CTL contractors will do multiples of a single design, such as a big box store or a Starbucks outlet, says Jones. These standardized sitework plans can be loaded onto a track loader's machine control system and cranked out with a factory-like efficiency. This revolution in CTL machine control comes in two flavors: purpose-built machines and aftermarket systems.
To Mast or Not to Mast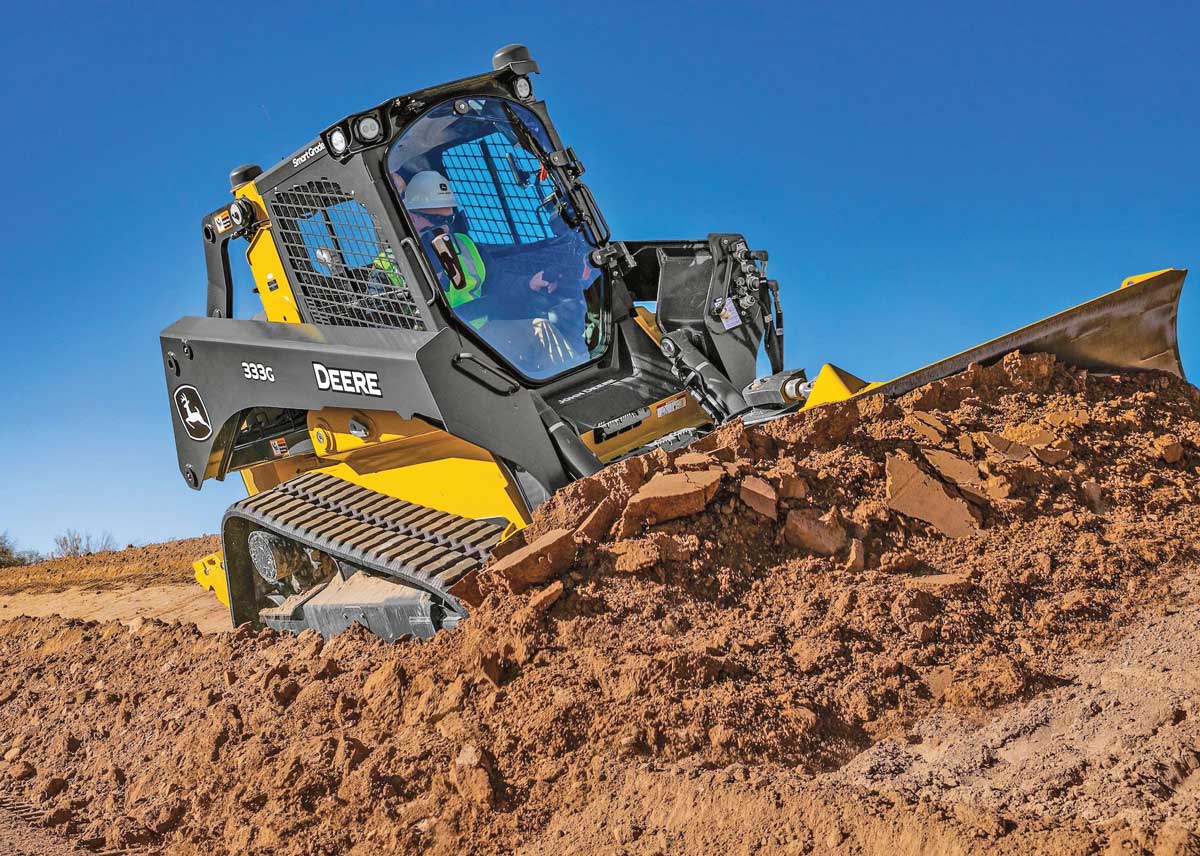 Aftermarket systems typically use masts. They put their laser, LPS or GPS/GNSS receivers on poles and mount them to the blade or grading attachment. But for OEMS with big equipment, the trend in the last few years has been to go "mastless." On these systems the receivers are typically mounted on the cab of the machine and then IMUs (internal measurement units) on the attachment and the machine calculate the orientation of the machine and blade to provide the positioning information. John Deere's 333G CTL and six-way smart blade is an example of the mastless system. Masted systems have the benefit of being portable. You can use them on one machine and then transfer them to another machine or attachment, including rentals, with only a few minutes of setup. And, mastless systems don't require any daily setup other than to bench the blade at the start of the day.
Purpose Built Grade Control Compact Track Loaders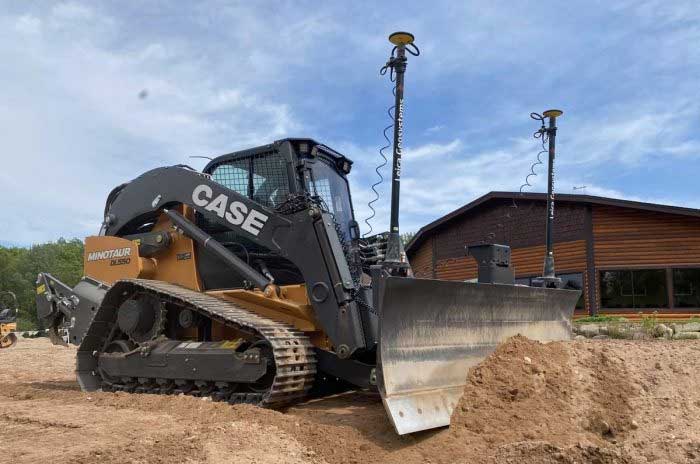 Case considers its Minotaur DL550 as a dozer first, but it really is in a category all by itself. The DL550 has dozer controls and a six-way dozer blade with an integrated C-frame and ripper. Of the three track options — two of them are steel. The unique C-frame dozer blade detaches from the loader arms in minutes, and once you've dropped the blade the DL550 can pick up any other compatible skid steer or CTL attachment. As the name implies, the Minotaur is quite the beast. It weighs more than 18,000 lbs and gets power from a 114-hp diesel engine. Rated operating capacity is 5,500-lbs. It can hit the pile with 12,907 lbs of breakout force and push the load with 25,000 lbs of drawbar pull. Standard high-flow auxiliary hydraulics deliver up to 41.6 gpm at 4,100 psi.
"That unique perspective also transitions over to the controls and how the machine is operated," says Jeff Jacobsmeyer, product manager, Case Construction Equipment. "The cab and the position of the operator in the cab has the look and feel of a CTL, but Case has engineered the controls of this machine to be able to seamlessly transition between traditional CTL performance [ISO operating pattern] and traditional dozer-style operation — right down to the ability to fine tune each operating style with electro-hydraulic controls and operator customizations."
More to the point of this article: Case partnered with Leica for machine control systems both 2D (single and dual laser) and 3D (single and dual GNSS) and total station solutions. All the machine control options come with a second screen that's installed on the inside of the cab door.
"Where Minotaur provides fleet management advantages is in the ability to essentially have a true two-in-one machine," says Jacobsmeyer. "You've got the true dozing and grading capabilities of a small dozer, and then the true loading and material handling performance of a compact track loader. This gives businesses advantages, including the ability to transport fewer machines, train less operators and possibly own fewer total pieces of equipment."
Introduced at CONEXPO-CON/AGG 2020, the John Deere 333G SmartGrade compact track loader was released to the market in 2021. Along with a dedicated six-way dozer blade, Deere's SmartGrade system is a GPS/GNSS based system and supports 2D and 3D machine control but also offers a 2D option that uses inertial measurement units for simple slope work. It can also be set up to run off a laser system.
"The 333G has been in our lineup for quite a few years now," says Gribble. "We introduced GPS technology on it because compact track loaders, especially the larger ones, continue to grow in popularity and our customers continue to want us to enable them to push the limits on their jobsites."
With all of the technology built into the machine from the factory, all it takes to turn the 333G into a fully automatic light-dozing machine is the push of a button. That activates DozerMode, and then all the dozer-like functions are controlled with the right-hand joystick. As befitting its dozer-like character, the 333G has a 97-hp engine, offers 3,700 lbs operating capacity and weighs 12,000 lbs.
Cat doesn't have a CTL/dozer hybrid per se, but it has been offering "smart" attachments with plug-and-play functionality for several years now. This year the company released GPS/GNSS blade control technology for Cat's Smart Dozer Blade with grade assist. The Smart Dozer model is compatible with grade control on the 289D3, 299D3 XPS and XE models. An owner can also set up a Cat CTL with an entry-level option using the BB121/124 (box blade) and Smart Grader Blade 124/120 combined with Trimble Earthworks Go 2.0.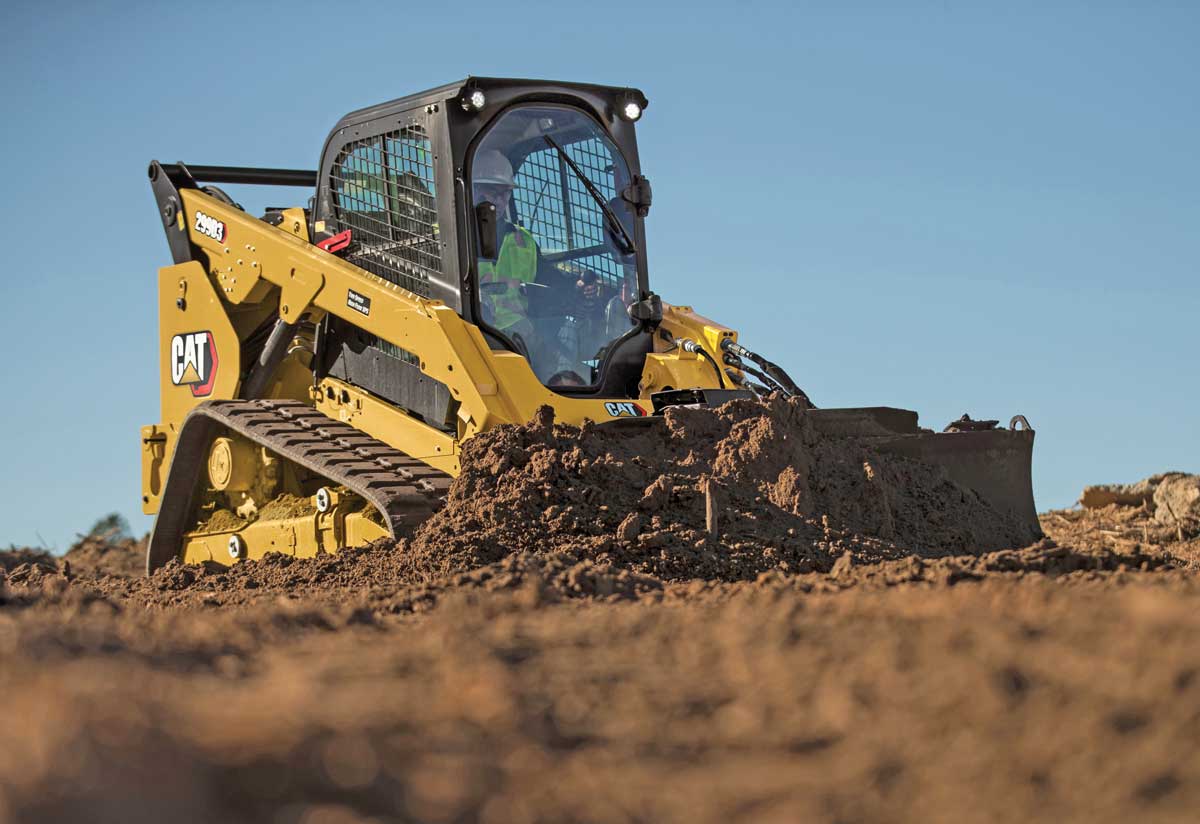 Additionally, Cat has two CTL attachments that offer a full range of guidance and automation technology: laser, total station, sonic and GPS/GNSS. These are the Smart Grader models GB124 and GB120 and box blade models BB124 and BB121. Cat's Smart Blade supports GPS/GNSS only. The Smart Dozer Blade has blade slope control and main fall assist, and the Grader Blade has cross slope assist.
Aftermarket Grade Control Systems for Compact Track Loaders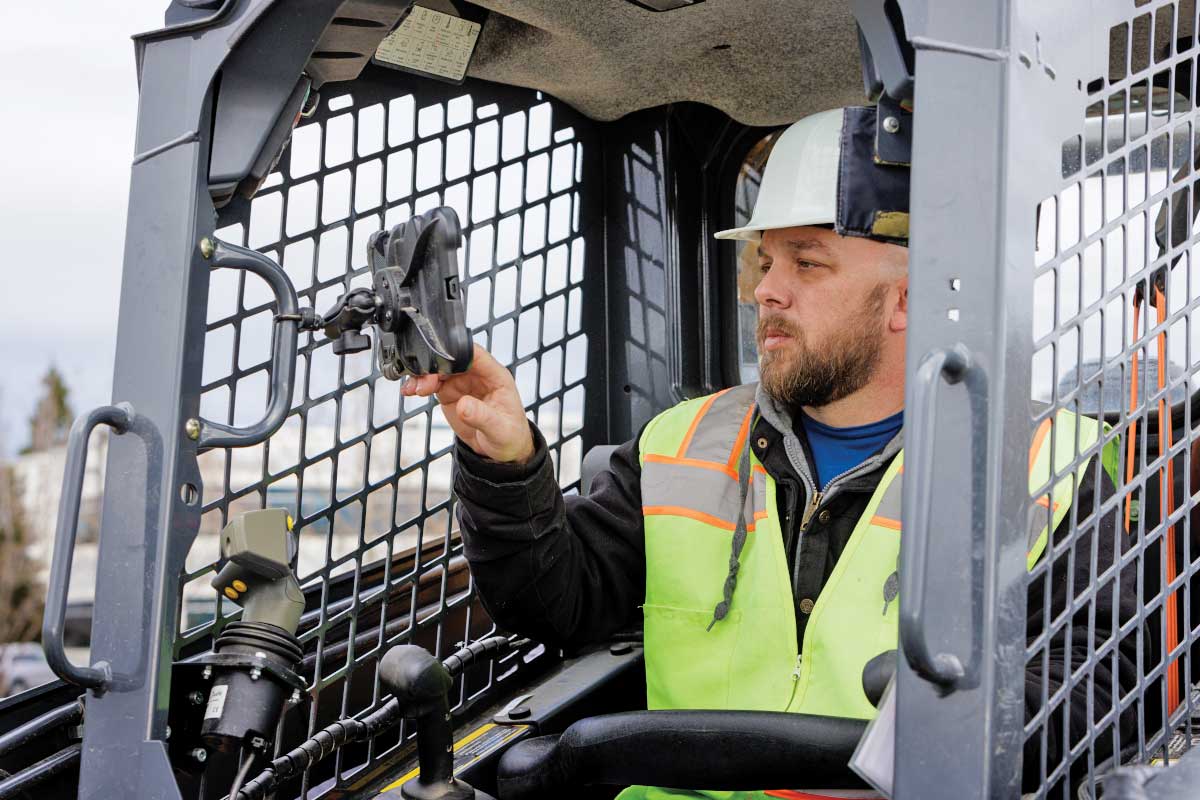 Topcon's new MC-Mobile combines machine control and survey technology to let compact equipment operators measure, design and build jobs with the same system. It consists of a GPS/GNSS or LPS (Local Positioning System) receiver which mounts to the blade or grading attachment and a wireless Android tablet. What makes this system unique is that the receiver and the tablet do double duty. At the start of a job, you put the receiver on a pole, walk the site taking survey measurements with the rod, record them on the tablet and when you're finished shooting all the points you need, affix the rod to the blade or grading attachment and mount the tablet to the cradle in the cab.
Then you use the tablet's touchscreen to design the job by inputting the desired elevations, cuts and fills and contours of the finished project. Tap the save button and start grading to the design you just made. Topcon's LPS device, the LN-150, is a simplified total station. It uses a prism like a total station, and it is robotic, so it follows you, but there is no keypad, viewfinder or radios on it. "It's more like a 3D laser," says Jones. "It's very much on par with what an entry level customer wants."
Trimble Earthworks Go! 2.0 has been designed for CTLs and contractors who need a simple solution for their compact equipment, says Young. "It takes all of the functionality and power that our premium offering has, from an automatic performance standpoint, and gets it into the users' hands with a low upfront cost and low installation time."
A particularly clever touch is that operators can use their own personal device — a smartphone or tablet, Android or iOS — as the monitor. You can install and remove the system yourself, and all the hardware is included. Software allows you to save machine profiles on your device or tablet, so you only need to set up each machine once. It can also give you slope control without lasers for easy grading, and it works with a single or dual laser system. It consists of a magnetically mounted sensor box that goes on the attachment and then a "comms" box that communicates between the sensors and the phone, tablet or device in the cab.
"For elevation control, we take the OEM masts and leverage our own laser receivers that work with a vast range of laser transmitters," says Young. "This provides the ability to turn on full automatics to the attachments. Earthworks Go! 2.0 is focused on 2D slopes and flat planes, which covers the majority of use cases contractors need and gives you machine control functionality without a large upfront cost," says Young.
Grade Control Could Mean New Opportunities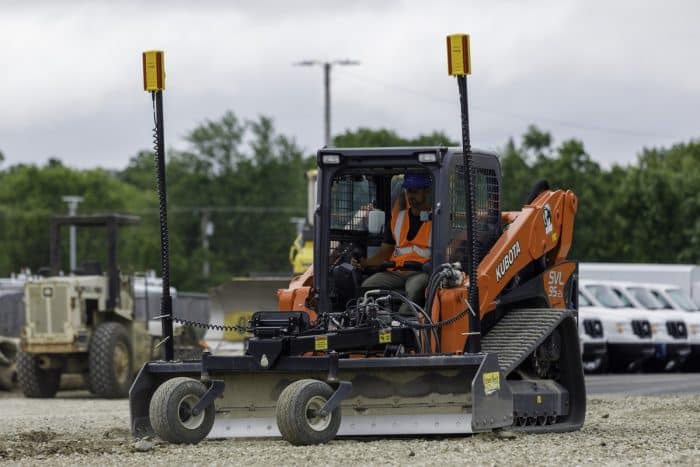 If you do invest in machine control for a compact track loader, not only will you find your operation becoming more productive, you may also run out of jobs. Big fleets and heavy/highway contractors discovered this in the early days of machine control. If you bid the normal number of jobs you do in a year's time, you could be finishing in September what took until November last year. Most quickly realized they had to adjust their schedules and bidding to take advantage of the increased productivity, often as much as 25 to 35 percent. Also remember that when jobs are completed ahead of schedule and with fewer hours, it results in lower labor and fuel costs, so your bids should get more competitive.
The increased productivity of machine control will also make it possible for you to bid on larger and more complex jobs. Early adopters of GPS/GNSS said that this technology enabled small companies to win business away from larger companies that weren't automated, or as they say, punch above their weight class.
Tom Jackson is a freelance writer for Compact Equipment. He has been writing about construction equipment for more than 20 years and now edits an online column, Heavy Equipment Insights, on construction technology and sustainability at Substack.com.
Different Grade Tech Compared
A single laser system uses a rotating laser transmitter that targets a receiver or sensor mounted on the earthmoving machine. The receiver shows the operator the equipment's position relative to the desired grade and allows the operator to control the blade or bucket to achieve the desired grade.
A dual laser system uses two transmitters placed at different points on the site which target two receivers or sensors on the machine. By receiving two laser signals, the operator can then determine both the cross slope and longitudinal slope to achieve more accurate results, especially with more complex designs such as road profiles.
Total stations use a theodolite for measuring angles and an electronic distance meter to measure distances to known references. Software then calculates the machine's position in three dimensions based on the angles and distances.
GPS/GNSS systems use satellite positioning signals sent to a base station which corrects the signal for accuracy and then radios the precise position information out to a receiver on the machine.