ICUEE is dubbed the Demo Expo. Why? Because the Kentucky Exposition Center in Louisville, Ky., is maybe the best convention center in the United States that allows exhibitors and visitors to dig and operate machines. If you're looking to get hands-on with utility construction equipment and services, the International Construction and Utility Equipment Exposition (ICUEE) is set for October 1-3. This show only happens every two years, so don't miss out on your chance to attend.
Register online for the exhibition as well as education programs at the show. Attendees can also make hotel reservations online, and use the online show planner to map out ahead of time their onsite itinerary of exhibits, education and meetings. According to the show, some 97 percent of attendees at the last show rated its overall value as good to excellent. Plus, the ICUEE badge also provides access to the H2O-XPO show, which is again co-locating with ICUEE.
ICUEE 2013 will cover more than 25 acres of exhibits and hands-on product demonstration opportunities, including a new indoor demo stage to complement the outdoor equipment demos that are a hallmark of ICUEE. ICUEE targets utilities and utility contractors in the following sectors: electric, telecommunications, wastewater, water, natural gas, cable and rail. Do those markets sound familiar? Well, visit www.icuee.com for the latest details.
Keith Gribbins is managing editor of Compact Equipment, based in Brecksville, Ohio.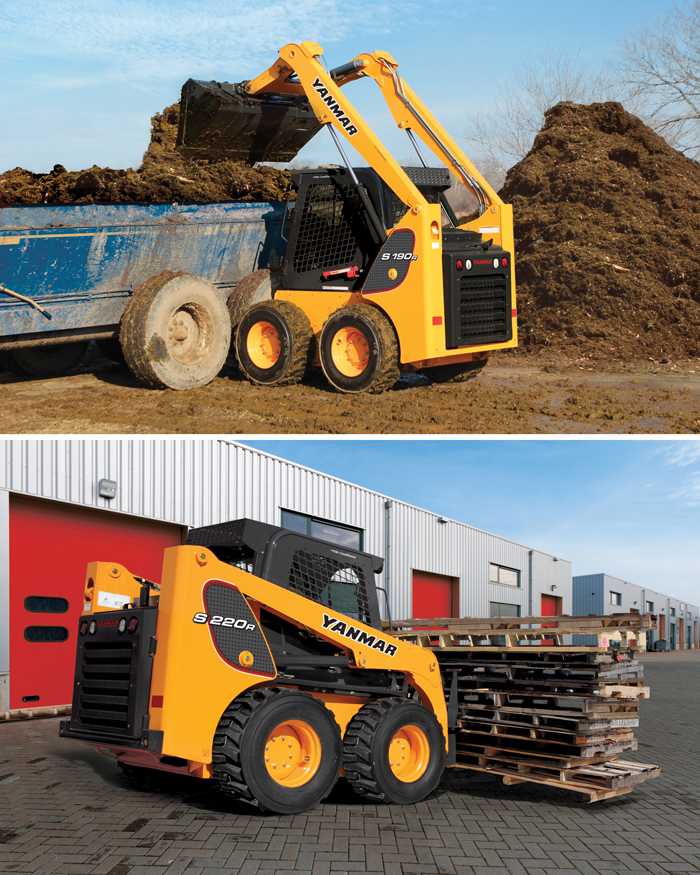 Yanmar Skid Steer Loaders
Yanmar, a global leader in manufacturing, brings more than 100 years of experience to the compact equipment field. This fall Yanmar introduces the advanced and innovative additions to its skid steer loader line. The Tier 4 Final compliant S190R-1 and S220R-1 are loaded with upgraded features from their predecessors: improved operator's cab; intuitive designed controls; increased hydraulic performance; and electronically controlled Tier 4 Final Yanmar diesel engines. The S190R-1 boasts a 68.4-hp Yanmar diesel engine with a rated operating capacity of 1,900 lbs. The S220R-1 is engineered with a 70.7-hp Yanmar diesel engine carrying a rated operating capacity of 2,200 lbs. For more info, visit us.yanmar.com.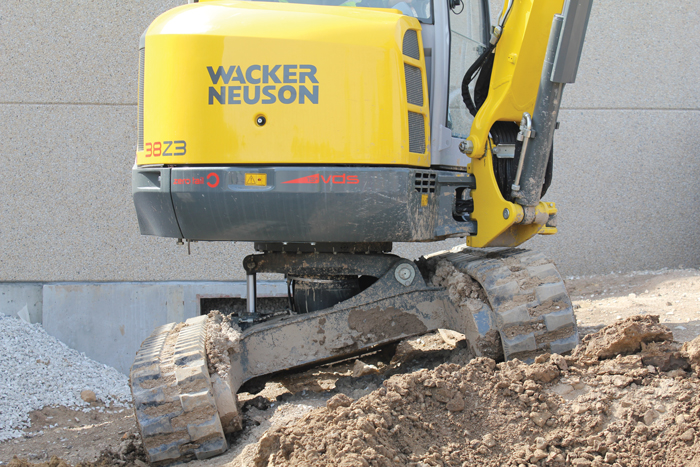 Wacker Neuson Vertical Digging System
Wacker Neuson's unique Vertical Digging System (VDS) available on select compact excavators saves up to 25 percent on time and material. The VDS compensates for height differences on uneven terrain and quickly sets the operator in an upright position, greatly increasing productivity. This innovative system enables operators to tilt the cab and boom of the excavator by up to 15 degrees with the push of a button, allowing the operator to compensate for slopes up to 27 percent. The excavator can then be used to dig more precisely in a vertical position, which significantly speeds up excavation and backfilling work, resulting in time and material savings of up to 25 percent. For more info, visit www.wackerneuson.com.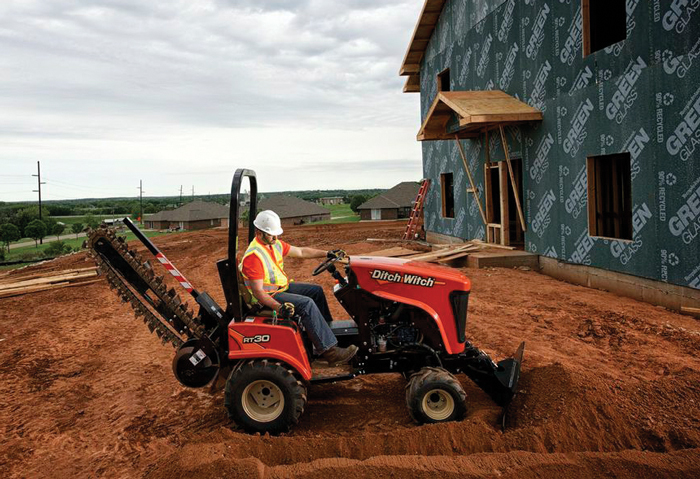 Ditch Witch RT30 Ride-On Trencher
The Ditch Witch RT30 ride-on trencher has a compact footprint and tight turning radius that makes the 24.8-hp (17.9-kW) RT30 an ideal trencher for installing utilities on tight jobsites. The RT30 is an excellent value for companies seeking a product that is more powerful than a walk-behind and more affordable than standard-size, ride-on trenchers. Owners will enjoy the benefits of low maintenance and reliable performance, and contractors will enjoy the RT30's comfortable operator station, easy-to-use controls and trenching capability of up to 8 in. wide and 42 in. deep. The RT30's 42-in. boom provides a 36-in. cover depth, which satisfies most city codes and requirements. For more info, visit www.ditchwitch.com.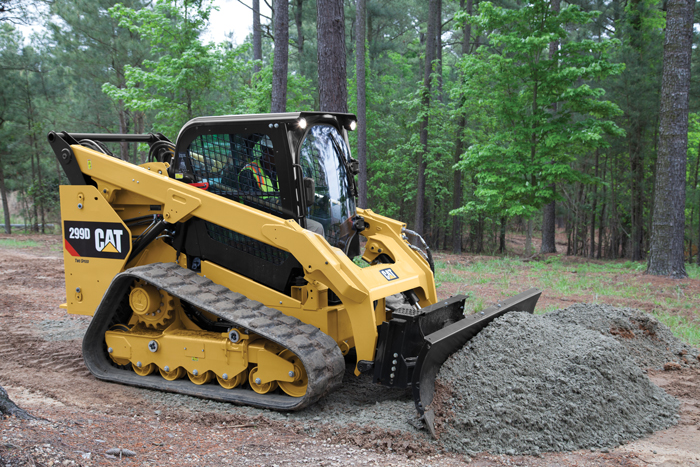 Cat Skid Steer and Track Loaders
The Cat skid steer loaders, multi terrain loaders and compact track loaders have long been industry leaders in providing innovative features and solutions that deliver premium performance, operator control and operator comfort. In 2007, these units had five big industry firsts: sealed and pressurized cabs; air suspension seats; seat-mounted joystick controls; operator control features like adjustable implement response; and speed sensitive ride control. From 2008 to 2012, Cat introduced a fully suspended CTL undercarriage design, Cat Intelligent Leveling system providing Electronic Dual Self Level and Return to Dig and Work Tool Positioner. In 2013, the new Cat D-Series range of skid steer loaders, multi terrain loaders and compact track loaders were released. For more info, visit www.cat.com.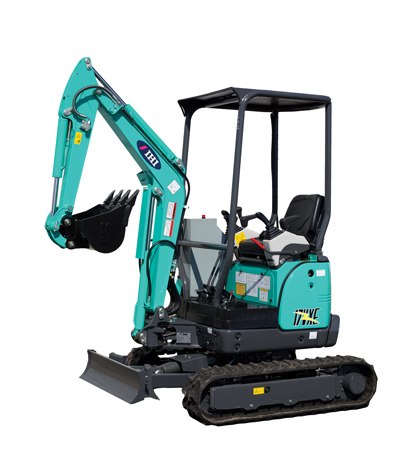 IHI's 17VXE Electric Excavator
The 17VXE Electric Excavator has the widest expandable tracks in its class, from 3 ft, 3 in. to 4 ft, 2 in. providing greater stability and ease of getting into tight-to-reach places. It's 3-Phase/480-volt motor provides the same power as the diesel engine model without giving up the performance you have grown to respect from the IHI brand. With many other desirable design features on this machine, you won't go wrong in choosing the 17VXE for all your indoor and tight-to-reach needs. For more info, visit www.ihices.com.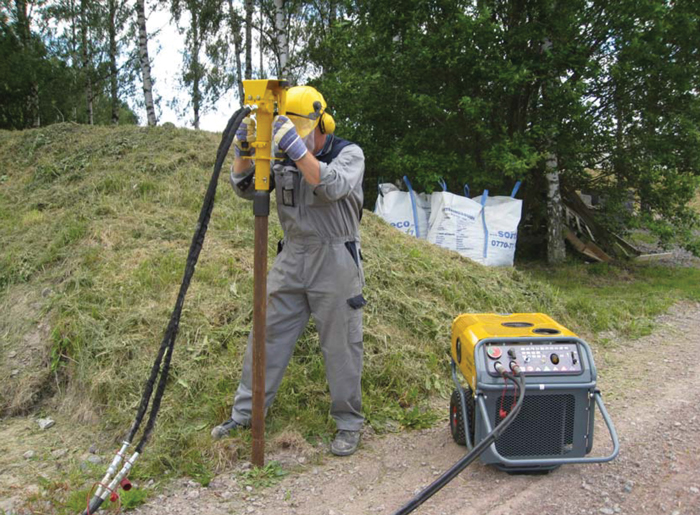 Atlas Copco LPD-LD Post Driver
Atlas Copco has announced completion of its post driver range with the addition of its lightweight LPD-LD. The fifth model in a family of drivers, the LPD-LD weighs just 39 lbs. Atlas Copco now offers a model precisely matched to any handheld or crane-lifted driving job from 3/8- to 6-in. poles, steel rods or profiles. The LPD-LD design was evolved from the same impact mechanism used on the LH 11 pick hammer. With its high frequency and heavy hitting power, the LPD-LD drives ground rods, anchors, tent spikes and fences in almost any terrain. The new post driver accepts rods or posts from less than half an inch to 2.5 in. Adapters can be replaced by sliding out the pins and adaptor, replacing the adaptor with a standard bushing covering 0.5- to 1-in. rods or with driver heads from 2 to 2.5 in. For more info, visit www.atlascopco.us.
Loftness Kwik-Trim
Loftness introduces the Kwik-Trim, a compact, mobile tree trimmer with a 53-ft reach, enough to handle most trimming needs. Unlike larger competitive units, it easily maneuvers in tight areas and can be transported by pickup and trailer. Utilizing the chassis of a TB250 Takeuchi mini excavator, the Kwik-Trim has a fiberglass-reinforced plastic (FRP) boom and uses a long-stroke hydraulic cylinder to telescope to 53 ft. The single-reel design provides a clean, straight pull on hydraulic hoses throughout the boom's full range of motion. The Kwik-Trim features a zero-turn radius, 360-degree continuous boom swing, 90-degree boom arc and 35-degree boom tilt. For more info, visit www.vm-logix.com.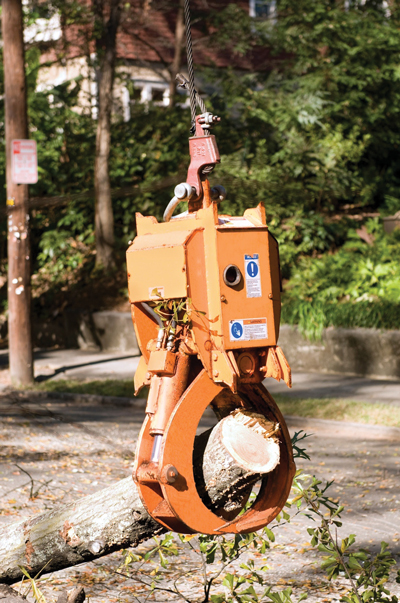 Diversified Products RigEm&Roll Grapple
Diversified Products offers the RigEm&Roll, a remote-controlled grapple for the tree services industry. The patented product attaches to a crane's load line for safely grabbing and picking large limbs, eliminating the need to go out on limbs to set chokers. Constructed of 100,000-psi steel, the RigEm&Roll is independently powered by a self-contained 24-volt battery and hydraulic system. It has a lifting capacity of 5,500 lbs, with grapple jaws that grab limbs up to 20 in. in diameter. Furthermore, the hydraulic cylinders offer fast cycle times and feature integrated check valves, ensuring jaws remain firmly closed until the operator releases them. For more info, visit www.diversifiedproduct.com.
Vermeer RTX250 Pedestrian Trencher
The RTX250 is a rubber-tracked, steerable pedestrian trencher that is designed for the needs of rental businesses and utility contractors. The RTX250 uses a 27-hp (20.1-kW) Kohler electronic fuel injected (EFI) gas engine that delivers more power over competitive models to dig 8-in.-wide (20.3-cm) trenches up to 48 in. (121.9 cm) in depth. This trencher is simple to operate with a two-handlebar VZ steering system that allows easy mobility and operation without the need for numerous joysticks or significant operator training. A dedicated platform means additional counterweights are not necessary in order for the unit to trench properly and maintain proper balance. For more info, visit www2.vermeer.com.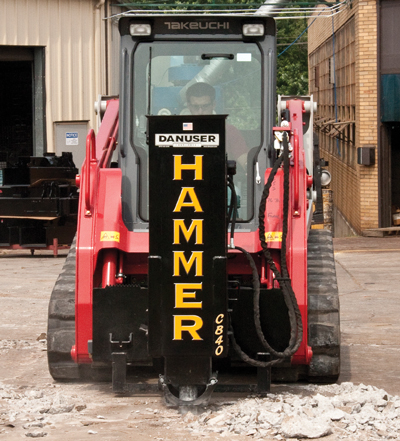 Danuser CB40 Hammer Concrete Breaker
Established and family-owned since 1910, Danuser has manufactured drilling machines since 1943. They are also experts in hammer concrete breakers. The CB40 hammer concrete breaker delivers up to 82,000 lbs of impact force with each cycle. What else can the unit do? Roll call: breaks up to 9-in. thick reinforced concrete; operates on any skid steer with 12 to 30 gpm without additional setup; anti-dry fire feature prevents unnecessary firing and improves durability of the machine; and it has less maintenance with its drop hammer design. For more info, visit www.danuser.com.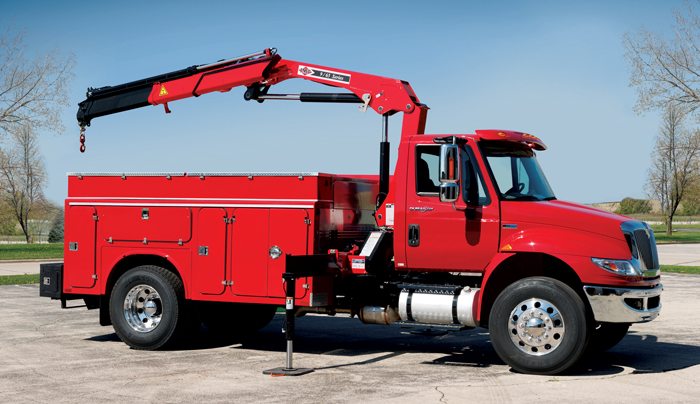 IMT Mid-Range Articulating Cranes
Iowa Mold Tooling Co. Inc. (IMT) will introduce new and improved mid-range articulating cranes at the ICUEE. The 9 tm, 10 tm, 11 tm and 12 tm models have been enhanced with new options, features and ratings to meet unique application needs. With superior lift-and-reach capabilities and reduced weight, the new cranes offer customers increased productivity and payload capacity. The 9/65, 10/72, 11/78 and 12/86 cranes have ratings ranging from 65,100 to 86,075 ft-lbs and maximum lift capacities from 8,380 to 10,230 lbs. New features include SL (single link) or DL (dual link) options, 15-degree over-bending and weight reduced by 10 to 15 percent from previous models. For more info, visit ICUEE booth N1022 or www.imt.com.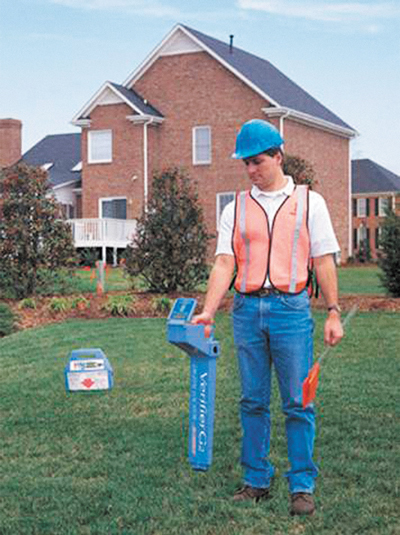 McLaughlin Verifier G2 Locator
The McLaughlin Verifier G2 uses "smart" transmitter technology along with improved noise reduction to achieve extreme accuracy in utility line location and depth calculation. Additional features include Peak and Null locating modes, four active frequencies, depth readout and Current Measurement Index (CMI), unique inductive method, passive radio search, increased depth capacity to 30 ft and a completely weatherproof receiver. For more info, visit www.mightymole.com or e-mail mmole@mightymole.com.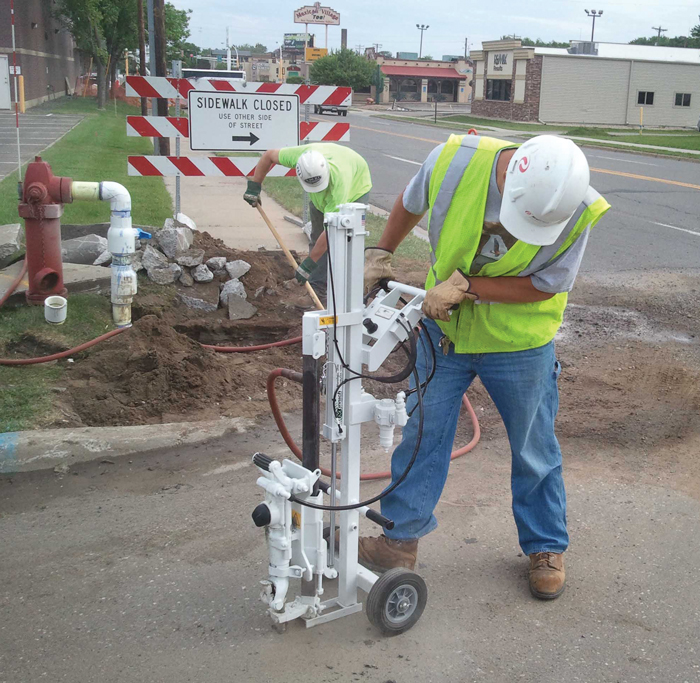 Minnich Hornet
The Hornet utility drill is an ergonomic solution for drilling gas leak detection and extraction holes. Designed with the operator in mind, the Hornet's patent-pending frame and feed cylinder absorb drill vibrations, lowering operator fatigue and increasing jobsite productivity. Lightweight, compact and portable, the Hornet is ideal for drilling through a variety of materials including concrete, asphalt, brick and dirt. The Hornet boasts a long list of time-saving and safety features including spring-loaded squeeze grip controls for quick and easy drilling and a frame that feeds the drill in and out of the hole, allowing the operator to stand in an upright position. For more info, visit www.minnich-mfg.com.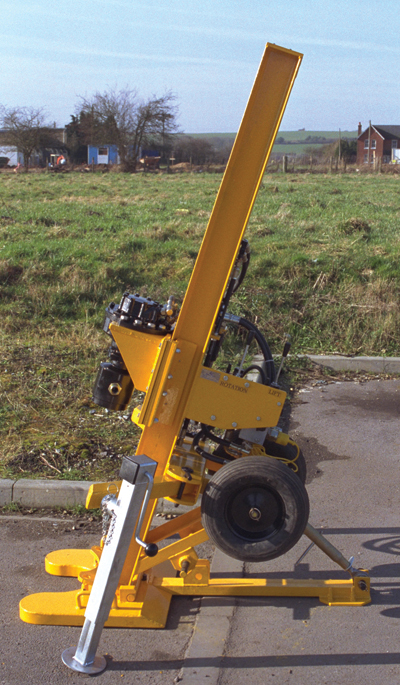 RigKits R10 Mini Tech
The R10 Mini Tech is the most powerful man portable drilling unit in the industry. It's man portable power where and when you need it. RigKits Mini Tech drill units are ideally suited for limited access drilling sites, geotechnical, geothermal, environmental, water well, seismic and foundation applications. With available setups for auger, mud or air drilling, these units are compatible with all drilling methods currently available. This light weight unit (922 lbs) is man and helicopter portable with low impact, turf friendly tires. These cost-effective drill units provide flexibility and power, while maintaining portability and convenience with one man operation. It includes a 28-hp portable power unit that runs the hydraulic system. For more info, visit RigKits.com or call 647.345.0609.
Bringing in the Backhoes
Case and Terex Offer Excellent Loader Tractor Backhoes at ICUEE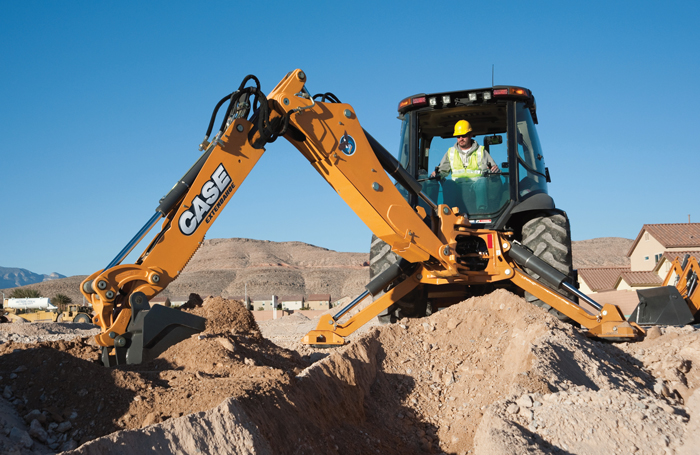 Case 590 Super N Backhoe Loader
The 590 Super N features a 3.4-liter, turbocharged 108-hp engine outfitted with cooled exhaust gas recirculation (CEGR) emissions control technology. The Tier 4 Interim engine burns cleaner while delivering superior horsepower, faster response and 5 percent better fuel efficiency under load compared to previous models. Other standard N Series features include automatic Ride Control on four-wheel-drive models that engage at roading speeds to help reduce bucket spillage and remote hydraulic test ports that allow easy, ground level access for service diagnosis to keep the machine up and running. Case also has added a standard panel of dipper teeth on the bottom surface of the dipper, along with an optional extension/replacement pack. For more info, visit ICUEE outdoor booth K277 or www.casece.com.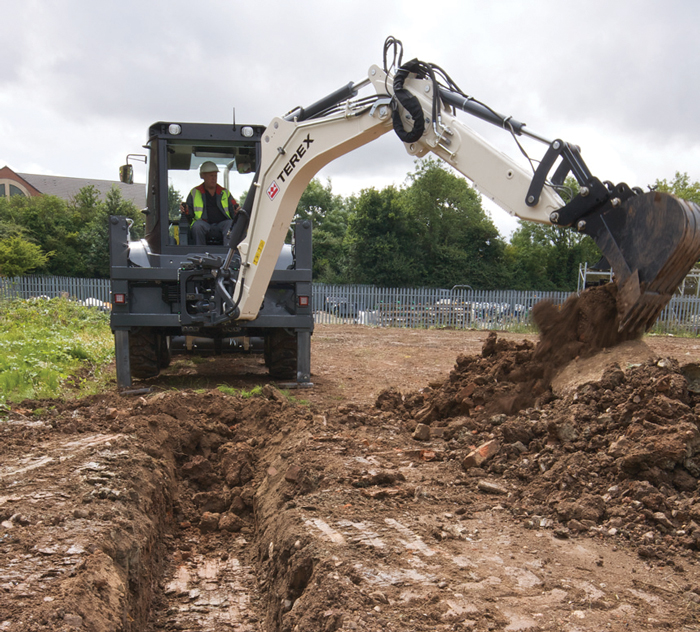 Powered by an electronic, Tier 4 Interim Perkins 1204E-E44TA engine and an optional four-speed servo power synchro transmission with automatic shifting, the 94-hp Terex TLB840 backhoe loader is now available in North America. Engineered to excel in digging, reaching, lifting and loading applications, North American customers will notice the TLB840 boasts high torque, powerful performance, as well as strong climbing and digging capabilities. The Tier 4i-compliant engine on the TLB840 is designed with EGR (Exhaust Gas Recirculation) technology, which is well-suited for lower horsepower engines operating in high-duty applications. EGR engines incorporate diesel oxidation catalyst (DOC) systems and sometimes diesel particulate filters (DPF) to reduce nitrogen oxide (NOx) and particulate matter exhaust emissions. For more info, visit www.terexconstruction.com.