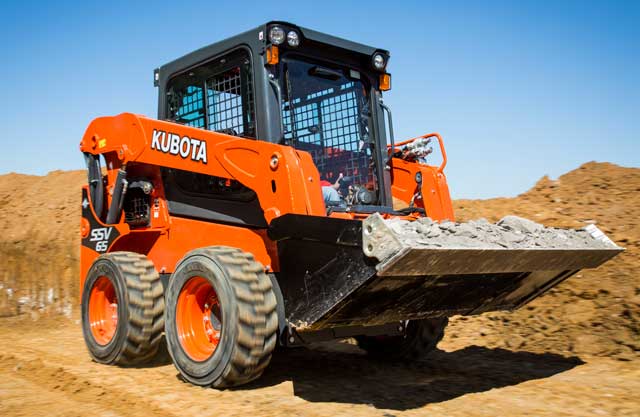 Skid steers can be found in a multiplicity of markets. Farming. Road work. Landscaping. Snow removal. The list goes on and on. The diversity of the machine comes from its ability to wield hundreds of different attachments (from breakers to brooms). But before you head out to an equipment lot, it's important to know what you're looking for to find the best skid steer for your needs. Jeff Jacobsmeyer, CE product manager from Kubota, offers five tips for selecting a skid steer.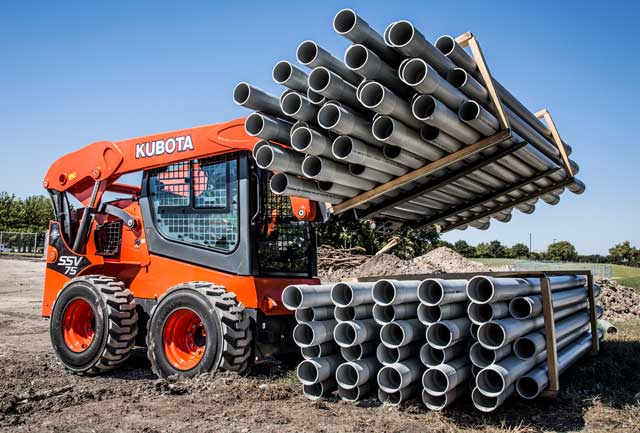 • Know your job. As with any machine, it's important to know your application to help select the right machine for the jobs you're expecting to perform. Also be sure to ask yourself, what types of surfaces will the loader operate on. Commonly, a harder surface will require a wheeled machine instead of tracks.
• Look at lifting and loading requirements. Lifting and loading requirements play a role in machine selection. For example, one must consider the height of a truck or trailer if frequent loading is a part of the application. The width and height of the skid steer may be a factor if it is used in confined areas like barns or feeding floors.
• Consider your budget. The initial out-of-pocket dollar investment can be a factor in deciding the type of loader to purchase. In most cases, the base acquisition cost of a wheeled skid steer is less in comparison to a track machine of a comparable size.
• Plan for the future. Remember to always buy for the future when selecting a skid steer. If a high-flow attachment could be in the plans for a future purchase, there is no better time than now to add the high-flow option to the skid steer to achieve optimal performance.
• Outfit your machine now. Investing in the right size skid steer, combined with the correct mix of attachments, will minimize the need to purchase other dedicated equipment for specific projects, this in turn will boost productivity and profit margins. Kubota has seen growth in attachments as multipliers in the workforce; purchasing the right mix of attachments can mitigate the need for other dedicated equipment and result in keeping operating costs down.
---
Getting to Work with the SSV65 and SSV75
In the market for a skid steer? Kubota has you covered. The company entered the skid steer market in 2015 and has quickly become a core manufacturer in the category. Kubota's two models — the SSV65 and the SSV75 — offer operators both maneuverability and power in tight spaces. With standard two-speed travel and optional high-flow hydraulics, Kubota's skid steers will meet the needs of construction, rental and agriculture customers. The rated operating capacity is 1,950 lbs and 2,690 lbs, respectively, for the SSV65 and SSV75.
Both models feature a unique, slide-up, front-entry door that rises overhead, a side light for better visibility and safe night operation, and a spacious cabin with climate control. An optional multi-function lever is available, allowing for fingertip control of major machine and implement functions.