At a packed room of journalists this morning, Terex management drew the attention of the international trade press with the release of eight new skid steers (officially launched at World of Concrete). The company has been in the track loader business for some time (those skid steers with tracked undercarriages); Terex bought the ASV product line back in 2008 (read all about that here).
"We have a brand new line of rubber-tired skid steers to go along with our compact track loader line," said Ron DeFeo, chairman and CEO of Terex, at the press conference. "They are built around the ASV performance requirements. We're aggressively going after this market."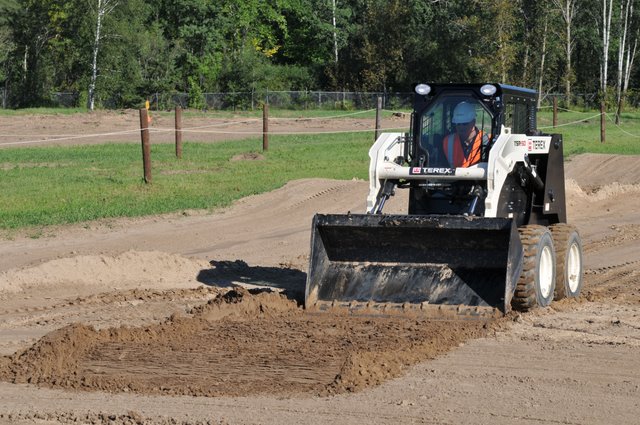 Terex introduced a new line of skid steer loaders — vertical lift path and radius lift path — to complement its line of compact equipment. With eight models ranging from 50 to 83 hp, Terex skid steer loaders are designed to be more productive than other brands (says the company), thanks to their high ground clearances and rear angles of departure, high travel speeds, increased fuel capacities, strong tractive effort and mechanical-faced axle seals. 
But hey, the skid steer market has been cut in half as far as new sales over the last two years and there are already eight plus players in the market. So what is Terex's plan here? Is this not a shrinking market? We decided to ask Mr. DeFeo. 
"The skid steer business in general is driven by residential construction, and residential construction has been unpredictable, disappointing and down since 2006," he says. "But we also know the U.S. has a growing population, a big immigration population and we're going to need housing in this country again sometime soon. I can't predict when that turn is going to happen, but now and between 2013 we will see a meaningful change. That will drive the skid steer market. It's best to get in the market at the bottom and then grow up." 
Offering four radial lift path models (TSR50, TSR60, TSR70 and TSR80), as well as four vertical lift path models (TSV50, TSV60, TSV70 and TSV80), Terex designed its skid steer loaders with some of best ground clearances and rear angles of departure in the industry: 10.5-in. ground clearance and 29-degree rear angle of departure on medium-frame loaders (TSR50/60 and TSV50/60) and 26-degree on large-frame loaders (TSR70/80 and TSV70/80). These features improve the ability of the machine to traverse soft, uneven terrain, making the workday more productive and less frustrating.
To get more done on every jobsite, Terex offers performance-matched attachments for its skid steer loader line, including auger, backhoe, rotary broom, general purpose bucket, light-material bucket, multi-purpose bucket, dozer blade, pallet forks, power box rake, snow blade, snow blower, stump grinder, trencher, vibratory roller and the Loegering Eliminator rake. Each attachment comes standard with the necessary hydraulic lines and connectors or electric connections for a quick, easy fit.
"Terex skid steer loaders are engineered to give operators more power and productivity during operation and are built to keep working when and where others can't," says Jamie Wright, product manager, Terex Construction Americas. "Terex skid steer loaders are ideal for rental, landscape, construction and agricultural applications where contractors and owner/operators need reliable, productive machines that get the job done efficiently and cost effectively."
Terex skid steer loaders are built to get loading, picking and carrying, grading, back dragging or snow removal jobs done faster and more efficiently. For quick cycle times, a powerful drive train with optional two-speed transmission propels Terex loaders to the fastest top speeds in their class — up to 12 mph. Terex loaders also offer increased fuel capacities over other brands, with 25-gal fuel tanks in the medium-frame loaders and 30-gal fuel tanks in the large-frame models, translating to longer operating times between refueling.
"Everything from the hydraulics to the balanced machine weight, ensures smooth operation, reduced vibrations and exceptional stability, contributing to improved operator comfort," says Wright.
To see the skid steers and all their glory, watch the video below (filmed at World of Concrete this year).
Tags:
backhoes