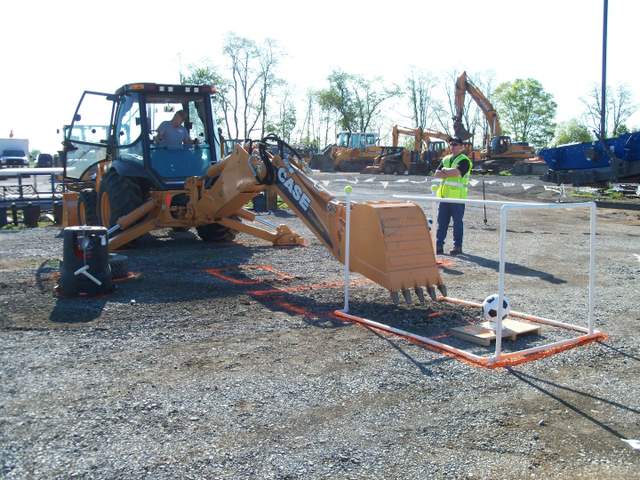 Through mid-July, Case Triple Threat Rodeo events held at Case Construction Equipment North American dealerships have raised almost $35,000 in support of local Habitat for Humanity affiliates. The skills competition program will continue through October 14.
With 35 of the 60 scheduled events completed, the Triple Threat Rodeo program has attracted nearly 5,000 visitors to Case dealerships to watch a total of more than 900 competitors demonstrate their accuracy and speed in completing three diverse skills tests.
Each of 35 local champions has won $500 in cash and Case gear and qualified to compete in January at the Case North American Triple Threat Rodeo championship in Las Vegas , where the grand prizes are a new Ram truck for the overall winner and a Case Alpha Series compact track loader for his/her company. The leader board at each event has documented close competition among dozens of highly skilled equipment operators. Case kicked off the program earlier this year with a corporate contribution of $5,000 to Habitat for Humanity. In addition, each participating Case dealership makes a donation to its local Habitat affiliate.
Combined with funds raised through earlier equipment rodeos and other company and dealer events, Case and its dealers expect to have contributed an aggregate total of approximately $250,000 to local Habitat for Humanity affiliates by the end of the current Triple Threat Rodeo program.
"Case and our dealers share a commitment to support the communities in which we do business," said Ion Warner, Case senior director of marketing. "We are proud of the many ways in which our company, employees and dealers have responded to community needs over the years."
The rodeo events also promote the Case Community Challange program, which honors contractors who donate their time and energy to participate in local community improvement projects.
The Case North American Triple Threat Rodeo Championship will be held during World of Concrete 2012, which is expected to attract more than 50,000 attendees. Spectators there will watch more than 60 local champions compete to win the grand prize combo of a new Case compact track loader equipped with a quick coupler, pilot controls and Ride Control, and valued at $59,000, and a new Ram 2500SLT truck with a 5.76 V8 Hemi valued at $42,000.
"The Triple Threat Rodeo gives the best operators a chance to show off the skills they use every day on the job as they run on skid steers, loader/backhoes and wheel loaders," said Rob Marringa, Case marketing manager. "Each rodeo event requires the competitors to demonstrate their mastery of a variety of equipment operations, in terms of both speed and accuracy."
Information about the Case Triple Threat Rodeo, including the current leader board and a calendar of upcoming events, is located at www.caserodeoseries.com. More information about the Case Community Challenge program is available at www.CaseCE.com/communitychallenge.