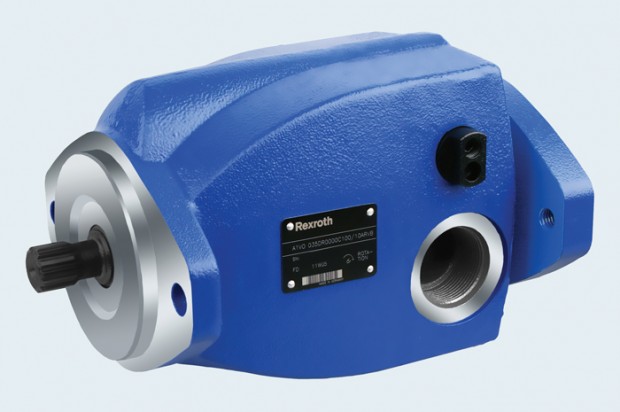 The heart and soul of a good company is the creativity it brings to a marketplace. Innovation (as we'll call it) is both the knowledge a business bestows to an industry and also the imagination in which it approaches its products and customers. In many ways, 2014 has been a tough year for contractors and manufacturers, so now it seems like an appropriate time to celebrate some of the big success stories — contractors who have become leaner and more agile, companies that have diversified and gained market share and manufacturers who have kept trailblazing with ever more efficient and innovative equipment. With this article we salute the companies (from Cat to Kubota) that have changed the commercial equipment market over the last 12 months with their unique, interesting and innovative machines, engines and technologies.
Bosch Rexroth Variable Displacement Axial Piston Hydraulic Pump
Large machines already use axial piston variable pumps in their load-sensing systems to provide hydraulic power when needed rather than using constant pump systems that consume more fuel and produce more emissions. Bosch Rexroth developed the A1VO variable displacement axial piston hydraulic pump to achieve significant fuel savings specifically in the smaller power classes of mobile machinery. The AV1O is a cost-effective alternative to constant displacement pumps and offers an economical switch from an open-center system design to a load-sensing system. The A1VO with a displacement of 18cc was introduced in the United States at CONEXPO in March 2014. It meets the demand of compact equipment as an alternative solution for hydraulic systems that previously have been specified with fixed displacement pumps. For more info, visit boschrexroth.com.
Keith Gribbins is associate publisher of Compact Equipment, based in Brecksville, Ohio.