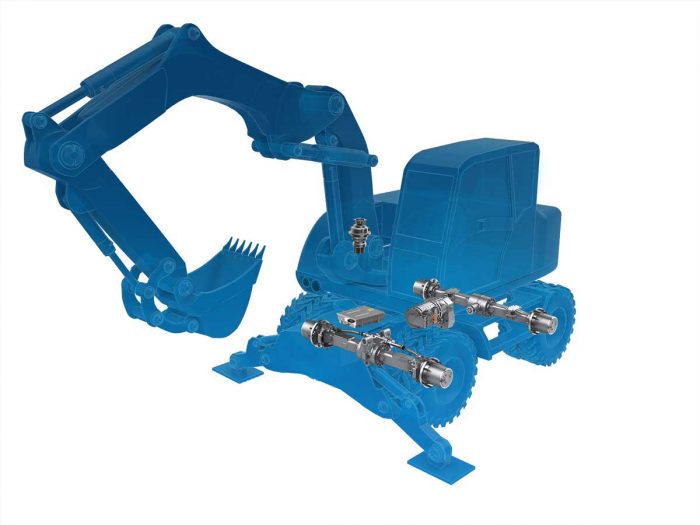 According to estimates, by 2050 two thirds of the world's population will live in large cities which also comes with disadvantages: fine dust, fuel emissions and noise impact the environment and inhabitants alike. In line with the maxim "Vision Zero," ZF's objective is to reduce not only accidents and downtimes, but also emissions to zero.
100% electric, zero emissions — ZF develops electric drive system for wheeled excavators
ZF eTRAC modular kit available for various applications and vehicle sizes
Guided by the maxim "Vision Zero," ZF is making emission-free construction sites a reality already today
Shortly after having started volume production of the electrified driveline system eTRAC eCD20 for compact equipment like compact loaders, ZF now can record the next milestone on the road to emission-free construction sites.
With ZF being the world´s market leader in conventional driveline solutions for mobile excavators, the Group is now extending its product portfolio for this type of construction machinery application by electric
drives.
First prototypes have already been delivered to a pilot customer recently.
The newly launched system consists of a 2-speed powershift transmission, electric motor and inverter. It can be scaled up to peak torque 850 Nm and continuous power of 80 kW. Three systems of the electric central drive system eCD50, eCD70 and eCD90 are available to cover different vehicle sizes in the targeted
applications.
Gears — 2 speed transmission
Electric motor — PSM machine
Total weight — 255 kg
Voltage — 650 V (DC)
Power — Max. 80 kW (S1) / Max. 100 kW (S2 – 60 sec.)
Parking brake — SAHR brake included
Axle disconnection — Optional (2WD/4WD)
With this future-oriented solution, technology leader ZF is setting new standards for electrical drives, especially when it comes to integrated system solutions. The product portfolio for mobile excavators is rounded off by a newly developed electrified swing drive and the well-established MULTISTEER and MULTITRAC front and rear axles.
The electric drive system satisfies all the expectations for performance and productivity found in traditional drivelines and combines them with the extensive benefits and opportunities that electric systems have to offer. Thanks to its modular design this new range of electric central drives can easily be adapted for various vehicle applications like backhoe loaders, telehandler, forestry equipment, etc. as well.
Zero emissions without compromising on performance
Low noise level
Efficient electrical components
Robust and reliable mechanical driveline
Compact installation space
Mini excavators are making big waves on jobsites all over North America. Click here for the latest news on these machines and the companies that make them.
Tags:
ZF