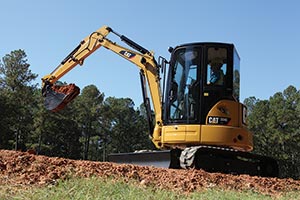 Before World of Concrete even started (last night), Caterpillar pulled us aside to show Compact Equipment some of its newest product launches for 2012. There were so many cool products and next-gen technologies that we'll slowly update the blog with them all this week (so stay tuned).
One of the machine series and technologies that impressed us the most were the release of five new compact-radius Cat E Series mini hydraulic excavators — 303.5E CR, 304E CR, 305E CR, 305.5E CR and 308E CR SB — with new engines, standard high-ambient cooling packages, more efficient auxiliary hydraulics, redesigned control layouts and the awesomely innovative COMPASS system.
All the E Series models are equipped with a new digital control panel that is specially designed for Cat mini excavators – called COMPASS – which stands for Complete Operation, Maintenance, Performance, and Security System. This monitor integrates a zillion features into one handy digital format. Built into the COMPASS monitor are an anti-theft system, which requires a five-digit alphanumeric password to start the machine, and an Economy Mode feature (3.5- to 5.5-ton machines), which potentially can lower fuel use up to 20 percent by adjusting engine speed. An automatic engine-idle system drops engine rpm to idle after 4 seconds of inactivity.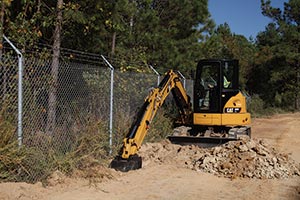 Also available through the COMPASS panel is a continuous-flow feature for auxiliary hydraulics, which maintains selected flow without operator intervention. An adjustable auxiliary-flow control for work tools also is new. Both main-line and optional secondary auxiliary-hydraulic systems can be adjusted on a scale of 1-15 via the monitor for added control when handling, for example, a tilting bucket/coupler or thumb. Also, a number of different work tools come preset into the control panel for the operator to choose.
Additional refinements for the five E Series models include a standard high-ambient cooling package, electronic fuel-pump-priming system, a four-post canopy (3.5- to 5.5-ton machines), new ergonomic joysticks, and relocation of a number of controls for operator convenience — for example, two-speed travel switch to the blade lever, secondary auxiliary hydraulic engagement to the left joystick and manual pattern changer from the floor to the COMPASS monitor.
All new E Series machines use an end-damping system in both the boom and stick cylinders to reduce shock loads and to reduce material spillage. E Series sticks are thumb-ready, with brackets welded in place and relief valves already built into the main valve.
There's lots more to talk about, so for more information about the E Series mini hydraulic excavators, contact your local Cat dealer or visit www.cat.com.