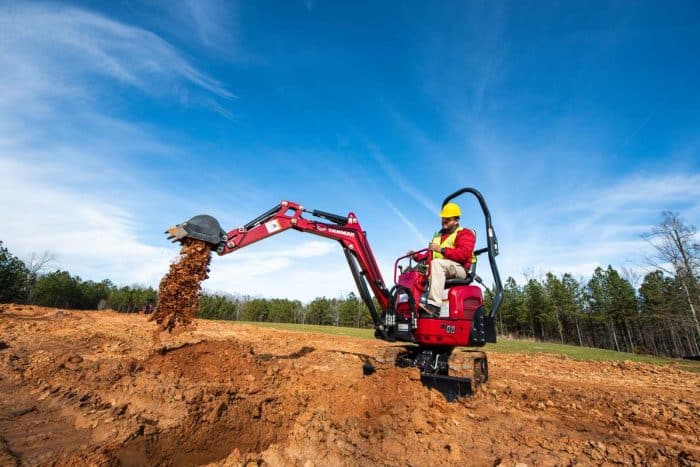 More and more contractors are adopting mini excavators for use on the jobsite. As the technology and engineering that goes into these machines continues to improve, mini excavators offer greater promise of productivity and return on investment for contracting businesses of all sizes. It's a best-of-both-worlds scenario: the utility of an excavator in a compact package capable of efficient work on tight jobsites. The problem — and this, as they say, is a good problem to have — is selecting the mini excavator that's right for your business from among the many options available today. With any number of features and configurations to choose from, what factors should contractors consider when looking to invest in a mini excavator?
Achieving Strong Performance
Machine size and weight are primary considerations when determining which mini excavator is the right fit. These factors affect everything from power and performance to transportation costs and maneuverability, so it's important to choose wisely. Many contractors look at the tough jobs in front of them and prematurely eliminate the possibility that a small-class mini excavator can handle them. But with today's technology, even the smallest mini excavators can offer surprising levels of power and reliability, so it's worth taking a realistic look at the job that needs to be done and consider how much machine is truly required to manage it effectively.
Match the Size to the Application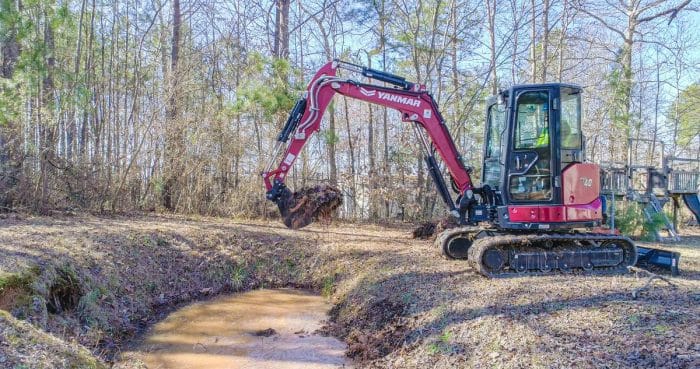 Size and performance typically go hand-in-hand — larger machines tend to offer more horsepower — but contractors should not take size considerations for granted. Larger mini excavators typically offer greater digging depth and breakout force, critical performance specs when the job requires them. But sizing down could also be the proper strategy if operators must navigate tighter jobsites, such as in residential areas or municipal road or utility work. Whatever a contractor's situation, matching the machine to the work is the general principle when considering mini excavator size. For example, many construction or utility contractors will rely on their mini excavator to, among other tasks, lift, move and place concrete barriers or pipes. They may assume this type of work requires the largest possible machines, but in reality, understanding the lift capacity is the key to success. Does the mini excavator have a hook or suspension system? This will eliminate the extra weight of the bucket itself and allow the operator to lift more and save power.
We'd love to keep in touch! Check us out on Facebook, Twitter and LinkedIn!
Maximize Maneuverability
In addition to machine size and weight, another major design feature to consider for a high performing machine is excavator tail swing. Tail swing refers to how far the rear upper structure overhangs beyond the tracks when it rotates. For open jobsites with few obstructions, standard tail swing models, which average around 18-inches of overhang, may be just fine. In fact, they sometimes offering better lift capacity thanks to the extra weight on the back. Jobsites with less room to spare or contractors looking for a more versatile machine may be better suited for ultra-tight or zero tail swing machines, which have minimal to no overhang. Operators working in residential areas next to homes or on roadways have a higher risk of accidentally causing damage to a structure, road barrier, or — worse yet — a passing vehicle with tail overhang. Less overhang means operators have less to worry about while focusing on the work in front of them.
Improve Versatility with Attachments
Second auxiliary hydraulics is another feature contractors might want to look for as standard, or at least an optional addition, on their mini excavator. As the industry gets more and more attachments-driven, a second PTO has become indispensable for contractors' running attachments with extra functionality, such as a grapple requiring one line for grappling and another for rotation and tilt.
Technology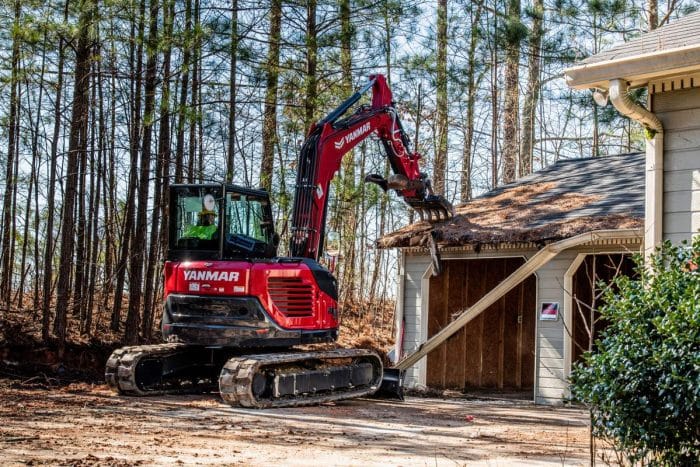 Many mini excavators today can take advantage of advanced technology, such as telematics systems that offer contractors greater convenience and more control over their machines. Features range from error detection and notification to real-time operational status updates and daily work reports. Some telematics systems come with integrated theft protection, allowing the machine's owner to set a range from a specific location and trigger an alert if that range is exceeded. Telematics features can vary from manufacturer to manufacturer, so it comes down to which functions the contractor feels are most critical, as well as the cost/benefit value of the system. The cost for these systems can vary, but some manufacturers offer them free for as many as five years with the purchase of a new machine.
Understanding Quality & Reliability
Most contractors would say they are looking for a reliable, high-quality mini excavator. Knowing what you want in this arena is one thing but determining exactly which machine meets these criteria is quite another. There are few methods contractors can use to sift through the data.
Research the Manufacturer
Contractors can start by investigating a manufacturer's reputation for quality. A reliable manufacturer will have a meticulous manufacturing process, executing regular checks and audits on the quality of their components. The more frequent the checks, the more stringent the quality control. The warranty offered by the manufacturer can also be an indicator of the quality and reliability of their equipment. Anything above a 2-year/2,000-hour warranty would be considered above average. Some manufacturers offer as high as 4-year/4,000-hour warranties.
Look for In-House Processes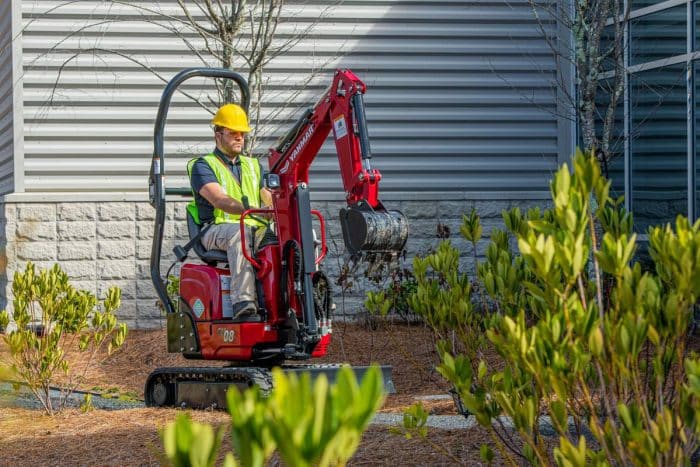 Another important checkpoint for evaluating quality and reliability is looking for a manufacturer that handles as much of its processes in-house as possible. The more internal control the manufacturer retains, the less chance for inconsistencies or errors. For example, by building both the engine and chassis of the machine, manufacturers maintain experience and insight into the porting process that could otherwise lead to inconsistencies or shortcuts that inhibit performance.
Convenient Serviceability
For contractors seeking maximum serviceability and ease of maintenance, there are a few design features that can make some mini excavators easier to work on than others. Given their compact size, there isn't a lot of real estate under the hood of a mini excavator. Some manufacturers offer tilt up cabs for significantly easier access for maintenance tasks. Additional features to look for include sight glasses for easy reference on reservoir levels, filters located close to access doors, and a dedicated access door for the battery, allowing the individual to stand nearer the battery when lifting or placing it — a life saver for those accustomed to working on machines with cumbersome and difficult-to-access battery locations.
Finding the One
Selecting a mini excavator can seem daunting, especially with all the features and options available on the market today. But the upside is that with a little research and planning, contractors have a better opportunity than ever before to maximize their investment by finding the mini excavator that's perfect for their business.
Buck Storlie is the product manager for Yanmar Compact Equipment North America.
Mini excavators are making big waves on jobsites all over North America. Click here for the latest news on these machines and the companies that make them.