A Variety of Top Performers on Any Jobsite
This post is a part of Compact Equipment's annual Spec Guide. View other brands' product and spec info by clicking this link. View the magazine version of these summaries by clicking right here. Sign up for the print edition right here. Now enjoy!
Wacker Neuson has been designing and building compact excavators for over 35 years to meet the needs of contractors around the world. The conventional track or wheel models, with or without rear projection, are durable, powerful and easy to operate. Today, Wacker Neuson excavators range from 1- to 14-ton models. The newest models include the ET42, EZ50 and ET58, which all offer the latest technology for performance and operator comfort. The 4.2-ton ET42 and 5.8-ton ET58 are conventional tracked excavators, and the 5-ton EZ50 offers a minimal tail swing design. Wacker Neuson's newest excavators feature a standard hydraulic quick-coupler with the easy lock system that makes changing buckets and attachments safe and simple, right from the operator's seat. The programmable auxiliary flow settings on the full color display allows the operator to preset their attachments. Icons for each attachment can be assigned different flow rates and characteristics. Just change the attachment, select the attachment icon and continue working.
In addition, these units offer a three-point kinematic bucket linkage system that provides a 200-degree angle of rotation that combines excellent breakout force with greater range of motion. This system also provides greater vertical digging depth which is especially helpful when excavating next to walls and can rotate the bucket further to keep the load more secure in it before dumping. Other models include the 3.6-ton EZ36 and 2.6-ton EZ26 compact excavators with a minimal swing design, which are versatile machines for a variety of applications. The 3.6-ton class excavator is among the most popular sizes in the market, so Wacker Neuson combined the technology and operator comfort of a larger machine into a powerful, yet economic package. With best-in-class dig depth and reach, the EZ36 is highly productive and offers the performance of a conventional excavator with excellent maneuverability and stability on a minimal swing machine.
The 803 Dual Power is the industry's first 1-ton hybrid excavator that runs off a standard diesel engine or can connect to an optional electro-hydraulic power pack, transforming it into a zero emissions package. The ET65, ET90 and ET145 incorporate many advanced features that traditionally are not found on machines this size. Modern cabs are designed for operator comfort, hydraulic quick-couplers, swivel boom with dozer blade and easy service access. Minimal tail machines include the EZ17, EZ26, EZ36 and EZ50. These models offer the flexibility to maneuver and operate in confined spaces as well as in close proximity to walls, foundations and other obstacles. Rounding out the line are Wacker Neuson's ultimate urban excavators, which are the wheeled EW65 and EW100. The operator has flexibility on these mobile excavators to quickly travel to, from and around the jobsite.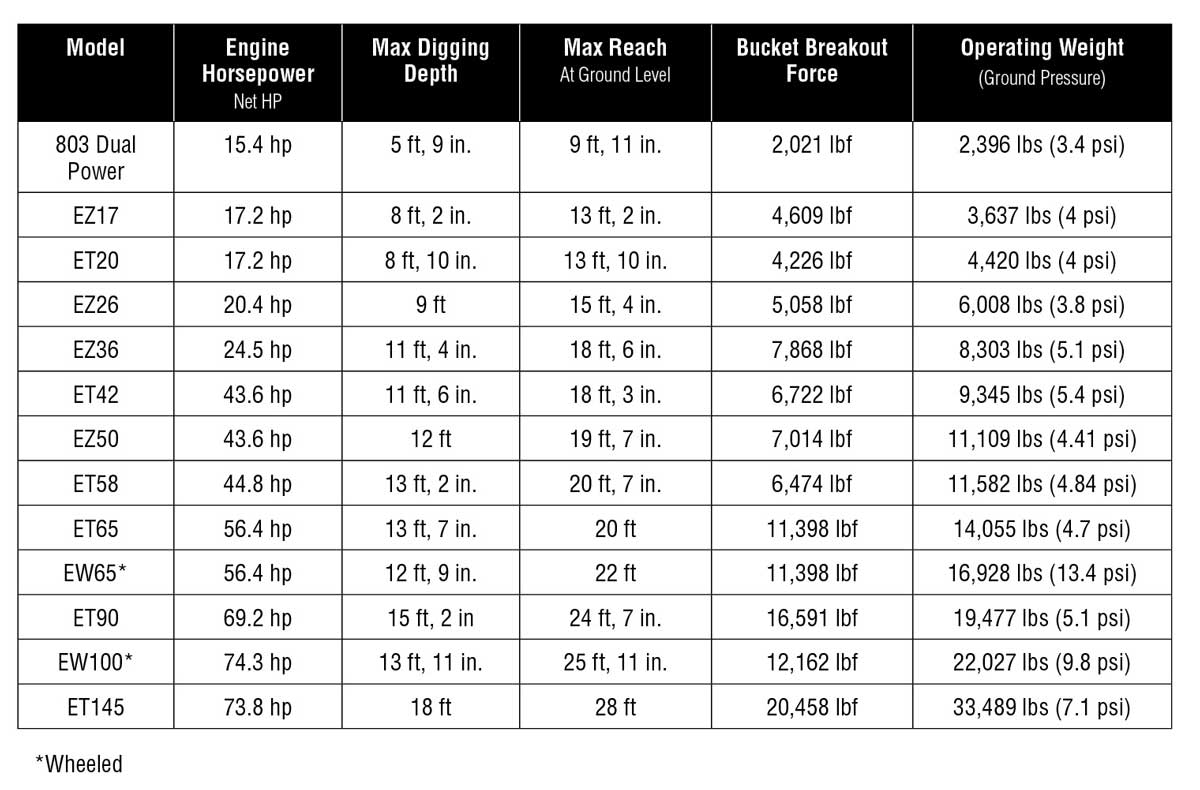 Advice to Buyers
"From a purely performance standpoint, many mini excavators on the market today are fairly equal," says Jay Quatro, commercial product manager at Wacker Neuson. "Buyers should look deeper and consider things like the operator experience and total cost of ownership. Excellent visibility from the seat, both to the front and corners, and simplicity of the HQC system are examples that the operator was top of mind during the design and development process. When considering total cost of ownership, perspective buyers should pay attention to accessories like hydraulic couplers that may be included with the machine. Service access for daily maintenance and service intervals are also an important part of ownership costs. Finally, with rising fuel prices, eco modes that reduce fuel consumption and auto idle are relevant features to consider." Tags: July August 2022 Print Issue, Spec Guide, Spec Guide 2022, Wacker Neuson