Eleven Models All with a Five-Year Warranty
Wacker Neuson has been designing and building compact excavators for more than 35 years. These digging machines are designed to provide the power, maneuverability, stability and precision that enable contractors to get more done with less time and effort. Wacker Neuson excavators range from 1 to 14 tons and come with an industry-leading five-year warranty. The coverage includes a two-year/2,000-hour standard warranty plus an additional three years for up to five years/5,000 hours for the powertrain and hydraulics (whichever comes first).
In 2019, Wacker Neuson optimized its excavator line with the addition of two models that are built for operator comfort, stability, power and serviceability. The 3.6-ton EZ36 and 2.6-ton EZ26 compact excavators with a minimal swing design are versatile machines for a variety of applications.
The 3.6-ton class excavator is among the most popular size in the market, so Wacker Neuson looked at features and benefits that would stand out in the crowded field. The EZ36 combines the technology and operator comfort of a larger machine in an economic package. With best-in-class dig depth and reach, says Wacker Neuson, the EZ36 is highly productive and offers the performance of a conventional track loader with maneuverability and stability on a minimal swing machine.
Six conventional tail models are available, offering a balance of power and maneuverability. The 803, ET16 and ET20 come standard with an expanding undercarriage and folding dozer blade allowing them to fit in more confined areas. The 803 Dual Power is the industry's first 1-ton hybrid excavator that runs off a standard diesel engine or can be connected to an optional electro-hydraulic power pack, transforming it into a zero emissions package. The ET65, ET90 and ET145 incorporate many advanced features that traditionally are not found on machines this size. Modern cabs are designed for operator comfort and hydraulic quick-couplers, swivel boom with dozer blade and easy service access are all standard on these machines.
Minimal tail machines include the EZ17, EZ26, EZ36 and EZ53. These models offer the flexibility to maneuver and operate in confined spaces. The optional exclusive Vertical Digging System (VDS), available on the EZ26, EZ36 and EZ53, further enhances productivity by allowing the operator to set the cab in an upright position while on uneven terrain and allows for flat bottom trenching on side slopes up to 15 degrees. This results in up to 25 percent material and time savings when excavating, plus provides a more comfortable working environment.
The ultimate urban excavators are Wacker Neuson's wheeled EW65 and EW100. These machines are ideal for municipalities and utility. The operator can quickly travel to, from and around the jobsite. This greatly reduces or eliminates the time and costs associated with traditional truck and trailer transport.
Advice to Buyers
"Today's excavators are designed for long hours of operation and incorporate the latest in comfort features and service accessibility that make daily service checks less time consuming," says John Dotto, market product manager at Wacker Neuson. "Look for all these features, plus an excellent warranty to back it up, and you can be confident that your machine will provide the years of service you expect."
[prettyPhoto title="Wacker Neuson Specs" link="https://compactequip.com/wp-content/uploads/2019/07/wacker-neuson-excavator-specs.jpg" type="link" ]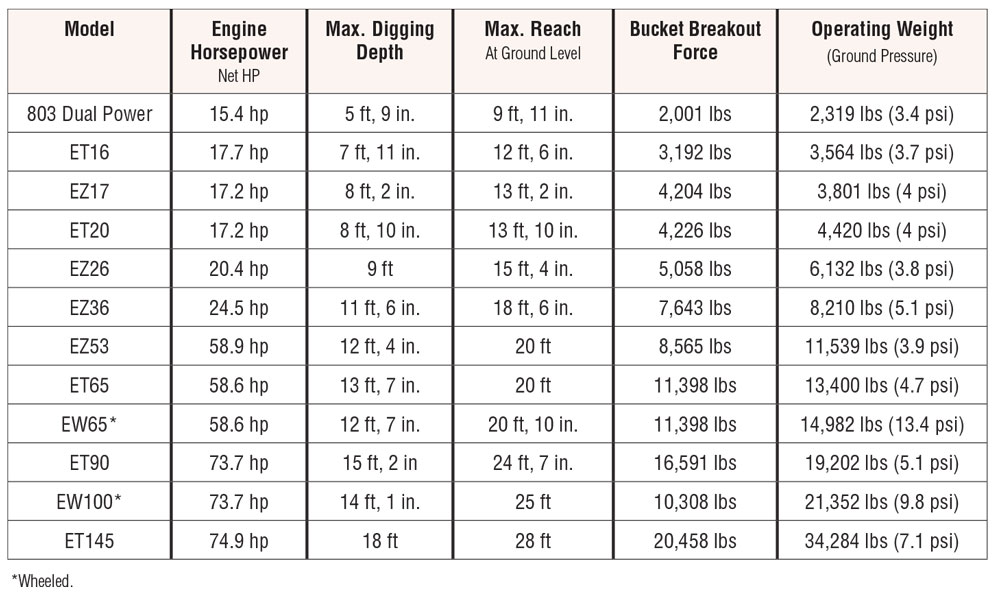 [/prettyPhoto]
Tags:
2019 Spec Guide
,
2019 Spec Guide- Excavators
,
July/August 2019 Print Issue
,
Spec Guide 2019
,
Wacker Neuson