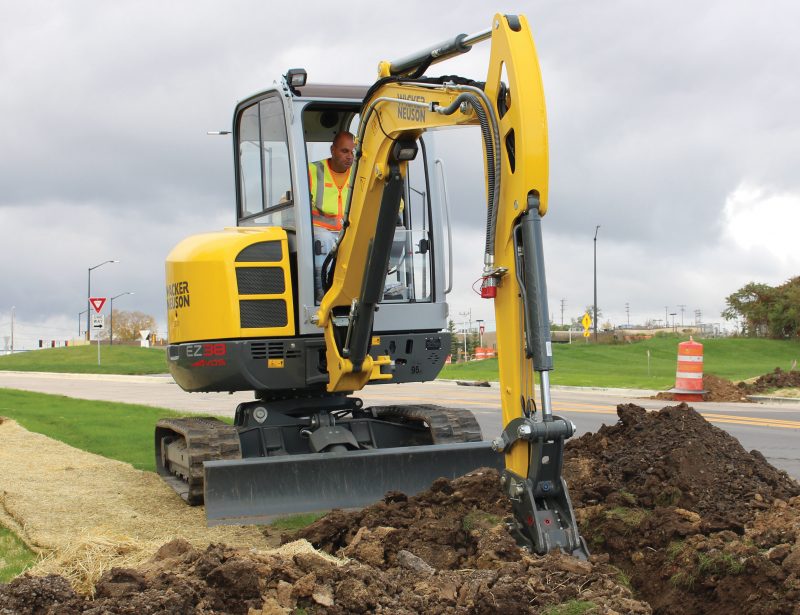 Tracked and Wheeled Excavators Leave No Stone Unturned
Compact excavators have always been a core product for Wacker Neuson, being one of the first companies to introduce mini excavators to the European market more than 30 years ago. In 2008, the company began offering excavators to the North American market, and today now offers a line of 13 models ranging from 1 to 14 tons. This broad range of machines is designed to provide the power, maneuverability, stability and precision that enable contractors to get more done with less time and effort. All Wacker Neuson excavators come with the industry's best warranty — says the company — five years or 5,000 hours (whichever comes first). This warranty speaks to the rugged and reliable design built for a long service life.
Conventional tail models include the 803, ET16, ET20 and 3503. These mini excavators offer an ideal balance of power and maneuverability. The 803, ET16 and ET20 come standard with an expanding undercarriage and folding dozer blade, allowing them to fit in more confined areas. The 803 Dual Power is the industry's first 1-ton hybrid excavator. This machine runs off a standard diesel engine or can be easily connected to an optional electro-hydraulic power pack, transforming it into a zero emissions package. The 803 is so compact, it fits through a standard doorway, making it the ideal solution for interior excavation and demolition. Rounding out the conventional tail lineup, the ET65, ET90 and ET145 incorporate many advanced features that traditionally are not found on machines of this size. Modern cabs designed for operator comfort, hydraulic quick-couplers, swivel boom with dozer blade and service access are all included standard with these machines. In addition, the ET65 and ET90 also include a simple, push-button switch in the cab to allow the operator to select from different control patterns, while the ET145 includes a rear camera and heated seat as standard features.
Zero tail models include the EZ17, EZ28, EZ38 and EZ53. These models offer the flexibility to maneuver and operate in tight, confined spaces as well as in close proximity to walls, foundations or other obstacles. The optional Vertical Digging System (VDS) (available on the EZ28, EZ38 and EZ53) further enhances productivity by allowing the operator to set the cab in an upright position while on uneven terrain. This results in up to 25 percent material and time savings when excavating, plus provides a more comfortable working environment.
Wheeled excavator models, the EW65 and EW100, are the ultimate urban excavators, says the company. These machines are ideal for municipalities and utility contractors. With top speeds of 18.6 mph, the operator can quickly travel to, from and around the jobsite. This greatly reduces or eliminates time and costs associated with traditional truck and trailer transport.
Advice to Buyers
"Not every jobsite is perfectly level, and space is always a valuable commodity. Make sure you size the machine to your jobsite needs," says Jay Quatro, product application and training specialist with Wacker Neuson.
Wacker Neuson
N92 W15000 Anthony Ave., Menomonee Falls, WI 53051
262-255-0500 | wackerneuson.com
Click on table to enlarge