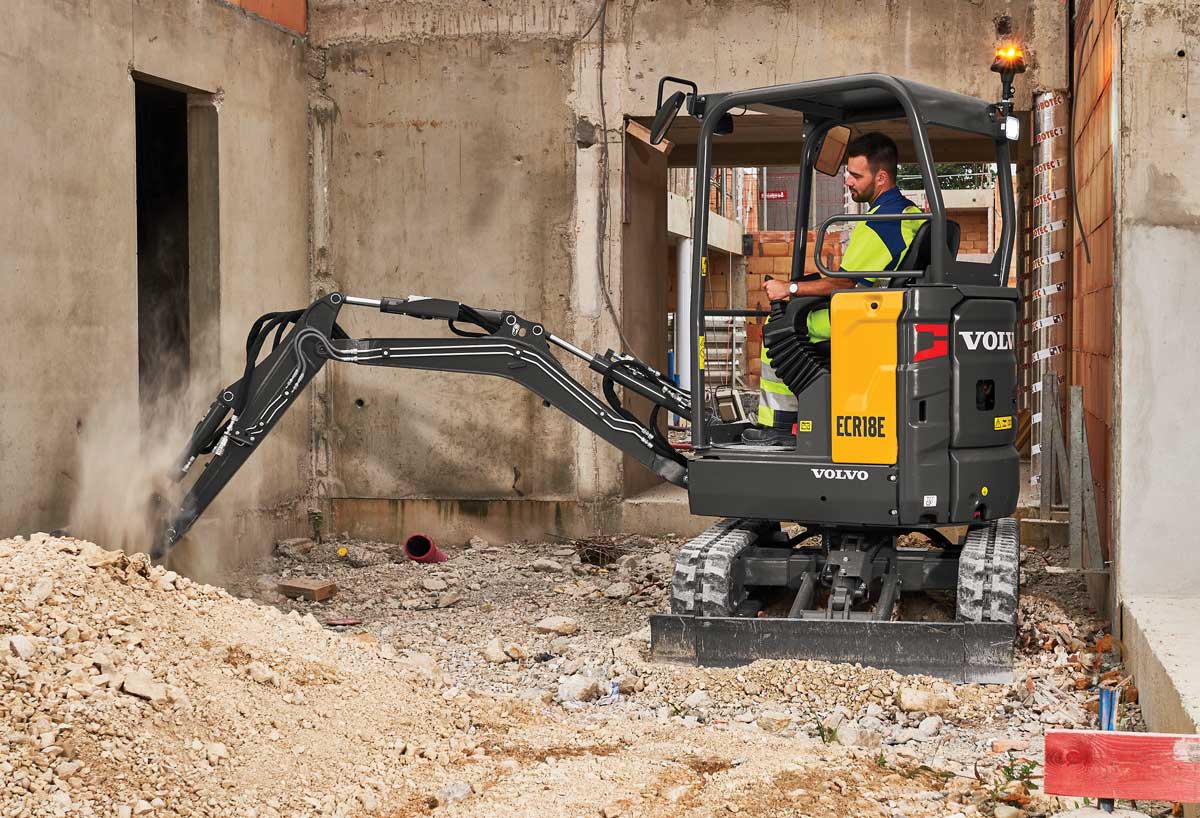 Innovation Brings Something for Everyone
This post is a part of Compact Equipment's annual Spec Guide. View other brands' product and spec info by clicking this link. View the magazine version of these summaries by clicking right here. Sign up for the print edition right here. Now enjoy!
Volvo Construction Equipment boasts more than 75 years of excavator experience, with compact models joining the lineup in 1995. The Volvo Co-Pilot system — an in-cab, 10-in. tablet featuring assistive software — was introduced in 2016. The Volvo excavator range has grown in size over the years, encompassing machines from 1.5 to 90 tons.
Volvo CE began piloting electric machines in 2016, and three electric compact excavators are now available in North America: the EC18 Electric, the ECR18 Electric short-swing and the ECR25 Electric.
Excavators account for a large portion of the overall construction equipment market, making them an important strategic product for Volvo. The company offers 14 models of compact excavators — 13 tracked and one wheeled.
Volvo offers six short-tail-swing diesel models: the ECR18, ECR25, ECR40, ECR50, ECR58 and ECR88. Five models feature conventional swing radiuses: the EC20, EC27, EC35, EC60 and EW60. The three electric models are fitted with lithium-ion batteries and an electric motor that powers the hydraulics that move the machine and the attachment. The batteries store enough electric energy to power the excavator for common applications, such as utility work.
For those looking to expand job opportunities, the quiet, emissions-free electric machines open doors to new applications, such as work in busy urban areas, indoor demolition, agriculture, tightly regulated food production, high-dust environments and more.
Volvo's X-frame undercarriage on compact excavators is similar to that of its larger excavators. With one of the thickest tracks and HD drive sprockets in the industry, these units ensure long life and provide protection from harsh conditions. Another feature is the automatic kick-down in the drive system that automatically shifts to low range when making a turn or climbing a grade.
Volvo compact excavators have one of the largest cabs in their class, and the machines are packed with features that improve safety and ease of maintenance. Cab and canopy units have ROPS/FOPS/TOPS safety-certified structures. Filters, fills and service points are all easily accessed from ground level. Retractable safety belts and travel alarms are standard on all models. Volvo also can supply a wide range of attachments sized for the machine and application.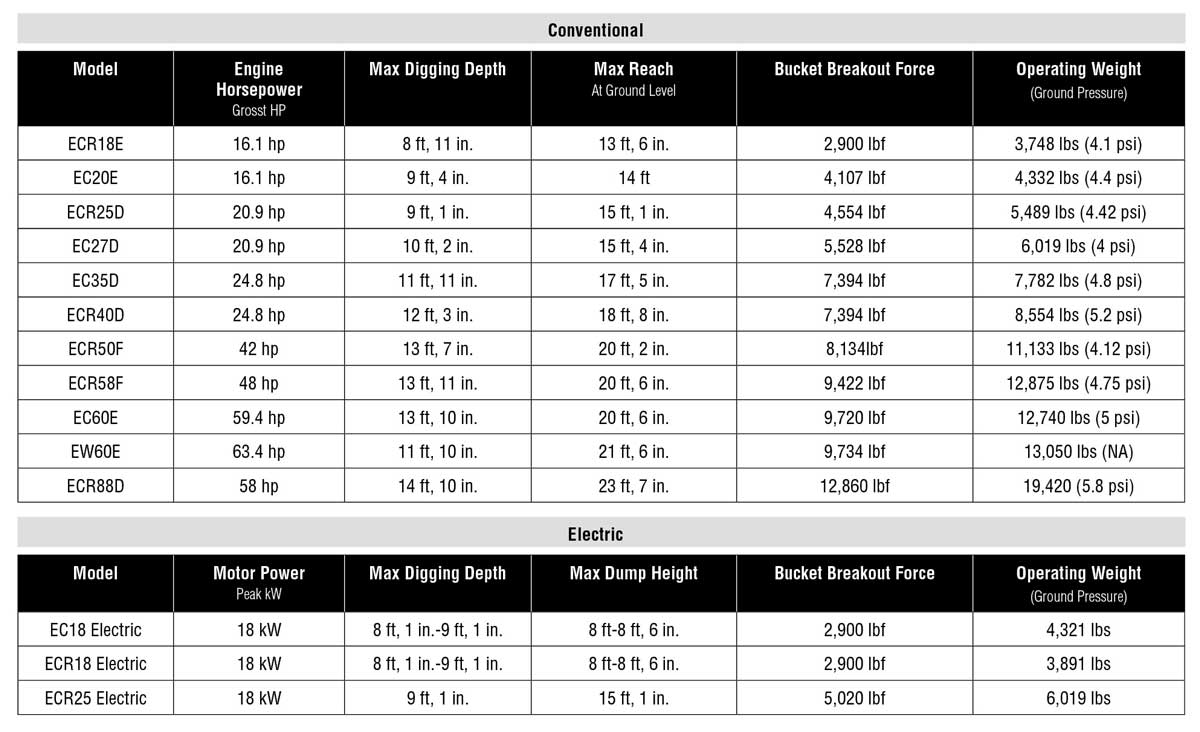 Advice to Buyers
"Diesel models will continue to be the lower-cost option compared to electric machines in the short term, but electric models are grabbing attention and new business opportunities are opening up," says Lars Arnold, product manager, Volvo Construction Equipment. "Jobsites like indoor demolition, food production and landscaping are ideal applications for emissions-free machines. Costs can be quickly offset with electric models as well, thanks to significantly lower maintenance needs."
We'd love to keep in touch! Check us out on Facebook, Twitter and LinkedIn!