The EC35D compact excavator and ECR40D short swing radius compact excavator share the same engineering advancements as their larger-model counterparts — including perfectly matched engine and hydraulics, and innovative fuel-saving functions — all in a compact package. Updates for the D-series models include a redesigned cab with updated controls and 10 percent more space, a proven Tier 4 Final Volvo D1.8A engine that is 5 percent more fuel efficient than previous models, and big improvements to break-out and tear-out force versus previous models, including a 6 percent improvement for the EC35D and more than 14 percent for the ECR40D.
"The true measure of a machine's performance is not necessarily horsepower, but rather, its ability to achieve high torque at low RPM — and that's where Volvo holds an advantage," said John Comrie, utility product manager at Volvo Construction Equipment. "Our intelligent hydraulics are perfectly matched to the Volvo engine, allowing these excavators to automatically find the sweet spot between engine speed and hydraulic efficiency. Couple that with our proportional pilot control joysticks and fuel-saving features, and it's clear these machines provide industry-leading performance at a very low operating cost."
Highly efficient and productive
The intuitive controls put productivity and efficiency at the fingertips of the operator. In-cab features include:
Four attachment-specific buttons that allow for precise adjustment of hydraulic flow
Servo-hydraulic travel levers/pedals eliminate need for cables and ensure smooth actuation
ECO mode reduces fuel consumption by up to 10 percent
Two user-adjustable engine speeds for tasks such as grading or lifting
Auto idle function reduces noise disturbance and decreases fuel consumption
Auto engine shut-down function can be set to preferred intervals in order to reduce engine hours, maintenance costs and machine depreciation
Electric control of the ISO pattern change valve from the comfort of the operator seat
Optional start prevention system available with 4-digit user codes to prevent theft
Both machines are highly maneuverable in tight spaces, featuring automatic, two-speed travel and impressive reach for reduced positioning time. The short swing tail radius and positioning of the offset boom allow the ECR40D excavator to work in particularly tight spaces. The swing post and offset cylinder stay within the tracks when in an offset position, and the slew and offset movements are controlled simultaneously.
Easy service, backed for a lifetime
The side-mounted engine allows for easy access to the main compartment, where the engine and hydraulic oil are kept cool by easy-to-clean, side-by-side coolers that add to the machine's efficiency and reliability. Wide-opening hoods allow easy access to the filling points for daily checks, and the fuel and hydraulic filling caps are well protected in the rear. Greasing intervals have been extended to 50 hours, and engine oil changes to 500 hours, maximizing uptime.
The EC35D and ECR40D are backed by the Volvo Lifetime Frame and Structure Warranty. The boom, arm and frame of the machines are fully covered under the warranty, ensuring Volvo or an authorized dealer will repair or replace boom, arm and frame components as necessary during the period of initial ownership or for the full life of the equipment — whichever is less.
Universally attached
Along with these new excavators, Volvo has also introduced the latest hydraulic quick coupler. The universal pin-type grabber allows the operator to quickly connect a variety of attachments from the comfort of the cab, as well as switch between regular and front-shoveling positions. The wide selection of compatible Volvo attachments include digging buckets, fixed ditch buckets, tiltable ditch buckets, breakers and hydraulic thumbs. A mechanical version of the pin grabber is also available.
North American debut
The EC35D and ECR40D made their first North American appearance at the 2016 ARA Rental Show in Atlanta, Georgia on February 21-25. Both machines will be available in Q2 2016.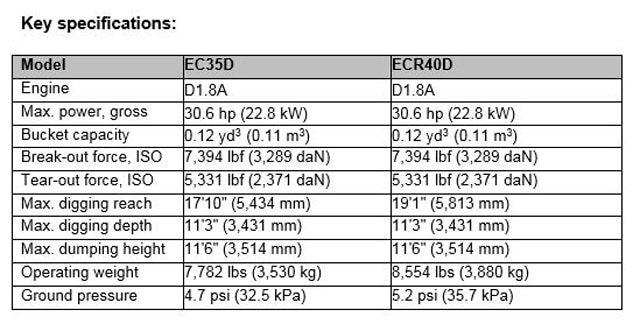 For more coverage of Volvo equipment, just click this link. It's real easy-like.