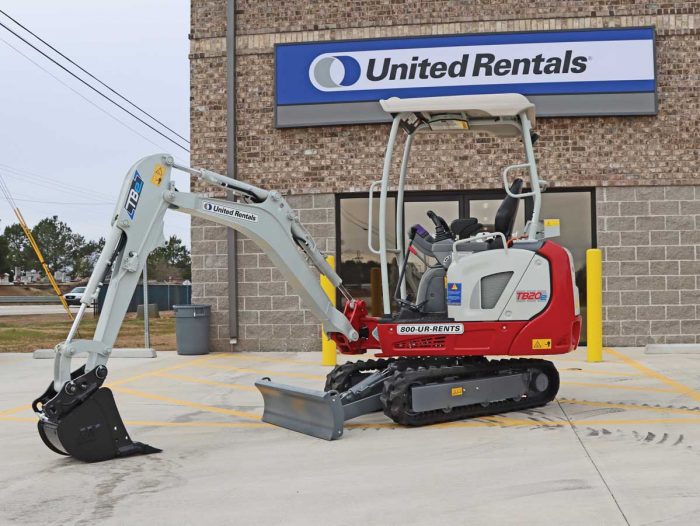 Approximately 30 percent of compact excavators in North America end up in rental fleets. Thomas Lee, director of product management at Doosan Infracore North America, provides the specifics: Mini ex total annual sales volume peaked at 74,682 units in 2021 with 2022 hovering around 62,800+ units by mid-December. Of those, about 24 to 29 percent are sold into rental.
"And that rental portion is gaining in size — from 20 percent in 2020 to 29 percent in 2022," Lee calculates, pointing out that those numbers comprise both dealer rental and rental companies.
Rental is clearly a growing channel for compact or mini excavators (those terms are interchangeable). There are lots of advantages to renting a mini digger, which can range from testing out the latest technologies on the market (like electric mini exs) to just avoiding the cost and headache of ownership in this uneven economy. If rental is the right option for you (a simple utilization formula should help you figure that out), it's important to find a machine that meets all of your needs. That search begins with understanding what applications the mini excavator is expected to perform and the variety of options, sizes and technologies that will accomplish those tasks.
Sizing It Up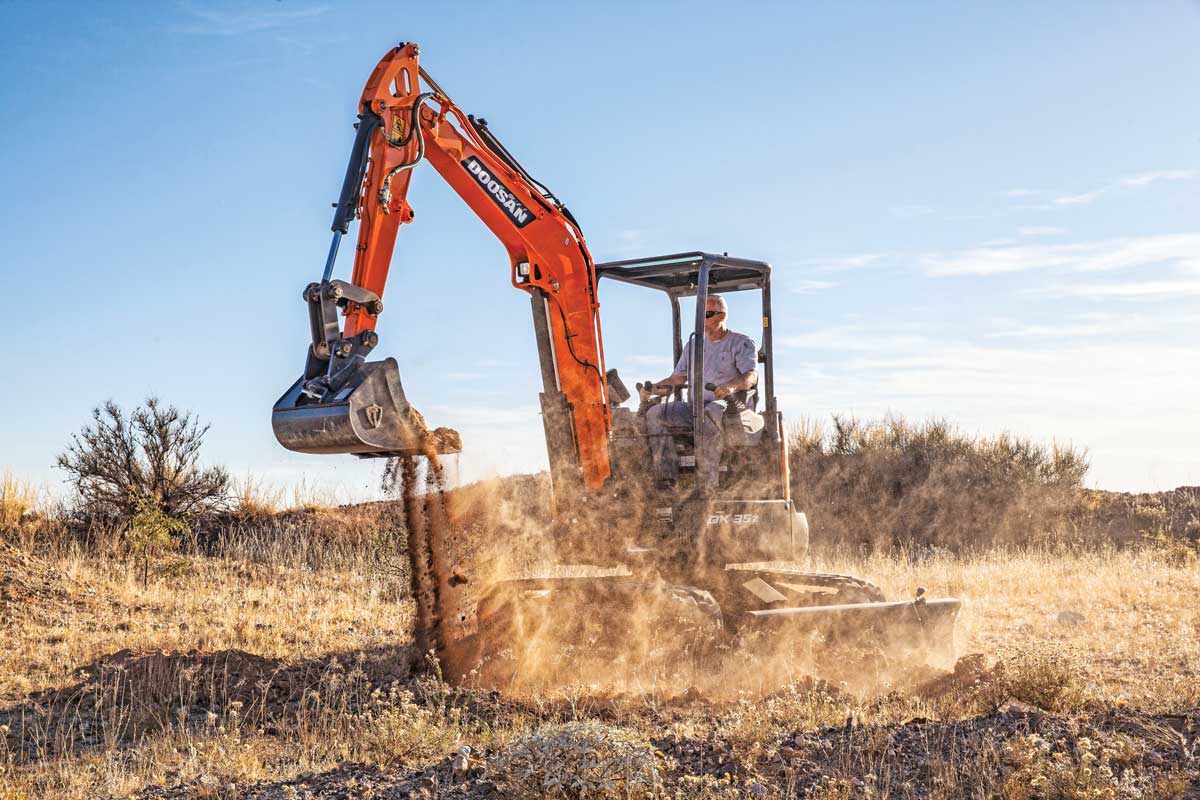 Excavators under 6 metric tons of operating weight are generally considered mini or compact, although some brands have machines as large as 10 metric tons. In the rental market, mini excavators at the smaller end of the scale are often selected.
"In the last five years, the most popular mini excavator size classes in the rental industry have been the 3- to 4-metric-ton size classes," Lee states. In fact, he adds, some rental companies are replacing tractor loader backhoes with mini excavators, opting for a smaller machine for traditional trenching and grading needs. "A trend toward renting mini excavators and pairing them with skid steer or compact track loaders is becoming more common. This machine combination can be more efficient than a tractor loader backhoe."
The 3-metric-ton mini excavator class is often chosen by contractors because of the machines' operating weight, dig depth and reduced tail swing design, Lee believes. The machine's weight allows renters to transport the machine on a trailer without a CDL.
Wesley Foy, product manager for Yanmar Compact Equipment, agrees, and sees growing interest in weight classes from 3.5 to 5.5 metric tons. "These types of mini excavators pack a great power-to-weight ratio in an easily movable package, which translates into more versatility for operators," he explains. Their popularity and versatility are largely due to the fact that they are compact enough to fit in most small spaces, yet large enough to handle a variety of tasks without sacrificing power.
"Our SV40 mini excavator is a 4-ton unit that is very popular in North America because of its adaptability," Foy continues. It comes standard with Yanmar's patented quick-coupler for efficient change out of attachments and the SmartAssist remote telematics system. Additional options include a second PTO function, four- or six-way dozer blade and additional counterweight.
Although the 4-metric-ton class is prevalent in the rental market, David Caldwell, national product manager, Takeuchi-US, says the 5- to 6-metric-ton class is also well-liked. "While cabins in this compact excavator class are generally larger than those in the 3- to 4-ton range, one of the most significant reasons for the growing popularity of this class is the machine's increased capability and performance versus smaller excavators."
Caldwell lists the enticing features of the 5- to 6-ton class:
Higher horsepower engines that can provide more power for tougher applications
High-flow auxiliary circuits on some 5- to 6-ton models (like the Takeuchi TB250-2, TB257FR and TB260) can handle a wide range of hydraulically driven attachments for enhanced versatility and greater ROI
Greater working ranges: dig depth/reach/dump height, which improve the number of applications and jobsites on which they can work
The ability to lift more
Renting the Right Machine for the Job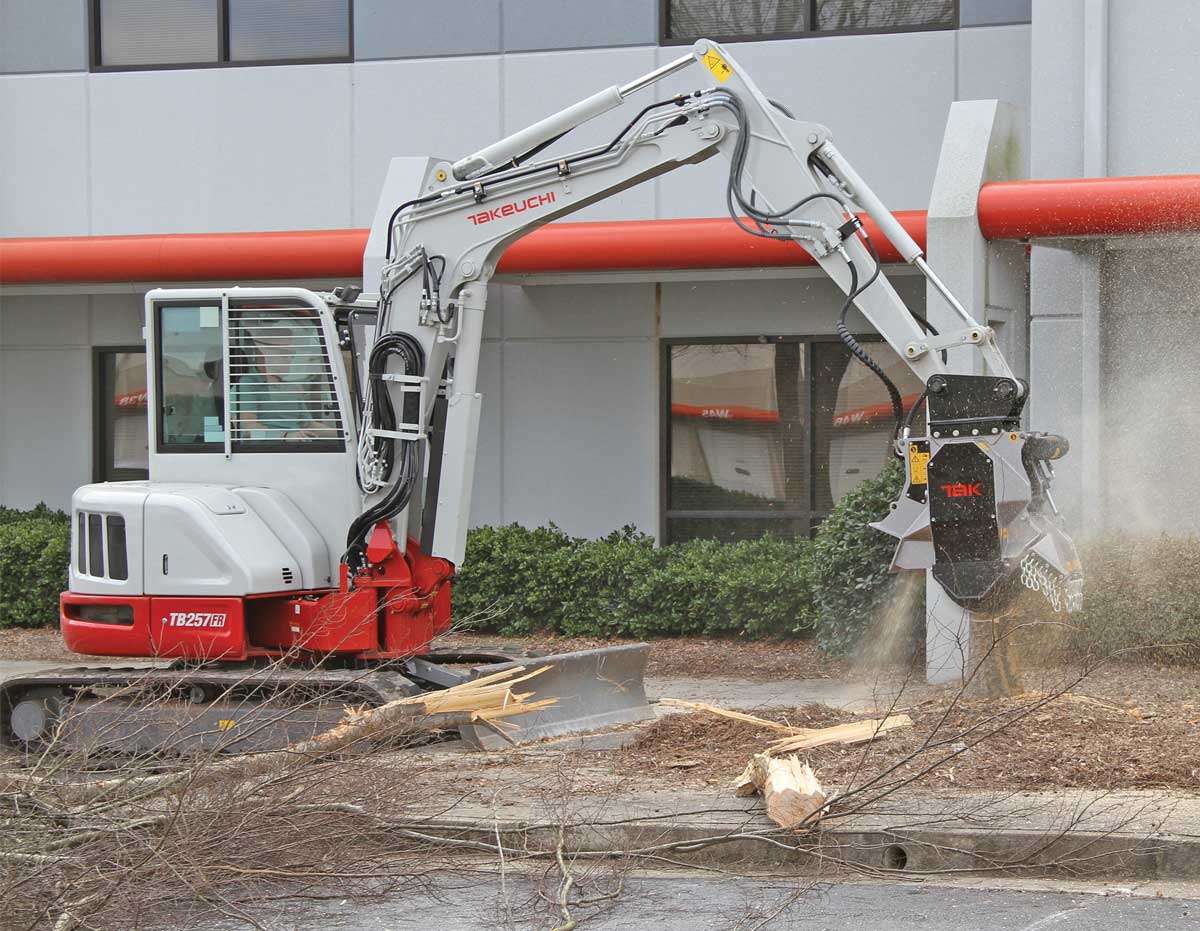 The first step in choosing the right rental is to carefully evaluate the job to determine the appropriate size and features, Caldwell recommends. "You don't want a machine that's too small or too large for the job." For multiple jobs, you need an excavator that can be easily transported and is the right size for your truck and trailer. Next, Caldwell continues, determine the amount of material you'll be moving and your deadline. Match those measurements to a machine by verifying the capability of the machine: dig depth, reach and bucket capacity. Operating weight will also be important to know for the jobsite and trailering.
Compact excavators are designed to work in tight quarters — next to a house or busy lane of traffic. With this in mind, manufacturers offer three main tail swing configurations. Zero tail swing means that the counterweight does not extend past the outside of the crawler track pads when the machine is swung over the side. Minimal tail swing usually means, under the same condition, the counterweight might extend a few inches outside the width of the lower track pads. Third, there are conventional tail swing machines where the rear of the machine extends over the track width. The smallest units often come with retractable undercarriages, enabling models to shrink and expand their footprint to fit through doors or tight jobsite challenges.
Each job, each location, has different demands. Yanmar's Foy advises looking for features and attachments like hydraulic quick-couplers, zero tail swing and thumb kits to make the best use of the excavator. "Hydraulic quick-couplers and PTO2 improve efficiency with attachments, while zero tail swing and thumb kits increase the mini excavator's capabilities," says Foy.
One of the biggest benefits of a mini excavator is the wide range of attachments. Attachment choice is linked to application and machine size. For example, Caldwell says, "If you will be breaking up concrete, determine what size breaker you need to complete the job efficiently and match that to the appropriate carrier. Similarly, for mulching trees or cutting brush, an excavator with high-flow auxiliary hydraulics will ensure the mulcher delivers maximum performance, and to pick and place objects, you need an excavator with an auxiliary circuit to operate a grapple or thumb. A mini excavator's auxiliary hydraulic system specifications — gpm and psi — will help.
Reach is ever important for compact excavators that also take attachments like grapples and thumbs to move and place objects. There are specific compact excavators that can come with a long arm option or extendable or telescoping boom option to give extra reach.
Mini excavators are making big waves on jobsites all over North America. Click here for the latest news on these machines and the companies that make them.
While it's true rentals are usually pretty spartan, that doesn't mean you can't borrow a compact excavator with a cab and heat and air, depending on the season. Also, while we're in the cab: Ensure that switching from pilot controls to traditional backhoe configurations (ISO to SAE) is simple. From the cab, explore how the machine sounds and travels. Does the unit have a solid construction that absorbs vibration? How loud is it? Does it have an auto idle or eco mode feature to automatically rev down, lower noise and save fuel costs? How does it travel? Doosan's Lee encourages renters to create a dialogue with their dealer, and he provides a list of questions to help get us started:
What are the jobsite requirements?
How much excavator dig depth does the customer need?
Does the customer need a thumb paired with the bucket to lift and place objects?
What are the space constraints? Will a conventional tail swing machine do the job, or does the customer need a reduced tail swing machine?
Now Featuring …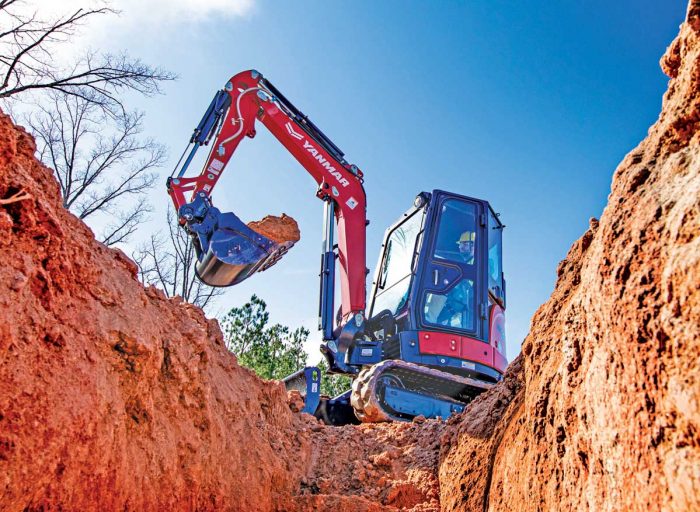 Rental machines generally feature a basic configuration, while end-users/owner-operators will typically choose a feature-laden machine that includes cab and AC, Caldwell observes. This makes sense, because rentals are typically used for an occasional or one-off job, while owner-operator units will be used day-in and day-out by the same person — and that person wants to be comfortable.
Rental equipment or not, many manufacturers continue to integrate technologies into their compact excavators, impacting price, productivity and efficiency. For example, advanced engine technology is creating machines with greater horsepower that are smaller but more powerful than ever before. Greater working ranges — dig depth, reach and dump height — expand the number of applications and jobsites on which compact excavators can work.
"Takeuchi is designing its machines with multiple auxiliary hydraulic circuits that make it possible to use a wide range of hydraulically driven attachments," Caldwell indicates. Models from the TB257 through the TB2150R and the new TB335R (cab model) include three auxiliary circuits that feature a dedicated coupler circuit allowing operators to easily attach and detach from various attachments quickly and easily.
New interesting attachment options are coming onto the market as well. Doosan offers tiltrotators and accessories for mini excavators, which allows the attachment to spin 360 degrees for exacting operations. Lee says, "Customers can add an optional second set of hydraulics when they need to operate multifunctional attachments that require additional hydraulic flow, such as tiltrotator accessories."
Yanmar recently introduced a factory-designed lifting point to boost mini excavator lifting versatility. "Yanmar's Stowable Utility Hook is built into the machine's linkage to improve the longevity of the excavator and jobsite safety," Foy explains. It does this by minimizing the strain that can occur on the end of the arm by lifting heavy objects with a chain attached to a bucket.
For even more productivity, some manufacturers have integrated a light into the center of the mini excavator boom to shine directly onto the work area. This placement enables operators to see better and protects the light from damage during rentals.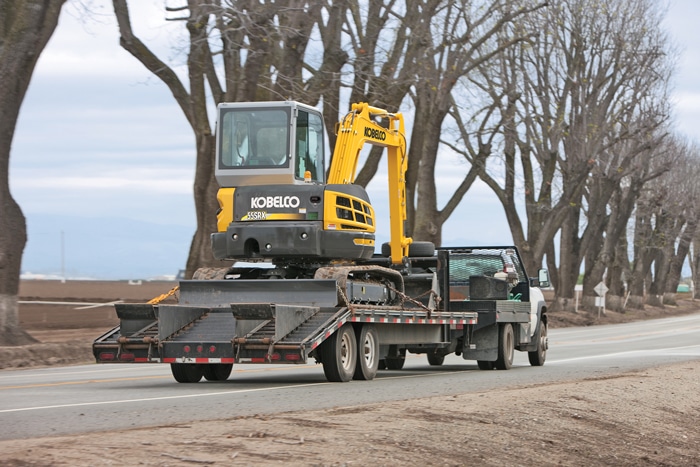 Telematics is becoming more common on compact excavators, making it possible to capture important engine and machine performance data remotely. This facilitates convenient scheduling of downtime for maintenance and repair by rental houses. Utilization tracking allows them to see how operators are using the machine and make decisions based on this data. Geofencing is a telematics feature on compact excavators that can ensure an asset is secure when it's no longer on the rental yard.
"Telematics as standard equipment in mini excavators is a growing trend in North America," Lee believes. Doosan's -7 Series, introduced in 2022, comes standard with a telematics system. Doosan mini excavators also come standard with an enclosed cab, air conditioning and heating, Lee continues, although customers can choose an open canopy instead. Similarly, Yanmar mini excavators 2.5 metric tons and up have canopy or cab options, depending on customer preference.
There are also AC and heat options available in certain models. While many rental units feature canopies, cab units are gaining in popularity. When equipped with a cab, excavators might include elevated features like a radio, HVAC, deluxe high back cloth suspension seat or a rollup door. For instance, rearview cameras are now standard equipment on the TB370 and TB290, while the larger TB2150 and TB2150R feature a 270 degree camera system, enabling greater visibility.
Rental Costs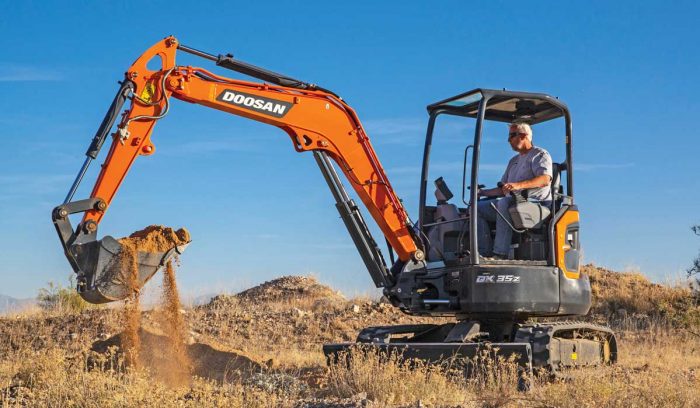 The cost to rent a mini excavator will vary, depending on the size of machine, location, availability, machine features and time of year. It can also depend on whether the machine is being rented from a rental company or a dealership. Regardless, Lee estimates rental cost of a mini excavator in the 3- to 5-metric-ton range between $250 and $400 per day. "A weekly rental may cost between $900 to $1,250, and a monthly rental may cost between $2,000 to $2,500."
Whatever the cost, Lee urges operators to become familiar with the machine before putting it to work. "Know the digging and lifting abilities of the machine and stay within the machine's abilities," he advises. Trying to do more work with a mini excavator than it's capable of doing can do more harm than good. It's important for customers to explain their needs to a rental company and get the proper machine for the application.
Lori Lovely is a freelance writer for Compact Equipment.
Mini Ex Trailer Tips
Once you've decided on which mini excavator to rent, you've got to get it safely to the jobsite. Thomas Lee, director of product management at Doosan Infracore North America, offers some suggestions for transporting a mini excavator on a trailer:
Select the right transport and towing vehicle for your machine and any attachments going with it.
Follow the proper loading guidelines. Check that the trailer is parked on firm and level ground.
Secure the mini excavator correctly. Install tie-downs at the front and rear tie-down positions.
Keep attachments and accessories attached to the mini excavator during transport.
Refer to the operation and maintenance manual for more information.
"When it comes to trailering tips, the operator's manual is the best place to start," says Wesley Foy, product manager for Yanmar Compact Equipment. While the operation and maintenance manual can be daunting, he acknowledges, it's filled with information that can extend the machine's longevity and prevent owners and operators from missing crucial maintenance requirements. "The manual also includes recommended service intervals for machine components, so it can help you create a maintenance checklist to keep your machine running in the best shape possible."