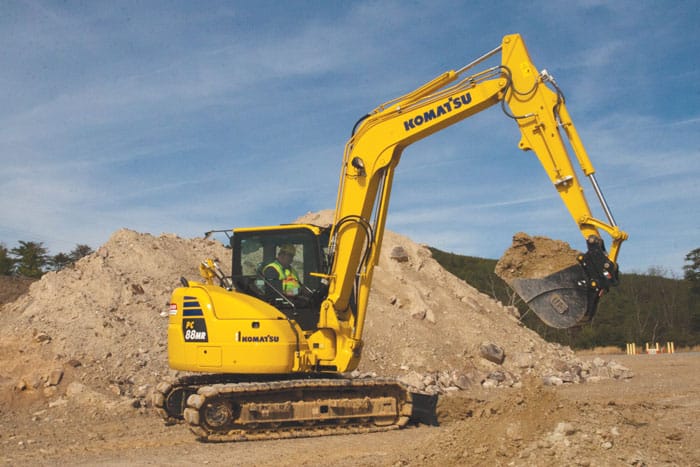 Professional diggers know that no one bucket is ideal for every excavation job. A drainage expert would probably rely on a ditching bucket, while an island-bound excavator might have to turn to a coral rock bucket. Choosing the right bucket for the right compact excavator and correct application is key to completing a job — whether it's selecting the right size or relying on a specialty bucket for your unique project. While what's listed in this feature is not a total inventory of the bucket models on the market, it's a good selection of the most popular options in the compact excavator bucket business today.
Standard Buckets
Standard excavator buckets are the most popular utilitarian bucket and come in a variety of sizes. Size limits depend on the capacity of the excavator, but often, they are available in widths from 8 to 42 in. Generally, standard buckets have three to nine teeth for easy ground penetration. These buckets are used for general excavation work in sandy soil, clay or soil lightly mixed with rock. Prices can range from $250 to $2,500 depending on size, capacity and overall strength of the bucket.
"General excavation buckets balance width, depth and plate thickness in order to meet the general demands of breakout force, volume and expected life required for most applications," says Rob Orlowski, product manager for Komatsu America Corp. "When sizing excavator buckets, it's important to stay within the manufacturer's guidelines. Whether a bucket is too small or too large, the wrong size will decrease efficiency and waste fuel. A bucket that's too large can also be difficult to control and could damage the excavator."
Heavy-Duty Buckets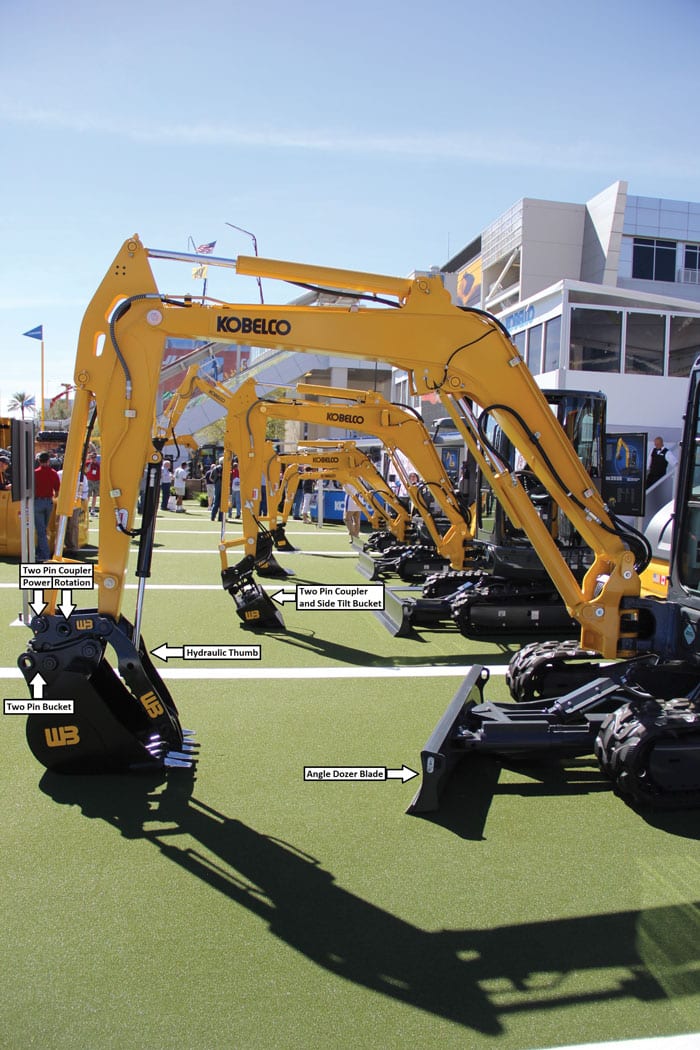 As you might have guessed, heavy-duty buckets are designed a little more heavy duty — built for tough clay with rock scattered through the soil, but they are not designed for the prying required to dig solid rock. Heavy-duty buckets are designed for shot rock, demolition and tougher soils. Like standard buckets, they can range from 8 to 42 in. There are also heavy-duty capacity buckets, which allow for increased toughness and increased capacity when excavating.
"The job application will determine what bucket features are needed," says Kevin Gilmour, senior project engineer for Caterpillar. "If increased capacity is desired, additional wear plates and wear strips can be added as an option and will increase the life of the bucket."
Ditching Buckets
Ditching or trenching buckets have a smooth front edge (as opposed to the teeth on a standard bucket) and are generally used for ditch cleanout. These buckets are not designed for tough digging applications; rather they are useful in ditch maintenance and construction, grading and slope work. A quality ditching bucket will have a rigid top section for stability on the wider sides. A bolt-on cutting edge is often an option on these buckets to reduce wear to the main edge. Sizes range up to 72 in., with prices in the range of $500 to $3,000, but most mini ex owners should stay below 48 in.
"It might be possible to go to a 48-in. cleanout bucket, but we would definitely not recommend a 72-in. bucket for any compact excavator," explains George Lumpkins, national service manager of Kobelco Construction Machinery USA. "The twisting motion on smaller pins and structures could damage the machine. Unexpected roots, rocks, clay and more could side load and twist the structures. This type of bucket used on a compact excavator would be for smoothing operations only and therefore, would offer limited functional use. Of course, all buckets capacity and size would vary based upon the manufacturers' recommendation and machine size and stability."
Tilting Buckets
Tilting buckets are often used in grading applications. Usually, this type of bucket can be tilted up to 45 degrees in either direction. This allows the operator to maintain a level trench even when the machine is at an angle. Tilting buckets use the auxiliary hydraulic circuit to operate the cylinder(s) to tilt the bucket. Due to the design, excessive prying is not recommended with this type of bucket. Due to the size and hydraulic cylinder requirements of these buckets, they are usually only available for medium to large compact excavators. Prices range from $3,500 to $6,000, and sizes usually range from 48 to 72 in.
"You can use this type of bucket for grading, land clearing and waste handling," says Jake Jeffords, product sales manager with excavators at JCB North America. "It's not made for extreme digging, so if you know your applications will include digging, you'll need to use a different type of bucket. Sizing a tilting bucket is best done by measuring the width of the actual bucket and metric ton size class of the excavator. Many tilt buckets are classed by the weight of the excavator [i.e. 2 to 4 metric ton, 4 to 6 metric ton and 6 to 11 metric ton]. It's key not to operate a tilting bucket as a normal digging bucket and to become efficient with the proportional control for operation. This type of bucket can be a huge asset for fine and finish grading."
Cemetery Buckets
Cemetery buckets are used specifically for digging graves. These buckets generally have a lower capacity than a standard bucket. Extra bucket rotation incorporated into the bucket will enable an operator to dig straight walls as well as flat bottoms for this application. A 36-in. width is common with the cemetery bucket, but the range is from 12 to 42 in. wide for compact excavators. An operator could expect to pay from $500 to $3,000 for a cemetery bucket.
"When considering the purchase of a compact excavator cemetery bucket attachment, make sure it is going to be adequate for 85 to 90 percent of your jobsite's needs," says Jonathan Ferguson, regional sales manager of Terex Construction Americas. "Cemetery buckets for compact excavators are designed to be used for the specific application. It is not a good bucket to utilize for general contracting work. Because cemetery buckets are wider than and not as deep as standard dirt bucket attachments for compact excavators, these buckets will also be productive in other specialty applications, such as digging flat bottom trenches, pools and/or basements. These buckets can efficiently handle ditch cleaning jobs. If you only need a cemetery bucket to supplement your current attachment inventory, it may make more sense to rent versus buy."
Rock and Coral Rock Buckets
Rock buckets in general are built for aggressive bucket loading in highly abrasive applications such as severe rock. These buckets are designed for excavating frozen ground or layered rock and can also be used for moderate prying. Coral rock buckets (specifically) give an excavator the ability to utilize the "peeling" action required for digging coral rock. Generally, a shorter tip radius on this bucket can increase digging force by up to 20 percent. An increased number of smaller teeth (usually a top-pin style tooth due to tighter working space) are used to protect the bucket's edge. Rock buckets range in size from 8 to 36 in. wide (size availability may be dependent on excavator model), and price ranges from $400 to $2,500.
"Rock buckets are heavier than standard dirt buckets, plus they have more teeth and more wear pads on the bottom of the bucket," says Ferguson. "No matter what type of bucket attachment an operator is using on a compact excavator, the key to productivity is to make sure the machine's hydraulic flow is matched to the attachment, and that it is easy for operators to change out and operate the attachment. For instance, quick-coupler systems make it fast and easy to change attachments and auxiliary hydraulics offer flexibility in adding attachments."
Keith Gribbins is associate publisher of Compact Equipment, based in Brecksville, Ohio.
Tags:
Caterpillar
,
Ditching Buckets
,
Heavy-Duty Buckets
,
home
,
JCB North America
,
Kobelco
,
Komatsu
,
March 2015 Issue
,
Standard Buckets
,
Tilting Buckets