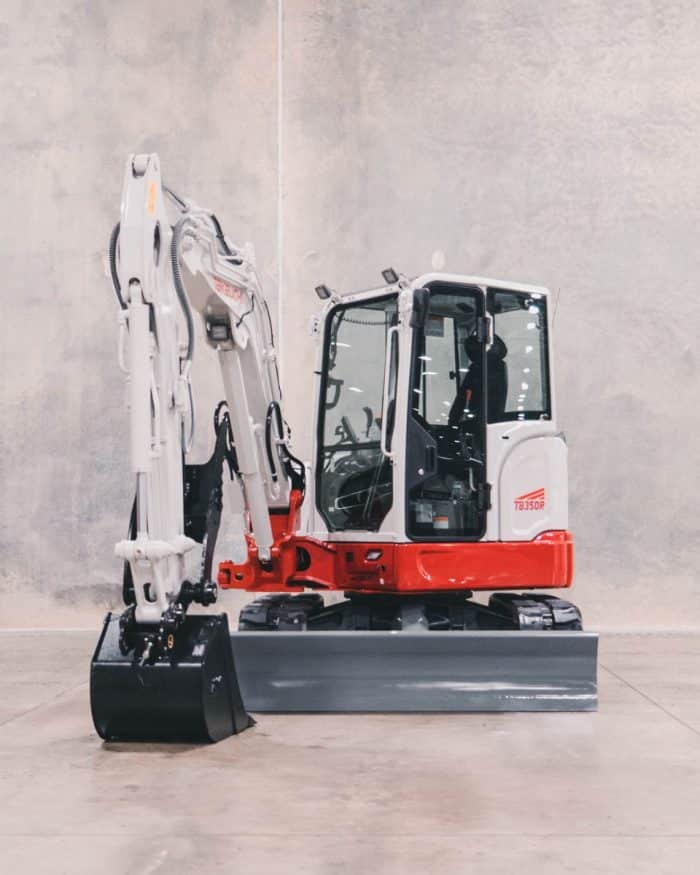 Takeuchi has expanded its TB300 Series excavator product line with the new TB350R short tail swing compact excavator, the first short tail swing model in the manufacturer's 5-ton class. The TB350R has a rear swing overhang of just 2.95", allowing operators to focus more on their work and worry less about rear-swing impacts.
"Takeuchi continues to design and build excavators that deliver a unique combination of performance, durability, operator comfort and serviceability," said David Caldwell, national product manager for Takeuchi-US. "As a result, our new TB350R offers many improvements that demonstrate our commitment to providing customers with advanced technology that helps them be more comfortable and productive."
The TB350R weighs 10,980 lb. in canopy configuration and 11,235 lb. when equipped with a cab. It is powered by a Kubota V2607-CR-E5B diesel engine that is U.S. EPA Tier 4 Final compliant and delivers 41.7 net hp (ISO 9249/SAE1349) and more than 130.2 ft-lb of torque. A four-pump hydraulic system delivers smooth, harmonized control of the work equipment. The TB350R provides a bucket breakout force of 10,431 lb., a traction force of 12,320 lb., and a maximum dig depth of 11' 8.8".
Both canopy and cab configurations are equipped with a primary auxiliary circuit plumbed to mid-arm. The cab model also includes a dedicated coupler circuit operated by controls located inside the cab. The primary auxiliary circuit delivers 26.4 gpm at 2,990 psi, making it capable of utilizing a wide range of hydraulically driven attachments.
To improve the operator's experience, Takeuchi completely redesigned the TB350R's interior. The excavator's canopy configuration includes a 4.3" high-definition, multifunction color monitor, while the cab model has an easy-to-view, 7" touchscreen, multifunction color monitor with integrated air conditioner and radio functions. For enhanced operator comfort, the excavators feature a deluxe, high-back, six-way-adjustable suspension seat, adjustable arm rests, low-effort pilot controls, large flat floor area and integrated footrests. An intuitive jog dial on the cab model provides operators with easy navigation and control of the multifunction monitor and other machine functions. Simple, one-touch control switches activate machine functions such as work lights, wiper, washer, ECO mode, 1st auxiliary circuit detent and lift overload alarm.
"When maintenance and service work are fast and easy to perform on a machine, it's more likely that they'll be done correctly and at the right intervals," Caldwell said. "That's why we designed the TB350R with a wide-opening rear engine service door and a right-side cover that opens overhead for quick access to key daily inspection points."
Takeuchi's Fleet Management (TFM) telematics system comes standard on the TB350R. TFM reduces downtime and controls costs by providing owner/operators with machine health and condition, run time (hours) and machine location, as well as remote diagnostics, scheduled maintenance reminders and customizable alert settings. TFM also gives owners the ability to geofence their machines, helping them protect and secure their investments. TFM access is free during the two-year standard warranty period. Additional coverage is included free with extended warranty plans, and owners can also purchase it separately.
"Since developing the first compact excavator in 1971, Takeuchi has focused on providing products that meet and even exceed the needs of today's contractors," Caldwell said. "We believe the TB350R continues that tradition by delivering serviceability and operator comfort without sacrificing efficiency, value or performance."
For more information on Takeuchi dealers, visit the Takeuchi dealer page. For more information on Takeuchi track loaders, excavators and wheel loaders, visit www.takeuchi-us.com. Follow Takeuchi on Facebook or on Twitter @TakeuchiMFG.
We'd love to keep in touch! Check us out on Facebook, Twitter and LinkedIn!