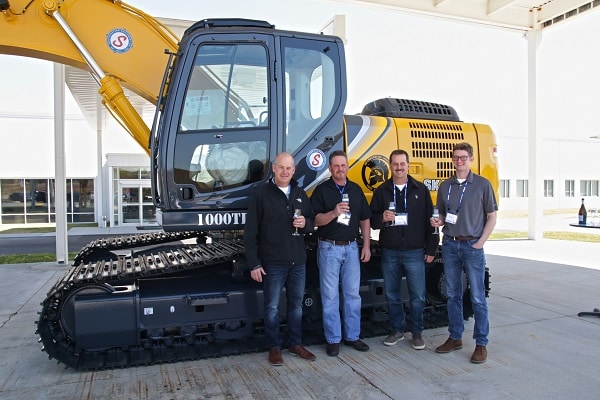 Southeastern Equipment Co. has sold the 1,000th excavator manufactured by Kobelco Construction Machinery USA's plant in South Carolina. The excavator was purchased by A Crano Excavating Inc., a long-time Southeastern Equipment partner in North Canton, Ohio. This machine marks the 25th Kobelco excavator that the family-owned business has purchased.
"Southeastern Equipment is honored to partner with Kobelco for this incredible milestone," said Thor Hess, Southeastern Equipment's executive vice president. "Kobelco excavators are known for their quality and reliability. They are one of the most productive excavators on the market."
Hess and other members of the Southeastern Equipment team celebrated the occasion with Kobelco representatives and local government officials in Moore, SC. Southeastern representatives included: Chris Kurz, North Canton branch manager; Scott Hartzell, North Canton sales representative; and Charla Mayhew, marketing manager. Representatives from A Crano Excavating also joined the group: Jim Riter, president; Raymond Riter, treasurer; Jimmy Riter, estimator; and Mike Jones, superintendent.
The 1,000th excavator is the Kobelco SK210LC-10, a model known for its efficient hydraulic system, durable boom, and enhanced productivity. Digging volume beats previous models by 7%.
"Time is money," said Jim Riter, A Crano Excavating president. "We are looking forward to adding another quality machine to our fleet."
Tags:
Kobelco
,
Southeastern Equipment