Reliable Compact Excavators Backed by a Growing Dealer Network
This post is a part of Compact Equipment's annual Spec Guide. View other brands' product and spec info by clicking this link. View the magazine version of these summaries by clicking right here. Sign up for the print edition right here. Now enjoy!
Since 2006, Sany America has been investing in and growing across the United States with a dealer network reaching from New England to Washington. Today, Sany's dedication to delivering value to equipment owners and performance to operators is evident in the number of standard features it offers, the reliability of its machines and a commitment to industry-leading standard warranties across all equipment. Its 2022 product line has expanded to include seven compact excavators ranging from 1.8 to 8.8 tons, most of which have boom swing and reduced tail swing.
Geared toward customers who want to minimize variable operating expenses and maximize uptime, Sany's reliable compact excavators are especially attractive to landscaping, construction, utility and road contractors. A standout model, the SY35U has a true zero tail swing design, boom swing with a digging depth of 10 ft, 2 in. and a breakout force of 6,834 lbf to yield high performance in confined spaces. Zero tail swing models also include the SY26U and SY50U. As the smallest member of the boom swing family, the SY16C is capable of both conventional and reduced tail swing due to the machine's expandable tracks. All four of these models are trailer-ready to optimize logistics costs.
On the larger side of this size class, the SY80U allows for extra digging depth and hydraulic performance without trading off the boom swing or reduced tail swing characteristics. This excavator was built for fast and productive work with extraordinary bucket breakout force at 16,343 lbf. The SY75C boasts a large excavator design within a small frame which provides added performance and stability with its fixed boom and conventional tail swing. The SY60C matches boom swing with a conventional tail swing for added power and has a robust powertrain for longer life. All three models are made with heavy-duty materials making them impressively durable.
There are some breakout standard features making this group enticing to owners and operators. All models are equipped with Yanmar engines, hydraulic pilot controls with pattern change valve, work lights and auxiliary flow circuits. The SY60U, SY75C and SY80U come pre-plumbed for a quick-coupler. The SY35U through the SY80U offer standard enclosed, climate-controlled cabs, digital displays with on-board diagnostics and Bluetooth radio — all of which increase operator comfort.
Listening to feedback from owners and operators who stressed challenges with equipment becoming unaffordable and overcomplicated in the marketplace, Sany designed its equipment to be easy to own and simple to operate, maintain and service. Its compact excavators embody the result of that effort. The machines offer more of the standard features customers want and are engineered to run for longer periods of time without requiring service.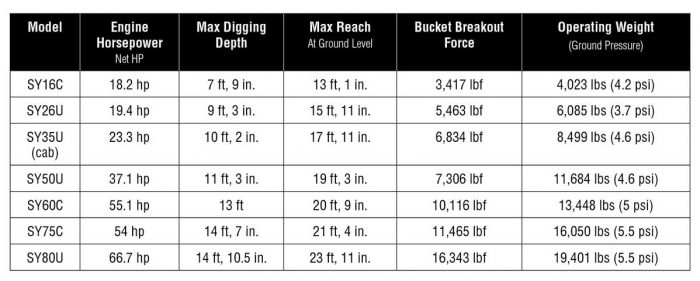 Advice to Buyers
"The compact excavator market is advancing, and there are many new options for a buyer to consider. After you have reviewed your application needs and narrowed your search based on size, weight and performance, it's a good idea to move forward with a demo and get a first-hand feel for how the machine performs," says Zac Evans, product manager at Sany America. "While reviewing the machine, try to pay attention to access for general maintenance and service items as this can impact your overall experience. Proper care of your machine will help extend the value of your investment and help prevent any unnecessary downtime that could negatively impact your bottom line."
For reprint and licensing requests for this article, please click here.
Tags:
July August 2022 Print Issue
,
Sany America
,
Spec Guide
,
Spec Guide 2022