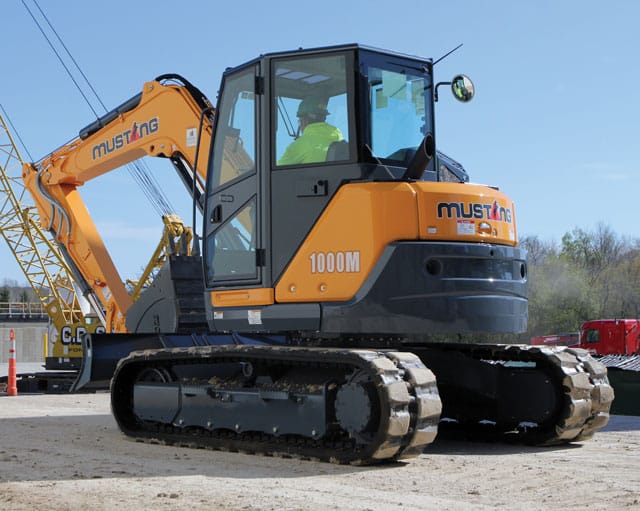 Six Zero Tail Swing and Two New Minimal Tail Swing Units
Mustang excavators were first introduced in 1999. The Mustang zero tail swing excavators consist of six models: the 170Z NXT2, 250Z, 350Z NXT2, 450Z NXT2, 550Z and 800Z NXT2. The machines are designed around a powerful and reliable Yanmar engine to enhance engine performance and increase efficiency. The Mustang "Z" excavators are true zero tail swing machines with no cab overhang beyond the tracks in any direction. This allows the machine to operate directly against a wall or other obstruction without causing damage to the structure or machine. The Mustang 250Z, 350Z NXT2, 450Z NXT2, 550Z and 800Z NXT2 excavators are equipped with a hydraulic quick-coupler. This feature makes attachment changes as simple as flipping a switch.
The hydraulic systems on the Mustang zero tail swing excavators incorporate two variable pumps and two gear pumps. The pump oil flows are combined and redirected where needed, allowing for simultaneous operation without loss of hydraulic power. An operator can save fuel when full performance is not necessary by reducing engine rpm by 10 percent using the ECO Mode on the 350Z NXT2, 450Z NXT2, 550Z and 800Z NXT2. The mode is easily activated and deactivated with a simple toggle switch.
An angle blade with float and bolt-on cutting edge is a factory installed option on the 350Z NXT2, 450Z NXT2 and 550Z. Using the rocker switch on the blade lever, the hydraulic angle blade can be angled up to 25 degrees to push material aside as the machine moves forward.
In addition to the above features, the 170Z NXT2 is equipped with a unique variable undercarriage, which extends from 3 ft, 1 in. wide to 4 ft, 2 in. wide. This allows the machine to access narrow, hard-to-reach areas and also gives it the ability to increase stability on uneven terrain.
Two all-new minimal tail "M" units join the Mustang excavator line, expanding the range to eight total now including the 80M highly compact machine for rental and the 10-ton 1000M for dealer rental fleets, utility contractors and heavy construction. The 80M offers compact dimensions to travel along sidewalks, drive through doors as well as backyard gates and features an operating weight of only 2,348 lbs for easy transportation. The 1000M is the largest in the Mustang lineup offering 14 ft, 10 in. of digging depth and a heavy-duty operating capacity more than 20,000 lbs. These M units provide robust boom minimal tail swing designs that will go 60 degrees in either direction, allowing for more consistent digging without the need to reposition the machine.
Advice to Buyers
"The versatility of an excavator model needs to be considered during a purchase. Ensuring that you are selecting a model that will perform in all jobsite applications is key," explains Nathan Ryan, Mustang excavator product manager. "Select a unit that has the dig depth, lifting capacity over the front and over the side and breakout force performance for your applications."
Mustang
P.O. Box 179, West Bend, WI 53090
262-334-9461 | info@mustangmfg.com | mustangmfg.com
Click on table to enlarge