It's no secret that we're huge fans of mini excavators at Compact Equipment. I mean, just click here and see how much we talk about 'em. The mini excavator market is super hot right now, and these machines continue to be popular with both owners and on the rental lot. Whether you're a contractor or a busy DIYer, a mini excavator can help you accomplish all sorts of tasks. Below, we've gathered some of the most popular mini excavators on the market today. Enjoy!
John Deere's 50 P-Tier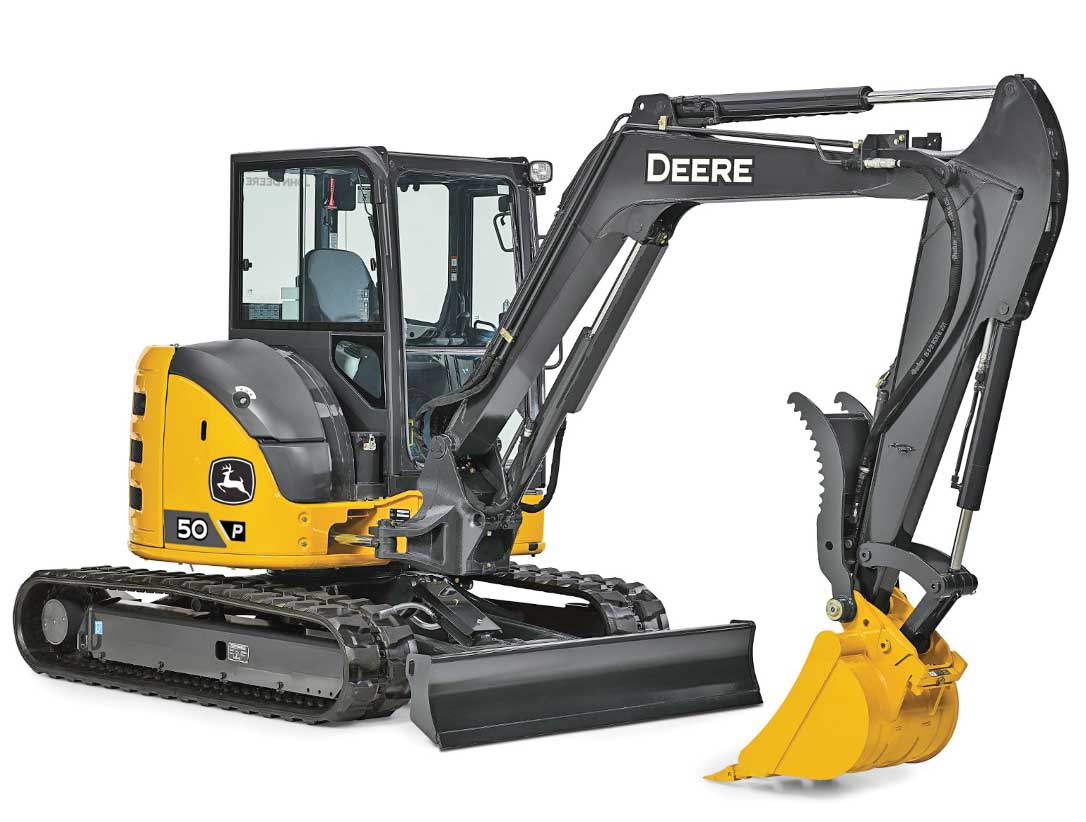 The John Deere 50 P-Tier compact excavator was designed to easily fit in small spaces without sacrificing the power and versatility of larger-scale models. Now, equipped with optional JDLink telematics, customers have access to valuable machine data. Designed with attachments in mind, standard equipment includes a selector valve for auxiliary hydraulics allowing the operator to switch between a thumb and other attachments without swapping auxiliary hydraulic hoses. A mechanical, wear-compensating coupler that is interchangeable with D- and G-Series attachments also increases versatility. The 50 and 60 P-Tier machines are available with the Engcon tiltrotator with full EC-Oil capabilities, allowing the operator to stay in the cab when changing attachments. For more info, visit johndeere.com.
Yanmar's SV40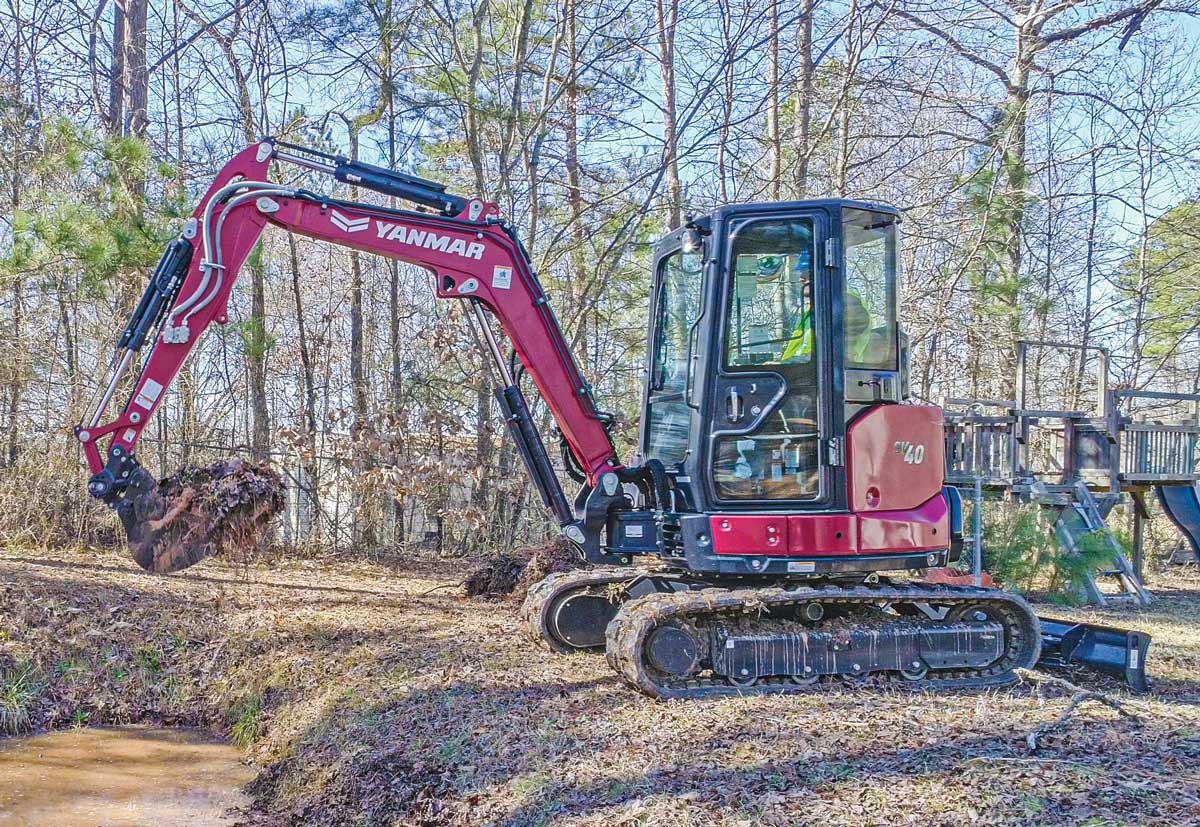 Yanmar Compact Equipment tailored the ultra-tight tail swing SV40 excavator for the North American market and developed it to push the limits and get more power and performance out of an under-5-ton machine. Featuring a 39-hp, electronically controlled Tier 4 Final diesel engine, the SV40 is a compact powerhouse of flexibility and stability, giving operators the performance of a 5-ton machine with reduced need for a CDL. The SV40 comes standard with the company's patented quick-coupler, its SmartAssist remote communication system and leading four-year/4,000-hour warranty. Options for the SV40 include a second auxiliary circuit option, a four- or six-way blade and an additional counterweight. The addition of the SV40 broadens the current Yanmar excavator product lineup, with two other ultra-tight tail swing machines and another six excavators with true zero tail swing. For more info, visit yanmarce.com.
Caterpillar's 306 CR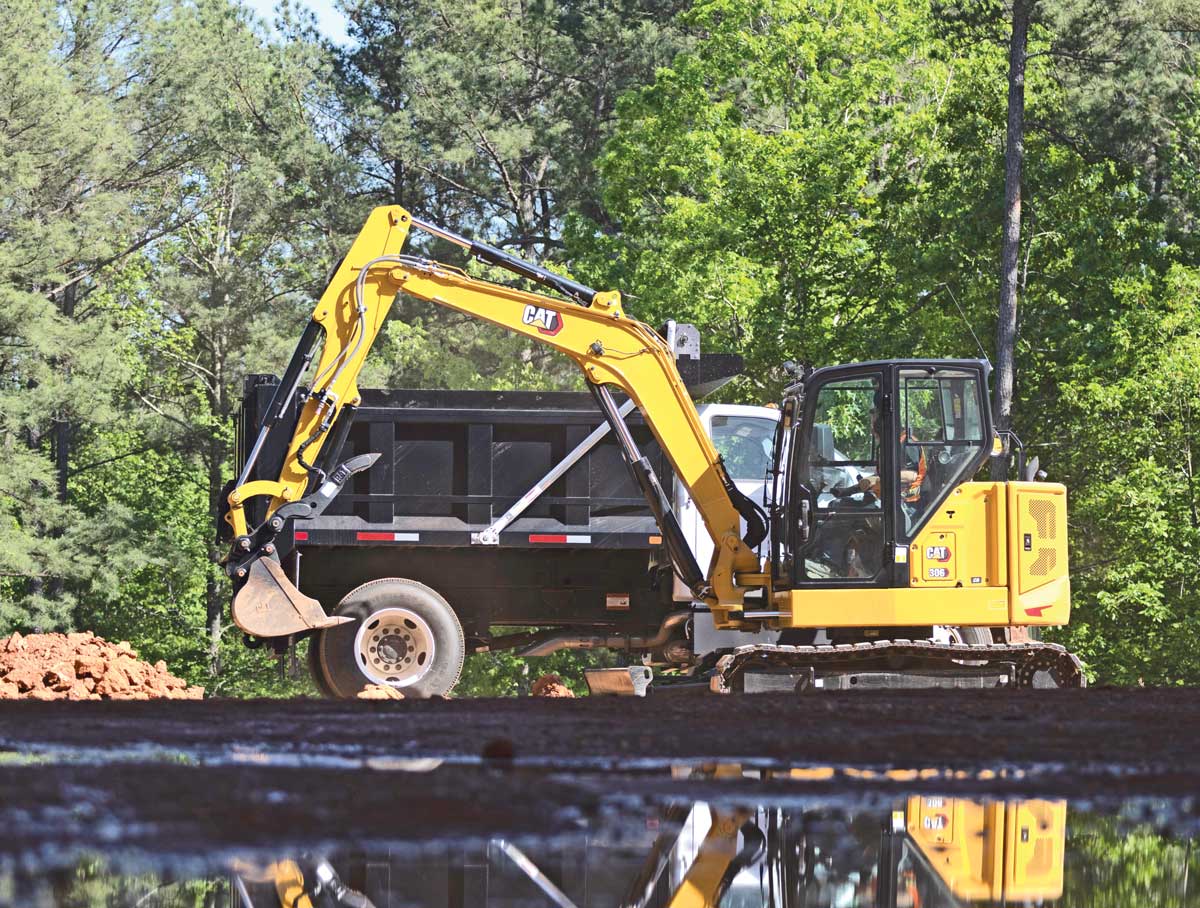 The new Cat 306 CR mini hydraulic excavator marks Caterpillar's entry in the 6-ton class offering. Designed with an improved customer experience in mind, the 306 CR mini excavator is built to exceed customer expectations with strong performance, enhanced operator experience and simplified maintenance with extended service intervals. With standard exclusive features like Stick Steer and new LCD monitor, it provides a great value for customers and boasts industry leading performance. The new mini excavator features heavy-duty main structures, a fuel-efficient engine, load-sensing hydraulics and a spacious cab. It shares a similar control layout and common components with the full line of Cat Next Generation mini excavators to simplify training, offer quick adaptation for operation and lower owning/operating costs. With its long stick option, the 306 CR delivers a maximum dig depth of 162 in. and 15,821-lb maximum operating weight when equipped with the sealed and pressurized cab. For more info, visit cat.com.
Takeuchi's TB350R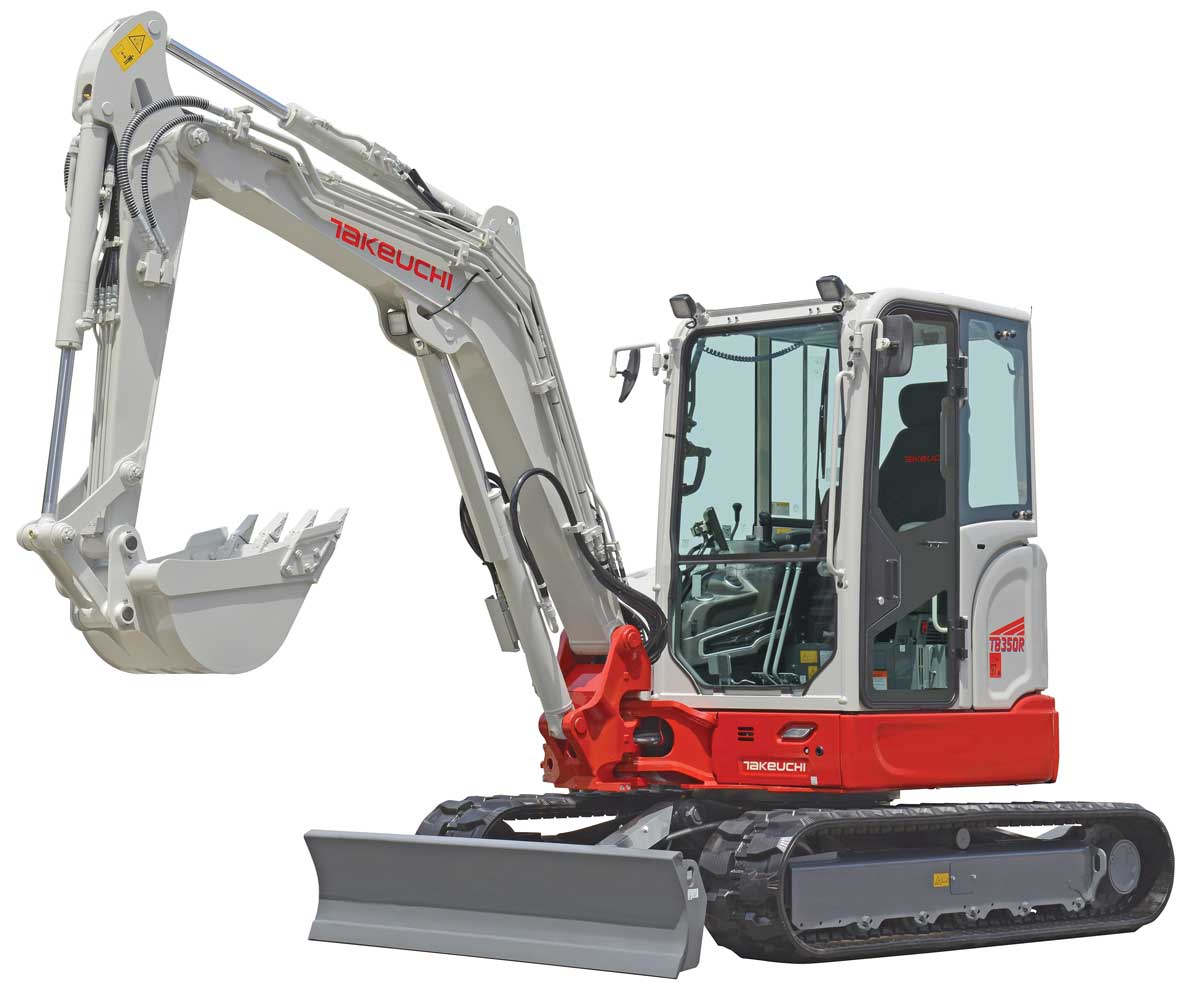 Takeuchi's new TB350R Series 3 compact excavator features the latest technology and a short tail swing design that makes it ideal for working in tight or confined spaces. Inside the cab, a 7-in. multifunction color monitor with touch screen places a wide range of functions at the operator's fingertips. A dedicated coupler circuit on cab models allows for the quick and easy exchange of various hydraulically driven attachments. A jog dial with one-touch controls lets operators easily control throttle position and multiple machine functions. The TB350 also offers a dig depth of 11 ft, 8 in., maximum reach of 19 ft, 10.8 in. and maximum dump height of 12 ft, 11.3 in. Combine those working ranges with its high-flow primary auxiliary circuit, and the TB350R is ideal for multiple applications, including demolition, land/vegetation management, general contracting, landscaping, hardscaping, rental and residential and commercial construction. For more info, visit takeuchi-us.com.
Case CE's CX30C
With an operating weight of 6,020 lbs and a 24.8-hp Tier 4 Final engine, the CX30C boasts a bucket digging force of 4,520 lbs. The machine is available in a zero tail swing, short-radius or conventional design, with an adjustable boom offset for improved maneuverability in congested areas and with an auto-shift travel system for operator convenience in varying terrain. An auxiliary hydraulic system with standard proportional controls, shut-off valve and easy-to-select joystick control patterns offer increased productivity. The machine's spacious and comfortable operator environment with excellent visibility, ergonomic controls, adjustable seating and line-of-sight digital displays minimizes operator fatigue. For more info, visit casece.com.
Kubota's U10-5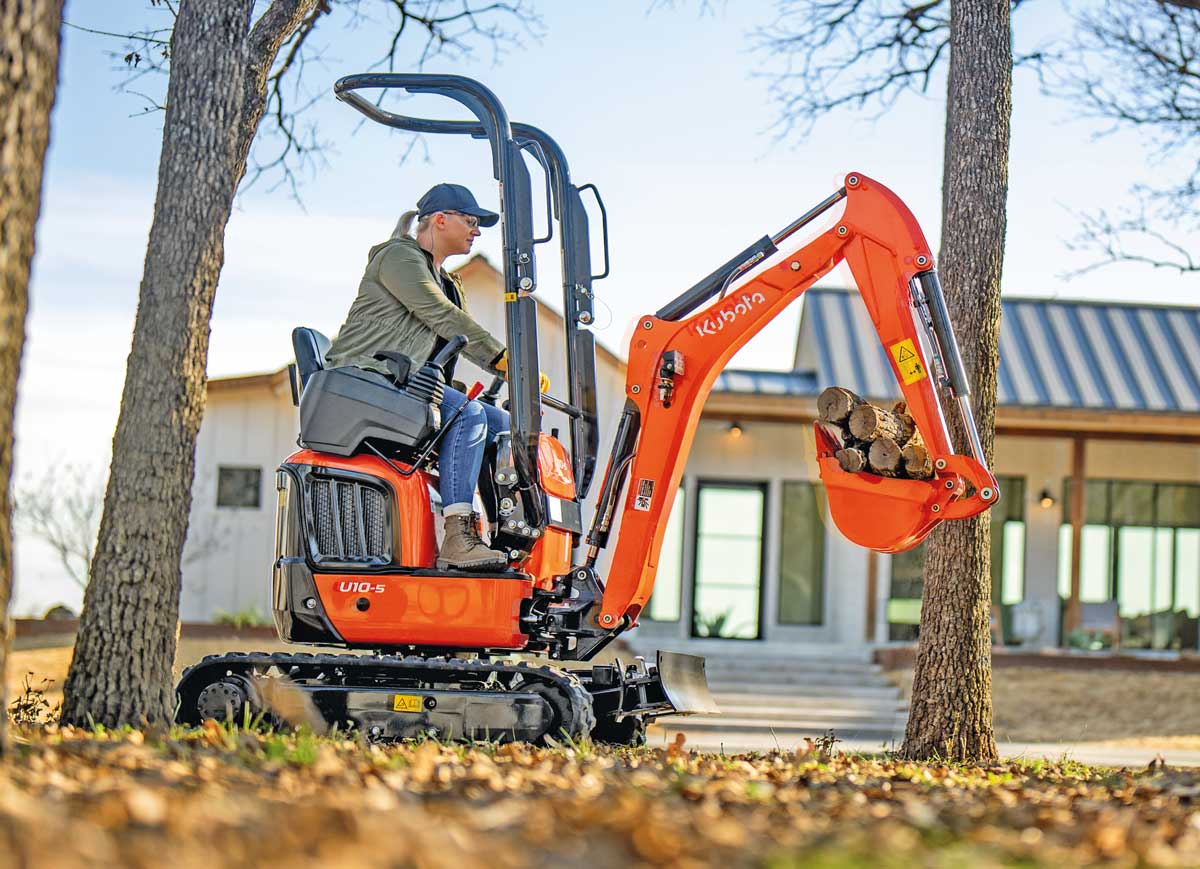 Kubota's U10-5 minimal tail swing excavator takes an in-demand spot in the U Series minimal tail swing lineup. The U10-5 is Kubota's answer to the rental or professional customer who requires a compact excavator in the 0- to 1-metric-ton range. With a more compact frame and minimal tail swing, the U10-5 provides superior flexibility when working in tight spaces with very minimal overhang at 0.6 of an inch over the tracks, ensuring excellent balance, stability and fast operation for both residential and commercial work. The model is available now at Kubota dealerships nationwide. For more info, visit kubotausa.com.
Hitachi's ZX50U-5N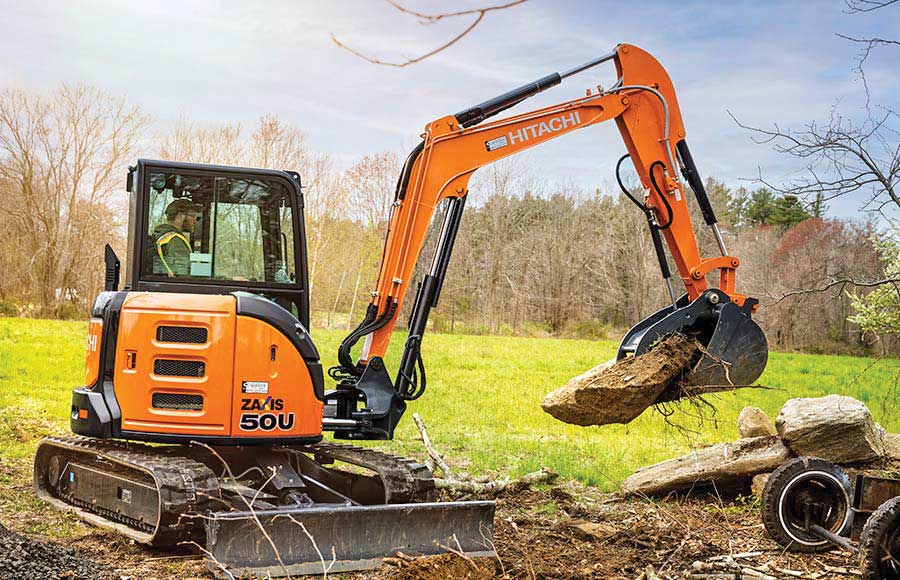 With its reduced tail swing design, the compact, yet powerful, 10,560-lb Hitachi ZX50U-5N is perfect for working in congested areas. An independent swing boom lets you set up and work almost anywhere. The ZX50U-5N offers plenty of height and reach to get up and over truck sideboards with a maximum reach of 16 ft. It also provides a maximum dig depth of 9 ft, 2 in. A backfill blade allows the excavator to fill or grade while an optional all-hydraulic blade angles 25 degrees left or right, for even more efficient grading and backfilling. The ZX50U-5N allows the engine speed to be matched to the job with power/economy work modes, which are usually only available on larger excavator models. The power mode provides higher engine speeds for most general digging work, while the economy mode reduces engine speed for lighter digging jobs. For more info, visit hitachicm.us.
Volvo CE's ECR50 and ECR58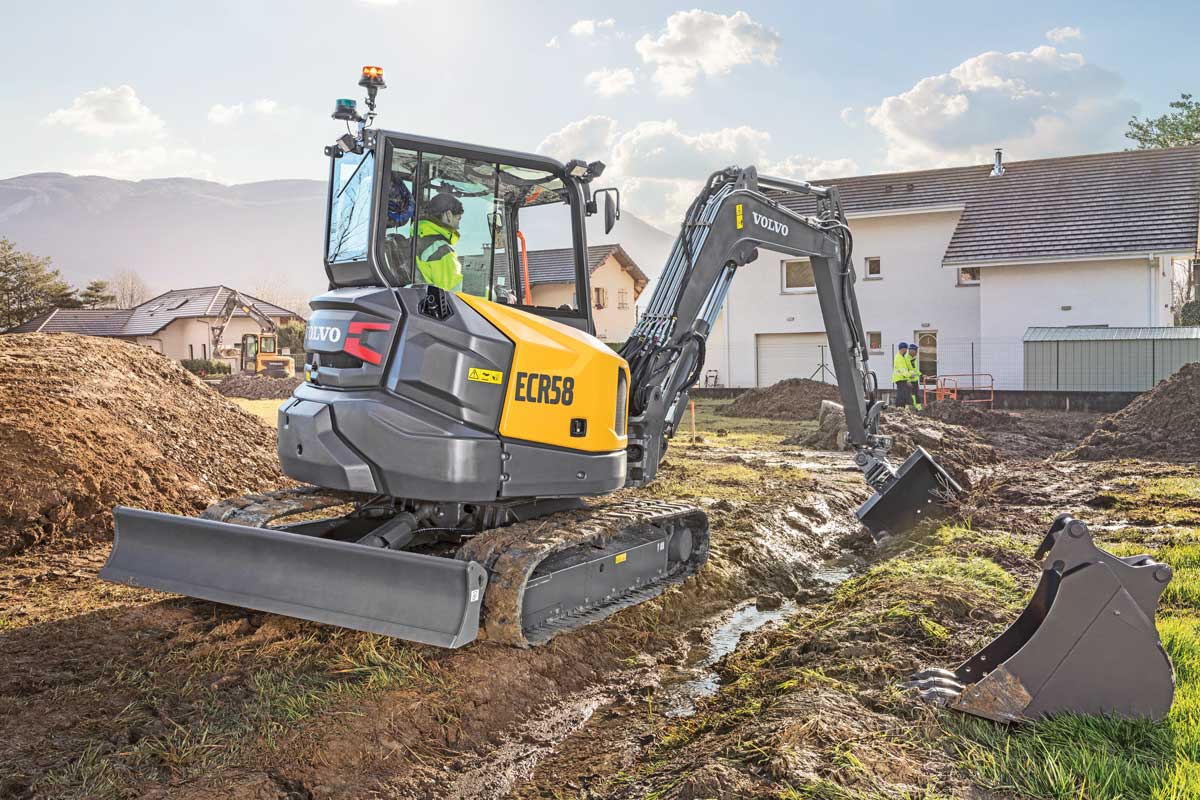 The Volvo CE ECR50 and ECR58 are ideal for operators who need a short-swing compact excavator that can work across a range of applications, including utilities, landscaping, road construction and more. The 5- to 6-metric-ton machines fill a size gap in the compact excavator range, which continues to grow as an alternative to skid steers, compact track loaders and backhoes. Both excavators have an Eco Mode, engine auto-idle and auto-engine shutdown. Eco Mode can reduce fuel consumption by up to 10 percent. Auto-engine shutdown reduces idling, thereby lowering maintenance costs and leading to potentially higher resale value and lower total cost of ownership. For operators, both have intuitive controls with an automotive-style jog wheel to navigate the menus on the 5-in. color display, as well as spacious cabs with plentiful storage and 12-volt and USB ports. For more info, visit volvoce.com.
Develon's DX89R-7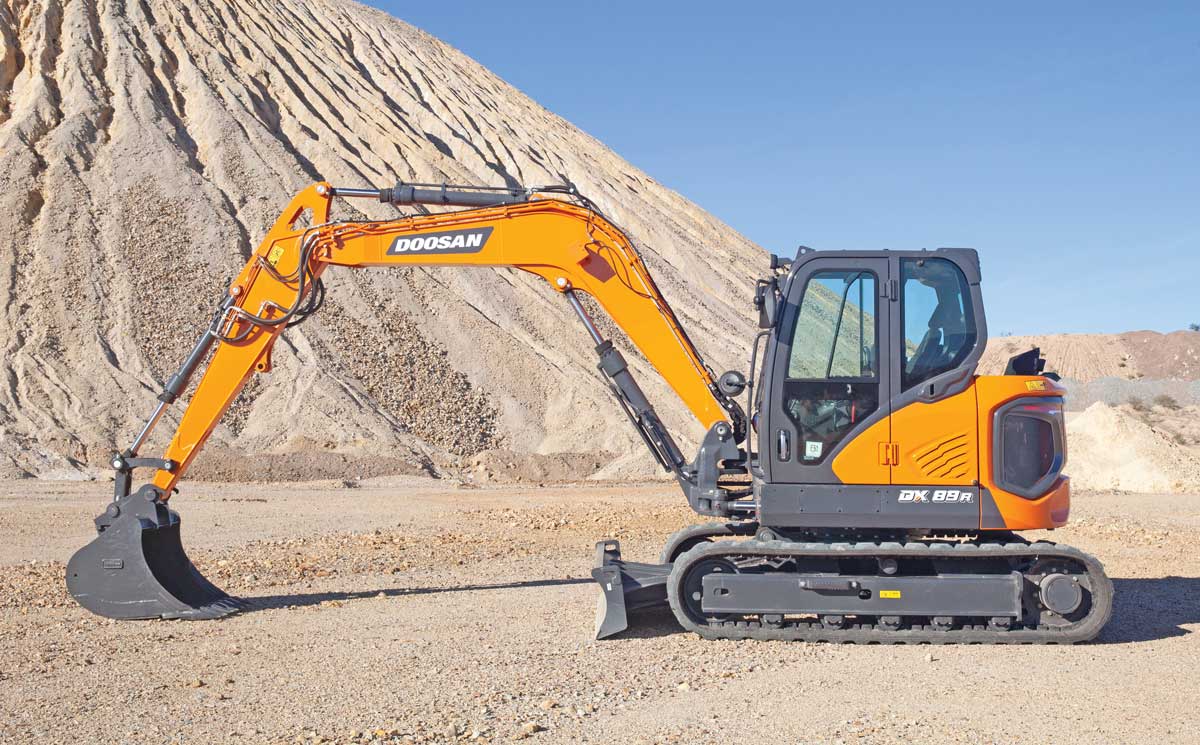 The new DX89R-7 mini excavator provides the flexibility of a compact excavator but with more power and dig depth without moving up to a larger machine. The machine has an increased machine operating weight and a new counterweight design to provide better stability for more lifting capacity. A Tier 4-compliant D24 diesel engine offers more horsepower, leading to increased productivity. The DX89R-7 has a reduced tail swing feature allowing for more power in cramped, congested jobsites. The standard hydraulic quick-coupler-ready design and updated auxiliary hydraulics maximize the attachment capabilities of this machine. Operators will appreciate the best-in-class air conditioning along with other premium comfort features for all-day productivity. For more info, visit na.doosanequipment.com.
Wacker Neuson's ET58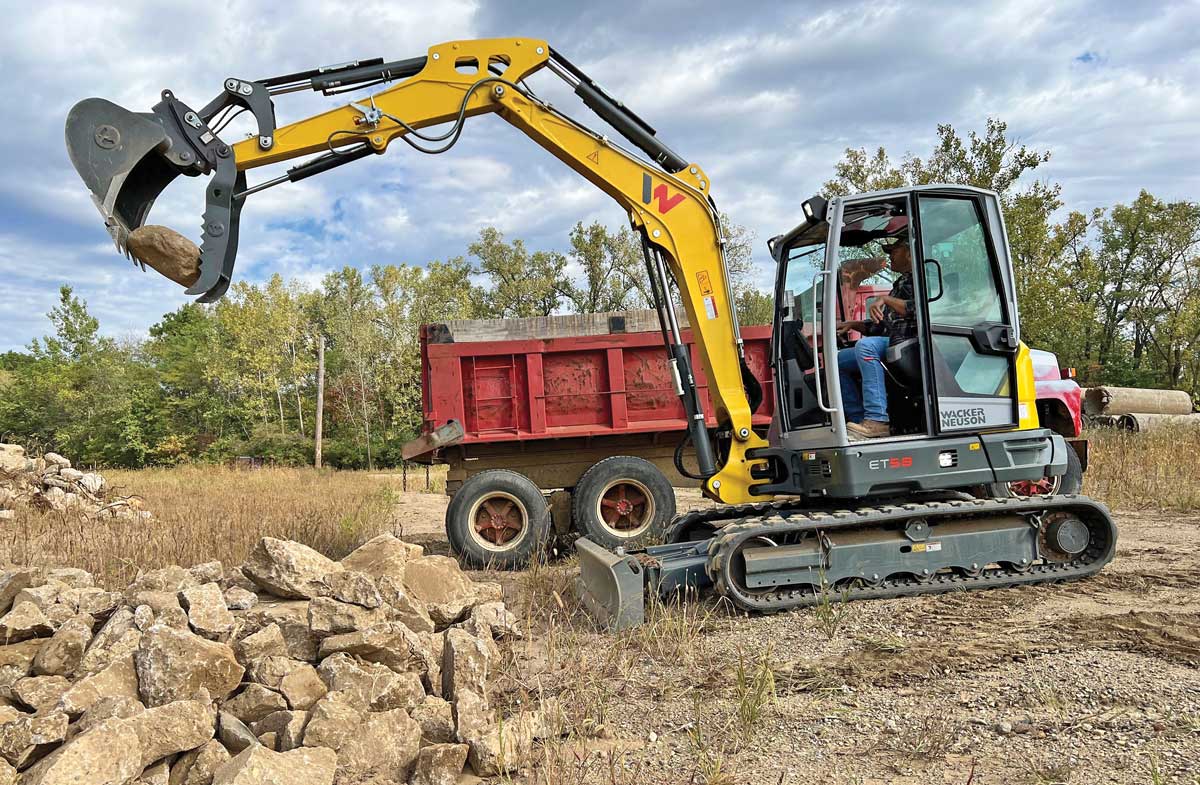 The ET58 conventional tail excavator is the largest in the newest family of excavators that Wacker Neuson has designed on a common platform. The 4.2-metric-ton ET42 and the 5-metric-ton minimal tail swing EZ50 complete the trilogy of models. The excavator is powered by a Stage 5, 44.8-hp Perkins engine with a max digging depth of 13 ft, 2 in. and bucket breakout force of 6,474 lbs. It includes a standard, factory-installed hydraulic quick-coupler. This productivity-boosting system allows the operator to easily change attachments from the cab. Additionally, the diverter valve on the auxiliary hydraulic line allows the operator to switch between an optional thumb and another attachment, such as a hydraulic breaker, without disconnecting the hoses, saving time between tasks. The ET58 also features a load sensing hydraulic system that regulates the flow rate according to demand, providing consistent and precise control regardless of the load. For more info, visit wackerneuson.com.
Mecalac's MCR Series
Mecalac's newly updated MCR Series is comprised of three models, the 6MCR, 8MCR and 10MCR. The lineup of compact skid excavators offers superior speed, productivity and compact operation. These machines provide the swiftness of a skid steer with the 360-degree rotation of an excavator for versatility and travel speeds two times faster than any small excavator. A compact footprint brings Mecalac's signature end-user-focused design to new applications and industries for increased safety, sustainability and efficiency. The new MCR Series features a hydrostatic transmission and drive motors strong enough to take on any job. A dedicated pump drives the motor, allowing for twice the speed of any traditional mini excavator on the market. Each of the three machines is capable of travel speeds up to 6.2 mph. This significantly reduces time spent traveling across jobsites, resulting in faster cycle times and less unnecessary downtime. For more info, visit mecalac.com.
LiuGong's 9051FZTS and 9057FZTS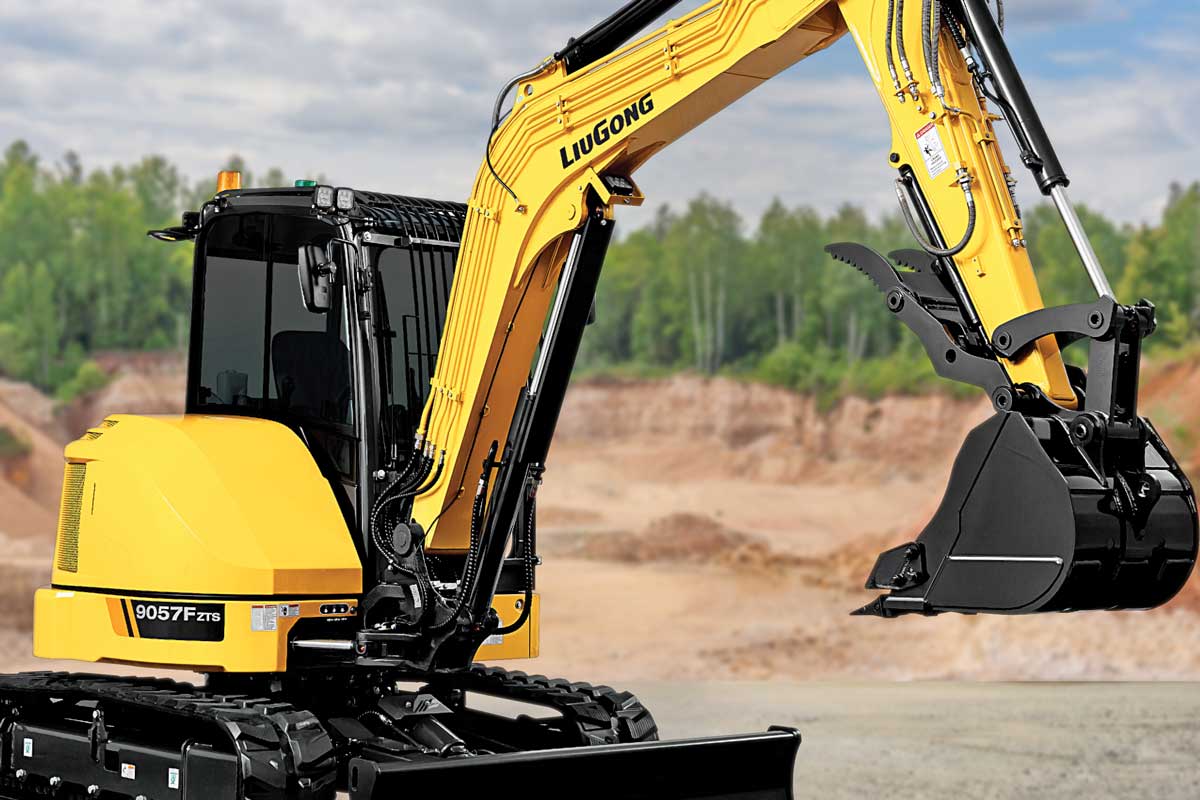 The new 5-metric-ton LiuGong 9051FZTS weighs in at 11,536 lbs, while the 6-metric-ton LiuGong 9057FZTS weighs in at 12,570 lbs. The 9051FZTS has a max digging depth of 11.4 ft and standard bucket capacity of 0.18 cu yds, while the 9057FZTS has a max digging depth of 11.9 ft and standard bucket capacity of 0.20 cu yds. Both machines operate with a 48.3-hp turbocharged Yanmar engine that adopts electronic fuel injection (EFI) technology, produces higher fuel efficiency and delivers better fuel saving. These machines have an enclosed cab with AC, LCD interactive color monitor with independent auxiliary flow adjustments, smooth hydraulics, rear facing camera and mirrors placed for 360-degree visibility. As standard, the 9051FZTS and 9057FZTS are fitted with a dual function main auxiliary circuit (e.g. hammer/thumb), a secondary auxiliary circuit (e.g. rotator), hydraulic quick-coupler lines stubbed-in for convenience, a flip-forward seat for serviceability and versatile rubber tracks. For more info, visit liugongna.com/excavators.
Mini excavators are making big waves on jobsites all over North America. Click here for the latest news on these machines and the companies that make them.