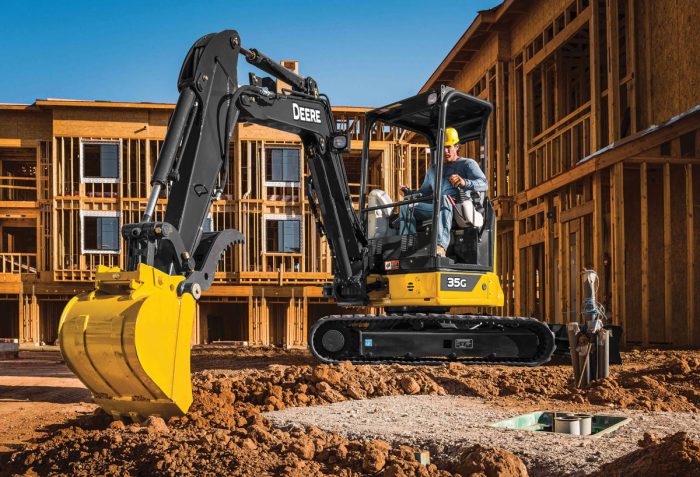 The long arm of a mini excavator has become a pretty powerful and popular tool for American contractors. Fitted with a bucket, hammer, brush cutter, thumb, grapple or [insert your favorite attachment here], a compact excavator can tackle a ton of applications on any number of jobsites. That versatility continues to get upgraded each year but not just by adding more implement options. High-tech electronic engines, sophisticated hydraulic systems, next-gen grade controls and advanced monitoring services are just some of the things allowing small excavators and their operators ever-increasing precision, comfort, efficiency and ease of operation.
To help us better understand this progressive market, we're reaching out to some of the biggest brands in the industry to get their insights — companies like Case Construction Equipment, Caterpillar, Yanmar, Takeuchi and today's expert John Deere. Justin Steger, solutions marketing manager for site development and underground at John Deere, was kind enough to answer some of our questions. Here we go…
CE: First off, Justin. Thanks for taking the time. We really appreciate it. Maybe we can just start off by briefly summarizing your compact excavator line today. How many models do you currently have and what is your series called? Give us a quick overview.
Steger: John Deere offers six compact excavator models from 1 to 6 metric tons. Our G-Series models are the 17G, 26G, 30G, 35G, 50G and 60G. All of our G-Series models meet Tier 4 Final emissions regulations and, depending on the model, offer reduced tail swing or zero tail swing during operation. Our G-Series compact excavators are proven to be durable and smooth operating machines.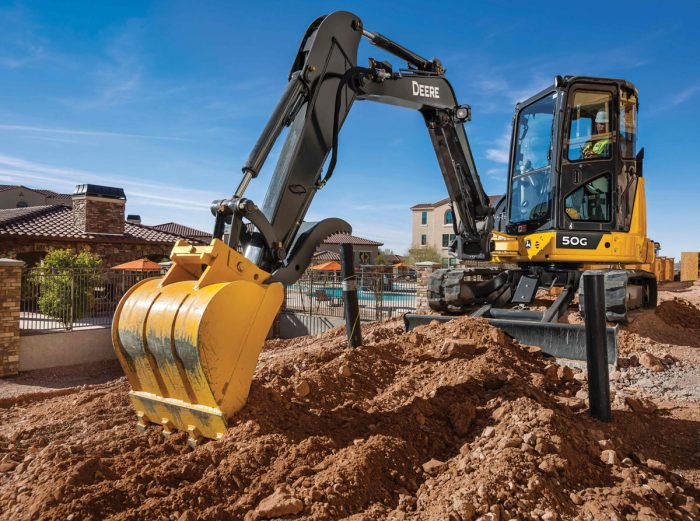 If you had to pick one or two big differentiators in your mini excavator product offerings, what would it be? A one-of-kind undercarriage? Unique standard features? The biggest selection? A cool, unique telematics package? A hybrid excavator? Pick something and briefly explain it.
All six of John Deere's G-Series models come standard with mechanical, wear-compensating couplers for buckets and attachments that are also interchangeable with our D-Series buckets. Over time, the pins and bushings can wear and joints can get loose. The advantage of our coupler design is that we can tighten one bolt to take up any slack necessary. When you want to change a bucket or attachment, simply loosen that bolt, remove two pins and switch out the attachment.
As we know, performing daily service checks and making grease points easily accessible contributes to a machine's durability. John Deere uses oil-impregnated bushings in the front joints of the boom, arm and bucket. These bushings do not replace the need for grease, but rather provide extra protection should a joint not get greased properly. In addition, the seal receives an oil bath before assembly so that as a joint heats up, the seal begins to weep oil to lubricate that joint in the absence of grease. Owner-operators and rental companies consistently provide positive feedback and voice their satisfaction with the extra measures taken by John Deere.
What is your most popular compact excavator overall (let's say mini stops at 6 metric tons)? What's your most popular unit for rental applications? Tell us why these are so popular.
In North America, the 3- to 4-metric-ton size class is the largest size class of compact excavators in the industry. John Deere offers two models in this size class, the 30G and the 35G, offering customers a variety of machine options to suit their needs. Dig depth, available options and the machine's operating weight, which ultimately leads to ease of transport, are some of the key factors customers consider when purchasing popular models of compact excavators. The 30G and 35G have proven that performance and durability lead to a return on investment, making them popular models purchased for the rental market.
In your opinion, what technologies are pushing the small excavator market to evolve? Electric, attachments, telematics, automation? Briefly explain if you can.
Technology such as telematics and automation are starting to migrate from the larger excavators into compact excavator lineups. Telematics provides benefits such as location, utilization and automation, which can make a machine more efficient. It is also important to consider customer value for this size class machine, and ensure you are utilizing technologies that best suit your needs on the job.
Which companies have the biggest market share for compact excavators in the North American market today? Where is your company ranked in market share for small excavators in North America?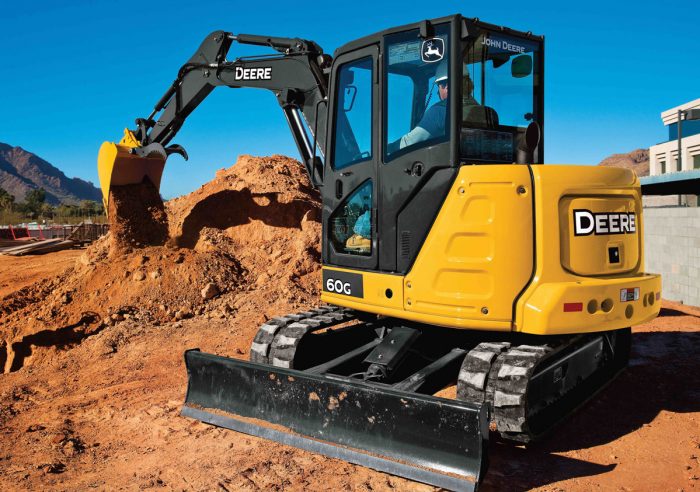 There are many different manufacturers and models of compact excavators in the North American market. Of the leading manufacturers, the John Deere G-Series compact excavators have a proven track record in the marketplace of being extremely durable and easy to operate with smooth hydraulic functions.
How many compact excavators do you think will be sold in North America in 2021? How does that compare to 2020?
The compact excavator industry continues to grow year over year in North America. It's hard to forecast the year ahead, but we predict that in the industry there could be more than 50,000 units in North America alone.
What growth markets do you see for compact excavators in North America? What declining markets do you see?
If you keep an eye out, you are likely to see compact excavators make their way into the landscaping and rental markets, as well as in utility applications in the near future.
What is the most popular size class of compact excavators today? Why? What are the most popular options? Quick attach systems? Extend-a-booms? Enclosed cabs?
The most popular size class is the 3- to 4-metric ton size class, which is the largest compact excavator size class in the industry in North America. This is primarily due to dig depth, operating weight for ease of transportation and the expansive optionality. Some popular options include thumbs to make the machine more versatile, long arms to dig deeper, couplers that accept multiple attachments and enclosed cabs to keep operators out of the elements and more comfortable on the job.
Mini excavators are making big waves on jobsites all over North America. Click here for the latest news on these machines and the companies that make them.
What do you feel are the latest trends in hydraulics and attachments for mini excavators? New more powerful attachments? Automated operator settings? Grade control? Rotating buckets and grapples?
Over the last few years, we have seen selector valves for auxiliary hydraulics become popular in the industry. John Deere offers these selector valves, which are mounted to the arm of the machine, as a standard feature on our 26G-60G models. This allows a machine with a hydraulic thumb to also use other auxiliary hydraulic-powered attachments without the need to connect and disconnect auxiliary hydraulic hoses. All the operator needs to do is to simply turn the valve to select where to route the hydraulic fluid (attachment or thumb) and that's all, getting them back to work sooner.
What advice would you give to a contractor looking to rent or buy a compact excavator? How should a potential operator evaluate size, application, attachments, brand and price?
Whether a contractor is looking to rent or buy, customer support is the top consideration. For purchasers, it is optimal to have dealer support for parts and service whenever needed. At John Deere, we take pride in our dealer network and the unmatched level of support they provide to customers.
In addition, always choose the model that best suits your needs. Each of our six John Deere models has different key specifications to consider when it comes to operating weight, dig depth, lift capacity and attachments. Purchasers should research exactly what they need to get the job done before selecting a model that's right for them.
Keith Gribbins is publisher of Compact Equipment.
Tags:
John Deere