The long arm of a mini excavator has become a pretty powerful and popular tool for American contractors. Fitted with a bucket, hammer, brush cutter, thumb, grapple or [insert your favorite attachment here], a compact excavator can tackle a ton of applications on any number of jobsites. That versatility continues to get upgraded each year but not just by adding more implement options. High-tech electronic engines, sophisticated hydraulic systems, next-gen grade controls and advanced monitoring services are just some of the things allowing small excavators and their operators ever-increasing precision, comfort, efficiency and ease of operation.
To help us better understand this progressive market, we're reaching out to some of the biggest brands in the industry to get their insights — companies like John Deere, Caterpillar, Yanmar, Takeuchi and today's expert Doosan. Aaron Kleingartner, product and dealer marketing manager at Doosan Infracore North America LLC, was kind enough to answer some of our questions. Here we go…
CE: First off, Aaron. Thanks for taking the time. We really appreciate it. Maybe we can just start off by briefly summarizing your compact excavator line today. How many models do you currently have and what is your series called? Give us a quick overview.
Kleingartner: Doosan offers six "DX" models in its mini excavator lineup — from the DX35-5 to the DX85R-3 — to serve customers with a variety of size classes and machine capabilities. The six Doosan mini excavators complement the company's larger crawler excavator models, offering a full line of excavating equipment.
The Doosan mini excavator models include Zero Tail Swing, minimal tail swing and conventional tail swing machines. These machines cover the 3- to 8-metric-ton size classes, which are among the most popular mini excavator machines in the industry.
In 2020, Doosan introduced three new models. They include the DX42-5K, DX50-5K and DX62R-3 mini excavators. Features of the new Doosan DX42-5K and DX50-5K models include a new dual-flange track roller system. The system works in tandem with an enhanced counterweight for better over-the-side digging and lifting capabilities. Also available is an integrated lift eye allowing for easier craning and lifting. Operators now have the option to remove the bucket when lifting to maximize capacity with the new secure lifting point.
If you had to pick one or two big differentiators in your mini excavator product offerings, what would it be? A one-of-kind undercarriage? Unique standard features? The biggest selection? A cool, unique telematics package? A hybrid excavator? Pick something and briefly explain it.
One of the differentiators between Doosan mini excavators and other brands is Doosan machines come standard with an enclosed cab. Also standard is air conditioning and heat, which is often an option on other mini excavators. Operators who spend long days in mini excavators are typically less fatigued when they're done because they're not exposed to the extreme heat or cold. An enclosed cab also protects operators from rain, snow, dirt and dust.
Newer mini excavators are designed with larger cabs and offer deluxe adjustable seats to improve comfort for all day work. Operators can control the excavator auxiliary hydraulics with fingertip controls on the mini excavator's joystick. Variable flow and dual-direction detent provide more functionality for using different attachments.
What is your most popular compact excavator overall (let's say mini stops at 6 metric tons)? What's your most popular unit for rental applications? Tell us why these are so popular.
One of the most popular Doosan mini excavators is the DX35-5. The Zero Tail Swing model is ideal for construction and landscaping projects that require a compact machine that has a dig depth up to 10 ft, 2 in. The 33.5-hp mini excavator is available with an optional long arm. The long arm provides operators with additional dig depth and reach, and requires less time to reposition the machine.
Doosan DX35-5, DX42-5K and DX50-5K mini excavators are available with an open canopy configuration. This style is popular with independent rental stores that prefer a lower price machine for their rental customers. Both the standard arm and long arm are still available for the open canopy configuration.
In your opinion, what technologies are pushing the small excavator market to evolve? Electric, attachments, telematics, automation? Briefly explain if you can.
There are several technologies pushing the mini excavator market to evolve. These include depth guidance systems and telematics management systems. Both help improve operator productivity and performance. Depth guidance systems help the operator from overdigging or underdigging, and it minimizes material waste. It may also eliminate the need for another worker manually measuring the trench depth with a stick.
Telematics management systems found on larger construction equipment is making its way into compact equipment. Telematics data provides greater machine uptime protection and enhanced security. If there's an error with the machine, the telematics system can alert the owner and the dealer. The information provided helps a service technician better understand the situation and be prepared to fix the problem. Some situations can be resolved remotely without requiring an on-site technician. Owners can use geofences to prevent equipment theft and minimize unauthorized equipment use.
One of the best parts of small equipment is the variety of attachments. From buckets and breakers to mowers and plows, click here to see what's out there.
What growth markets do you see for compact excavators in North America? What declining markets do you see?
There remains a strong residential construction market in North America. This will likely continue in the coming years and provides a great opportunity for contractors to utilize mini excavators. For example, as developers build more houses on less land, there's often a greater need for mini excavators to perform tasks previously done with larger excavators. This may include underground utility installations and landscaping tasks.
What is the most popular size class of compact excavators today? Why? What are the most popular options? Quick attach systems? Extend-a-booms? Enclosed cabs?
In North America, the 3- and 4-ton size classes remain the most popular mini excavators. Excavators in these size classes are ideal for transporting on a trailer without a CDL. They are designed to complete many excavating tasks that were once performed with a tractor loader backhoe.
As mini excavator popularity has soared during the past 30 years, the machine's versatility has also increased. Customers today often purchase more than one attachment to increase the machine's utilization. As they do, they invest in attachment changing systems which make it easy to switch between attachments. As the systems have become more sophisticated, they now include hydraulic systems. These allow operators to change non-hydraulic attachments without getting out of the cab. And they make changing hydraulic attachments less time consuming.
What do you feel are the latest trends in hydraulics and attachments for mini excavators? New more powerful attachments? Automated operator settings? Grade control? Rotating buckets and grapples?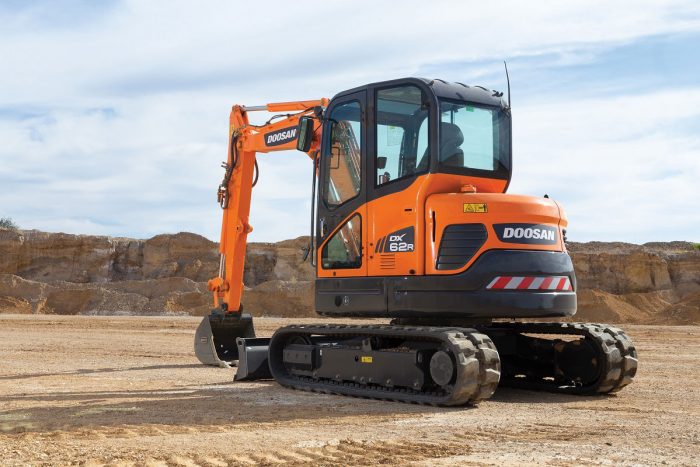 Advanced hydraulic systems synced with the excavator's diesel engine provide increased machine performance. Today, there are more hydraulic attachment options available than ever before. Owners can add a hydraulic thumb to a bucket and easily grab and lift objects. Other popular hydraulic attachments include augers, breakers and grapples.
An optional diverter valve allows hydraulic thumb hoses to remain connected when other hydraulic attachments are installed. This feature is available for Doosan DX42-5K and DX50-5K mini excavators.
What advice would you give to a contractor looking to rent or buy a compact excavator? How should a potential operator evaluate size, application, attachments, brand and price?
The first question to ask is the typical jobsite where the contractor is working. What are the space limitations, if any? Zero Tail Swing excavators tend to be wider than conventional tail swing mini excavators. Contractors need to keep that in mind if they need to travel between gates to access backyards.
Another important consideration is if a long-arm option provides enough dig depth and reach for a customer to say within a smaller size class. A customer with a Doosan DX35-5 mini excavator, for example, may not need to move up to a larger machine if the customer buys a machine with the long-arm option.
Just as important as the machine is the dealer supporting the customer and the machine. What's the dealer's service department capacity? How about the dealer's parts department? Does the dealer regularly stock common parts — such as filters and fluids — and can they be delivered? Some dealers have an in-house telematics department that's monitoring machines in the field. It's worth asking if the dealer offers this service and if there's a cost associated with the service.
Mini excavators are making big waves on jobsites all over North America. Click here for the latest news on these machines and the companies that make them.
Anything else you'd like to mention?
Doosan offers its mini excavators with an attachment package. The attachment package includes a quick coupler, bucket and hydraulic clamp. Heavy-duty and ditching buckets are available for all six Doosan mini excavator models.
An angle blade option is available for the DX35-5, DX42-5K and DX50-5K. This popular option allows the mini excavator operator to backfill trenches with more accuracy than a standard dozer blade. Operators can angle the backfill blade 25 degrees left or right. They can push spoil from one side of the blade to the other without forming windrows on both sides of the dozer blade.
Keith Gribbins is publisher of Compact Equipment.
Tags:
Doosan Infracore North America