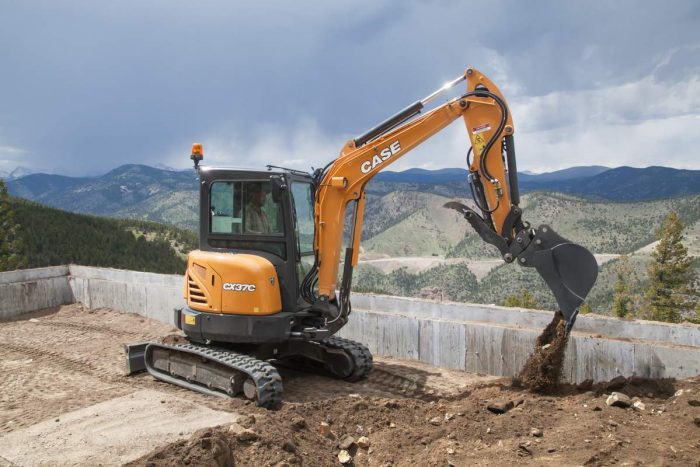 The long arm of a mini excavator has become a pretty powerful and popular tool for American contractors. Fitted with a bucket, hammer, brush cutter, thumb, grapple or [insert your favorite attachment here], a compact excavator can tackle a ton of applications on any number of jobsites. That versatility continues to get upgraded each year but not just by adding more implement options. High-tech electronic engines, sophisticated hydraulic systems, next-gen grade controls and advanced monitoring services are just some of the things allowing small excavators and their operators ever-increasing precision, comfort, efficiency and ease of operation.
To help us better understand this progressive market, we're reaching out to some of the biggest brands in the industry to get their insights — companies like John Deere, Caterpillar, Yanmar, Takeuchi and today's expert Case Construction Equipment. Brad Mace, product manager for compact excavators and forklifts at Case Construction Equipment, was kind enough to answer some of our questions. Here we go…
CE: First off, Brad. Thanks for taking the time. We really appreciate it. Maybe we can just start off by briefly summarizing your compact excavator line today. How many models do you currently have and what is your series called? Give us a quick overview.
Mace: The Case C Series mini excavator lineup is comprised of six models ranging from 1.7 to 6 metric tons — the CX17C, CX26C, CX30C, CX37C, CX57C and CX60C. Models vary from zero tail swing, short-radius or conventional configurations. They also feature an adjustable boom offset for improved maneuverability in congested areas and an auto-shift travel system for varying terrain.
If you had to pick one or two big differentiators in your mini excavator product offerings, what would they be? A one-of-kind undercarriage? Unique standard features? The biggest selection? Pick something.
Our smallest model — the CX17C — has a retractable undercarriage, which is great for fitting through tight areas like gates, garages and other entryways. Combine that with the variable-width blade, a low-profile canopy height of only 7 ft, 7 in. and bucket digging forces of 3,490 lbf and it's a very versatile machine that's nimble and has plenty of power.
The CX57C is on the larger side of the range. It's got best-in-class horsepower for a 6-ton machine and is capable of handling the demands of heavier excavation applications. This model stands out from the C Series lineup because it's got a conventional tailswing design with a large counterweight which helps give it the power to stand up to larger size-class machines while still taking up a smaller footprint. It also comes standard with a deluxe cab and LCD touch screen monitor.
What is your most popular compact excavator overall (let's say mini stops at 6 metric tons)? What's your most popular unit for rental applications? Tell us why these are so popular.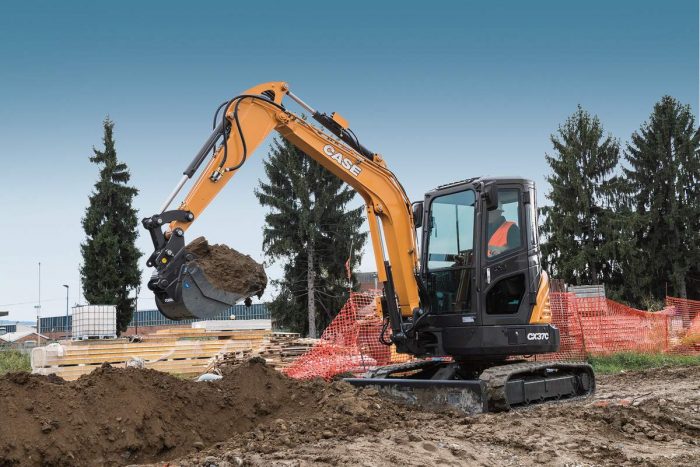 By volume, the CX37C is really the best-selling model in our mini ex lineup — and that goes for rental as well. With bucket digging forces of 6,900 lbf, a dig depth of over 10 feet, and an operating weight of 8,300 lbs or about 3.7-tons, it delivers the greatest power and performance of any Case mini excavator that can still be towed behind a 1/2-ton pickup truck without a CDL (depending on local and state laws and regulations). Machines in this size class are also at a favorable price-point where contractors and business owners are getting the most power for their money. The machine is small enough to easily trailer and move around in congested areas, but it's powerful enough that it has the lifting capacity and breakout forces you need for more demanding applications.
In your opinion, what technologies are pushing the small excavator market to evolve? Electric, attachments, telematics, automation? Briefly explain if you can.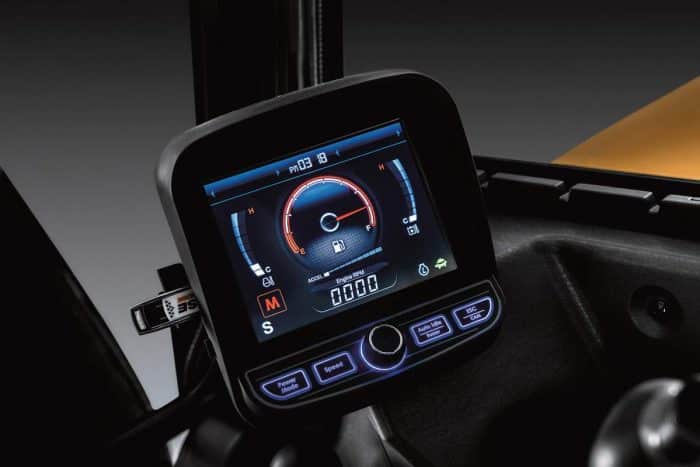 1D and 2D grade control solutions are becoming very popular with mini excavators. These solutions have become more and more readily available to business owners, and the lower price-point on these systems has also significantly lowered any perceived barrier-to-entry for machine control technologies.
These systems are also very easy to use, and require less manpower on the jobsite. It's as simple as setting the laser, setting the sensor and the operator is hitting grade every time — without the need for another guy down in a trench taking measurements, etc. I think you'll see a lot of equipment manufacturers moving towards factory-installed machine control, guidance systems, etc.
What is the most popular size class of compact excavators today? Why? What are the most popular options?
In my opinion, anything between 3 and 4 tons is the hotspot. Machines in that size class offer a manageable operating weight and footprint, while providing lifting and digging capacities that are comparable to larger excavators. That's also the size class where you'll really start to see cabs with heat and AC, Bluetooth radios and all that — adjustable seats and ergonomic joysticks with proportional controls. On our CX37C you'll see standard features like auxiliary hydraulics and backfill blades (or an optional angled blade) that can really help owners get the most out of their machine.
Mini excavators are making big waves on jobsites all over North America. Click here for the latest news on these machines and the companies that make them.
What do you feel are the latest trends in hydraulics and attachments for mini excavators? New more powerful attachments? Automated operator settings? Grade control? Rotating buckets and grapples?
As I mentioned before, grade control solutions are becoming more popular with mini excavators due to the ease-of-use and low price point. 1D and 2D laser grade solutions are a comfortable gateway for contractors that are looking to explore the benefits of grade control since it's more affordable on a smaller machine.
We're also seeing a lot of touchscreen monitors in cabs — the technology is available, so it's starting to become the standard expectation for a lot of operators. On our larger C Series models you'll find easy-to-use settings that allow the operator to set presets for hydraulic flow rates to match with certain attachments, and you can switch them with the push of a button. So one preset could be configured to match with a hydraulic hammer, and another could be set for a lower flow rate to match with a plate compactor or other attachment — and all of this can be done without having to leave the cab.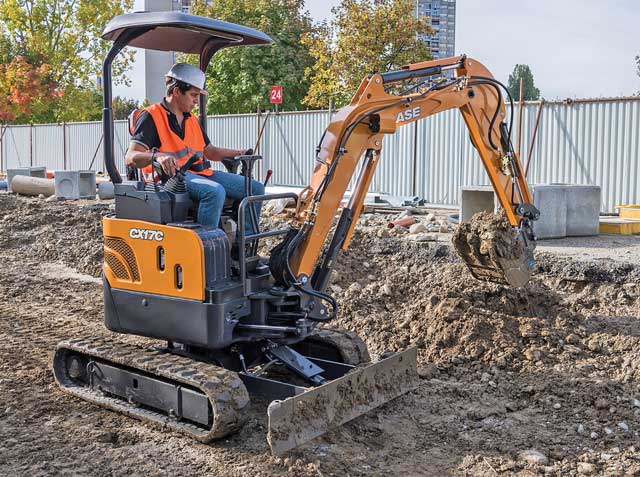 What advice would you give to a contractor looking to rent or buy a compact excavator? How should a potential operator evaluate size, application, attachments, brand and price?
It all comes down to applications and workload. If a business owner has jobs lined up and can keep the machine busy year-round, then it makes financial sense for them to purchase a machine with the most versatile capabilities that will meet their needs. If they need a mini ex for a one-off trenching or landscaping job, then it makes more sense to rent. You have to consider total cost of ownership, resale value, etc.
Keith Gribbins is publisher of Compact Equipment.
Tags:
Case
,
Case Construction Equipment