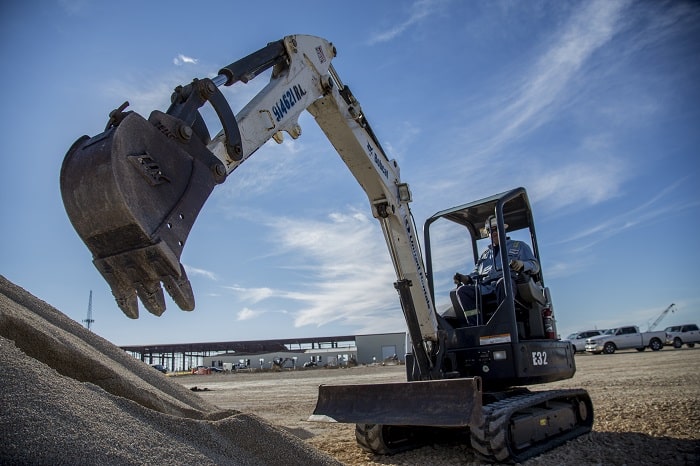 Equipment rental is the perfect option to give your operation the boost it needs — whether it's adding an extra machine to meet a tight deadline or beefing up your fleet to tackle a big job. Mini excavators make great rental machines to serve all sorts of customers and applications.
"Mini excavators are highly versatile and provide surprising power," said Brent Kuchynka, vice president, corporate fleet management at United Rentals. "They have become all-purpose machines because they are maneuverable and compact so they have smaller work footprints — even taking some of the market share from standard backhoes. Some of the newer hydraulic systems give these machines the performance and technology once reserved for full-sized excavators."
If rental is the right option for you, it's important to find a machine that meets all your needs. That search begins with understanding what applications the mini excavator is expected to perform. What's the dig depth of your job? What are you installing? Also, check to see if there are any site constraints such as weight limitations or sensitive ground conditions. Weigh those project details with the particular specifications of the compact excavator you're eyeing.
"Anyone can rent a compact excavator, from the smallest homeowner to the largest contractor," says Jonny Spendlove, product marketing manager for excavators at John Deere Construction and Forestry. "When renting or considering renting a compact excavator, renters should consider the space that they will be using the equipment in. The sleek and compact design of mini excavators is appealing to the rental market because the machine can work within tighter spaces compared to larger models. Additionally, if a contractor needs to dig and move material, the reduced tail swing on compact excavators helps operators work in tight spaces without sacrificing power or damaging the machine. Contractors should also consider whether or not they will need to transport the equipment to different locations. Mini excavators are easier to move around compared to larger models."
Popular mini ex specs include: operating weight, digging depth, bucket breakout force and maximum reach. Also consider zero-, near- and short-radius units. Zero tail swing means that the counterweight does not extend past the outside of the crawler track pads when the machine is swung over the side. Minimal tail swing usually means under the same condition, the counterweight might extend a few inches outside the width of the lower track pads. Contractors who specialize in landscape work near residential houses would benefit, and you often see them working next to a road, with no concerns about swinging the counterweight into the line of traffic.
The smallest compact excavators often come with a retractable undercarriage (also called variable/adjustable width or expandable undercarriages). This allows these ultra-small units to shrink in width to fit through narrow doorways and backyard gates. It's great for indoor work like demo too. To retract and widen your undercarriage, operators will need to prop the unit up using the backfill blade and excavator boom, suspending the undercarriage in the air, before moving a series of levers to open and close. Examples of retractable undercarriage models include the Bobcat E10, Caterpillar 300.9D, Takeuchi TB210R, John Deere 17G, Yanmar SV08-1B, Kubota K008-3 and Wacker Neuson 803.
The backfill blade is an important part of the compact excavator's arsenal. The blade is used to backfill spoils into a trench, grade material, add stability while digging and help prop up a unit for undercarriage work. There are some backfill blade options and unique technologies out there. Blades on the smallest micro units will have the ability to fold in with a retractable undercarriage. There are also four-way and six-way backfill blades on bigger, higher-end units, but that's not very popular in rental.
Don't forget any attachments you may need, too! Thumbs, grapples, breakers, tampers and buckets of all sorts are popular rental options.
As for size, mini excavators in the 3- to 5-metric-ton range are a popular choice for rental thanks to their ability to fit on compact jobsites. Hauling is also a concern and mini excavators that fit within the 3- to 5-ton size class are perfect for no-hassle transport. Spendlove says that John Deere's 35G and 50G compact excavators are popular among the rental audience.
"Contractors that rent a 35G or 50G can benefit from the versatility of the standard selector valve on the arm of each model," he says. "Additionally, customers can plumb a thumb and an additional attachment and easily adjust the valve to use either attachment on these models increasing efficiency and productivity on the job. The 35G is a portable machine that can be pulled on a trailer behind a standard pickup truck."
Popular compact excavators have a slew of features that range from dozer blades and easy-to-use attachment mounts to high-tech digital control panels and keyless start. Unfortunately, many rental excavator cabs are quite basic, but there's still a lot to judge. Aside from the right size and dig depth of the machine, renters should look for an excavator that best suits an operator's preferences especially when it comes to controls. Make sure your rental can change control patterns from excavator (ISO) to backhoe (SAE) patterns. Step onto the house structure of the compact excavator, which contains the operator's compartment and get a feel for its comfort and utility. Are the controls intuitive? Is there enough space to stay comfortable for 10 hours? Is entry and exit quick and uncomplicated?
Work both the boom and backfill blade to determine the smoothness, accuracy and featherability of the joysticks and their control patterns. Jump off and kick the rubber on the undercarriage, inspecting the tracks, drive sprockets, rollers and idlers. Do you need steel tracks or maybe even a wheeled unit? Those might be available as rental options. Also ask about the diesel engine under the hood. It's changed quite a bit in the last few years.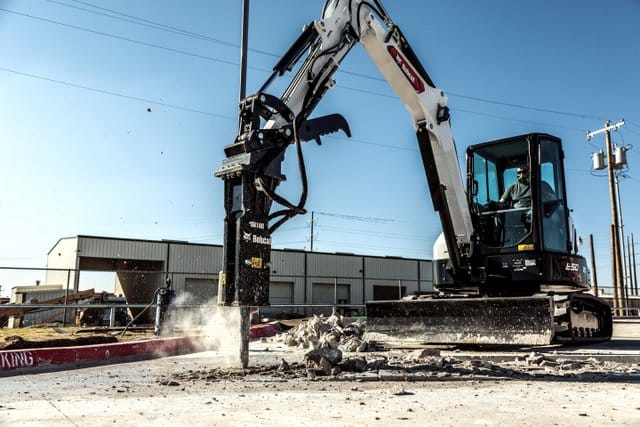 Another consideration is price. Mini excavators can be rented on a daily, weekly and monthly basis, so rates will vary depending on your rental period. It's also important to note that pricing can fluctuate across the country, and the length of the rental can help you score a better deal. Be sure to shop around to find not only a machine that fits within your budget (as well as fits your needs), but a dealer who will offer good equipment and customer support.
"Rental rates vary widely by market, by term and by product," says Spendlove. "Make sure to understand the cost of transport in the rental transaction. Most rental centers offer delivery as an additional charge. Many rental centers offer trailers, in some cases the products are pre-staged on trailers ready to tow and go. Understanding these costs and thinking the rental through from start to finish, not just the jobsite part, is important."
Also, it is important for a contractor to understand the specifics about the compact excavator, as well as the agreement details before signing a rental contract. Renters should ask questions. How old is the machine? You want to rent the most current machine available because it will have the latest technology and productivity enhancements. A machine that is less than three years old is ideal. Another question to ask: Who is responsible for daily machine maintenance? The machine you rent should be rental ready. That means your dealer should have performed all the necessary maintenance tasks and tuneups before it is delivered to your jobsite. Rental dealers keep inspection reports on every unit. It is within your rights as a renter to ask for a copy of those reports to make sure you are getting a machine that is fully functional.
Tags:
Digital Rental Guide
,
John Deere
,
Rental
,
United Rentals