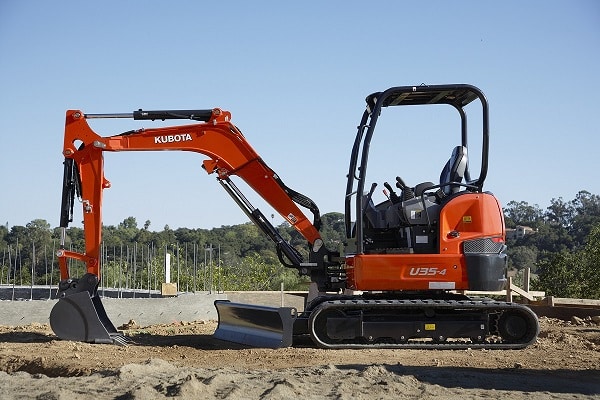 Kubota Tractor Corp. was recently named a 2019 winner in the EquipmentWatch annual Highest Retained Value awards program, the industry's only award based on residual values for heavy equipment. The U35-4 tight tail swing compact excavator received this honor as the model series projected to retain the highest percentage of its original value after five years among all competitors in the excavator compact category.
Kubota's U35-4 tight tail swing compact excavator offers a new class of comfort and luxury in even the most confined work spaces. The U35-4 is equipped with the same spacious cab as a larger 5-ton excavator; the roomy cab features a larger entrance, deluxe suspension seat, air conditioning, easy-open front slide window, ample legroom, digital panel and enhanced ergonomics for optimal operator comfort. Adding and removing attachments is easier than ever: the U35-4 features an auxiliary 1 diverter valve that allows operators to leave the thumb attached and connect other hydraulic attachments to a second port. Powered by a Kubota 24.8 gross horsepower direct injection engine and boasting a max dumping height of 11 ft, .7 in. and digging depth of 9 ft, 8.9 in., the U35-4 truly combines comfort with performance.
"The U35-4 provides the perfect combination of comfort, power and versatility to handle difficult jobs in a variety of conditions," said Jeff Jacobsmeyer, Kubota product manager, excavators, wheel loaders and TLBs. "This award reflects Kubota's commitment to producing the highest quality machinery and equipment in the marketplace today."
"The Highest Retained Value Award is indicative of excellence across a manufacturing organization," said Garrett Schemmel, vice president of EquipmentWatch. "Product quality has the most obvious impact on an asset's performance on the secondary market, but residual values are also highly impacted by brand affinity and fair original pricing. A manufacturer must excel on all three fronts in order to gain recognition as a Highest Retained Value Award winner."
For purchasers of equipment, there is perhaps no single measurement more influential in the buying decision process. The residual value of an asset will have a significant impact on leasing terms and lifetime ownership costs. Informed buyers do well to weigh value retention heavily when considering equipment acquisition.
To create the 2019 Highest Retained Value Awards, EquipmentWatch values analysts looked at the most popular equipment series observed on the resale channel in 2018. These series were sorted by their relative popularity on the resale channel, and any series without a model currently in production was removed. Only equipment series which consist of at least one model contained in the EquipmentWatch Residual Values application were considered. Once the data had been filtered through these rules, analysts chose six of the top series as finalists, with the restriction that no award category could contain more than two equipment series from the same manufacturer.
Tags:
EquipmentWatch
,
Kubota Tractor Corporation