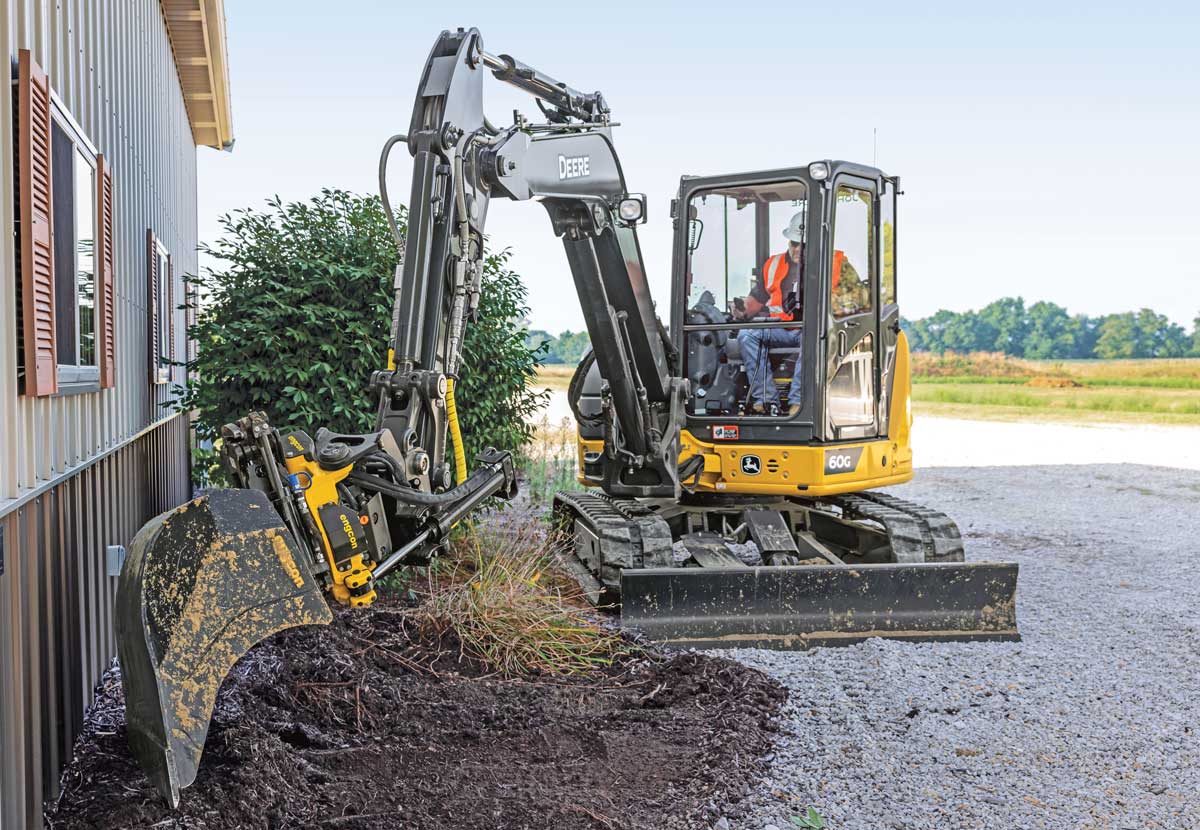 Do More with Less: G-Series Compact Excavators and Attachments
This post is a part of Compact Equipment's annual Spec Guide. View other brands' product and spec info by clicking this link. View the magazine version of these summaries by clicking right here. Sign up for the print edition right here. Now enjoy!
John Deere has been manufacturing excavators for more than 40 years. Responding to customer demand for compact excavating equipment that can fit in small spaces, John Deere introduced its first line of compact excavators in 1986. The company has worked to improve the strength, precision and productivity in each new model over time. Since 1986, John Deere has worked to continuously improve its models via customer feedback and validation. The durability of the G-Series today is a direct result of listening to customer needs.
John Deere's current compact excavator lineup includes the 17G, 26G, 30G, 35G, 50G and 60G, allowing operators to choose the size and horsepower needed to get the job done. Their compact sizes and reduced tail swing designs enable these small but mighty machines to specialize in close-quarters work.
John Deere continues to bolster the portfolio of attachment offerings to increase the versatility of these compact excavators. In addition to standard mechanical and optional hydraulic wedge-style couplers, John Deere now offers optional hydraulic variable pin grabber couplers, buckets, thumbs and attachment adapter brackets to meet a wider variety of customer needs. Also new this year, RE40 and RE50 rotary cutters fit the 35-60G, and ME36 and ME50 mulching heads fit the 50-60G. These cutters and mulchers support the land management and land clearing segments which continue to show increased growth.
John Deere announced a preferred supplier agreement and began offering engcon tiltrotators and attachments through John Deere dealers in 2021. New for 2022, tiltrotator systems for the 50G and 60G now include EC-Oil as a standard feature on the top coupler. This means that operators can now disconnect the tiltrotator when not needed and pick up a plate compactor, hammer, auger or other attachments and make the hydraulic and electrical connections without leaving the cab. No more fighting hydraulic hoses and electrical connectors. This means more productive hours of work per day and greater operator comfort because everything can be done from the seat of the cab. Since compact excavators are often tasked with running multiple attachments, the more you switch attachments, the greater benefit you will see.

Advice to Buyers
"We are committed to providing quality excavators with versatile attachments to give customers the best possible return on their investment," explains Justin Steger, solutions marketing manager for John Deere. "Choosing a dealer that can provide one point of contact for sales, service, parts and attachments can be beneficial for customers and reduce complexity."
For reprint and licensing requests for this article, please click here.