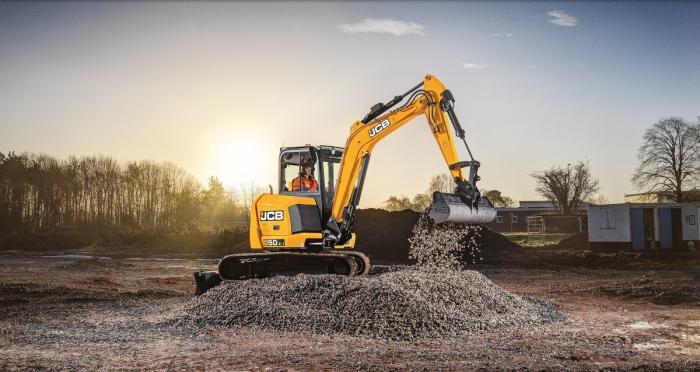 JCB North America has introduced the 50Z-1, zero tail-swing compact excavator, its latest addition to the extensive range of compact excavator models. The 50Z-1 replaces the 48Z in the range and provides industry-leading dig depth, increased reach and increased dump height.
This robust, reliable machine is designed with 100% steel body work and zero tail swing for exceptional power and control while working in confined spaces. With 500-hour greasing intervals, easy to access service panels, and sectioned hydraulic hoses with easily accessible bulkhead, the 50Z-I offers increased productivity for more profitability. As with all JCB machines, the cab has been engineered for exceptional operator comfort, and the machine is built to world class safety standards.
"The 50Z-1 is a versatile machine with low cost of ownership, making it the perfect solution for contractors, landscapers, owner operators and rental companies. It is ideal for everything from construction, landscaping, and utility work to highway and residential building. And it's built with JCB's industry leading commitment to delivering outstanding safety and performance," said Chris Lucas, excavator product manager for JCB North America.
JCB has built and manufactured compact excavators since 1964. The range includes everything from stand behind and sit-on minis, to the 10-ton first-in-class machine, the JCB 100C-1. JCB's experience as a global excavator manufacturer ensures that the 50Z-1 is productive, profitable, easily serviceable and safe. Features include:
12-ft, 7-in. dig depth
19-ft, 8-in. ground level reach
14-ft dump height
48.3-hp gross engine power
Livelink telematics
Low cost of ownership with 500-hr greasing intervals, flat glass, 100% steel body and 100% bushed dig end
Mini excavators are making big waves on jobsites all over North America. Click here for the latest news on these machines and the companies that make them. Tags: JCB North America