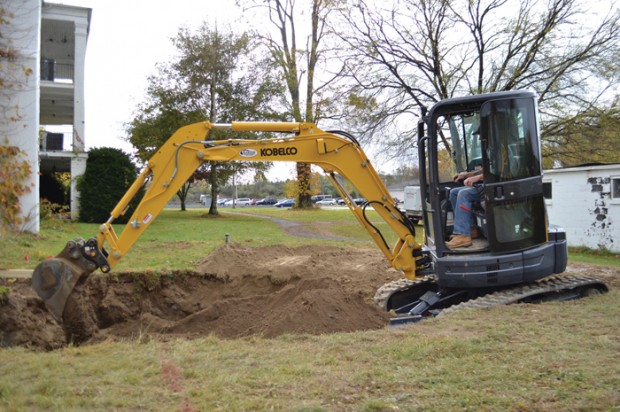 Kobelco SK35SR and Integrated Noise and Dust Reduction Cooling System
Kobelco Construction Machinery USA launched its newly enhanced SK35SR model in early September 2014. The new SK35SR mini excavator includes Kobelco's revolutionary Integrated Noise and Dust Reduction Cooling System (iNDr), previously only available in Kobelco's larger model excavators. In contrast to conventional cooling systems, which use a large fan to cool the engine, Kobelco's iNDr technology creates a high-tech "wind pathway" through the use of an enclosed duct. Sound waves are forced to reflect off the many surfaces of this ingeniously engineered "wind pathway." Kobelco's new SK35SR not only adopts this state-of-the-art iNDr cooling system, but uses a one-of-a-kind, dual arrangement, iNDr and eco-friendly system (iNDr+E). The iNDr+E system functions in the exact same way as the iNDr system found in other Kobelco excavators, but differs by directing the muffler exhaust underneath the machine for environmental protection. For more info, visit kobelco-usa.com.
Takeuchi Revamps Its Excavator Lineup with More Power and Efficiencies
In March, Takeuchi introduced a whole new line of excavators, and they were built to both work and impress. Including the Tier-4 TB216, TB240, TB260 and TB290 compact excavators, these new digging platforms deliver more power, increased performance, greater working range, versatility, improved operator comfort and improved serviceability. These models represent some of the most advanced compact hydraulic excavators available, featuring EPA Tier 4 Final-compliant engines, greater hydraulic performance, advanced multi-function electronic displays as well as spacious operator stations with precision pilot controls, improved visibility and deluxe suspension seats. These machines also boast incredible power and sleek design. One example includes the TB216, which features an updated modern profile that houses a Yanmar Tier 4 Final engine. For more info, visit takeuchi-us.com.