The Coolest and Most Creative Compact Equipment of the Year
Exploration is the engine that drives innovation, so let's go exploring. Let's search through a year's worth of creative ideas in the off-highway equipment industry and see if we can benchmark the innovative exploration of the American machine market. Over the last 12 months, global manufactures from Case to Kubota have released compact machines that have set new standards for power, versatility, efficiency and design. Our editors have traveled across the country to meet these manufacturers, operate their new products and give detailed reports and opinions both in print and on our website (compactequip.com). We sifted through the hundreds of models and brands released in 2017 and picked 25 units that set the new bar for innovation. With this article, we salute those companies that have changed the commercial equipment market over the last year with their unique, interesting and innovative machines, engines and technologies.
Keith Gribbins is associate publisher of Compact Equipment.
John Deere 30G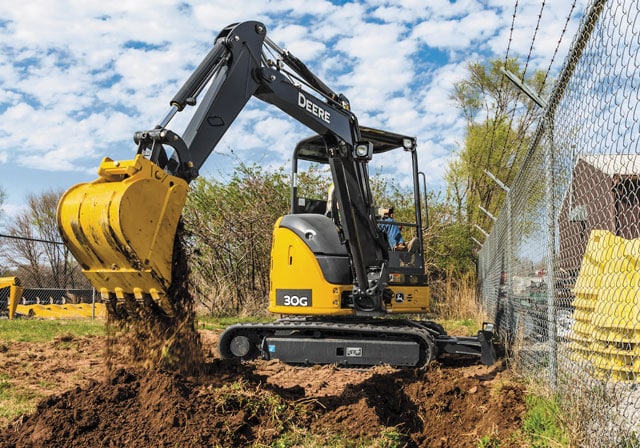 It seems like everyone launched a 3- to 4-ton compact excavator in the last year. The 23-hp John Deere 30G compact excavator is one of the best. Compared to its predecessor, it offers a 22 percent increase in bucket force, an 11 percent increase in arm force, a 16 percent increase in auxiliary hydraulic flow and an 8-in. increase in digging depth. A redesigned cab with heat and air conditioning and seat with adjustable wrist rests provides ultimate operator comfort in any climate. Foldable travel pedals provide efficient operation by maximizing foot room. Maintenance on the 30G has also been simplified. A third service door provides improved access to the cooling core and other daily checkpoints. Plus, there's extended fluid and lubrication intervals. For more info, visit deere.com.
Kubota KX033-4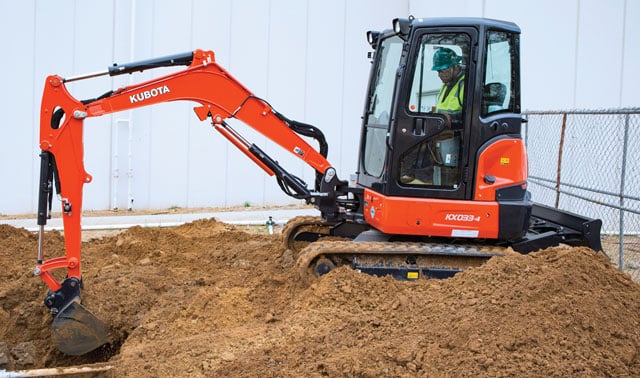 The Kubota KX033-4 is bringing big excavator tech to the 3- to 4-ton category. The KX033-4 now shares many of the standard features that Kubota's larger class machines have been known for — larger cab, dash-controlled presets for auxiliary circuits and a standard hydraulic diverter valve. The unit delivers best-in-class hydraulic breakout power while achieving fast cycle times, resulting in more material moved per hour when tested head to head against other 3-ton excavators, says the company. A top feature on this machine is the adjustable auxiliary preset controls which let you dial the hydraulics up or down for specific attachments, conveniently from the operator station. The KX033-4 is powered by a 24.8-gross-hp Kubota diesel. For more info, visit kubotausa.com.
Hyundai R30Z-9AK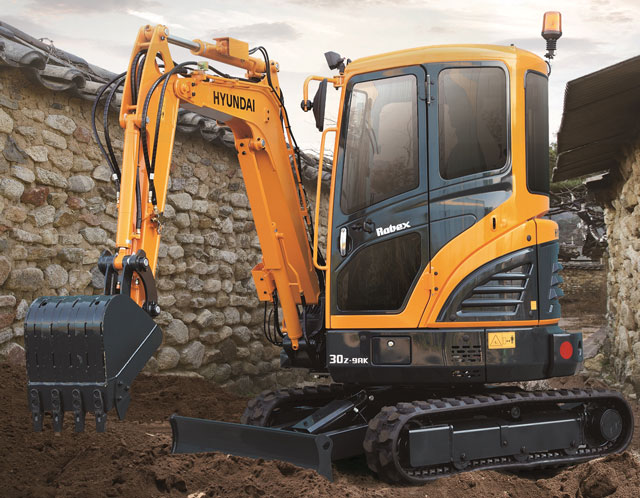 Hyundai Construction Equipment Americas' new R30Z-9AK is a nimble little digger. This 3-ton-class model features a zero-tail swing design for optimum maneuverability in confined spaces. The new excavator also includes loads of standard features that provide exceptional value, including thumb brackets, large dozer blade, hydraulic quick-couplers for attachments and hydraulics-ready auxiliary piping for a wide range of applications. Other innovations include: smooth and fine controls to optimize matching between the joysticks and mechanical control valve; reduced pilot pressure and flow-force feedback to the sticks; piston and gear pump combination producing more power; added hydraulic dampener for the travel pedals reducing shock load; and lots more. For more info, visit hceamericas.com.
Want more innovation? We have plenty more Innovative Iron Awards here.
Tags:
Hyundai
,
Innovative Iron Awards 2017
,
John Deere
,
Kubota
,
November December 2017 Print Issue