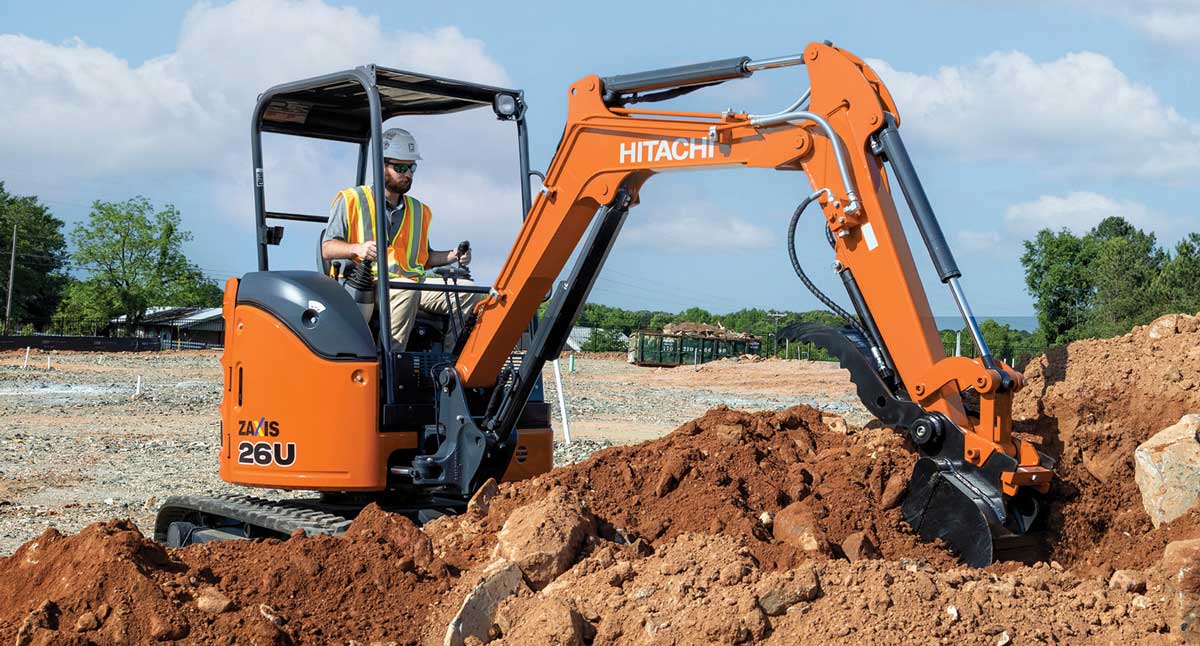 Hitachi-Built Compact Excavators Produce Big Performance
This post is a part of Compact Equipment's annual Spec Guide. View other brands' product and spec info by clicking this link. View the magazine version of these summaries by clicking right here. Sign up for the print edition right here. Now enjoy!
Hitachi Construction Machinery Americas Inc. (HCMA) continues to roll out more models in its line of Hitachi-built excavators ranging from compact units to massive machines used in mines and quarries. The compact excavator lineup currently includes the ZX26U-5N, ZX30U-5N, ZX35U-5N, ZX50U-5N, ZX60USB-5N, ZX75US-5N and ZX85USB-5N.
Working in confined spaces demands precise control. Due to their independent swing boom, a Hitachi compact excavator can set up and work almost anywhere. Full hydraulic pilot controls for the bucket, thumb and other attachments (plus boom, swing, travel and blade) maximize controllability. To suit operator preferences and increase productivity, a control-pattern selector can be quickly switched from backhoe- to excavator-style controls.
Hitachi compact excavators come plumbed to run a wide assortment of different attachments, increasing jobsite versatility. An available auxiliary function lever (AFL) offers an analog switch, a trigger switch and a horn for running attachments such as a breaker or an attachment with swing.
Just because a machine is compact doesn't mean the operator should be cramped. Hitachi has maximized the available space for the operator. The excavators offer a choice of a four-pillar canopy or a spacious cab. The operator station has a wide entryway. A foldable swing boom and travel pedal increase foot room. A suspension seat with adjustable armrests and a wide cab provide a pleasant working environment.
Access for maintenance can often be a challenge on compact machines. Hitachi engineers worked to ensure easy access to all components, even though they're packaged in a small space. A large engine cover slides open vertically for access when the machine is working in a confined area. Daily maintenance points are grouped behind easy-access covers. In addition, the design of the parallel-aligned cooling package makes cleanout a breeze.
Hitachi also made it easier to replace damaged glass in the cab. The traditional curved glass used in the cab has been exchanged with more easily obtainable flat glass.
The compact excavators are built to the same durability standards as larger Hitachi excavators. Oil-impregnated HN bushings are used on the boom, arm and bucket joints for increased durability. A V-shaped boom cylinder guard and careful hose routing help protect critical components in any application.
Full-size excavator technology can prove beneficial in certain compact applications. For instance, the ZX50U-5N allows engine speed to be matched to the job with power and economy modes, which are usually only available on larger excavator models.

Advice to Buyers
"Compact excavators excel in confined-space applications," says Sam Shelton, communications manager for HCMA. "There are many considerations to selecting the correct machine for the job. These include the machine width for accessing the job, the machine operating weight for ease of transport, dig depth, lift capacity and plumbing to run attachments. A machine needs to be big enough to handle the work typically performed, yet it should be easily transportable."
Mini excavators are making big waves on jobsites all over North America. Click here for the latest news on these machines and the companies that make them. Tags: Hitachi Construction Machinery Americas Inc., July August 2022 Print Issue, Spec Guide, Spec Guide 2022