Mini excavators can dig basements, bury downspout lines, install electrical services, trench service lines, auger holes for trees or grapple obscenely big, decorative rocks. Today's mini or compact excavator has become one of the world's most nimble and versatile diggers and attachment-takers. Defined as an excavator under 6 metric tons (although we cover a few bigger ones as well), these are small excavation machines engineered with an undercarriage and tracks, a long digging arm and a cab or ROPS enclosure. Typically, with a dig depth between 5 and 20 ft and an operating weight between 2,000 and 20,000 lbs, compact excavators can fit into cramped worksites and still give big dig power. These units have grown so popular that the number of manufacturers offering models is overwhelming. To help out, here's a quick list of the latest mini ex products on the market right now.
Wacker Neuson EZ36 and EZ26
Wacker Neuson continues to optimize its excavator line with the addition of two models that are built for operator comfort, stability, power and serviceability. The 3.6-ton EZ36 and 2.6-ton EZ26 compact excavators with minimal tail swing designs are versatile machines for a variety of applications. With best-in-class dig depth (11 ft, 6 in.) and reach (18 ft, 6 in.), the EZ36 is highly productive and offers the performance of a conventional track loader with excellent maneuverability and stability on a minimal swing machine. The EZ26 is ideal for working in tight spaces and is a great choice for landscape and backyard projects. The EZ26 has a dig depth of 9 ft and a maximum reach of 15 ft, 5 in. For more info, visit wackerneuson.us.
Bobcat R-Series E85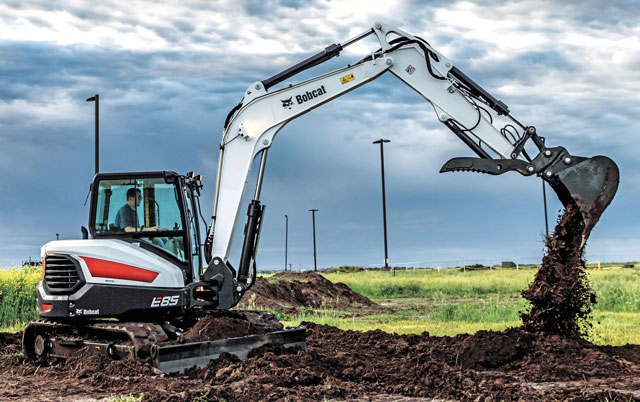 The R-Series E85 excavators from Bobcat Co. feature a bold, distinct design geared toward increasing operator productivity and comfort, as well as machine uptime protection. Operators will benefit from the performance of the non- diesel particulate filter (DPF), turbocharged engine with increased horsepower and an optimized integrated rear counterweight design that enhances the machine's stability. Also, an optional automatic heating and air conditioning system provides complete control over the cab climate. Strengthened hinges and latches and more ridged, aligned R-Series excavator panels reduce vibration in the cab, making for a more enjoyable workday. For more info, visit bobcat.com/excavators/r-series.
Cat Next Generation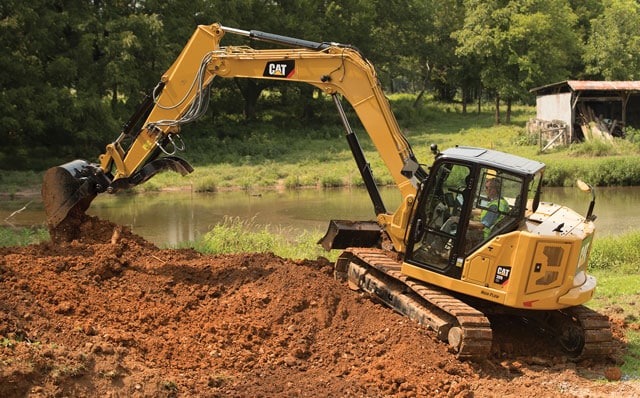 The Caterpillar range of Next Generation mini hydraulic excavators has been expanded with the addition of six new models in the 7- to 10-ton category. The new models provide a selection of basic configurations, allowing customers to choose the machine that works most efficiently in applications routinely encountered. As with all Cat Next Generation mini excavators, the new models feature heavy-duty main structures, fuel efficient engines, load sensing hydraulics, spacious cabs and the exclusive Cat Stick Steer system. The overall design goal for Next Generation models is to ensure optimum value for the customer in terms of performance, operator experience, serviceability and affordability. For more info, visit cat.com.
Kubota Tight Tail Swing U27-4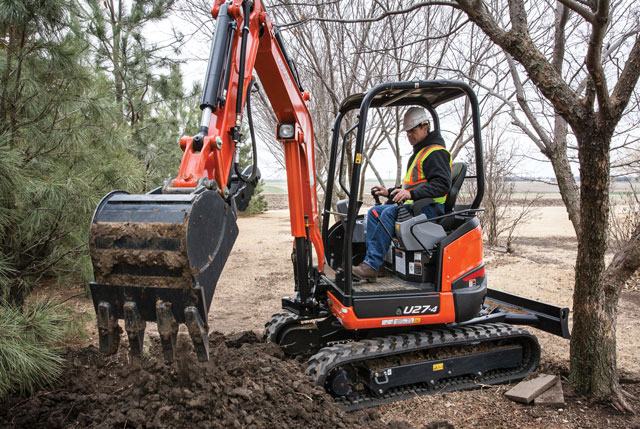 Kubota's new U27-4 features adjustable auxiliary flow hydraulics, an auxiliary diverter valve, two-speed automatic downshift travel, as well as best-in-class reach and dig depth. The powerful and well-balanced arm and bucket design allows the operator to dig faster, deeper and more efficiently even in the toughest conditions. Engineered to prioritize productivity, the U27-4 boasts a working range (including reach and digging depth) that are best in class and a bucket digging force of 7,014 lbs. Operators will enjoy a large, spacious cab with wider entrance, greater leg room, more flow space and a new user-friendly front meter panel. An enclosed cab option with heat is also available for the new U27-4. For more info, visit kubotausa.com.
Takeuchi-US TB235-2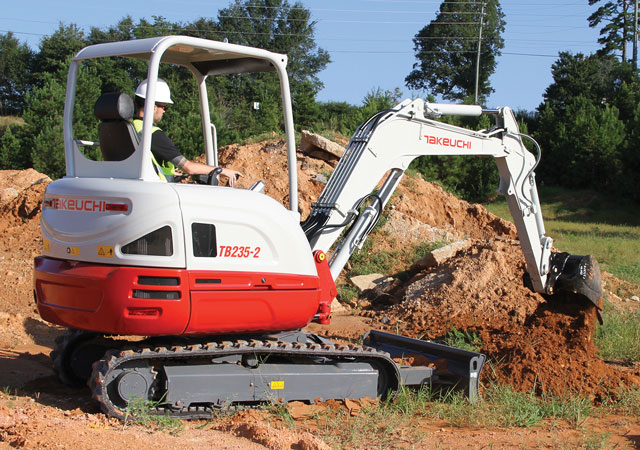 Takeuchi-US TB235-2 meets the needs of a wide range of customers including general contractors, landscapers, utility contractors and the rental industry. With an operating weight of 7,474 lbs, a dig depth of 10 ft, 7.7 in., maximum reach of 17 ft, 3 in. and breakout force of 9,127 lbs, the TB235-2 provides excellent working range and performance. Easily transportable, the unit offers stability and performance. Daily checks and routine maintenance points are convenient with rear engine access. Additionally, Takeuchi uses triple flange tracks, which maintain at least two points of contact at all times, making the TB235-2 less susceptible to de-tracking. For more info, visit takeuchi-us.com.
Hyundai Upgraded R35Z-9A Excavator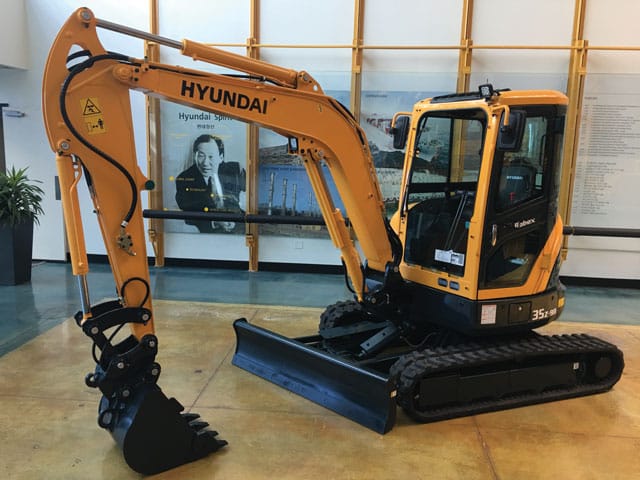 Hyundai Construction Equipment Americas recently announced a variety of improvements to its 3 1/2-ton class Hyundai R35Z-9A compact excavator, designed to provide users a competitive edge in performance, convenience, serviceability and safety. The Hyundai R35Z-9A features a zero tail swing design for optimal maneuverability in confined work spaces. New standard features include a Werk Brau-compatible thumb bracket, a diverter valve for easy switching between a thumb or attachment, proportional control levers with two-way piping, pin-grabber-style, dual-locking quick-coupler and O/C piping and enhanced bucket with a lifting eye and two-piece tooth design. For more info, visit hceamericas.com.
Hitachi ZX60USB-5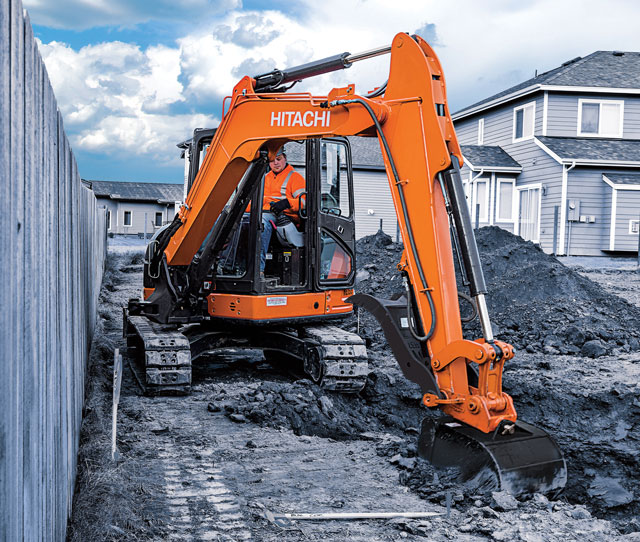 The ZX60USB-5 is Hitachi's largest compact excavator model, bridging the gap between the ZX50U-5 compact and the ZX75US-5. It features a fuel-efficient and reliable engine that meets emissions standards and numerous enhancements that make maintenance simpler, such as improved access to coolers. With a canopy option now available on the ZX60USB-5, all of Hitachi's compact excavators now have a canopy option for customers. This provides a cost-effective alternative to the cab and lets customers take advantage of lower ownership and operating costs. Hitachi recently extended its full-machine standard warranty on its compact excavators to two years or 2,000 hours. For more info, visit hitachiconstruction.com.
Komatsu's PC35MR-5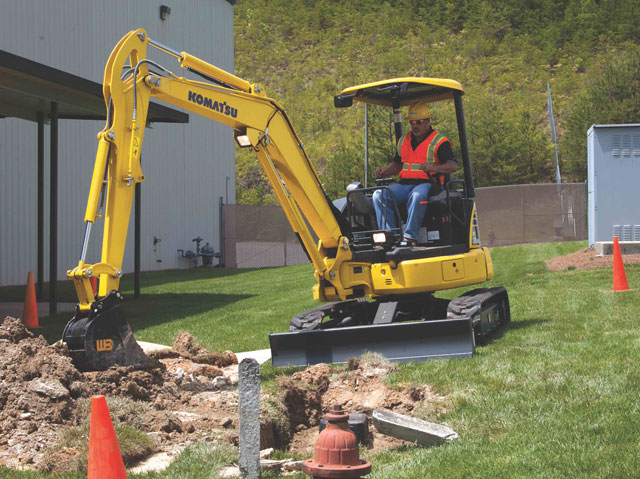 Built with the durability of bigger Komatsu excavators, the PC35MR-5 weighs just 7,993 lbs but is a powerhouse in a compact package. With a powerful Tier 4 Final engine, a swinging boom to dig right next to buildings and a blade to backfill after itself, the extra small swing radius excavator with near-zero rear protrusion from the tracks allows operators to work in confined areas. The Tier 4 engine uses proven environmentally friendly technologies such as an exhaust gas aftertreatment system, an electronically-controlled cooled exhaust gas recirculation (EGR) system and a robust common rail fuel injection system. The hydraulic loss reductions help reduce fuel consumption and emissions. For more info, visit komatsuamerica.com.
LiuGong 9035EZTS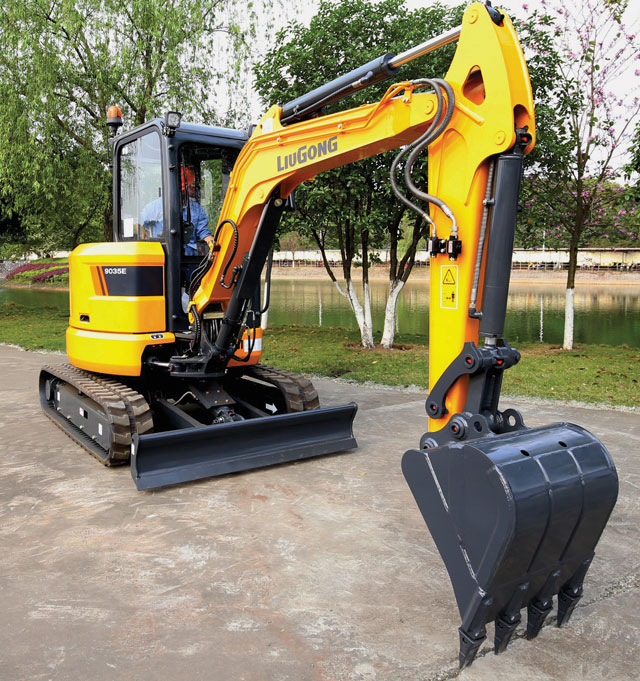 LiuGong North America's compact 9035EZTS excavator is its first zero tail swing model in the 3.5-metric-ton class. The machine is an ideal tool for utilities work, residential construction and all other applications benefitting from a mini excavator's compact size, ease of transportation and lower cost of operation. With an operating weight of 8,510 lbs, the 9035EZTS tows easily to and from worksites behind a standard 1-ton pickup truck. Its 0.14-cu-yd bucket with 5-ft, 7-in. arm reaches digging depths of 11 ft, 3 in. Maximum ground level reach is 18 ft, 9 in. Model features include a mechanical quick-coupler connecting system that allows operators to easily swap between bucket and attachments. For more info, visit liugongna.com.