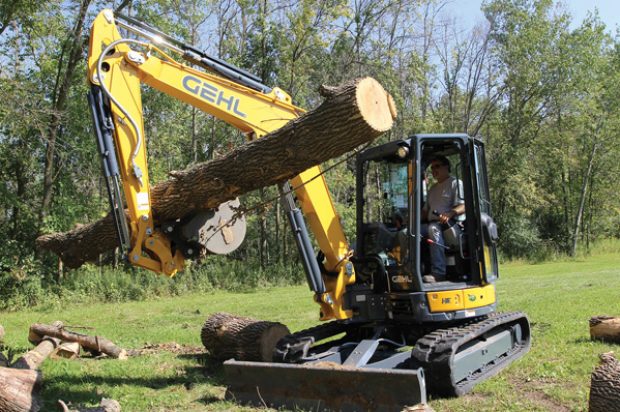 Six Units Celebrating Four Generations of Innovative Digging
Gehl introduced its first compact excavator range in 1987. The fourth generation Gehl excavator product offering provides key market focused models with customer-driven features. Over the years, the company's excavators have become more user-friendly, with features like zero tail swing for operation in tight places and large comfortable cabs. Longer-lasting components, paired with high-performance engines and hydraulics, make Gehl excavators a popular choice in rental, landscape and construction fleets.
Today's Gehl compact excavator range consists of six models: the Z17 GEN:2, Z25, Z35 GEN:2, Z45 GEN:2, Z55 and Z80 GEN:2. Each model is built around a powerful and reliable Yanmar engine. The hydraulic system is designed to enhance engine performance, resulting in a more efficient system, says Gehl. These models are true zero tail swing machines, eliminating cab overhang beyond the tracks in all directions. This allows the machine to operate directly against a wall or other obstruction without causing damage to the structure or machine.
The hydraulic system incorporates two variable pumps and two gear pumps. The pump oil flows are efficiently combined, redirected to where it is needed and allows for simultaneous operation without loss of hydraulic power. The Z35 GEN:2, Z45 GEN:2, Z55 and Z80 GEN:2 excavators add the Eco Mode feature. This mode reduces engine rpm by 10 percent without sacrificing power when activated, saving fuel when full speed is not necessary. The mode is easily activated and deactivated with a simple toggle switch.
The Z25, Z35 GEN:2, Z45 GEN:2, Z55 and Z80 GEN:2 are equipped with a hydraulic quick-coupler, making attachment changes as simple as flipping a switch. Plus, the universal-style coupler works with a wide range of excavator attachments, putting tools you already own to use. An integrated boom light on all models mounted under the boom illuminates the area being excavated, extending the work day when necessary.
Rugged, high-strength booms are constructed with a single boom-pin design and thick side-plates with internally routed hydraulic lines. Heavy-duty cylinder guards protect exposed cylinders from damage. Longer, offset crawler tracks enhance stability and provide smoother travel. Tracks are short-pitched to reduce wear, fatigue and damage. The angled crawler frame reduces soil buildup on the undercarriage.
An angle blades with float and bolt-on cutting edges are a factory installed option on the Z35 GEN:2, Z45 GEN:2 and Z55. Using the rocker switch on the blade lever, the hydraulic angle blade can be angled up to 25 degrees to push material aside as the machine moves forward, eliminating the need for repetitive repositioning. The blade can be simultaneously angled and raised or lowered to reduce the amount of time backfilling.
Advice to Buyers
"Purchase a unit that best fits the majority of applications that you work in. In most cases, excavator designs are very similar across brands, and it is the performance, design and comfort that separates them," explains Nathan Ryan, Gehl product manager of compact excavators. "Once you have selected the best unit for your type of work, attachments are a great way to customize the unit to your application. For one-off jobs that require more dig depth or higher performance, look to rent a unit to best fit the application."