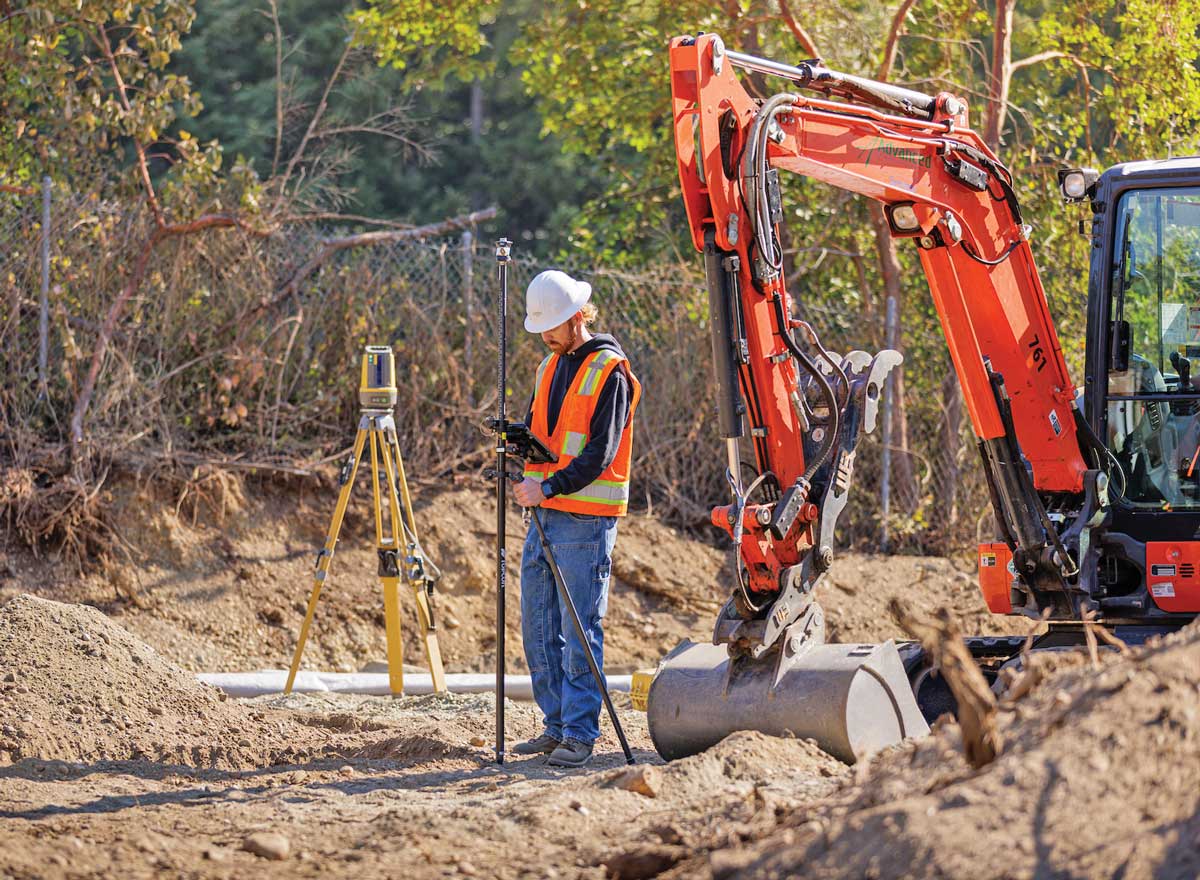 Time is money. Accuracy means less time. Therefor accuracy is money when it comes to excavator operations. It's a simple equation for contractors that do a lot of digging or do certain types of digging where precision is important. Therefor it seems logical that it also pays to have good excavator operators, and it does, but even these pros can save time and earn more money with the help of grade control.
"A small utility contractor told me yesterday that his operator needs two fewer ground personnel with him after adopting this technology," explains Seth Meisel, product manager at Trimble Civil Construction. "Those two people are now doing other tasks, and the resulting increase in productivity enabled the company to add three additional employees and capture an additional $3 million in work for a calendar year."
Grade control or machine control systems mean an earthmoving machine is being partially controlled by technology and not the operator. On an excavator, it means technology helps control the boom and bucket functions of a machine via set parameters from the operator while digging with a bucket. Using an in-cab display, that operator can see the real-time position of the bucket and machine in relation to target grade and depth.
Of course, it sometimes takes money to make money, and grade control is not a small investment on a compact excavator, which we'll categorize as excavators up to 10 metric tons in this article (although some cap minis at 6 metric tons). There are different types of grade control technology, and cost can vary significantly depending on whether the system is a 2D, 3D or some basic entry-level system offered from the manufacturer, noting 2D and 3D systems will be aftermarket products offered from the likes of Topcon, Trimble or Leica.
"When you have a $250,000 excavator and the technology is $20,000, why not?" says Greg Worley, global market professional for 1- to 10-ton excavators at Caterpillar. "If you have a $50,000 excavator, and the technology is $20,000, that's a hard pill to swallow. Over 30 percent of your machine cost is the upgrade."
That's why a number of excavator manufacturers and technology OEMs have been trying to bridge the high cost of grade control with a more economical format for smaller excavators. These products are making the cost proposition more attractive to contractors these days, as grade control not only helps pros dig more accurately, it helps simplify complex jobs, create safer work environments, reduce labor costs, turn novice operators into experts and give contractors a competitive edge.
The Most Economical Grade Control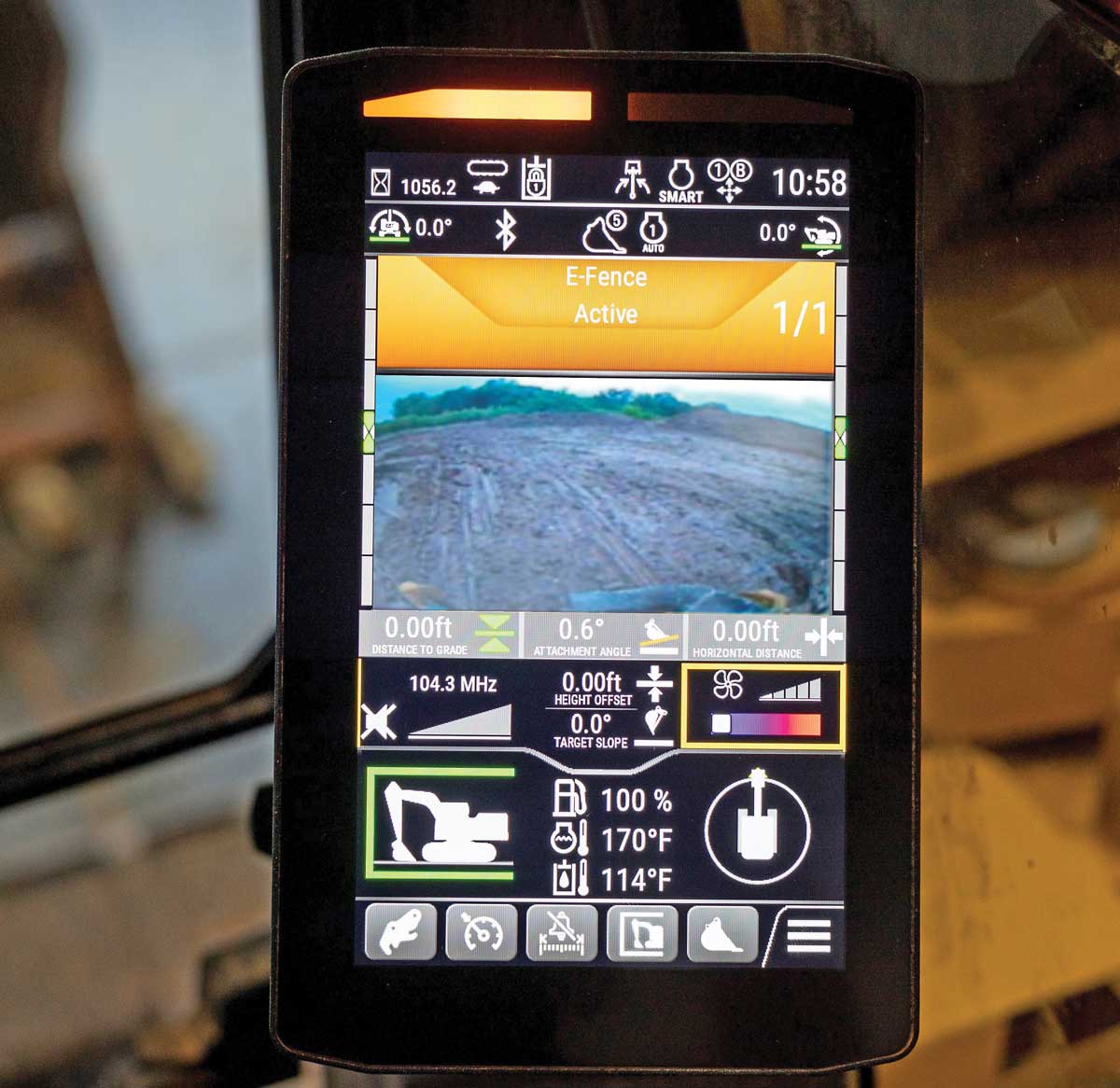 Precision. Efficiency. Speed. Safety. These are criteria that any contractor would love to add to excavator operations. So, it's to reason that grade control systems could enhance almost any digging operation, if the cost is justifiable. It's one of the reasons Caterpillar recently introduced two new "Ease of Use" technologies called E-Fence and Indicate for its 6- to 9-metric-ton compact excavators. The cost is very approachable at about $5,000.
"The biggest challenge with grade technology is that it still scares people, and there's still a huge subset of people who just want to dig a hole," says Worley. "However, there is a growing market for grade control on mini excavators based upon reliability of workers showing up or lack of workers, cost of workers. That's a big driver for this type of technology, but it has to meet your cost value proposition. So, for those customers who are on the fence, $5,000 is a reasonable price to find out."
These Ease of Use technologies are ideal for digging footings, septic systems, irrigation, electric utilities and landscape applications near structures or obstacles. Indicate provides visual and audible indications to bucket position compared to target grade. With Indicate, the operator selects target depth and slope from the cab guidance system, and Cat's factory-installed monitor shows real-time work in progress and distance-to-grade feedback.
Cat's E-Fence automatically constrains machine motion to within operator preset boundaries for ceiling, floor, wall and swing. Once the E-Fence range limits are established, no part of the boom, stick or bucket will pass the predefined limit(s). Setting height limits using E-Fence Ceiling helps operators avoid obstacles such as power lines or tree limbs. Fiber-optic cables and underground utilities are protected by the defined depth limits established with E-Fence Floor. Structures in front of the machine are protected by E-Fence Wall.
"We're going to make all our [compatible] machines Ease of Use ready," says Worley, noting a Cat dealer can install this tech in less than four hours. "We absorb the cost to do that, so we're not charging anything extra on the machine that contractors won't need. If they just want to dig a hole, they can, but if they want Ease of Use at any time, a Cat dealer can install it."
Since 2015, Bobcat has been offering an in-house, entry-level grade control module called Depth Check that is available for use with E32, E32i, E35, E35i, E42, E45, E50 and E55 models, with either standard or long-arm iterations. Depth Check is a kit that utilizes three sensors — one on the trenching or grading bucket, one on the arm and one on the boom — that are connected to the deluxe instrument panel inside the cab to track the precise location of the bucket teeth as the bucket, boom and arm move. The system can be calibrated to a specific machine as well as its corresponding attachments — up to five buckets — using the excavator's boom and arm length, as well as a bucket tooth radius.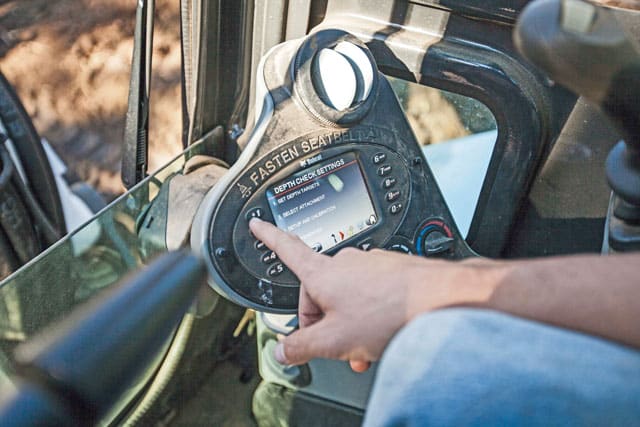 "Mini excavators have become popular on many jobsites due to customers recognizing good production for their size, maneuverability and transportability," says Mike Fitzgerald, marketing manager at Bobcat. "Making excavators even more adaptable, Bobcat offers our Depth Check System for precise digging performance, eliminating over-digging and the cost associated with backfilling and compacting additional material. Tasks such as trenching for footings and utility lines or grading ditches call for a consistent grade or sustained slope. The Depth Check system has an accuracy of ± 0.5 in."
Another benefit: No additional display screens are required, allowing for more operator space in the excavator's cab. Excavator operators simply access the Depth Check system screen in the deluxe instrument panel's menu bar where they can choose from multiple methods. The base Depth Check system is also laser-compatible and can be operated with a basic laser system, allowing the operator to benchmark off a laser signal instead of the trench grade. Depth Check can be operated in three modes:
Digging to a desired depth, benching off the grade point with the target depth set to zero
Benching off a grade post that is within reach, with the target depth set to the desired grade
And setting the depth target at minimum cover value, then benching off the adjacent soil
Bobcat's Depth Check and Cat's Ease of Use are the only two entry-level machine control systems offered on mini excavators directly from the manufacturer (that I'm aware of). But before we get into 2D grade control systems from OEMs, Leica does offer an interesting in-betweener via its iCON iXE1 PowerDigger Lite product, which offers a 1D grading solution for mini excavators. The system requires a Leica multi-color display, which gives a graphical overview of the exact height and slope of the project. With iCON iXE1, operators have the flexibility to work from different references such as existing surface, string line or a laser. Difficult tasks as blind cuts or even digging underwater are far easier with the system as you see the bucket position on your control panel display. The iCON iXE1 is an ideal solution for contractors who want a basic starting point for machine control systems in compact excavators.
Work Underwater
In addition to reducing labor costs, some machine control systems can allow for easy operation where other excavators might struggle, such as under water. With watertight sensors, operators can do underwater work by inputting job specifications and seeing, in real time, the position of the bucket on the screen — even though the operator can't see under water. Getting sight into unseen places increases the accuracy of challenging jobs. Being able to work where others can't allows contractors to bid on more jobs and ensures a positive ROI when using machine control systems.
2D Basic Modules from Trimble and Topcon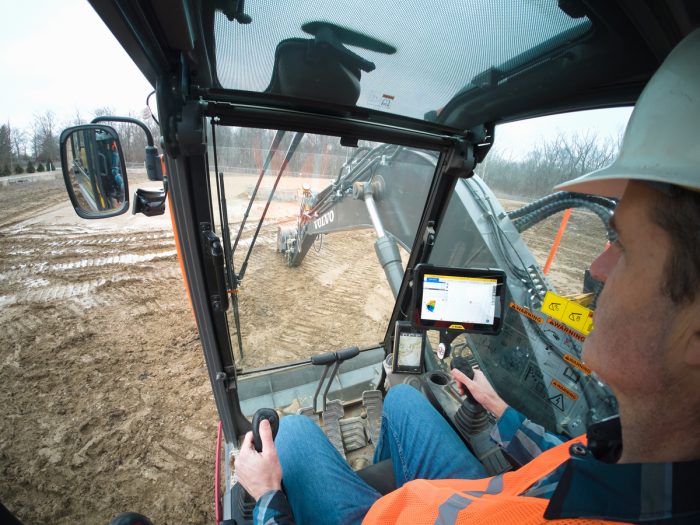 Getting more sophisticated, excavator owners can move up to various 2D and 3D options when it comes to grade control for compact excavators. These systems can work with GPS, single or dual GNSS [global navigation satellite systems] or universal total stations for guidance and correction. The main difference between these options is the external reference for guidance, hardware, cost, the ability to use 3D models and the level of automation. For a contractor who only needs to know the height or depth of their bucket, 2D systems are a good alternative. These relatively inexpensive systems may use sonic sensors or rotating lasers and laser sensors to provide height and depth information.
"A 2D system enables the operator to create machine-relative slopes and surfaces," explains Meisel. "When the operator tracks the machine, the surface moves with it. If the pitch, roll or elevation of the machine changes, that slope or surface stays in its same orientation to the machine, not the same orientation the design may call for. A system this simplistic is really useful when you prep an area to meet final design and then move your machine onto that area and work in a line, always keeping the machine on a finished surface. Adding a laser catcher to the 2D system allows the system to reference that laser plane and store offsets to it. The laser catcher configuration is a favorite amongst contractors installing linear infrastructure like storm/sanitary sewer or simple foundation work."
"A 3D system requires the addition of GNSS receivers, a correction source — radio or modem — and a base station, IBSS or VRS network" explains Jack Young, product manager at Trimble. "This system knows where the machine is in 3D world space and where it is in relation to a digital design. That design can be created either in the cab with infield designs or in an office. 3D is beneficial for a wide range of projects, from the simple sanitary or storm sewer tie-in all the way up to the complex urban utility projects."
Track Loader Machine Control: Topcon Expands Its Compact Solutions with 2D-MC Automatic Grade Control for CTLs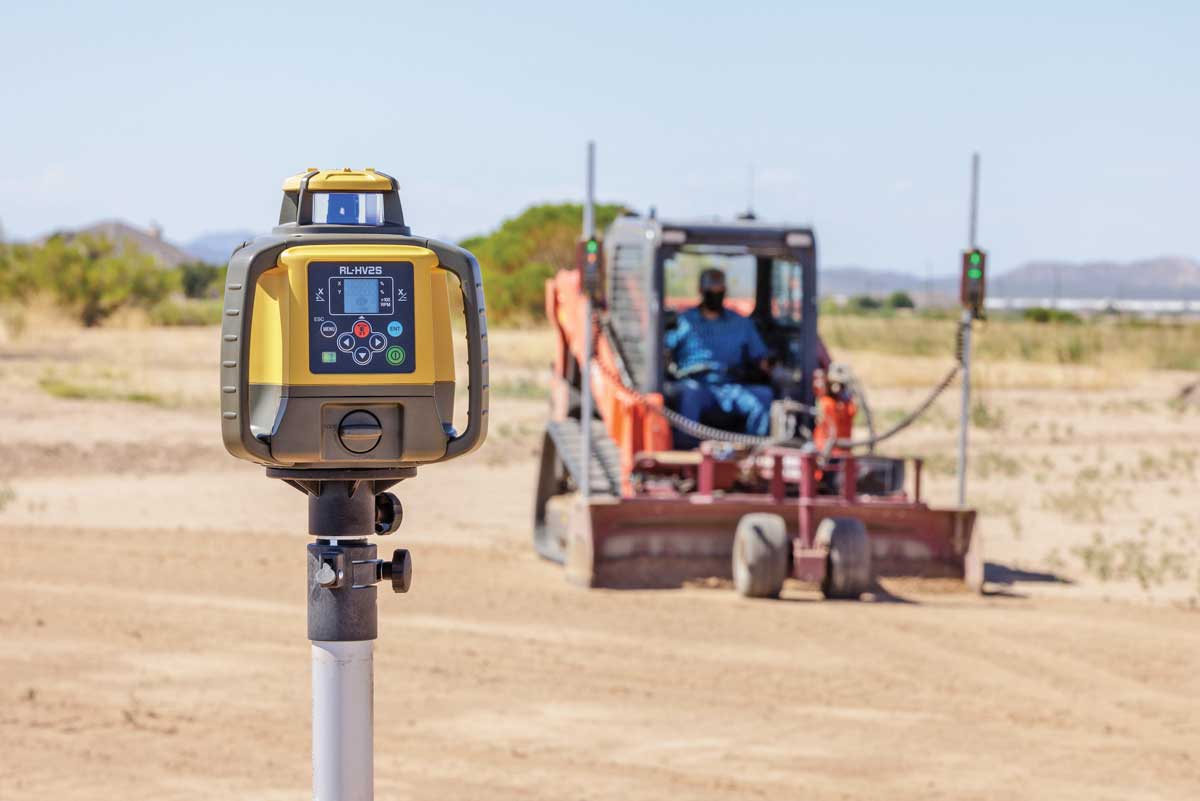 Topcon Positioning Systems recently announced 2D-MC, an automatic grade control solution for compact track loaders. Now available in North America, 2D-MC is a low-cost 2D machine control system that is designed to be installed directly onto select grading attachments. Connecting directly to the machine's controls and an easy-to-use wireless display, the solution works along with familiar rotary laser technology to provide simplified operational visibility, with all the information needed to hit target grade with greater precision and in less time. Ideal for slope work, sidewalk grading, road base and drain rock replacement, parking lots, sports fields, landscaping, flat pads, indoor work, concrete site prep and more, 2D-MC is an automatic grade control solution designed to adapt to different grading attachments on compact track loaders, leveraging the performance of machine control technology with the accuracy of laser positioning.
Focusing on entry-level, the Trimble Siteworks Machine Guidance Module is designed specifically for small site and utility contractors. The system leverages Trimble's tilt-compensated GNSS Smart Antenna, the Trimble R780 GNSS receiver and Trimble Siteworks construction surveying software. The Siteworks system can use the Trimble RTX Centerpoint corrections service delivered wirelessly, so contractors do not need to buy a base station. The user is able to use the receiver on a survey rod to layout designs, stake out points and even build designs in the field. They can then unscrew the receiver from the rod, mount it on the machine, place the field tablet in the cab and leverage machine guidance functionality from the operator's seat.
"I see this product creating an entry point into machine control and site positioning for contractors who might previously have felt it was out of reach for them," says Young. "The contractor will have the ability to use a Trimble R780 GNSS Smart Antenna on the rod to create designs or capture key positions on site and then upload designs into our software. Once they have identified the area they plan to work on, they can transfer their receiver onto the machine, get the display into the cab and get to work."
Topcon Positioning Group offers an equally cool entry-level grade control option for compact excavators. The company launched its MC-Mobile portable machine control solution for compact equipment last year, and it can be used on either a compact track loader or a compact excavator. Based on Topcon's MC-X machine control platform, MC-Mobile can tackle applications like grade checking, creating designs on the fly and self-performing site layouts without traditional staking. Displays and other components are designed to be easily shared across numerous machines in owned or rental fleet environments.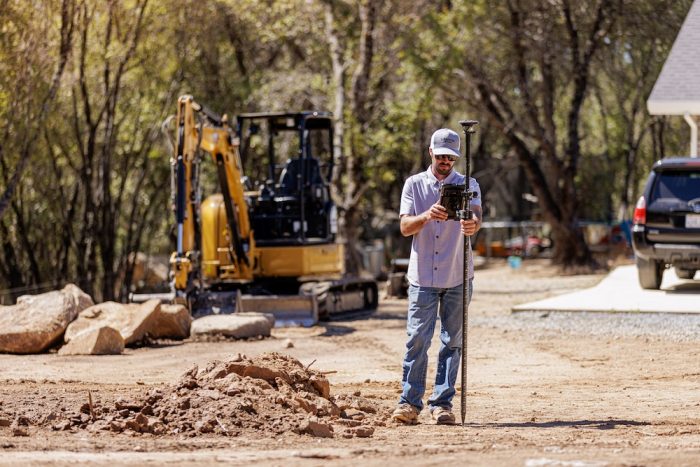 "Our MC-Mobile product line is geared for that job that takes about a day or a day and a half to finish," says Mark Jones, business development manager at Topcon. "This system works with our LN-150 [robotic total station]. It's our layout navigator, but we're using it here as our elevation reference. We're also using a tablet. After I set up my elevation reference, this tablet becomes my data collector. After I'm done with all that, I can step away, grab a coffee, sit down in the truck and design the job with the tablet. When I'm done with that, I'm going to hop out of that truck. I'm going to climb into my mini excavator and execute that job I've just created, using the same tablet."
And while even these entry 2D level machine control systems sound complex, new operators are able to approach them, often via a tablet or smartphone. Of course, training is still important.
"[Trimble's] Sitech dealer network is equipped to train and have the end customer up and running in short order," says Young. "They will spend a good amount of time on the machine with the operator and also have access to a Trimble Earthworks simulator to train operators while the machine is being installed."
Keith Gribbins is publisher of Compact Equipment.
Take a break from reading and check out our Machine Heads video series!