Bobcat Co. had a busy 2020. The famous compact equipment brand has been aggressively revamping product lines (from Next-Generation R-Series loaders to R2-Series excavators), entering new categories (like zero-turn mowers), refining its dealer network (dig all dealer changes) and pushing technology in a variety of different directions (let's run through a few examples before we get to that headline).
Let's start with the just launched Bobcat MaxControl app, which allows remote operation of Bobcat equipment via a mobile phone or tablet, which of course everyone wants to try. Future enhancements to the app will include known object avoidance protocols (create geofences around obstacles and push the machine to avoid objects on the jobsite) and programmed navigation (plot GPS points and push the machine into simple, semi-autonomous operation).
In September, Bobcat announced its Features On Demand option, a patent-pending technology that gives customers the flexibility to enable additional features on its R-Series compact loaders like software as a service. Customers can install and uninstall options like: 2-Speed travel; high-flow hydraulics; automatic ride control; dual-direction bucket positioning; and even a reversing fan. Bobcat also just upgraded its Machine IQ wireless communication service with two new subscription packages — Machine IQ Basics and Machine IQ Health and Security — for customers to check on the health of equipment and remotely track info that enhances maintenance, security and performance.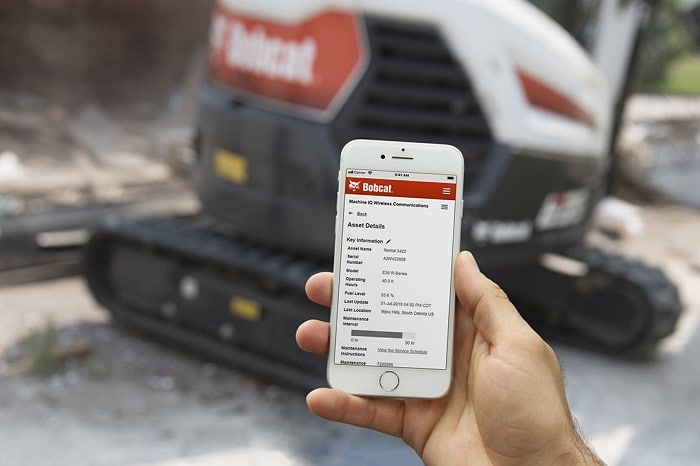 A lot of these technologies were teased at CONEXPO-CON/AGG, which I was lucky enough to attend before the world shutdown from the pandemic in March. At that giant tradeshow, only happening every three years, Bobcat also pushed alternative propulsion technologies. Bobcat showed off three electric concept machines at the show: the E17e, an electric excavator; the S70e, an electric loader; and the T76e, an all-electric loader.
Bobcat is looking to go electric with velocity, so Doosan Bobcat North America found a partner to help build and sell these units. Green Machine Equipment Inc., a popular manufacturer of renewable power drive systems that also supplies and sells Takeuchi electric excavators, will produce electric/hydraulic Bobcat compact excavators.
"With this agreement, we have a partner that is able to provide the expertise needed for us to bring the latest technologies to our customers and accelerate electrification in our industry," explained Joel Honeyman, vice president of global innovation at Doosan Bobcat North America. "Green Machine will custom retrofit four of our Bobcat excavator models with their proprietary battery and battery management technology to replace the diesel power source. Green Machine will then sell the converted machines in select markets."
Launched in 2010, New York-based Green Machine is a wholly owned subsidiary of alternative energy company Viridi Parente, which uses advanced lithium-ion cell technology paired with its System Intelligence platform to deliver big, emissions-free power in mobile and in-place applications. Green Machine and Bobcat state these electric/hydraulic machines will provide the same power and performance equivalence of diesel-powered models, along with considerably lower daily operating costs, zero emissions, reduced noise and minimal maintenance.
"Maintenance will definitely be minimal on the new electric machines since battery management technology will replace the diesel power source," said Honeyman. "Like any machine, routine maintenance will be important in keeping electric excavators running properly. Customers of these machine will appreciate how they compare to their diesel counterparts."
The converted machines will be available for sale in select North American markets beginning in 2021. The proposed four Bobcat compact excavator models include the E10, E20, E35 and E50. These models provide a good platform and model mix of Bobcat's current compact excavator line for customers interested in battery-powered machines.
"Electric machines will be able to help contractors in select markets, especially those in specific construction and utilities applications," said Honeyman. "The machines will be especially beneficial for those who are working in urban environments — such as working indoors, close to other buildings or in public spaces. In addition, electric machines can help fill the need for contractors who need reduced noise on a busy jobsite and for those who are environmentally conscious. Our customers in these markets have been very interested in this kind of technology so it made sense to introduce electric excavators in select markets first."
What's the timeline for other electrified Bobcat units, including the industry's first all-electric loader? We'll keep you updated.
Tags:
Bobcat
,
Bobcat Co.
,
Electric
,
Green Machine Equipment
,
home
,
November December 2020 Print Issue