I hadn't been to Peoria, Ill., since 2018. Typically, I make the pilgrimage every year to the Midwest machine hamlet, visiting Caterpillar. Its annual fall trade press event is the best opportunity to inspect and operate Cat's newest machine offerings and pick the brains of its product experts. Finally, in early November, after a few years and a pandemic, I made it back to Cat's hometown for its 2021 year-end press event, although I didn't spend much time in Peoria. We ventured out to Caterpillar's Edwards Demonstration and Learning Center in nearby Kickapoo.
Nestled on 720 acres of unspoiled Illinois prairie, Edwards is home to Cat's expert operators and application specialists, who (among many other things) help train dealers, customers and journalists alike on Cat iron. Imagine a facility (or don't imagine it, look here) where you can operate equipment in a real field setting (the giant indoor arena you see in these pictures) with machine experts giving out advice and insight. Then, you can step right back into a variety of high-tech classrooms, meeting centers, simulator training or (a personal fave) the expansive cafeteria fitted with a fireplace to discuss it all.
At Edwards Demonstration and Learning Center, Cat pulled together a busy event for technical journalists — product demonstrations, machine walk-arounds, panel discussions, classroom analysis, machine operating time and an off-site visit to Illinois Central College for an overview on the ThinkBig program (a Caterpillar-specific instructional program that I'll cover in a separate story). Much was discussed. Here's a quick example: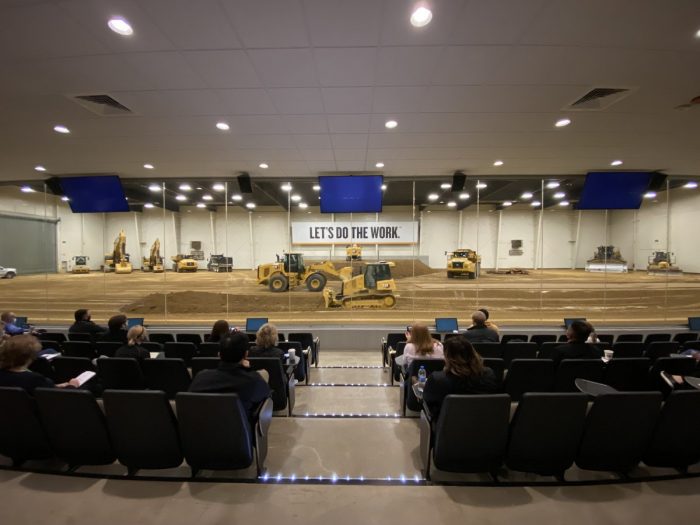 "We've got a great agenda for you today — exciting," said Chih Liang, global marketing director for Caterpillar, in the opening presentation. "In the morning, we will introduce Next Gen wheel loaders, the 966 and 972. It's one of our most exciting programs at Caterpillar in the last few years. That'll be followed by our Cat Command [remote operational technologies] for excavation and hauling. We will showcase its safety and efficiency and how it's going to help the customer be more productive. Then we have Glen Powell from Slouch Incorporated [a total site preparation construction specialist from Blandon, Pa.] who's going to talk about how the Cat paver is helping his business and then in the afternoon we have time in the dirt with our experts."
That's just a high-level summary. Not mentioned in that quote, but super important for compact crews, is the release of two new Cat mini excavators — the 304 and 305CR — which complete Cat's Next Generation lineup of compact diggers. Other big announcements included the expansion of Cat Grade technologies to the 6- to 10-metric-ton excavators, the arrival of more Cat tiltrotator attachments and the development of Cat Command remote control technologies. Let's start with those mini diggers.
The Next Generation Is All Here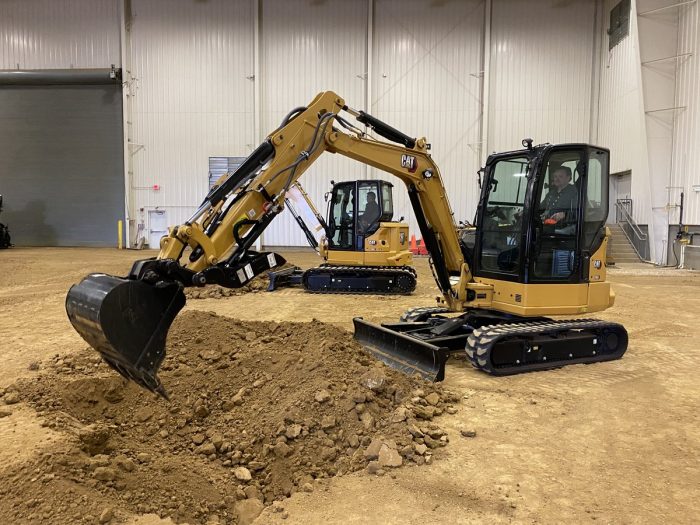 Caterpillar offers an extensive line of mini hydraulic excavators today from 1 to 10 metric tons. Cat's Next Generation mini excavators (all models excluding the 300.9D and 300.9D VPS) offer a wide selection of 17 models, featuring heavy-duty main structures, fuel-efficient engines, load sensing hydraulics, spacious cabs and the exclusive Cat Stick Steer system, which allows the operator to switch (with the touch of a button) from conventional lever/foot-pedal steering controls to left-hand joystick control.
Cat's Next Gen lineup is one of most exciting in a very busy compact excavator market. These units combine high tech and comfort. Cab models are sealed and pressurized to ensure a clean environment and feature a redesigned heating/ventilating/air conditioning system that ensures all-weather climate control. The Next Generation LCD color monitor provides easy-to-read machine information and features a jog dial for ergonomic interaction with the monitor.
A peek under the hood (or up the boom) equally impresses. All units come with standard auxiliary hydraulic systems complete with quick-disconnect lines, providing one-way, two-way and continuous flow. The new models are available with a thumb-ready package and a certified lifting eye. Expanded use of common parts throughout the line plus a damage-resistant exterior help reduce parts inventory investment. A dozer blade (four-way is an option) further expands the capability of models, allowing the machine to handle backfilling and grading tasks. But what about these new models specifically?
"Let's get into the 304 and 305," said Zeynep Negus, tracks commercial manager with the Building Construction Products division at Caterpillar. "All of our Next Gen models are designed with the customer in mind, and these last two members of the family are no different. Just like the rest of the Next Gen models, the 304 and 305 are designed with key differentiators in mind. They're affordable. They deliver excellent performance, providing great customer experience and excellent serviceability. Customers inspired the designing and building of these machines. We used direct input, and we really thought about the safety of these customers. Machines are equipped with a sealed and pressurized cab along with 3-in. high visibility seatbelts and many other safety features. When you think about affordability, I know many of you have seen our industry first features in the other Next Gen models, but when you think about Stick Steer or cruise control, the Next Gen monitor, the customizable operator settings, coupled with improved performance, it really provides a great price value proposition for our customers."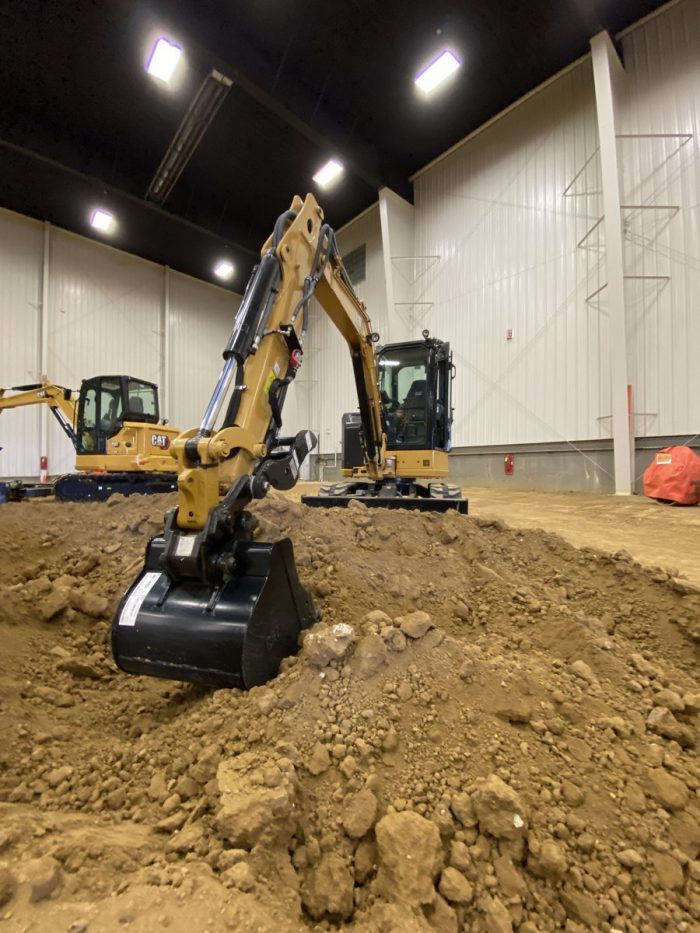 The new 4-metric-ton Cat 304 and 5-metric-ton Cat 305 CR Next Generation minis offer higher bucket breakout forces and deeper standard digging depths to increase performance by up to 20 percent over their E2 Series counterparts, says the Cat press release. It also notes "industry-leading grease intervals and extended filter service life, combined with common components throughout the line and flat, easy-to-replace side panels, deliver up to 10 percent lower owner and operating costs."
Built with a new reduced radius design, the 304 features a narrow 66.9-in. track width, which is 10 in. slimmer than the previous 304 E2. While narrower, Cat assures us that the new 304 design still increases performance while maintaining balance and stability. It also has an extra counterweight option, which should help with that stability.
"[On the past model], we made the undercarriage 10 in. wider because we wanted to improve stability of that machine at that time," explained Greg Worley, market professional with Caterpillar. "But what we did was make a wider machine, upsetting a number of people. 'Why did you make that machine so wide? I can't get it onto my trailer now. I need a wider opening to get it through to jobsites.' We lived with that for the last five to six years. Now, we're taking a step backwards to that 67-in. wide machine, because when you're 67 in. wide, you can get through a lot more areas, so now you've got a great machine with a lot of stability, a lot of performance that's still very narrow."
Mini excavators are making big waves on jobsites all over North America. Click here for the latest news on these machines and the companies that make them.
According to Cat, the new engine on the 5-metric-ton class Cat 305 CR excavator delivers nearly 9 percent greater power to increase machine performance. Hydraulic system improvements provide higher breakout forces — 11,061 lbf bucket, 6,362 lbf standard stick and 5,665 lbf long stick — to improve digging efficiency in hard rock applications. It also offers 5.6-in. deeper dig depths than the 305 E2, giving it more application flexibility. Its compact radius swing reduces overhang when working to the side, while its 78-in. track width and new extra counterweight option help to optimize stability and lift performance in confined spaces. Both new excavator models now offer an angle dozer blade option to optimize machine flexibility in backfilling and finish grading applications.
"We designed these machines to provide a unique operator experience," said Negus. "The sealed and pressurized cab, that very intuitive and easy-to-use Next Gen monitor and the customizable operator's settings allow for a great experience for our customers. For serviceability, we have easy-to-service panels on these machines, and customers are able to service them from ground level. We've extended our grease intervals. We've expanded the common components to reduce repair costs and help our customers with optimizing their parts inventory. We have also made sure that we priced our service parts competitively, as we think about the life cycle cost of our machines."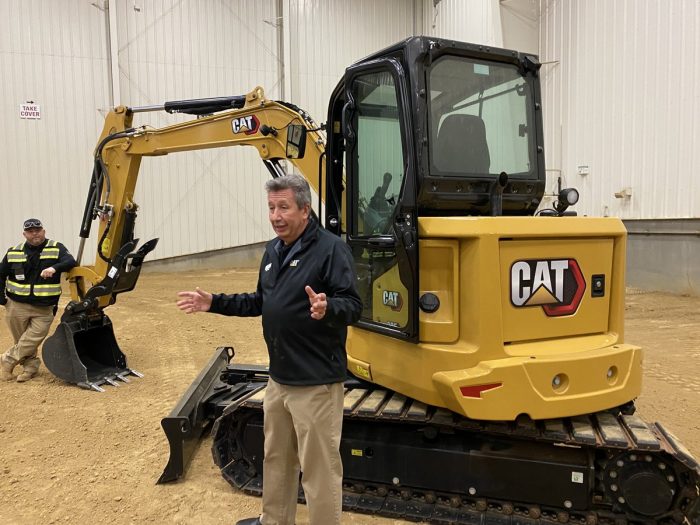 Also noteworthy in the Cat compact realm, Cat Grade technologies has expanded to the 6- to 10-ton Next Generation mini hydraulic excavators. Available through Cat and Sitech dealers, owners can now equip the bigger minis with Cat Grade with Advanced 2D or Cat Grade with 3D. This is an aftermarket field kit that integrates into the Cat next generation excavator electronics' infrastructure.
A separate 10-in. high-resolution touchscreen monitor allows operators to conveniently view, create and worksite designs inside the cab. Automatics deliver simple, single-joystick control over the stick and bucket to maintain grade and avoid overcutting and undercutting. Cat Grade technologies is suited for a lot of different applications, ranging from sewer and septic work to digging footings to flat pad home development. It's cool to see the technology coming to the compacts.
Cat Tiltrotators for Excavators Are Expanding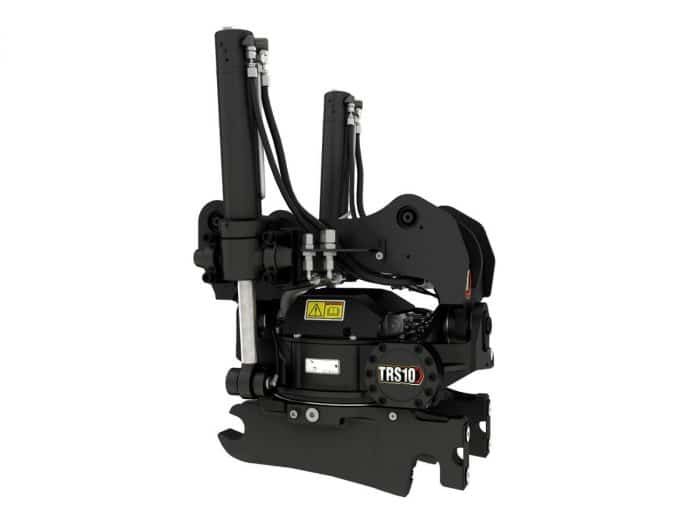 Tiltrotator attachment systems are all the rage right now for excavators. Big in Europe, tiltrotators integrate into the excavator's attachment system, giving the operator the ability to spin (360 degrees) and tilt (40 degrees) an attachment (like a bucket or grapple) for exacting and flexible work. At the fall press event, Cat introduced its new line of Tiltrotators (TRS), via a partnership with Rototilt, for machines from 11 to 30 metric tons. While those are big excavators, Caterpillar has already released the RS6 for its 5- and 6-metric-ton units and TRS8 for the 7 to 10-ton units. The TRS4 for the 3.5- and 4-metric-ton units will be available early next year
"The TRS attachment system is the most sophisticated attachment that we have. It has a microchip inside of it," explained Hugo Aravena, product marketing consultant with Caterpillar. "It has software. It can move left and right, tilt 40 degrees. You can rotate 360 degrees, and it also has a grapple option that's similar to a thumb that can help pick up stuff … This is coming from Europe. Very popular there. The Nordic countries. Now it is here. It may be hard to use at the beginning. You need to learn how to move things, but once you master how to use it, you're going to save time. You're going to do less movement. You're going to do more work."
Cat Command Remote Control Expands
Cat Command is the company's remote control technologies product. It comes in two configurations — a line-of-site module and an off-site remote operation unit using a Cat Command station, which looks similar to a simulator but operates machines remotely in real time. Enjoy this summary:
At the year-end press event, Cat announced that its Cat 374 and 395 large hydraulic excavators and its Cat D5, D6 and D7 medium dozers can now be equipped with Cat Command. The company also teased that Cat Command would eventually be coming to Caterpillar's compact excavator and skid steer and track loader lineups, but not further details or timelines were shared.
Cat Command improves machine productivity on a range of projects that lend themselves to remote operations like unstable underfoot conditions, brownfields, shore work, demolition and quarry applications.
There's the Cat Command console, which offers quick transition to line-of-sight machine control at the jobsite through a lightweight, compact console that's supported by a comfortable shoulder harness. With no on-site communications infrastructure required, it is ideal for temporary or emergency remote operation. Using either a 900 MHz or 2.4 GHz frequency communications protocol, the console offers a machine control range reaching up to 437 ft. If the remote shutdown switch is pressed, wireless communication is lost, or the console is tilted more than 45 degrees, built-in safety features stop all excavator movements.
One of the best parts of small equipment is the variety of attachments. From buckets and breakers to mowers and plows, click here to see what's out there.
The Cat Command station provides non-line-of-site operation from the comfort of an air-conditioned office on-site or many miles away, and distance is limited only by the capabilities of the wireless network. The Command station comfortably seats the operator in a customized "virtual cab" with familiar controls and machine displays. Users can control up to five different machines from the same or different locations, reducing downtime for shift changes or the need to travel to the jobsite. A touchscreen monitor similar to the in-cab display offers precise machine control, and screen mounts positioned in front of the user provide easy view of the excavator's camera feeds.
"This is technology to enhance safety and increase productivity in hazardous work environments," said Mike Lenzie, marketing consultant for Caterpillar's off-board technology product portfolio. "Said in simpler terms, this remote-control capability for construction equipment is taking the operator out of the cabin, allowing him or her to run that piece of equipment without being in that piece of machinery. First off, it enhances safety. Second, it can increase productivity, and I'm going to throw a third one in there. It's attracting and retaining skilled operators."
By removing the operator from the cab, Cat notes its Cat Command may offer a solution to workforce shortages and training advantages for newer operators. Think, for instance, how it could open opportunities to those with physical limitations that prevent them from climbing into the equipment, attracting a new generation of worker and increasing the longevity of experienced operators.
Awesome Event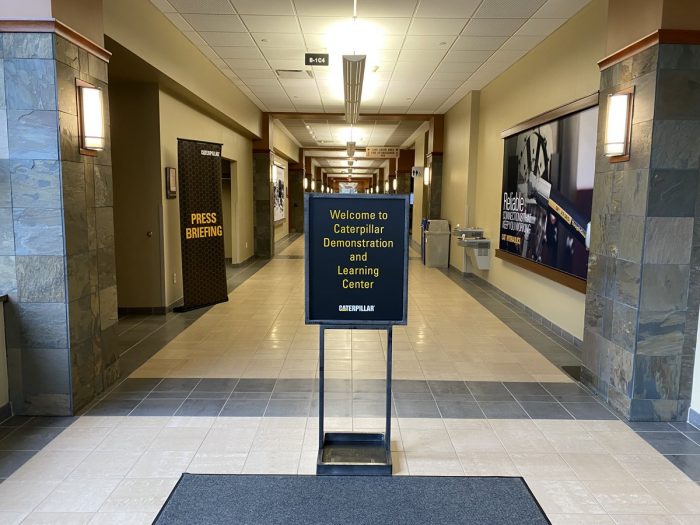 The machines and technologies mentioned above were just a fraction of the equipment displayed and discussed at Cat's year-end press event. Cat's Next Gen wheel loaders, 120 GC motor grader, D4 dozer, MH3026 material handler and the H190S and H215S Performance Series hammer attachments were all discussed (the latter are the biggest excavator breakers in Cat's portfolio). I took the time to operate a lot of these units, discussing these machines with product managers. Overall, it was a great event and good to get back to Peoria. It's another sign that business is getting back to normal.
Below the byline, enjoy some other random images from the event.
Keith Gribbins is publisher of Compact Equipment.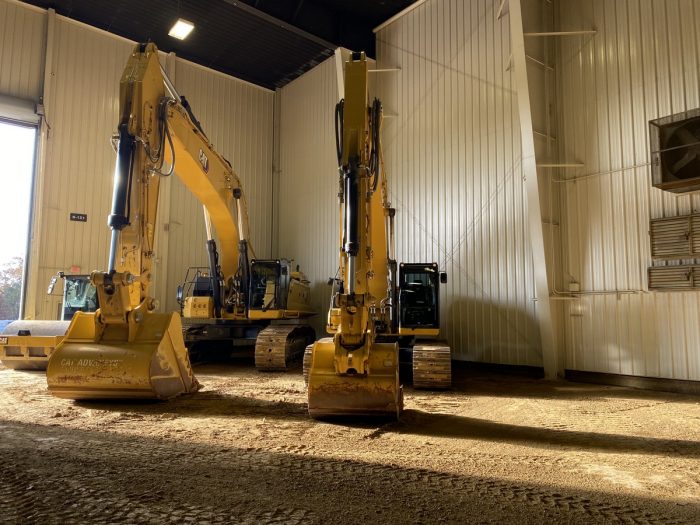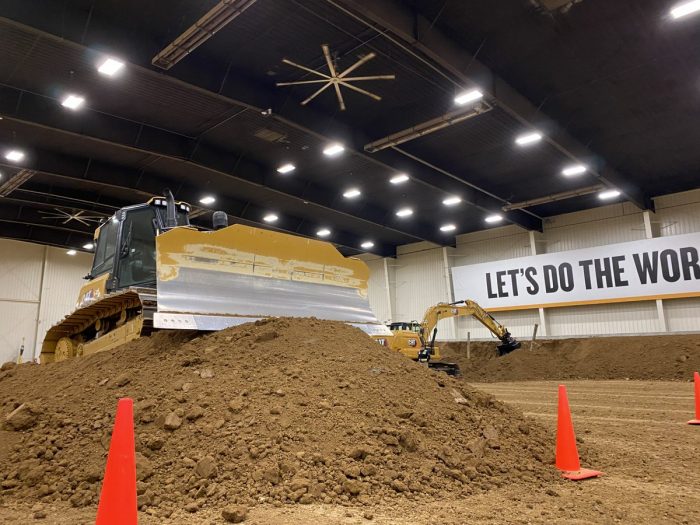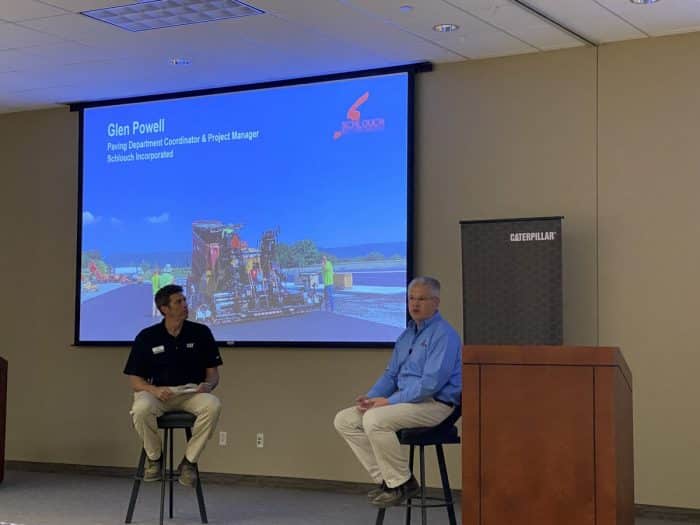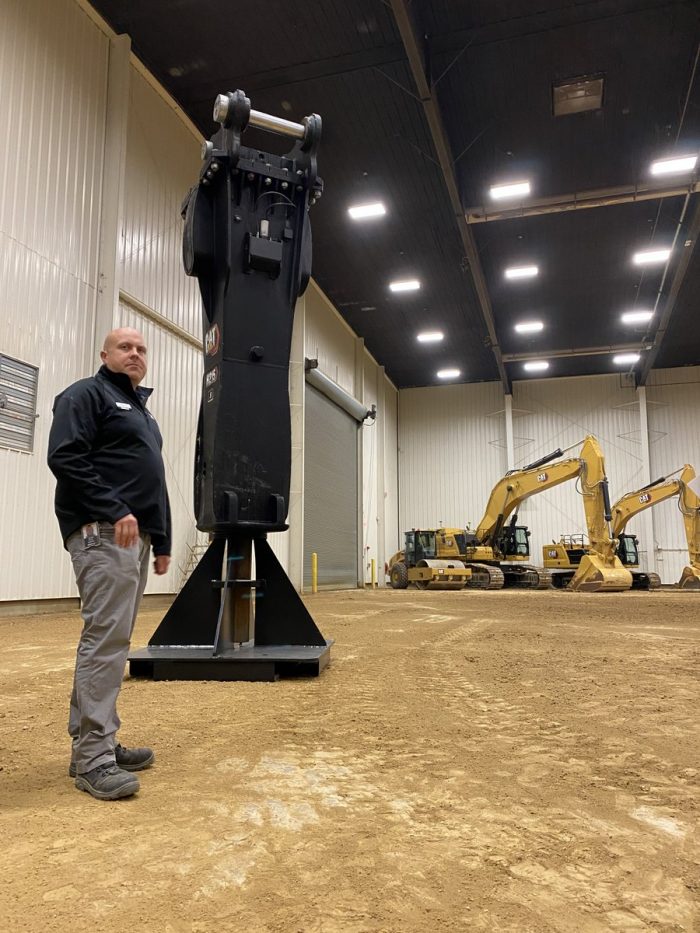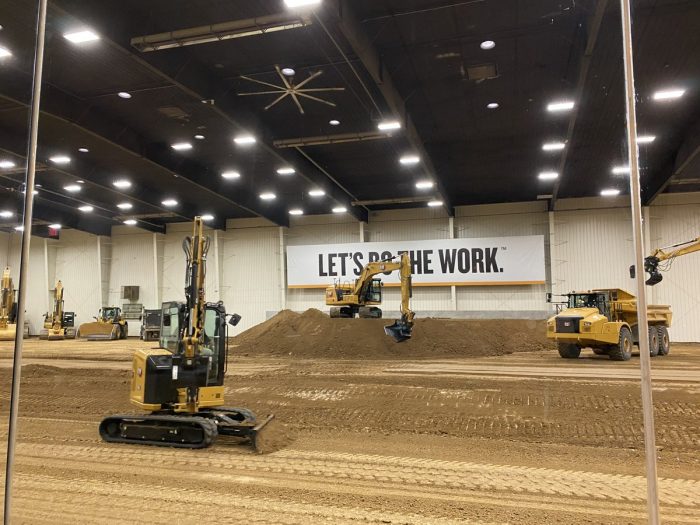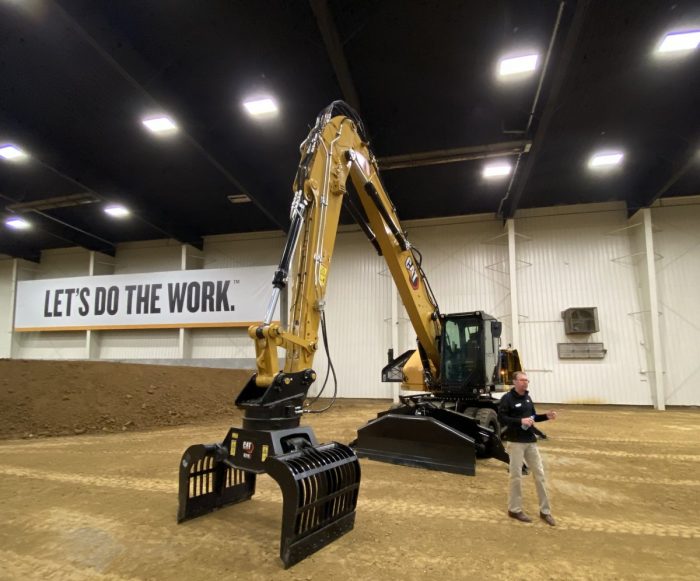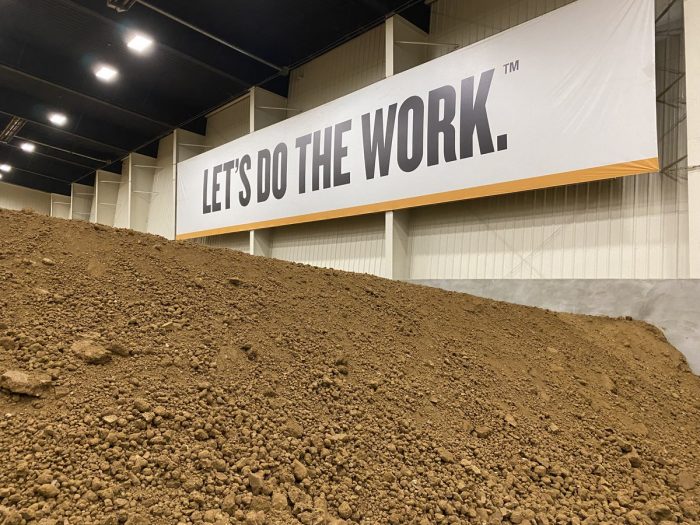 What can we say? We love rental. So much so that we published a Digital Rental Guide covering everything you need to know when renting a machine. Check it out here!
Tags:
Caterpillar
,
Editor at Large