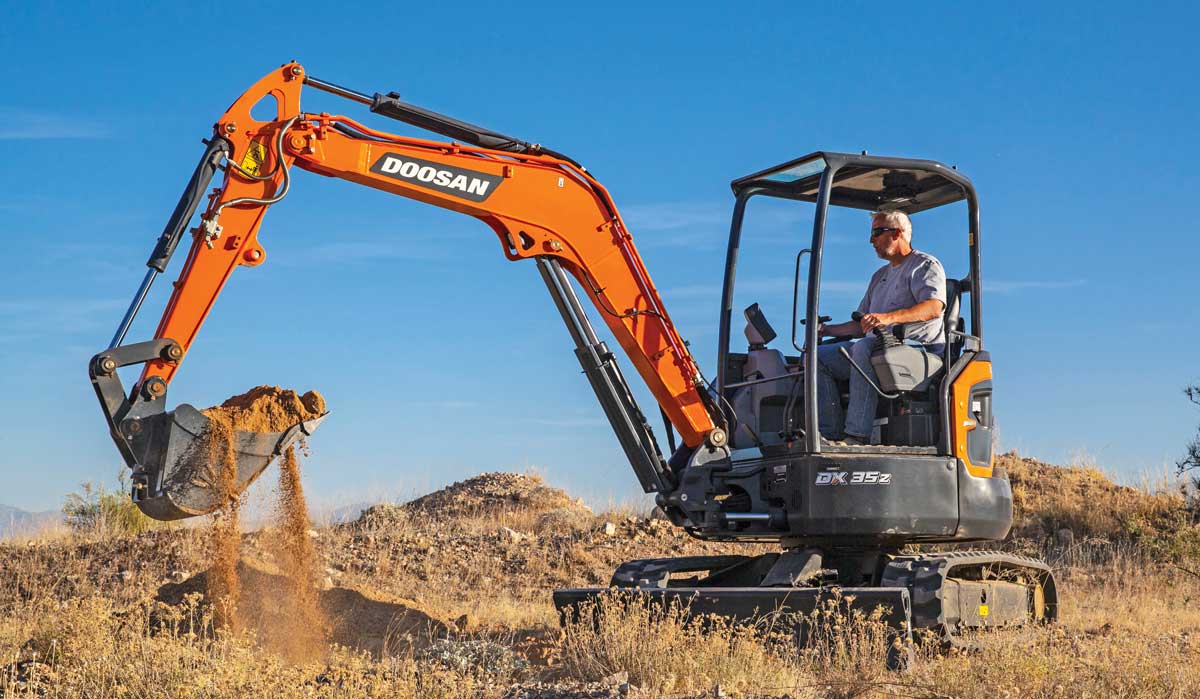 Six All-New Doosan -7 Series Minis Make Their Debut in 2022
This post is a part of Compact Equipment's annual Spec Guide. View other brands' product and spec info by clicking this link. View the magazine version of these summaries by clicking right here. Sign up for the print edition right here. Now enjoy!
Doosan has offered mini excavators in North America for more than a decade. This year marks a significant milestone for Doosan as the company introduced its all-new -7 Series mini excavators. Four new -7 Series models — DX27Z-7, DX35Z-7, DX50Z-7 and DX55R-7 — complement the existing Doosan mini excavator lineup. Altogether, Doosan offers eight mini excavator models that supplement the company's larger hydraulic crawler excavators. Doosan has more than 80 years of experience manufacturing construction equipment and offers excavators from approximately 2.7 metric tons to its largest model, the DX1000LC-7, for a full excavator product offering.
Doosan manufactures eight mini excavators in its compact equipment lineup, and customers can choose between conventional tail, reduced/minimal tail and zero tail swing models. The new DX27Z-7 mini excavator expands the line with a smaller machine in the 2-metric-ton size class. Designed with zero tail swing, the DX27Z-7 can work in confined areas and next to existing structures. Additional zero tail swing models available from Doosan include the new DX35Z-7 and DX50Z-7. Both models are part of two of the most popular size classes of mini excavators, respectively. In between the two models, the conventional tail swing DX42-5K has strong bucket breakout force, dig depth and reach in a highly maneuverable excavator. Its narrow width for a machine in its class provides operators greater ability to navigate through doorways, gates and other obstacles.
New to the Doosan lineup of mini excavators is the reduced tail swing DX55R-7. The reduced tail swing design extends just a few inches beyond the width of the excavator's tracks, minimizing the chances of hitting objects when rotating the machine. An increased counterweight enables offset digging without the need to reposition the machine. In the larger size classes, Doosan offers three models: the DX62R-3, DX63-3 and DX85R-3.
The reduced tail swing DX62R-3 provides increased maneuverability and accessibility for excavation work in limited spaces. Providing best-in-class, over-the-side lifting performance, the DX63-3 is a conventional tail-swing excavator and weighs approximately 6.3 metric tons. It is 77 in. wide and designed to travel between existing homes and along property lines. The larger DX85R-3 also has a 58.6-net-hp electronically controlled diesel engine, is a minimal tail swing mini excavator and weighs approximately 8.6 metric tons. The DX85R-3 has only 5.8 in. of tail overhang and is designed to work in tight spaces next to buildings or other obstacles.
Doosan mini excavators can complete a variety of jobs with attachments and are approved for use with ditching and trenching buckets and hydraulic clamps. The machines are hydraulic quick-coupler ready with durable thumb mounts integrated into the mini excavator's arm. Two-way auxiliary hydraulic lines with flush-face quick-couplers are standard equipment and allow operators to quickly connect hydraulic attachments. Customers can add an optional second set of hydraulics when they need to run multi-function attachments that require multi-function hydraulic flow.
Advice to Buyers
"Look for mini excavators that come standard with telematics," says Steven Americano, Doosan mini excavator product manager. "Customers can remotely monitor their mini excavator to ensure it's not stolen or operated outside of preset hours of operation. Using an app or web browser, customers can access the telematics system and monitor machine usage, as well as be notified when the machine has a fault code that needs to be addressed." Tags: Doosan Infracore North America, July August 2022 Print Issue, Spec Guide, Spec Guide 2022