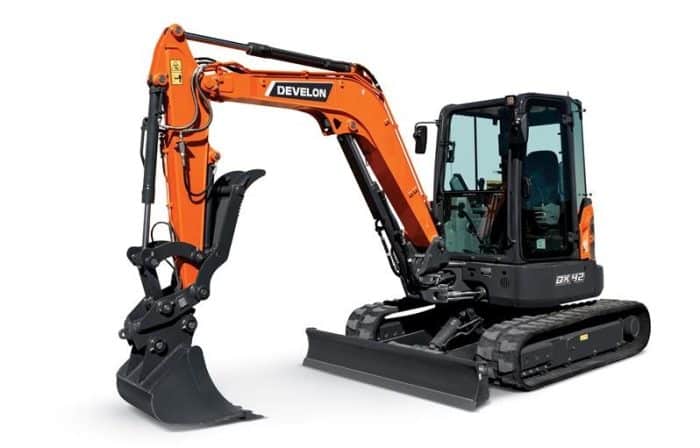 DEVELON, a leading construction equipment manufacturer, is expanding its range of mini excavators with the introduction of the DX42-7.
With a 47-net-hp and conventional tail swing configuration, this model is ideally suited for navigating tight, congested jobsites and urban areas. Part of the next-generation -7 Series mini excavator lineup, the DX42-7 offers impressive features such as fast cycle times, efficient torque-limiting piston pumps that respond to load demands, and a larger counterweight for improved balance and durability.
"Weighing in at 4 metric tons, the DX42-7 delivers the power, maneuverability and versatility our customers have come to expect from DEVELON mini excavators," says Thomas Lee, director of product management at DEVELON. "Whether it's utility work, landscaping, construction or site prep, the DX42-7 boasts an impressive lifting capacity, enabling effortless movement of pipes, boulders and various materials. With its powerful digging forces, customers can accomplish more tasks in less time."
Enhanced Efficiency on the Jobsite
The DX42-7 is equipped with exceptional capabilities that improve jobsite productivity. One optional standout feature is its four-way swing blade on the front, enabling optimal blade positioning and reducing the need for frequent machine repositioning, as well as facilitating efficient backfilling. Additional productivity features include the following:
A thumb-ready arm: The DX42-7 comes equipped with a standard thumb-ready arm. Durable thumb mounts are seamlessly integrated into the excavator arm, eliminating the need for any welding when adding a thumb attachment.
Quick-coupler-ready design: With a quick-coupler hydraulic piping installed at the end of the arm, the DX42-7 eliminates the need for additional accessories when installing a compatible quick coupler to the machine. This design enhancement significantly reduces the time needed to switch attachments.
Lever pattern control: Customers can choose between two control patterns, ISO and BHL. This allows customers to select the pattern that best suits their preferences and ensures ease of use during operation.
Superior Comfort
The cab of the DX42-7 is easy to enter, exit and work in, offering optimal comfort for operators. Two cabin options are available: open canopy and enclosed cab configuration. Enclosed cab models come with standard heating and air conditioning and hands-free Bluetooth audio. The superior air conditioning system improves airflow through multiple vents, enhancing operator comfort even during long, hot days.
The controls, buttons and general operations on the DX42-7 make it easy to operate with confidence. A simple thumb switch located on the right joystick controls auxiliary hydraulic functions, making fine adjustments effortless and improving efficiency and comfort throughout the workday. Moreover, the boom swing is also controlled by a thumb switch on the right joystick, eliminating the need for foot pedals and further simplifying operation.
Improved Visibility and Safety
The DX42-7 effectively addresses various challenges encountered on jobsites, particularly concerning visibility and safety. Here are a few notable features worth highlighting:
A framed full-glass door improves visibility to the surrounding work area.
For additional visibility, an optional rearview camera offers an extra perspective.
High-illumination LED lamps are incorporated to offer optimal visibility of the work group, allowing operators to navigate across the jobsite.
A standard travel alarm provides more jobsite awareness. The alarm is activated when the machine is moving in reverse motion or is operating on the jobsite, alerting workers to its presence.
An optional rotating beacon is available for enhanced safety when working in high-traffic areas or low-light situations.
Standard Telematics
The DEVELON Fleet Management system comes standard on the DX42-7. The system gives owners and dealers access to vital equipment data, such as machine location, health and productivity. Through a user-friendly app and website, customers can conveniently monitor and analyze this information, helping them make informed decisions that can positively impact productivity and profitability.
Mini excavators are making big waves on jobsites all over North America. Click here for the latest news on these machines and the companies that make them.