Forget the Budget, Let's Build Your Perfect Mini Excavator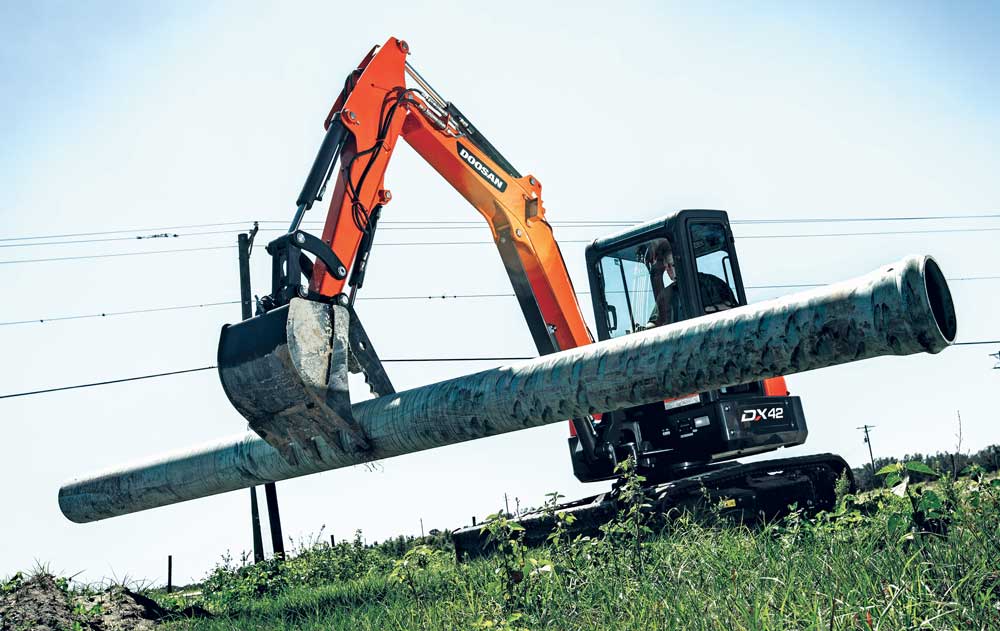 The mini excavator market is big business in America right now. We're hearing predictions of maybe 50,000 units sold in 2019. We covered 17 different brands in last month's spec guide, and the wealth of options range from basic ROPS rental diggers to opulent, automated, air conditioned cab units fitted with the latest grade control technology. More and more manufacturers are offering those latter high-end units, increasingly with the customer's comfort in mind.
While you may know the basic laundry list of features to look for when scouting out a new mini excavator (dig depth, reach, bucket breakout force, etc.), what about all those extras that both make an operator more efficient and comfortable while also personalizing the unit? Features that create a workspace for the operator to not only exist in, but excel and enjoy time in. Let's start with a dreamy cab.
When you think about the ultimate cab, an enclosed operating station with heat and air conditioning has to be top of mind," says Aaron Kleingartner, marketing manager for Doosan Infracore North America LLC. "A suspension seat for enhanced operator comfort is also a plus. The overall size of the cab is also important, including the door opening and floor space, plus ample storage. A radio with Bluetooth technology can enhance the operator's experience, too."
On top of those features mentioned, cup holders, rearview cameras, heated seats and a top-notch HVAC system typically land on an operator's wishlist. Ergonomic controls are also key to operator comfort, and let's face it, a comfortable operator is a happy one. Just ask John Deere.
"John Deere takes operator and customer feedback into account when upgrading its models," says Jonathan Spendlove, product marketing manager, excavators for John Deere Construction and Forestry. "For example, the cab of the 30G was redesigned to also include adjustable wrist rests for day-long comfort and a standard suspension seat to maximize visibility. Having controls at one's fingertips and a conveniently placed monitor also adds value for a customer."
Jay Quatro, field application and training specialist for Wacker Neuson, explains that since the cab typically doubles as an office for many operators, they are keen on features that improve their experience when spending all day in the seat.
"On our 6- to 14-ton excavators, we have made the operator experience a priority with our cabs," he says. "The ET65 and ET90 include large, fully adjustable seats, four-position front windshields, automotive-style automatic climate controls, a simple push button for switching control patterns and a hydraulic attachment coupler. All of these are included as standard features. The ET145 adds a heated seat and rear camera to the list. These truly are the ultimate cabs for everyday use."
According to Kobelco, its proprietary iNDr noise and dust reduction technology offers a quieter, cooler and cleaner operating experience.
"Unlike other machines, Kobelco mini excavators have an enclosed engine compartment," says George Lumpkins, general manager of marketing at Kobelco USA. "Air is only introduced through a dust filter, preventing it from coating components and causing them to heat up and affect performance. The low noise is ideal for urban environments and operator comfort, while a cleaner and cooler engine enhances reliability and minimizes machine downtime."
Weighing the Options
Aside from a spacious and comfy cab, added options are available to truly outfit a mini excavator to work like a boss. A long-arm option allows operators to dig deeper and reach farther with less machine repositioning, but how can someone dig even more efficiently? Grade control packages help operators dig with precision. Projects such as trenching for footings or grading ditches call for a consistent grade or sustained slope, and grade control technologies are taking the legwork out of the project and helping operators dig faster and more accurately. The technology is designed to use a series of sensors that are connected to an instrument panel inside a compact excavator's cab to track the precise location of the bucket teeth as the bucket, boom and arm moves. Bobcat offers an exclusive system on its compact diggers.
"The Bobcat Depth-Check System is a popular technology as an option for the Bobcat E32, E35, E42, E45, E50, E55 and E85 models, with either standard or long-arm iterations," explains Jason Boerger, marketing manager at Bobcat Co. "The Depth-Check System accurately measures depth and grade without having to exit the compact excavator by utilizing sensors that detect the exact position of the bucket's teeth. This allows operators to set a desired digging depth and work against that benchmark. Because the system prevents under-digging and over-digging, there is a large reduction in time spent adjusting work already done. This technology is very popular with customers who are doing a significant amount of digging work such as trenching for utility lines, digging basements or footings and sewer line installations because it significantly reduces the costs associated with backfilling and compacting fill material."
Also on the grading and backfilling side, four-way, six-way and standard angle blades give operators varying degrees of control when moving spoils after the project.
"An angle blade allows operators to angle the backfill blade 25 degrees left or right," says Kleingartner. "Operators can direct spoil from one side of the blade to the other without forming windrows on both sides of the blade."
Lumpkins mentions that some customers choose protective options as well. "Front guards are an available option on most Kobleco mini excavators for applications such as hammer use or brush loading," he says. "Adding extra weight is optional too. The customer has the option to add weight to the rear tail swing."
Telematics is another feature that operators are adding or getting free for a number of years, depending on the manufacturer. Telematics is an umbrella term for a variety of technologies and services that monitor a unit, collecting and sharing digital data on everything from systems analysis (think maintenance) to location (think theft).
"Telematics is not new, but it is becoming more widely known throughout the industry," says Joey Queen, construction equipment attachments engineer for Yanmar. "Dealers, customers and rental houses are discovering the value of the technology as demonstrated by the increase in subscriptions we have seen. Being able to better track location, health and maintenance intervals is a vital component to increasing the longevity of the machine and has become an invaluable tool for the rental business. Most Yanmar machines come standard with these features, which we call SMARTASSIST Remote, and a five-year subscription is offered at no cost. This package also includes theft notification, which allows owners to receive alerts if machines are used outside of the parameters they set."
Hyundai also recently announced the addition of its exclusive HiMATE remote management system as standard on three of the company's compact excavators — the R55-9A, R60CR-9A and R80CR-9A. According to Hyundai, HiMATE was previously available only on the Hyundai HX Series of full-sized crawler excavators, HW full-sized wheeled excavators and the HL900 Series wheel loaders.
"The demand for telematics solutions continues to increase, both for monitoring machine operations and for machine location," says Juston Thompson, national accounts specialist, Hyundai Construction Equipment Americas. "Geofencing these highly mobile compact machines is crucially important. Hyundai has a long record of leadership in remote-management systems and software."
Add in the Attachments
Another way to outfit a high-class excavator is with attachments. From buckets and breakers to augers and grapples, there's a tool to complete your dream machine. First off, there are a variety of quick-couplers on the market for interchanging implements, designed with a variety of different locking mechanisms and features, ranging from basic mechanical designs to high-tech multi-pin-grabber models that automate everything from the cab. There are even tiltrotator couplers (more on that later).
Attachments abound. The basics include buckets, breakers, thumbs, grapples and augers. Exotic attachments can range from rock crushers and brush cutters to vacuum lifts and plate compactors.
"We are constantly surprised by new applications and the attachments created to complete those respective jobs," says Lumpkins. "In the smaller size class, it is rare to see just a machine and bucket. Typically, the unit will have an array of attachments. Excavators do not only dig holes. They have become one of the most versatile pieces of equipment on a jobsite. The challenge is going to be keeping up with hydraulic requirements as they become more advanced."
"There's such a wide variety of attachments that can be added to a mini excavator to get the job done," adds Queen. "Based on the necessity of the customer, the trends are very diverse. The most popular option added to a mini excavator is a thumb. This enables the operator to grapple items such as rocks and logs and also helps retain bucket contents. Almost 50 percent of all excavators sold by Yanmar have a thumb installed. Yanmar also offers a grapple/rake to work in conjunction with the thumb to quickly turn the thumb into a full grapple."
Wacker Neuson's Quatro says the company has seen several trends from the European excavator market make their way to North America over the years, particularly the tiltrotator attachment.
"It allows the operator to rotate their bucket 360 degrees along with tilting to each side," he says. "With a combination of these movements, an excavator can dig in any position, direction or angle. These tiltrotator attachments can save owners thousands of dollars on labor costs. Because the operator can dig in any direction from one position, he saves his machine undercarriage from excessive movement and repositioning. Wacker Neuson has partnered with Rototilt to offer their system on several of our larger tracked and wheeled excavator models [the ET65, EW65, ET90 and EW100]. These systems can be purchased and installed through our Wacker Neuson dealer network."
As you can see, there are a lot of awesome options on the market, and we didn't even mention wheeled units or super small models with retractable undercarriages. The best place to start (after Compact Equipment) is your local dealer. Options are always attractive. Just don't forget the basics.
"The compact excavator customers I talk with are focused on three things: reliability, performance and versatility," says Spendlove. "Is the machine going to start and run as expected? Will it hold up and perform? Can I use it for a variety of tasks? Consider anything that will improve operator performance or the overall usefulness of the machine. A comfortable operator is a productive operator, so cab size, seat options, standard air conditioning on cabs and other creature comforts are valuable. Versatility also matters: standard auxiliary hydraulics, standard couplers, various operating modes and adjustable undercarriages — these are worth looking for as you consider which machine to purchase."
We dug up more excavators here.

Pam Kleineke is managing editor of Compact Equipment.
Tags:
Bobcat
,
Doosan
,
Hyundai
,
John Deere
,
Kobelco
,
September 2019 Print Issue
,
Wacker Neuson
,
Yanmar America