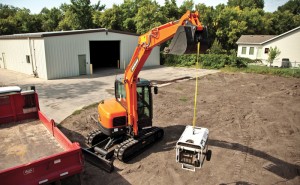 Over the past two decades, the small, tool-carrier excavator has found its home in the American construction equipment fleet. It's a machine that migrated from Asia and Europe, where construction equipment has shrunk as an evolution to continual metropolitan sprawl. U.S. contractors and jobsites have been trending in the same direction, spurred by smaller space constraints, an enormous rental market (which favors small equipment) and the need for both portability and versatility in machinery.
The result is that mini excavators (also called compact excavators) have become one of the world's most nimble and versatile diggers and attachment-takers. Defined as excavators under 6 metric tons (although we cover a few bigger ones in this magazine as well), these are small excavation machines engineered with an undercarriage and tracks, a long digging arm and a cab or ROPS enclosure. Typically with a dig depth between 5 and 20 ft and an operating weight between 2,000 and 20,000 lbs, compact excavators can fit into cramped worksites and still give big dig power. These units have grown so popular that the number of manufacturers offering models is overwhelming — Bobcat, Caterpillar, Yanmar, Volvo, John Deere, Komatsu, Kubota, Takeuchi, Terex, Case, New Holland, Hitachi, John Deere and beyond.
Helming the two joystick controls, construction and utility contractors, landscapers and homeowners can make quick work of large digging tasks with these mighty minis. In addition to an excavator's standard bucket, a plethora of equally awesome attachments are available to go beyond digging.
The 3.5- to 4-ton class will continue to drive the compact hydraulic excavator market. Also, conventional style compact excavators continue to share space with the minimum and zero tail swing designs. Zero tail swing or ZTS continues to be a hot feature (excavators that are designed to keep their cabs within the width of their tracks). In addition to an excavator's many features (enclosed cabs, backfill blades, extendable sticks and retractable undercarriages), a wealth of attachments are readily available to take on tasks beyond excavation (hydraulic thumbs, breakers, specialty buckets, augers, grapples, mowers and more). To learn more, we suggest you get to know each of these following manufacturers and their products before you put your crews in a new mini ex.
Bobcat
,
Case
,
Caterpillar
,
Compact Excavators
,
Doosan
,
Gehl
,
Hitachi
,
JCB
,
John Deere
,
Kobelco
,
Komatsu
,
Kubota
,
LiuGong
,
Mustang
,
New Holland
,
Sany America
,
Spec Guide
,
Takeuchi
,
Terex
,
Volvo
,
Wacker Neuson
,
Yanmar